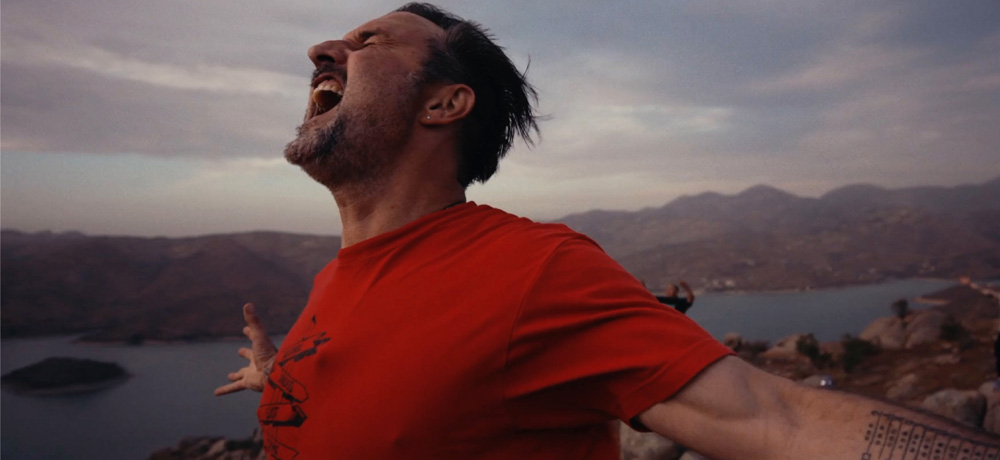 Before I start this review, I feel like I should go ahead and just admit a few things. One, I am a ridiculously huge fan of David Arquette and his work, which includes his performances in the Scream series to Ready to Rumble to his directorial effort on The Tripper and everything in between. And two, I'm one of the few people out there who was actually excited when he was working in WCW (and yes, even when he won the WCW World Heavyweight Championship). With that in mind, I was already totally and completely on board for You Cannot Kill David Arquette before I even saw a single minute of footage. But now that I have had the opportunity to check out this all-encompassing project from directors David Darg and Price James, You Cannot Kill David Arquette quickly has become not only my favorite documentary of 2020, but one of my favorite films, regardless of category, of the year as well. 
A heartfelt, entertaining and inspiring examination one man's arduous journey to reclaim his legacy in an industry he's always loved and admired (but the feelings weren't exactly mutual), what's so wonderful about this documentary is that regardless of your feelings about Arquette or about professional wrestling, there's something so universal about what the actor experiences throughout this project – the highs and the lows – that it's bound to win over viewers of all walks of life.
You Cannot Kill David Arquette starts off with its namesake discussing how, over the years, Hollywood has collectively turned its back on him, and Arquette attributes that mostly to no one taking him seriously after his stint in WCW in 2000 when he began wrestling and eventually won the WCW title, which is admittedly a pretty outlandish stunt to most. Over time, Arquette was apparently branded as "the most hated man in professional wrestling" which is something that clearly weighs heavily on him, especially as he talks about how much the sport meant to him growing up and how his passion for the world of wrestling is what made him want to get involved in the first place.
Rather than continue to be a walking punch line, Arquette decides he's ready to reclaim his spot in the squared circle, but considering he's now in his forties, and he's been dealing with a heart problem, so becoming an active wrestler at this point in his life seems to be an impossible task for Arquette, especially since he never formally trained all those years ago when he was working in WCW. 
Undeterred, Arquette starts from scratch, working backyard wrestling matches and even taking an excursion to Tijuana to train with several Luchadores in the squared circle as well as on the street for quickie Lucha street matches break out in intersections during red lights (now that I realize this is a thing, I'm totally fascinated by this phenomenon, too). Once things click for Arquette down in Mexico, it's like all the tumblers of a lock fall into place, and we watch as he begins to take the world of indie wrestling by storm, amassing an impressive collection of opponents and slowly winning over his detractors, one match at a time. 
You Cannot Kill David Arquette culminates at a GCW event in Los Angeles on November 16th when the actor/wrestler is set to take on Nick Gage in a Death Match, which are notoriously violent throwdowns often involving tables, light tubes, sheets of glass, thumb tacks and pretty much anything that can leave a scar. This writer happened to be at that match that night, and the chaos that ensued during Gage vs. Arquette was absolutely horrific to see in person, and the doc perfectly captures the panic of that night, and how the events of the Death Match forever changed Arquette, too.
Oh, and one weird tidbit about this doc is that you also see Marko Stunt being carried out of the GCW show the same night that Arquette takes on Gage, and as it turns out, he happened to break his leg the very same night Arquette found himself rushed to the hospital after his gruesome Death Match (it was not a good night for GCW as a whole).
And while You Cannot Kill David Arquette is extremely interesting from a wrestling fan's perspective, beyond that, there's something uplifting about Arquette's determination to beat the odds and prove that he deserves to be respected in that ring just as much as anyone else. The grit and heart that Arquette displays throughout this doc is truly impressive, and I also really appreciated that the actor doesn't shy away from the low points in his journey either, allowing Darg and James to include some very human moments that give us some insight to the internal battles Arquette faces in his daily life as well. 
While I found You Cannot Kill David Arquette to be a wholly entertaining and enjoyable experience, the thing that really impressed me was just how heartwarming the doc managed to be as well. Seeing his friends and family rally around Arquette as he sets out to prove all the naysayers wrong was really lovely, and I admittedly geeked out seeing the likes of Jungle Boy (Jack Perry, Luke Perry's son who now wrestles in AEW), Peter Avalon, and RJ City prominently featured in here. But there's a really special moment early on in YCKDA where he's presented with the ultimate show of respect down in Mexico, and it's a moment that had me tearing up immediately, because you can tell just how much it meant to Arquette. 
The other part of You Cannot Kill David Arquette that left me in tears was the tribute to Luke Perry toward the end of the doc. As someone who absolutely adored watching the two actors together in the Buffy the Vampire Slayer movie back in the 1990s, it was great to see that they were still close friends after all these years, and it was evident that the sudden loss of Luke was clearly something that also took its toll on Arquette in so many ways.
As you can probably tell, You Cannot Kill David Arquette was supremely "my jam" (as the kids say) and I cannot recommend it enough. If you're someone who has ever thought about starting some aspect of your life over, or following some ridiculous dream that feels out of reach, this documentary should serve as a reminder that, as long as you have the drive and the passion, you should never turn your back on your ambitions. And I could not be happier that after all this time, Arquette was able to not only prove himself to everyone who ever doubted him, but also to the one person who maybe doubted the actor the most – himself.
Oh, and definitely be sure to watch the credits, too. They're super fun.
Movie Score: 5/5