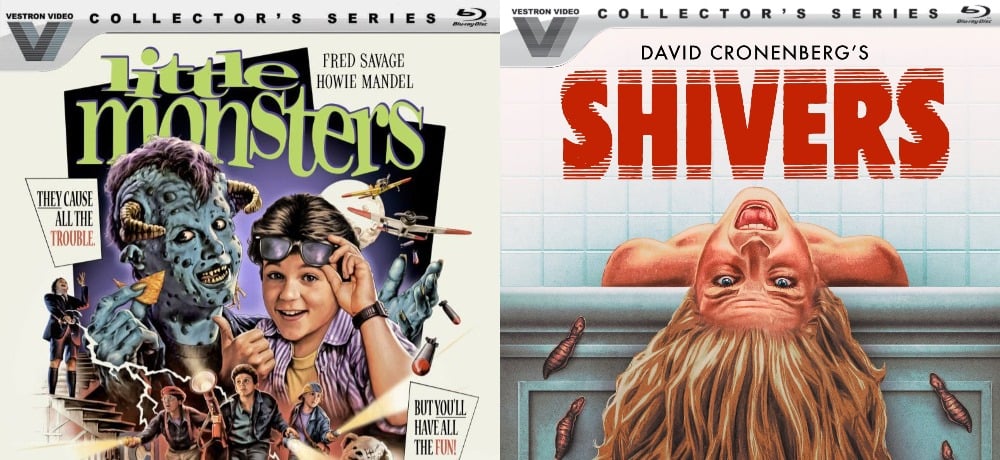 If you've been eager to see what movies will be the next ones to join Vestron Video Collector's Series, then your wait is over, as it's been revealed that Richard Greenberg's Little Monsters and David Cronenberg's Shivers are joining Lionsgate's Blu-ray lineup.
Filmmaker Michael Felsher announced the news on Facebook, which was also shared on Blu-ray.com. According to Felsher, both Blu-rays are expected to come out in September. Special features will be announced at a later date.
Little Monsters and Shivers join a Vestron Video Collector's Series that includes Stephen King's Maximum Overdrive, Stuart Gordon's Dagon, and the Warlock collection, among other releases.
We'll keep Daily Dead readers updated as more details are revealed. In the meantime, we have the cover art, official synopses (via Blu-ray.com), and theatrical trailers below.
For more insights into these movies, you can also read Scott Drebit's Drive-In Dust Offs entry on Shivers and Bryan Christopher's Class of 1989 retrospective on Little Monsters.
Little Monsters synopsis: "Brian (Fred Savage) isn't scared of the monster living under the bed. On the contrary, when he gets to know the wild-eyed boogeyman, Maurice (Howie Mandel), the pair become fast friends. During the night, Maurice takes his young charge into the netherworld of monsters, where they have a great time making mischief in the lives of sleeping children. But Brian's opinion of Maurice and his freewheeling lifestyle changes when he discovers that he himself is turning into a monster."

Shivers synopsis: "After a scientist living in a posh apartment complex slaughters a teen girl and kills himself, investigators discover that the murderer had been carrying on experiments involving deadly parasites. Roger St. Luc (Paul Hampton), a doctor living in the building, and his aide, Nurse Forsythe (Lynn Lowry), then realize that the parasites are on the loose, attacking fellow tenants. And those who become hosts turn into erotically obsessed maniacs who pass the bugs on through violent sex."