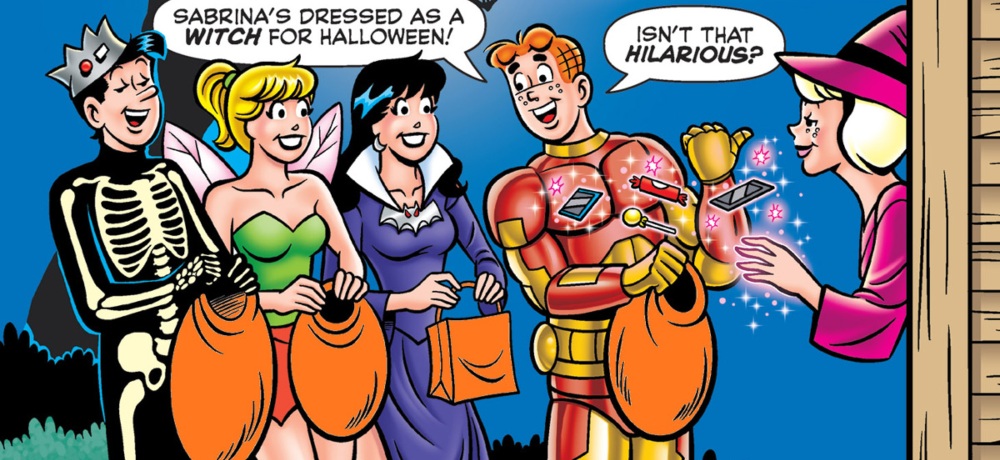 From Afterlife with Archie and Jughead: The Hunger to Vampironica and Blossoms 666, Archie Comics has given adult horror fans plenty to enjoy in recent years, but they also have never stopped providing family-friendly frights in their digest comics.
With another Halloween season upon us, we're thrilled (and chilled) to once again team up with Archie Comics to provide Daily Dead readers the weekly treat of exclusive previews from their digest comics!
Following the two-part "Lighthouse Creeper" Sabrina story that we shared last week, we have another preview featuring Greendale's resident teenage witch, along with her new nemesis, Amber Nightstone! As an additional treat, we also have the classic Sabrina story "Spook Out" to share in its entirety, with both excerpts coming from World of Betty & Veronica Jumbo Comics Digest #19 ahead of its release on October 5th!
Below, you can check out our Halloween-themed preview from World of Betty & Veronica Jumbo Comics Digest #19. Go here to catch up on our previous Archie Comics Halloween season previews, and to learn more about Archie Comics, visit:
WORLD OF BETTY & VERONICA JUMBO COMICS DIGEST #19

BRAND NEW STORY! "Frightful Faceoff" - It's Halloween night and Sabrina is on her guard, expecting her foe Amber Nightstone to return. As she heads to a Halloween party, she keeps thinking every red thing she sees is Amber, even though she knows that Amber has already been dealt with. But why does she still have the strangest feeling that Amber's nearby?

Script: Tania del Rio
Art: Bill Galvan, Ben Galvan
Colors: Glenn Whitmore
Letters: Jack Morelli
Cover: Bill Galvan, Ben Galvan, Rosario "Tito" Peña
On Sale Date: 10/5
192-page, full color comic
$8.99 U.S.