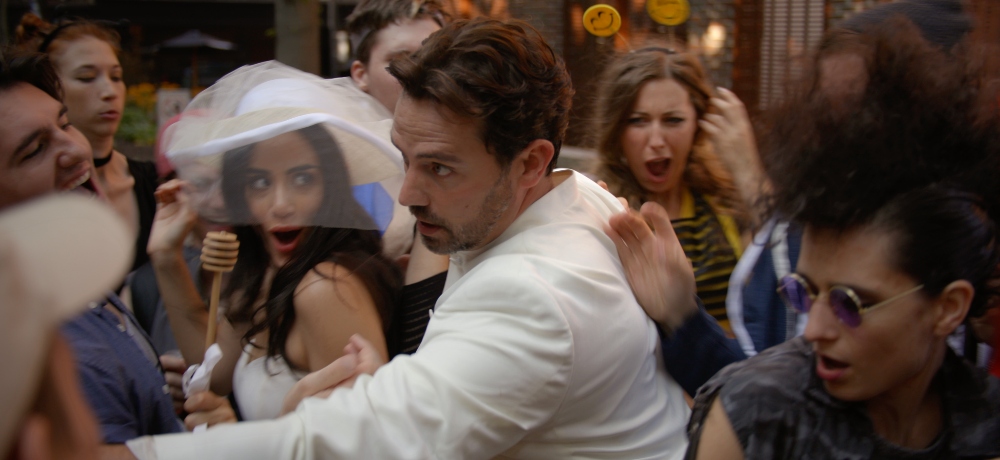 While the coronavirus is preventing actual movie premiere screenings from happening right now, Salem Horror Fest will give horror fans a cinematic treat they can enjoy from home with a virtual premiere of the horror comedy Mass Hysteria.
Fittingly filmed in Salem, Massachusetts, Mass Hysteria will have a virtual premiere on Facebook Live on Wednesday, April 1st at 8:00pm EST. We have official details and trailer for the film below, and to RSVP for the virtual premiere, visit:
Press Releasbre: Salem Horror Fest will host a virtual premiere of the new horror comedy MASS HYSTERIA on Facebook Live - Wednesday, April 1 at 8:00 PM EST. RSVP on Facebook

"We hope this free screening can bring a few laughs in a time of great uncertainty. Without saying too much, there are a few parallels to our current situation," said festival director K Lynch.

Directed by Ariel Cimino and Jeff Ryan, MASS HYSTERIA tells the story of a group of Salem Witch Trial re-enactors who find themselves the target of a modern day witch hunt. The independent production was set and filmed entirely in Salem, Massachusetts.

"Halloween in Salem is an experience of a lifetime, and we wanted to recreate a modern witch hunt surrounding this annual event. The majority of tourists come to Salem in October with little idea of what actually happened in 1692. Our goal is to make a thriller/comedy that is truthful and entertaining, but also shares the dangers of the effects of a modern-day witch hunt," said Matt Peruse, producer of First-Names Films.
Directed by Arielle Cimino and Jeff Ryan from a screenplay by Christopher O'Connell and Jonathan Coleman, Mass Hysteria stars Geena Santiago, Jeff Ryan, Matt Perusse, Destry Allyn, Scott Swayze, Charlie Pollock, Michelle Veintimilla, and Louis Cancelmi. A First-Names Films production, Mass Hysteria is produced by Matt Perusse, K Lynch, Jonathan Coleman, Arielle Cimino, and Jeff Ryan.
Synopsis: "When a tourist dies on Halloween night in Salem, the crowd seeks justice by mounting a modern day witch hunt."