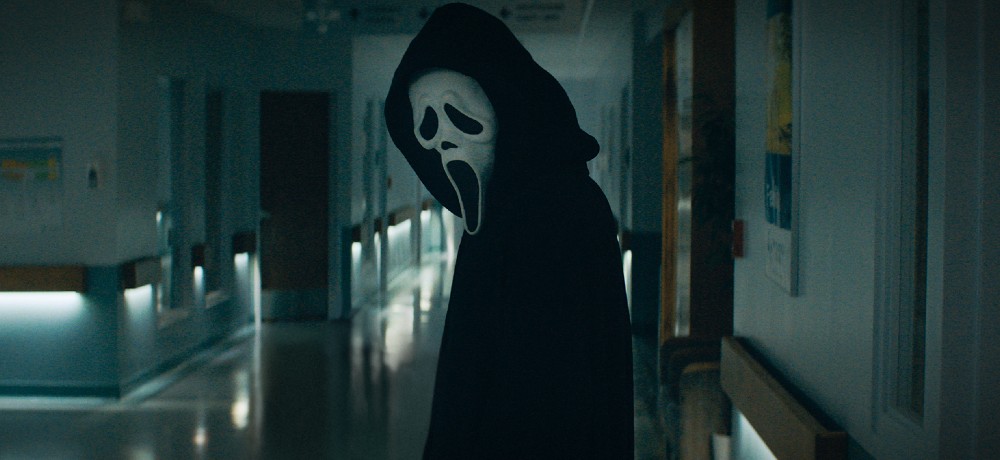 As mentioned in my piece earlier today, Scream (2022) is my most anticipated film for next year, so I was thrilled to be able to participate in a virtual set visit for Matt Bettinelli-Olpin and Tyler Gillett's latest entry in the franchise. During the press event, Daily Dead joined a group of journalists to chat with all the newbies that we'll be meeting in Woodsboro for Scream (2022), including Kyle Gallner, Dylan Minnette, Jasmin Savoy Brown, Jack Quaid, Jenna Ortega, Mason Gooding, Melissa Barrera, and Sonia Ammar.
Admittedly, the Scream newbies were rather tight-lipped when it came to revealing many details about their involvement in this new film, but they did discuss their feelings about joining the franchise, their experiences collaborating with directors Tyler Gillett and Matt Bettinelli-Olpin and the legacy Scream cast members, as well as the pressure that comes with joining one of horror's best franchises for a highly anticipated sequel.  
And if you missed our earlier coverage with the filmmaking team behind Scream (2022), you can catch up with it HERE.
The Newbies Discuss the Scream Series:
Mikey Madison: I think just the incredible legacy of the Scream franchise and how much I loved the first film made me excited to be a part of this. Also, the directors that were attached to it too, because I loved Ready or Not. I thought it was an incredible film, so that made me really excited. 
Jasmin Savoy Brown: What I initially read of the script, I thought it was really great writing and I appreciated the character that they built, that is Mindy. And for me, what will make or break an experience is the people that I'm working with. So after having a meeting with the directors, I was like, "Okay, I have to do this because they're awesome and it would be a lot of fun." I just lucked out that everyone else is great too.
Dylan Minnette: Scream is one of my favorite movies of all time. So to share a screen with or to be in the same movie as Ghostface and with the original legacy characters, "Little Dylan" is freaking out. It's great.
Kyle Gallner: I think one of the cool things about this is, it doesn't mess with the original in any way. It doesn't mess with the previous four; it really does pick up kind of where things left off just years down the road. I would say my favorite movie in the franchise is the first one, and when I read this script, it really captured that same vibe of what the first one had. Like there was something really special about the first one when it came out at the time. And there are a lot of things in this, it's not a copycat in any way, but it mirrored and echoed a lot of the feelings I had when I watched the first Scream movie. So it's actually really exciting to be a part of this because I really do think it'll breathe some fresh life into the franchise in an exciting way, especially for people who are fans of the franchise.
Sonia Ammar: For me, I was always a huge fan of the Scream franchise. And as Kyle said, it's not a remake, it's reigniting the franchise, and Radio Silence, the two directors, are just so incredible. They really approached the film with the utmost respect and admiration for Wes Craven. I think it's really beautifully done where it's fresh, but it pays homage to the series and the first film, and that's what really drew me to the project because I also love this franchise.
Being on set, sometimes I would have these moments of just watching the other actors and realizing, "Oh my gosh, this is such an iconic series." And for me, it has such a nostalgic memory linked to my childhood and watching it when I was younger and being Ghostface for Halloween when I was a kid. It's such an honor, but I think it's so brilliantly written and I'm so excited to see what the longtime Scream fans think of it. Also, I think a lot of new fans will hop on board this. For those who haven't watched the originals, it's the perfect meshing of the two worlds.
Mason Gooding: Yeah, because of the legacy of Wes Craven, to me, it felt like an honor and a privilege to be able to have the opportunity to pay homage to that here. And hopefully, you'll have to let me know once you see the thing, to elevate that in some meaningful way, that can be fulfilling and rewarding for the fans as well as satisfying and engaging for me as an actor, and also for all the other amazing people in the cast as well. It really is jam-packed with good, honest, passionate talent that really makes the experience that much more - I've said "rewarding" like 50 times today - but it really is a rewarding and fulfilling experience that again, I hope fans of the franchise get the same feeling when they watch it.
Jack Quaid: I was just going to say, the question for me was, will I get the part or not? I was praying the audition would work out. This is the first movie without Wes Craven, sadly, but these two directors have so much reverence and so much respect for what's come before. So just to be a part of, I don't know, people's introduction or experience with horror as a genre is huge. I do not take that lightly at all. 
Jenna Ortega: I honestly don't remember what I was going to say, but what I will say is you don't always get a full script when you get an audition and we definitely didn't get one for this. But just knowing the franchise, having seen the directors' work, I went into my auditioning process having an immense amount of respect for them. I think when it came to the audition process, I am such a huge fan of the horror-comedy genre that any chance that I can possibly get to exercise that muscle and put myself into that world, I'm going to jump at the opportunity to do so. When this project came around, I knew I wanted nothing more than to be a part of it. I'm pretty happy.
Melissa Barrera: For me, I screamed when I got the call from my team that they're making a new Scream and they're looking for someone to take on this character [Sam Carpenter]. I had a Zoom meeting with Matt, Tyler, producers Chad [Villella] and William [Sherak], and Jamie [Vanderbilt], one of the writers. After that meeting, I called my team and I was like, "I need to work with these people." It just got me so excited. When I choose projects, I have to fall in love with the character on the script. But mostly I want to work with good people. I'm so happy that I got it and that we're all here. The entire cast is amazing. The entire crew is amazing. It's just a beautiful energy onset every day. I think that's what is going to make this movie really special.
The Woodsboro Newcomers' on Their Experiences Working with Directors Matt Bettinelli-Olpin and Tyler Gillett:
Jasmin Savoy Brown: Their energy is very collaborative and one of the first things they said was, "We want you to participate fully in building this character and building this world. So any thoughts you have, anything that is important to you as a person that you want to be part of your character, let us know. We'll make it happen." And that's often not the case with directors. So that made me feel very loved and welcome to participate, which was really nice.
Mikey Madison: I'd never worked with two directors before so, coming into it, I wasn't really sure what to expect. But they work very seamlessly together. And like what Jasmin said, they're very open to ideas that you have for the character or ideas for a backstory. We all had meetings prior to filming with them, talking about our characters and how we saw their story, and you can tell how excited they are to be a part of this movie and they really radiate that energy. I think everyone feeds off it and that made me really excited.
Kyle Gallner: I think the one thing that definitely lends itself to a movie like this, and they proved it with Ready or Not, is that these guys are true die-hard fans of the genre, so they'll pay great respect to the series, to Wes, and to the genre. They're definitely the right guys to handle the job.
Sonia Ammar: Yeah, I had just watched that movie and I loved it so much. And then working with them, they're just such an amazing duo and they have the best energy. They're so excited about this and they really have such admiration for Wes Craven and his legacy, and I think Radio Silence is the perfect pair to direct this.
Mason Gooding: It's really cool to see the progression of their careers, both in terms of scale and production, from something like the V/H/S all the way through Ready or Not. That's pretty incredible.
The Newbies on Working with the Legacy Cast Members and the Pressures of Joining the Scream Franchise:
Dylan Minnette: For me, as this huge fan of the franchise, since we're the new, young cast or whatever, we have a lot of scenes where it's just together. But when we were finally on camera with some of the legacy characters, that's when I was like, "Oh, wow. We're actually filming a Scream movie." It's moments like that where you feel like you're having a "pinch me" and I just thought it was exciting when we got to work with the legacy cast. 
Mikey Madison: And we've all gotten to know David really well, too. I'm such a big fan of all of the legacy cast members, so it's so exciting just to be in a movie with them and I know we all feel the same way. But we've spent a lot of time with David and he's so incredible and so kind. So my experience so far has been really, really great and very surreal, too.
Melissa Barrera: Being a part of the Scream series, there's so much pressure, so much excitement, so much nervousness, just so much of everything. The stakes are high, and I know that I'm very honored and very excited to be a part of this franchise. It's a dream come true. I'm a fan of the original movies and I grew up watching them and I'm so it just feels like a dream. It's unbelievable.
Jenna Ortega: Just to piggyback off of what she's said, collectively for us all, the fact that we have even been given the opportunity to be able to pay respects to Wes Craven, Kevin [Williamson], Neve [Campbell], Courteney [Cox] and David [Arquette], and also get to interact with a few of them and share the screen with them - it's a surreal feeling. I'm so incredibly grateful and I just can't believe this is real life for me. I know I'm definitely very hard on myself and I tend to freak myself out, but when you walk onto a set, and you are welcomed by just the warmest, most generous, considerate people who are also so talented and so brilliant, I think the environment that everybody has created has made it such an amazing experience thus far. I think this will be one of my most cherished memories from a project ever.
Jack Quaid: Yeah, it's been incredible. I mean, everything that Jenna said, it does really feel like a summer camp situation here. Of course, I was super nervous because it is a beloved franchise. The expectations are very high, but I do think we're in really good hands specifically with our two directors, Matt and Tyler. They've just been incredible and set such an amazing tone for everyone. As high as the pressure is, it's been such a great experience and I'm going to cherish this experience for a while.