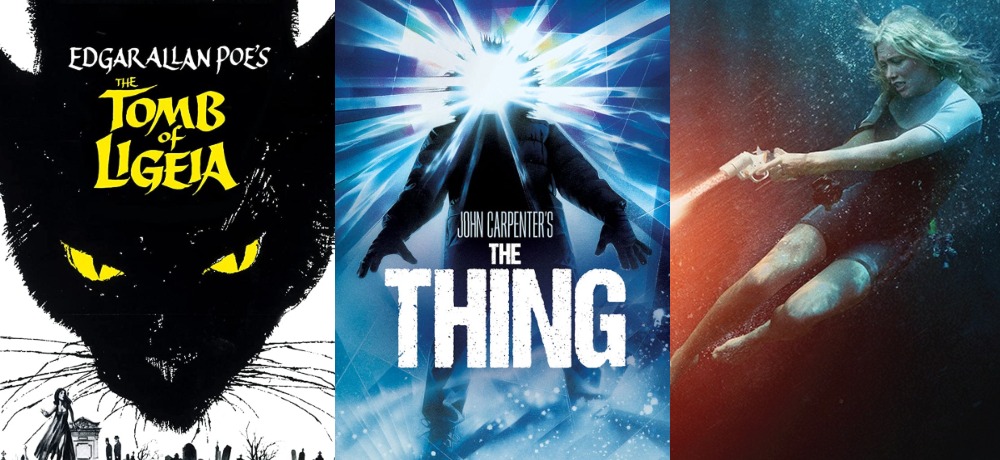 Hello, everyone! We have a brand new assortment of horror and sci-fi headed home this week, and there are plenty of offerings that should undoubtedly make for great additions to your Halloween season viewing plans. Universal is showing some love to a trio of classics, as it is set to release John Carpenter's The Thing as well as Rear Window and Vertigo from Alfred Hitchcock all on 4K Ultra HD today. Kino Lorber has put together new Blu-ray presentations for both The Tomb of Ligeia and Theatre of Blood, and if you're looking to catch up with some newer horror, both Great White and Slaxx arrive today courtesy of RLJE Films. 
Other Blu-ray and DVD releases for September 7th include Lawnmower Man 2: Jobe's War, Hellbox, Witches of Blackwood, Skinwalker, and War of the God Monsters.
Great White (RLJE Films, Blu-ray & DVD)
A blissful tourist trip turns into a nightmare for five passengers when their seaplane goes down near a shipwreck. Stranded miles from shore in an inflatable life raft, they find themselves in a desperate fight for survival as they try to make it to land before they either run out of supplies or are taken by a menacing pack of sharks lurking just beneath the surface.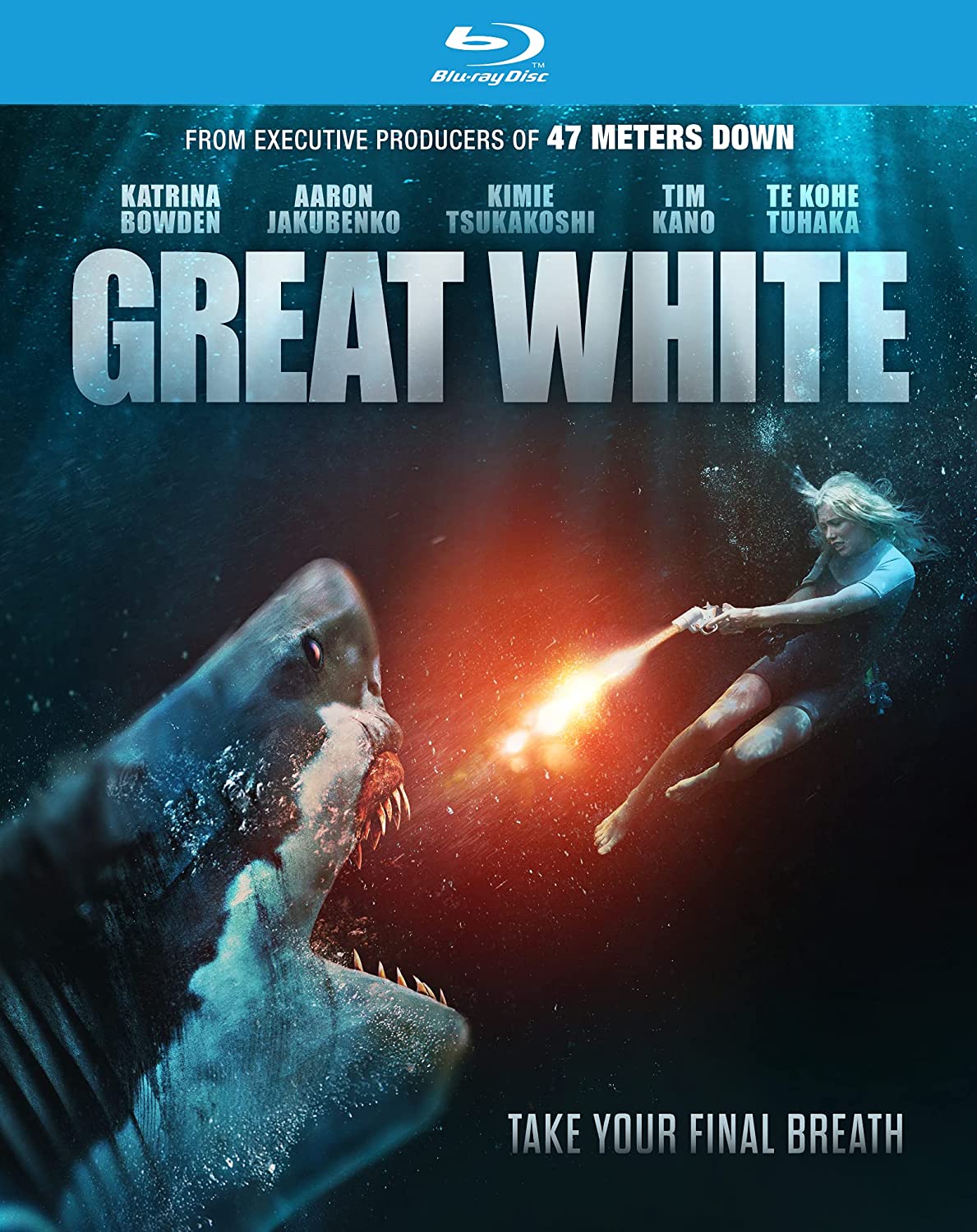 Lawnmower Man 2: Jobe's War (Ronin Flix, Blu-ray)
Enter the deadly world of virtual reality, where information is the key to world domination. In this intelligent sci-fi thriller that picks up where the original Lawnmower Man ended, Jobe (Matt Frewer - MAX HEADROOM) has become a hostage in futuristic hell. But when he discovers a computer chip that will give him the key to the ultimate revenge, the battle for world control begins. With visually stunning special effects, Lawnmower Man 2: Jobe's War takes you into a world where only the hardwired dare to journey.
SPECIAL FEATURES:
High Definition Blu-ray 1080p Widescreen Presentation (2.35:1)

DTS-HD Master Audio 5.1

English Subtitles for the Deaf & Hard of Hearing

Original Theatrical Trailer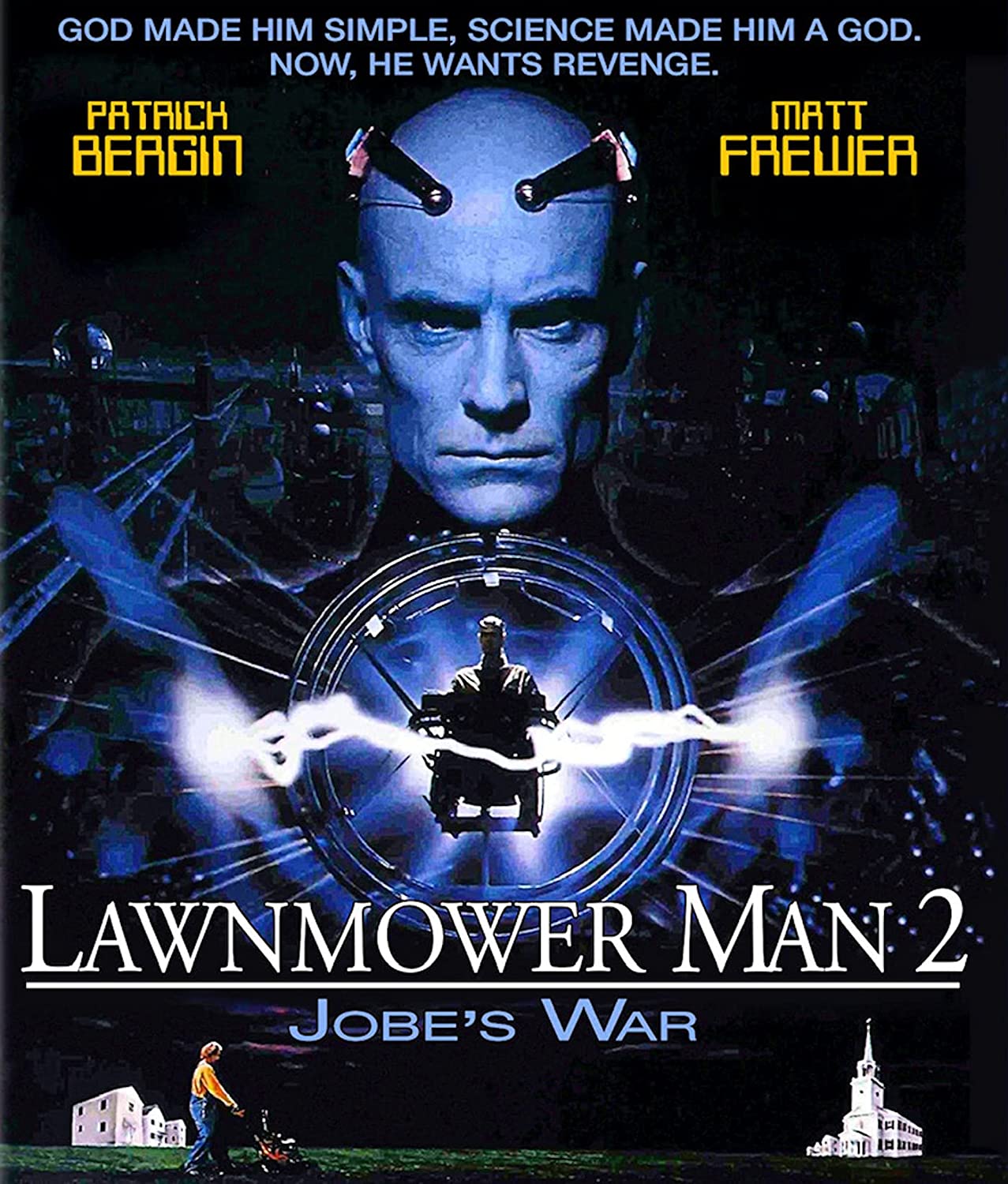 Slaxx (RLJE Films, DVD)
A possessed pair of jeans is brought to life to punish the unscrupulous practices of a trendy clothing company. Shipped to the company's flagship store, the killer jeans proceed to wreak carnage on staff who are locked in overnight to set up the new collection.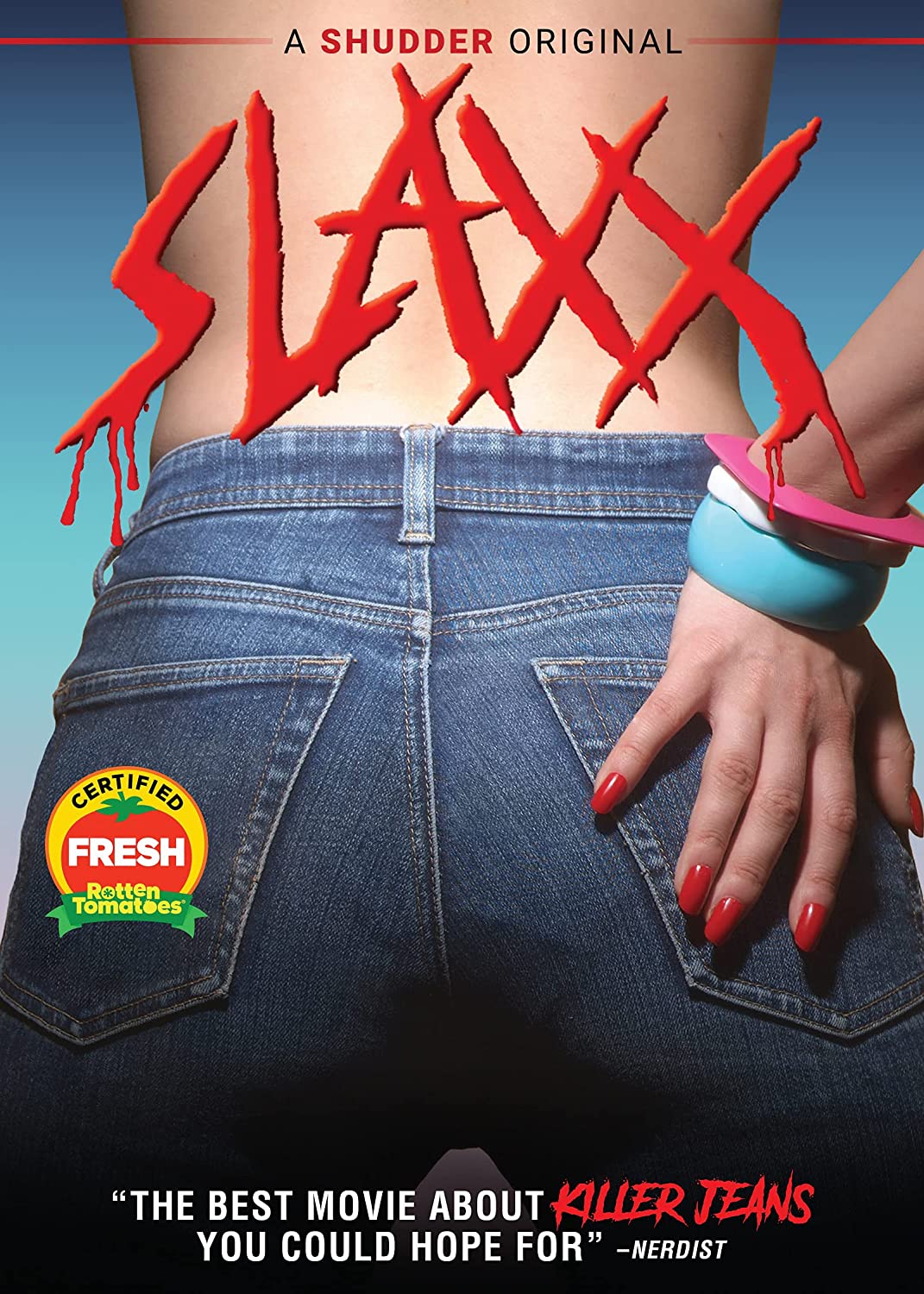 Theatre of Blood (Kino Lorber, Blu-ray)
Screen legend Vincent Price (The Tomb of Ligeia) delivers a thrilling tour-de-force performance as a small-time actor plotting big-time revenge! This dramatically delicious concoction is an equal mixture of horror, comedy and Shakespeare that'll please just about everyone—critics included! After years of suffering deadly reviews, hammy Shakespearean actor Edward Lionheart (Price) decides it's curtains for his critics. Bumping off his detractors with executions inspired by the Bard, Lionheart stages a beheading in the manner of Cymbeline, a stabbing inspired by Julius Caesar and even an untimely removal of a pound of flesh improvised from The Merchant of Venice—proving once and for all that all the world really is a stage... for murder! Douglas Hickox (Brannigan) directed Price and a troupe of brilliant supporting players including Diana Rigg (Evil Under the Sun), Ian Hendry (The Bitch), Harry Andrews (The Nightcomers), Coral Browne (The Killing of Sister George), Jack Hawkins (Kidnapped), Michael Hordern (The Night My Number Came Up), Robert Morley (When Eight Bells Toll), Dennis Price (Kind Hearts and Coronets), Diana Dors (The Pied Piper), Madeline Smith (Live and Let Die), Joan Hickson (Seven Days to Noon), Renée Asherson (Pool of London), Milo O'Shea (Arabian Adventure) and Eric Sykes (Shalako).
Special Features:
NEW Audio Commentary by Screenwriter/Producer Alan Spencer

Audio Commentary by Film Historians David Del Valle and Nick Redman

TRAILERS FROM HELL with Alan Spencer

2 TV Spots

4 Radio Spots

Theatrical Trailer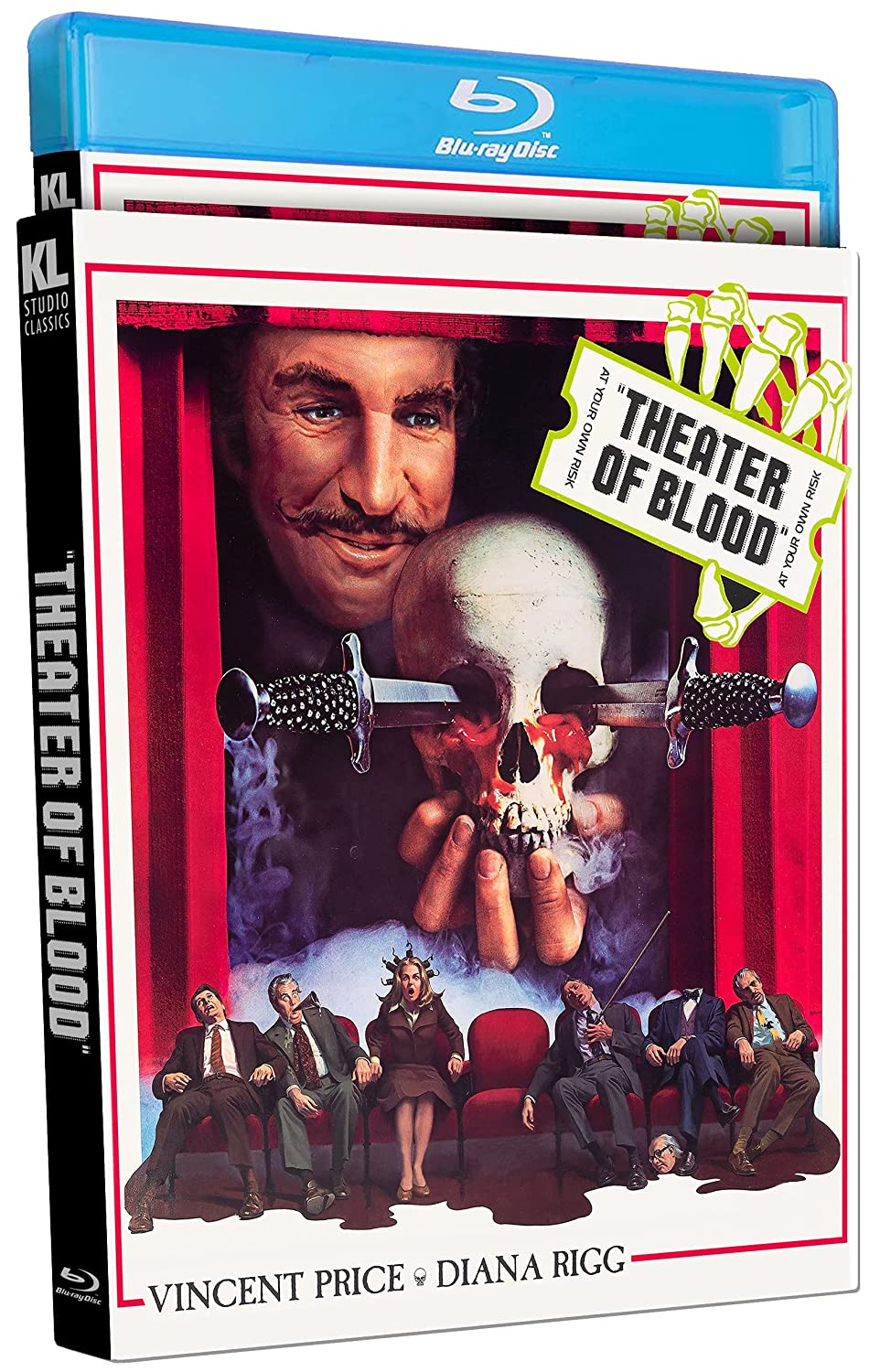 The Thing 4K (Universal Pictures Home Entertainment, 4K Ultra HD/Blu/Digital)
Horror-meister John Carpenter (Halloween, Escape from New York) teams Kurt Russell's outstanding performance with incredible visuals to build this chilling version of the classic The Thing. In the winter of 1982, a twelve-man research team at a remote Antarctic research station discovers an alien buried in the snow for over 100,000 years. Once unfrozen, the form-changing alien wreaks havoc, creates terror and becomes one of them.
Special Features:
DISC ONE - 4K BLU-RAY
4K RESTORATION OF THE FILM FROM THE ORIGINAL CAMERA NEGATIVE
HDR PRESENTATION OF THE FILM
Audio Commentary with Director John Carpenter and Kurt Russell
John Carpenter's The Thing: Terror Takes Shape
Optional English SDH, Spanish, and French subtitles for the main feature
DISC TWO - BLU-RAY
Audio Commentary with Director John Carpenter and Kurt Russell
U-Control: Picture in Picture
Optional English SDH, Spanish, and French subtitles for the main feature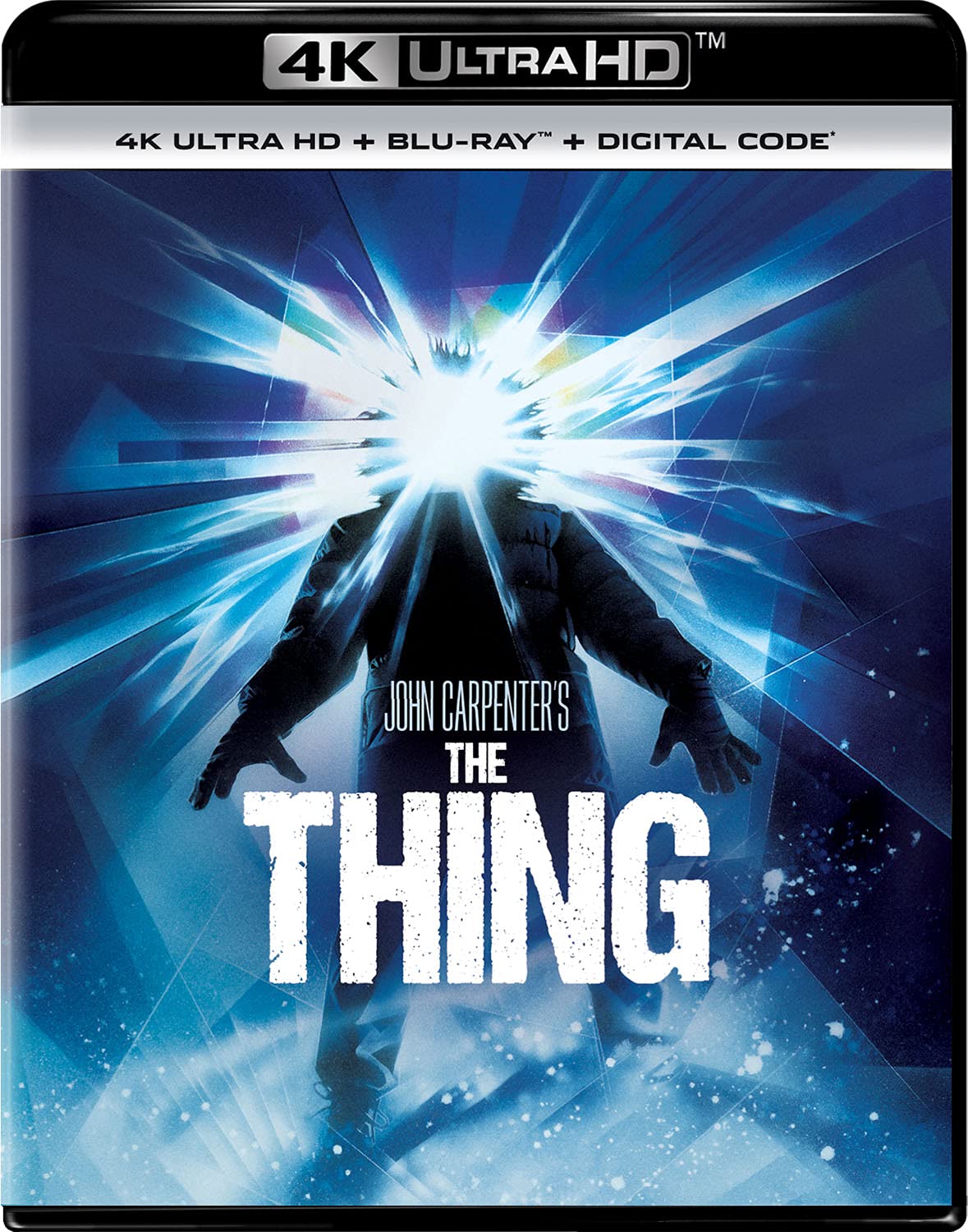 The Tomb of Ligeia (Kino Lorber, Blu-ray)
Star Vincent Price (Theater of Blood, The Last Man on Earth), director Roger Corman (The Premature Burial, The Raven) and screenwriter Robert Towne (The Last Detail, Chinatown) hook up for horror in Edgar Allan Poe's most terrifying tale of passion, possession and purr-fect evil! When a dead wife sinks her claws into immortality—and comes back as a ferocious feline—she leads her husband's (Price) new bride on a deadly game of cat and mouse. And when the fur starts flying, she soon learns that even in death... she can land on her feet! Elizabeth Shepherd (Damien: Omen II) and John Westbrook (Room at the Top) co-star in this chilling conclusion to Corman's Poe cycle of films.
Special Features:
NEW Audio Commentary by Film Historian Tim Lucas

Audio Commentary by Producer/Director Roger Corman

Audio Commentary by Actress Elizabeth Shepherd, Moderated by Filmmaker Roy Frumkes

TRAILERS FROM HELL with Joe Dante

Theatrical Trailer

Limited Edition O-Card Slipcase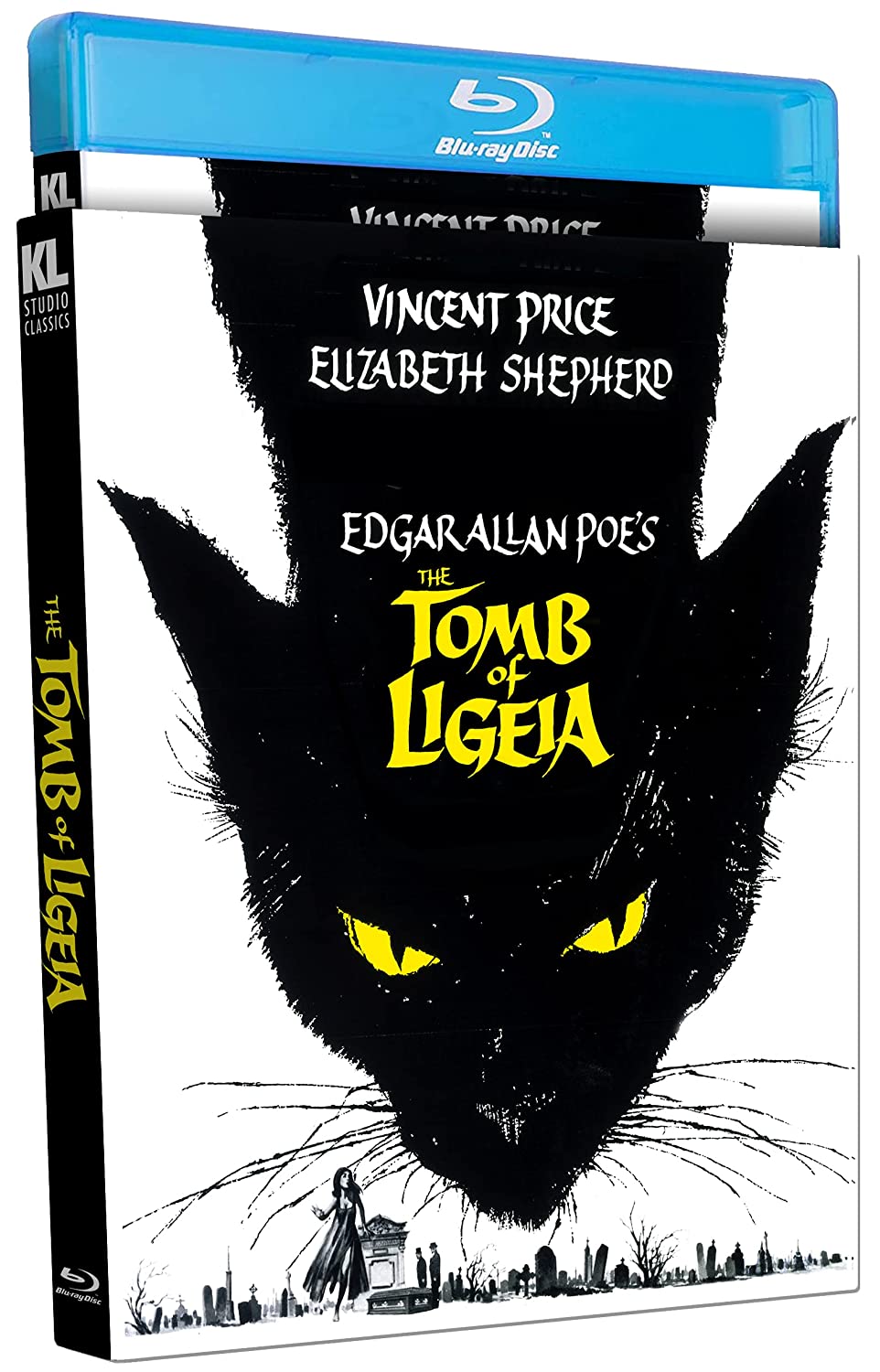 ALSO AVAILABLE THIS WEEK:
Benny Loves You (Epic Pictures, DVD)
Hellbox (SRS Cinema, DVD
Rear Window 4K (Universal Pictures Home Entertainment, 4K Ultra HD/Blu/Digital)
The Return of Swamp Thing (Lightyear Video, DVD)
Skinwalker (Uncork'd Entertainment, DVD)
Vertigo 4K (Universal Pictures Home Entertainment, 4K Ultra HD/Blu/Digital)
War of the God Monsters (SRS Cinema, DVD)
Witches of Blackwood (Devilworks, DVD)