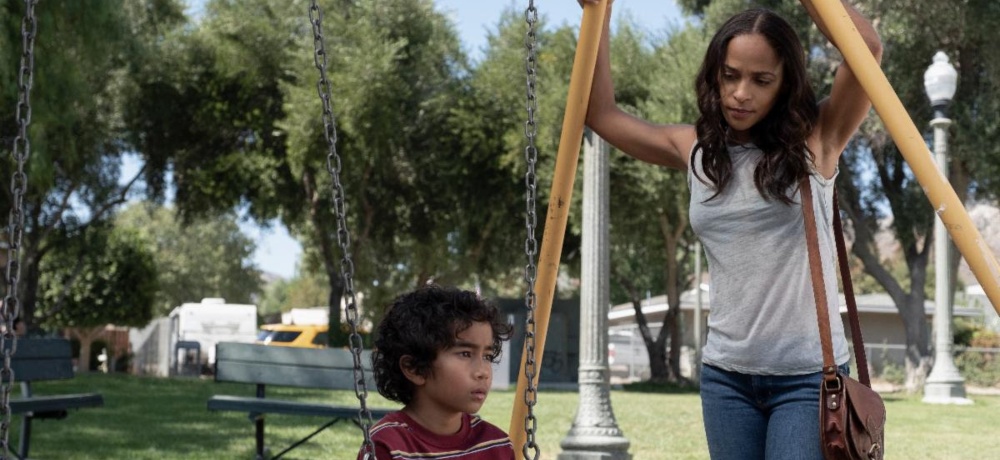 Searching for a new beginning in a small town, a mother must instead fight to protect herself and her son from the nosy—and potentially lethal—locals in Blood Moon, the second season finale of Blumhouse and Hulu's anthology horror series that will premiere on March 26th.
Directed by Emma Tammi from a screenplay by Adam Mason and Simon Boyes, Into the Dark: Blood Moon stars Megalyn Echikunwoke, Yonas Kibreab, Joshua Dov, Marco Rodriguez, Gareth Williams, Jack Yang, Brian Norris, Patrick W. Day, Jan Munroe, and Danielle Juliet Ma.
Synopsis: When Esme (Megalyn Echikunwoke) and her ten-year-old son, Luna (Yonas Kibreab), move to a small desert town looking for a fresh start they attract all the wrong kinds of attention. As the locals begin to probe, Esme must battle to protect her son and a terrifying secret before the next full moon threatens their very existence.

Blood Moon sees the return of filmmakers to Blumhouse and Hulu's Into the Dark in the season finale. Director Emma Tammi previously directed the Mother's Day installment Delivered that premiered last year. Writer Adam Mason directed two episodes in the anthology's first season - I'm Just F*cking With You and They Come Knocking.