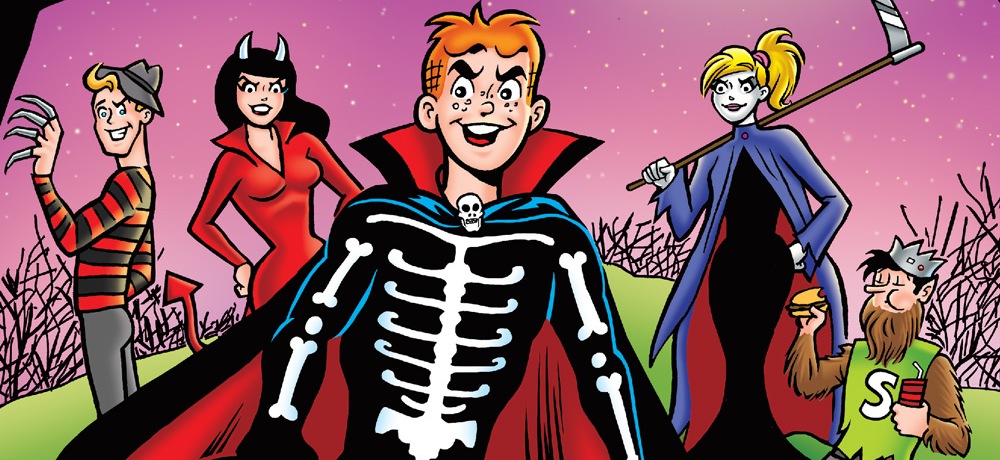 From Betty: The Final Girl and Pop's Chock'lit Shoppe of Horrors to Camp Pickens and the recently released Madam Satan, Archie Comics has been delivering the ghoulish goods in their Chilling Adventures Presents... one-shots all year long, and with another Spooky Season upon us, they're continuing their celebration of all things horror with family-friendly frights in their digest comics!
With another festive fall upon us, we're thrilled (and chilled) to once again team up with Archie Comics to provide Daily Dead readers with the weekly treat of exclusive previews from their digest comics! This week, we have an early look at the aptly named Halloween imps Trick and Treat getting up to autumnal mischief at the Eyegor Estate in the "Monster Mash-Up" story featured in the new one-shot Archie Halloween Spectacular!
As an additional treat, we also have the previously published Betty and Veronica story "Cemetery Situation" to read in its entirety!
Below, you can check out the preview from Archie Halloween Spectacular ahead of its release on October 4th, and be sure to check out last week's Archie Halloween preview and read our recurring "Archie's House of Horror" column written by Jamie L. Rotante, Senior Director of Editorial and writer at Archie Comics! To learn more about Archie Comics and all of their scary good releases, visit:
ARCHIE HALLOWEEN SPECTACULAR (ONE-SHOT)

BRAND NEW STORY: "Monster Mash-Up!" Trick and Treat return on Halloween night to harass Archie and Jughead with assorted monsters until Sabrina takes charge. All that plus more scary-fun stories!

Script: Tom DeFalco
Art: Steven Butler, Jim Amash
Colors: Glenn Whitmore
Letters: Jack Morelli
Cover: Vincent Lovallo, Dan Parent
On Sale Date: 10/4
32-page, full color comic
$3.99 U.S.