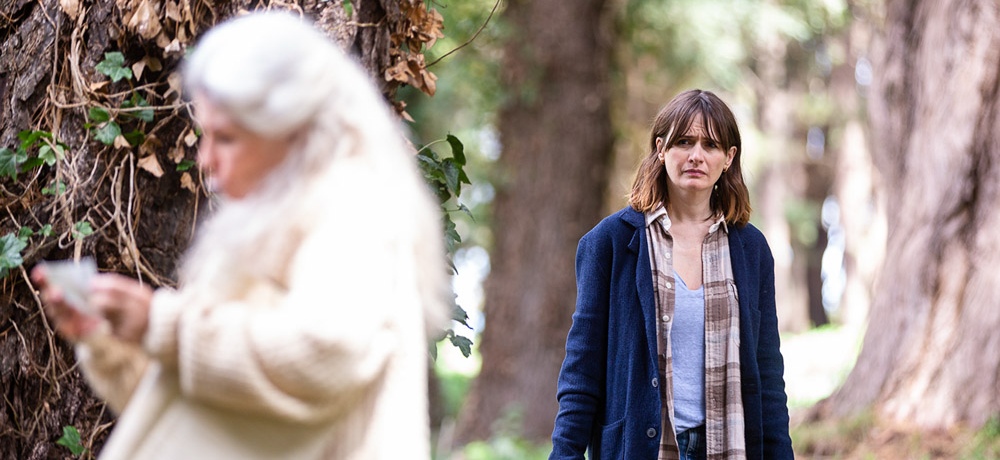 A haunting and emotional exploration of the pressures of familial responsibilities and the horrors of aging, Natalie Erika James' Relic is a powerful reminder of just how hard it can be to watch someone you love slip away from you, both physically and mentally, but also serves as a nifty little horror/thriller hybrid that offers up a few chilling moments to boot.
Relic is centered around three generations of women: there's Edna (played by Robyn Nevin), the matriarch, who has been exhibiting some very odd behavior over the years, like leaving water running for extended periods of time or disappearing into the woods for days on end. Then, there's Kay (Emily Mortimer), her daughter, who is struggling between her own obligations, both personal and professional, and her growing concerns about her mother's well-being. And then there's Sam (Bella Heathcote), Kay's daughter, who is a bit removed from the severity of her grandmother's condition, and only sees what's happening from the outside in, which causes her to experience some friction with her own mom. But the trio are brought together after the extended disappearance of Edna, who just reappears out of the blue like nothing ever happened, which leaves Edna's progeny with many questions, especially as her condition begins to worsen, and nothing is at is seems.
I'm not sure if it's because I had to watch my own grandmother succumb to dementia over the years or not, but there was a lot about Relic that hit me extremely hard, as I found it to be an honest and unflinching character-driven drama that takes a turn into full-blown horror territory once Relic builds towards its final moments, and it does so with the greatest of ease. We've seen in previous films that there is a real-life horror show that comes along with aging (it has been recently explored in genre movies like M. Night Shyamalan's The Visit or Adam Robitel's The Taking of Deborah Logan), but I think what James does here is a bit more moody and subtle, allowing the unease of what these characters are dealing with to seep into viewers as she prepares to unleash some unexpected terrors later on, and the results are enthralling.
What I thought was really effective about Relic, beyond its story and the wonderful performances from its core trio of female actors, were all these little details that get worked in here. From the constant notes that Edna leaves all around her home to the way Kay fervently cleans when she's anxious to Sam's desire to please her grandmother at all costs, these were just a few great touches from James to allow us as viewers a peek into the psyches of these women without barraging us with a ton of extraneous exposition. Oh, and another plus to why Relic resonated with me was that these characters aren't sugar-coated at all either, and I found them all highly relatable as they do their best to deal with the challenges that come with Edna's advanced age.
While the issue of Edna's growing dementia and just how terrifying that can be for her family is the driving force in Relic, it's evident that there's also something supernatural afoot, and I really enjoyed how James was able to roll the realistic tragedy of what this family is enduring into the off-putting and terrifying occurrences that are also happening at the same time, giving the film a palpable sense of dread at every turn. A lot of that is also reflected in both the camerawork as well as the production design (designer Steven Jones-Evans completely nails that grandparent clutter feeling to a T here), which adds some extra visual layers to the story of Relic overall.
Anchored by a trio of beautifully nuanced and demanding performances, and a well-crafted script that does a wonderful job of balancing characters and scares, I think what James has managed to accomplish here with her feature film debut makes for a remarkably confident calling card for her as a director, and I eagerly look forward to whatever she does next in her career.
Movie Score: 4/5
---------
In case you missed it, visit our online hub for more live coverage of the 2020 Sundance Film Festival!
[Photos credit: Above photo courtesy of Sundance Institute.]