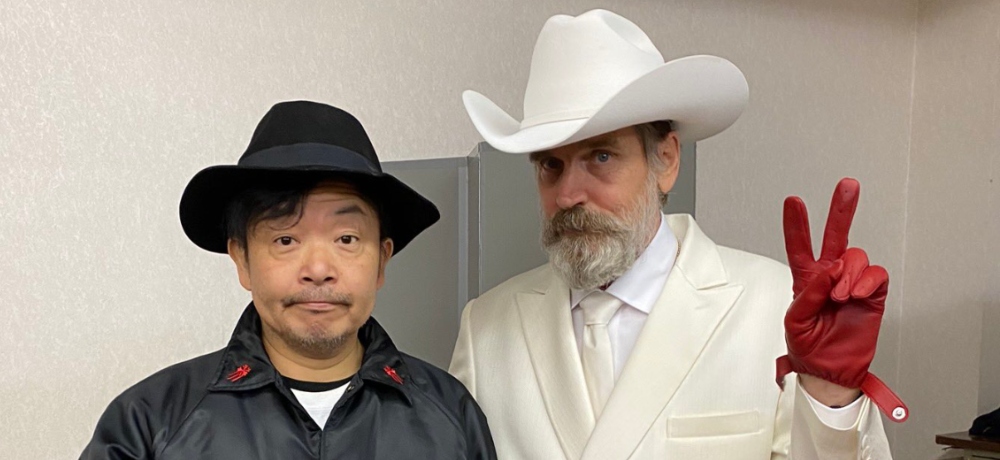 Last night, Prisoners of the Ghostland, the latest from trailblazing filmmaker Sion Sono, premiered at the 2021 Sundance Film Festival. The genre-bending post-apocalyptic actioner stars Nicolas Cage as a bank robber called "Hero," who is tasked by a nefarious figure known only as "The Governor" to retrieve his granddaughter (played by Sofia Boutella), who has run away and gone off the grid. To take on the role of The Governor in Prisoners of the Ghostland, Sono brought on veteran actor and fan favorite Bill Moseley, who relished the opportunity to play the over-the-top bad guy, even if he wasn't very familiar with the director's work prior to becoming involved.
"My contact for Ghostland was the writer, Reza Sixo Safai," Moseley explained. "We're pals here in Los Angeles, and he had talked about the movie and suggested I look into it. I didn't really know anything about Sion Sono, so the first movie he suggested I watch was Tag. And then from there, it was Suicide Club and then Tokyo Tribe, Antiporno, Exte: Hair Extensions. It was just like, once I had tasted Sono's work, I just kept binging. As it turns out, my favorite of all of his movies was Cold Fish. I just thought it was brutal and fantastic. I loved that movie so much."
"Originally, I think they were thinking about me at first as the bad guy in the Ghostland, the part that Nick Cassavetes plays. But when I invited Reza to the premiere of Three from Hell, that's when I found out they wanted me for The Governor. So, that was great."
When we meet The Governor in Prisoners of the Ghostland, he makes a memorable entrance, followed by a lengthy diatribe as he informs Cage's character about his expectations for the return of his granddaughter, which includes going over an explosion-laden suit that Cage must wear to not only keep him in line, but also keep him motivated as he sets out on his danger-filled journey. To help him prepare for this big moment in the film, Moseley was able to use his time while traveling with his wife to help him get ready.
"As it turned out, my wife and I had coincidentally booked a cruise expedition up the Mekong River. We were on a little boat going from Ho Chi Minh City up to Cambodia, Phnom Penh. And so, I was on a deck chair on the Mekong Princess, which was the name of the ship, pounding lines, so that I could describe the suit very accurately. So here I was, immersed in this world, as I was pounding those lines and prepping for The Governor, just going through these beautiful and mysterious places."
"From there, my wife flew home, and I flew to Tokyo and took the bullet train down to Maibara, which was our main location, on the shores of beautiful Lake Biwa, where I continued to pound lines. And I was very excited when the day came, where I had my big scene with Nic. It was the introduction of "Hero," and I'm telling him about the suit. Those were the lines I really had to pound, because there was no wiggle room. You really had to describe everything very specifically and it all had to come trippingly off the tongue."
"But I was very gratified with all that pounding, because that day that we shot that scene, I think we were able to do it all in one take. That really set the tone for me," Moseley added.
Look for more on Prisoners of the Ghostland closer to the film's release later this year!
[Photo Credit: Above photo is from Bill Moseley's Twitter page.]
----------
Visit our online hub to catch up on all of our coverage of the 2021 Sundance Film Festival!