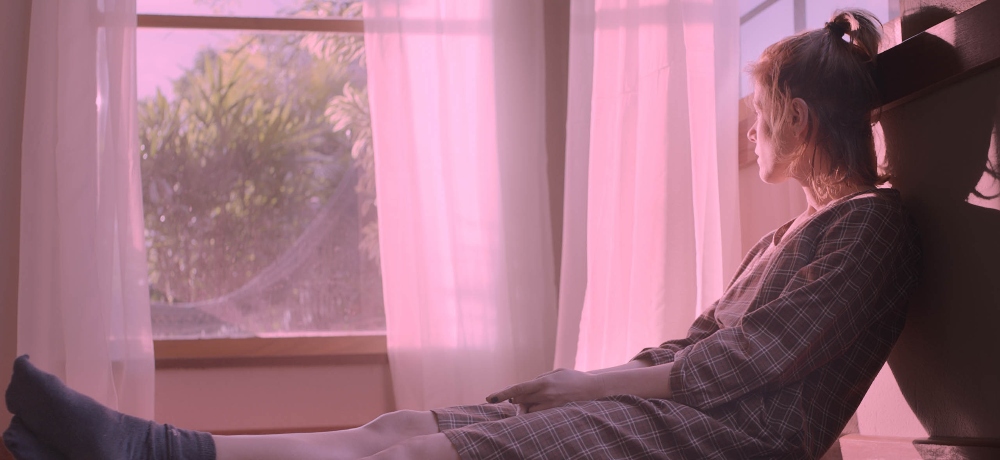 It's not hard for us to imagine living in our four walls for a long time. We've been doing it for almost a year after the pandemic hit and the world fell into disarray. However, Iuli Gerbase, the director of The Pink Cloud (original title: A Nuvem Rosa), proves to us that it could be so much worse. Her first feature film shot and written entirely before the virus ruled our world is eerie, terrifying, and mind-stimulating. Its topic, so innocently coincidental, ideally matches our situation and further provokes us to the reflection.
Giovana (Renata de Lélis) and Yago (Eduardo Mendonça) meet at a party and spend the night together. They feel free and happy; they don't know that their life is about to change drastically the next day. As they wake up, a pastel pink cloud welcomes them, casting rosy hues through the window. Soon after, the government officials break the news. The titular pink cloud kills the citizens if they go outside. They are all mandated to close the windows and stay at home at all times. The television broadcast feels eerily relatable and completely peculiar as we see Giovana and Yago retaining the knowledge that was just presented to them. We see their reactions, and we cannot stop but think about our own.
As the pink cloud doesn't go away, our characters need to learn how to live together and co-exist in a two-story apartment. The director showcases the time passing by; we see Giovana learning the handstand and Yago attempting to fix the dishwasher. Gerbase makes sure to capture one notion: even in the pandemic, the show must go on, and our characters have to continue to live and move forward. Because Giovana and Yago are stuck together, they have to solve their problems themselves. It's where the power of conversation and communication is at its peak. They don't have any other choice than to face their issues right there and then because there is no escape from one another.
De Lélis and Mendonça, as main characters, perfectly showcase their talent. The pair has incredible chemistry. They cooperate flawlessly, portraying a couple that many can relate to. There are films that some understand better and some less. Our unique background and experiences help us perceive a picture differently. However, most people will relate to Giovana and Yago's story in The Pink Cloud because we're collectively living through something alike.
Gerbase places pressure on the pink hues and the lighting in the film. As we live day after day and see how the relationship of the main characters grows and transforms, we see it all wrapped in rosy tones. Before the film, this particular shade would not be considered to be so dangerous. Still, the director completely flips the script and makes this innocent color, often associated with childhood, completely life-threatening.
In the present climate, The Pink Cloud is ultimately becoming something much more. Something that even the makers of this movie couldn't predict. We pause and ponder for a moment, with the climax at its peak, then the closing credits roll. We could have gotten a lot worse. We may have stayed with windows nailed shut during the pandemic, not being able to breathe fresh air or go to the grocery store at all. Yet, there were always individuals who felt that it was too much.
The Pink Cloud is a very humbling watch, very relatable in its plot, storytelling, and excellent direction. It's for everyone, really. Though the script is rather depressing, it puts us at ease in our situation. Long after watching the film, it is a very unusual feel-good feeling that will accompany us, because, truly, we should count ourselves as lucky ones.
Movie Score: 5/5
----------
Visit our online hub to catch up on all of our Sundance interviews and reviews!
[Image Credit: Above image courtesy of the Sundance Institute.]