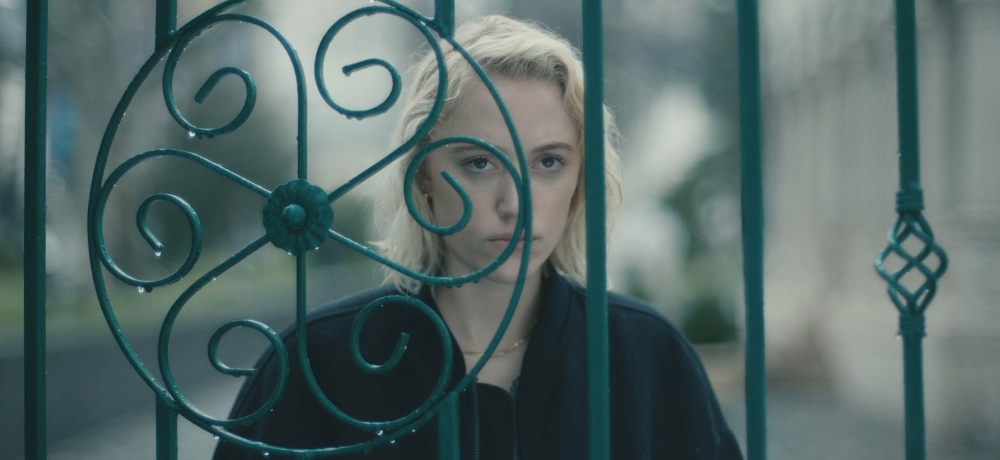 Last year, Chloe Okuno introduced the world to Ratmaa in her "Storm Drain" segment in V/H/S/94, and for 2022, she's teamed up with Maika Monroe for Watcher, her confidently crafted debut feature film project. In this paranoia-fueled thriller, Monroe's character, Julia, is transplanted to Bucharest when her husband, Francis (Karl Glusman), has to move there for his marketing job. Francis settles in rather easily, as he's Romanian and can easily communicate with everyone; Julia, on the other hand, feels immediately isolated upon her arrival, and things only get worse for her as Francis spends more time at work and she's often left to her own devices as she tries to navigate her way through her new surroundings and her new life. One night, Julia realizes that her neighbor (Burn Gorman) across the street is watching her from his darkened apartment, which does nothing to alleviate her anxieties.
And as a serial killer known in the area as "The Spider" continues his gruesome murder spree of young women in Bucharest, Julia begins to suspect that her neighbor might be looking to make her his latest victim—or maybe it's just her paranoia getting the best of her after all?
As someone who loves psychological thrillers that continuously toy with their audience's expectations from start to finish, Okuno's Watcher did an exceptional job of creeping me out and creating an oppressive atmosphere of dread and terror from start to finish. Perhaps a lot of that comes from being a woman who knows all too well the panic and frustrations that Monroe's character feels throughout Watcher, or the fact that stories of "strangers in a strange land" are always a perfect vehicle to create heightened emotions. Whatever it is, there's no denying that for her first time at the helm of a feature, Okuno has knocked it straight out of the park with Watcher and demonstrates right out of the gate what an assured storyteller she truly is.
I know most horror fans will tout Monroe's performance in It Follows as her best, and she is great in that film, but I think Watcher features her finest work to date, as she's able to carry so much of this story on her extremely capable shoulders, most of the time using very minimal dialogue and very subtle physicalities that reflect the stress that Julia is feeling and how this ordeal is affecting her beyond just all the mental anguish and genuine fear for her life that is all-consuming. I also think Benjamin Kirk Nielsen's cinematography does an incredible job of highlighting the themes at play in Watcher, and it perfectly captures the unique atmosphere of Bucharest and also highlights how the locale continues to break down this story's protagonist the more time she spends in the city.
A lot of folks will probably make some comparisons between Okuno's work in Watcher to the works of Roman Polanski or Alfred Hitchcock, but considering I don't really watch the films of the former, and I still have a few blind spots to fill in from the latter, the comparison I would make is that Watcher feels a lot like if Brian De Palma had remade Rear Window in the early phase of his career. That being said, Okuno's work in Watcher is strong enough to stand on its own merits, and the way she's created a feature film debut that feels both timely and timeless has made an immediate fan out of this writer. It's also worth noting that the last 15 minutes of Watcher left me wringing my hands out of anticipation, and its shocking conclusion (and final shot) is something that is going to stick with me for years to come.
Movie Score: 4/5
---------
Go HERE to catch up on all of our coverage of the 2022 Sundance Film Festival!
[Photo Credit: Above photo courtesy of Sundance Institute.]