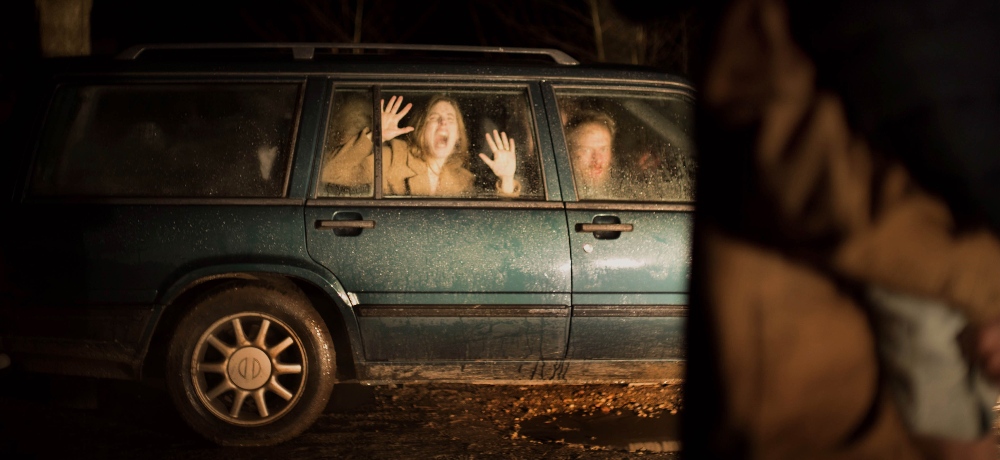 With Speak No Evil, filmmaker Christian Tafdrup has easily crafted what will probably be one of the most divisive genre films of 2022, which I mean purely as a compliment. And while it's hard to say that I enjoyed everything about the film (because of just how hard Speak No Evil goes in its latter half), I think the fact that the story Christian has co-written with his brother Mads Tafdrup is so unapologetically unflinching and unnerving is easily the movie's greatest asset. Even if you think you know where Speak No Evil is heading (and it is a horror movie, so you probably aren't far off), nothing—and I mean nothing—can prepare you for the horrors that Tafdrup conjures up with his wickedly provocative examination of the dangers of civility.
Speak No Evil starts off innocently enough, as a Danish couple Bjørn (Morten Burian) and Louise (Sidsel Siem Koch), are enjoying their vacation in Tuscany with their young daughter when they are befriended by the vivacious Dutch couple Patrick (Fedja van Huêt) and Karin (Karina Smulders), who happen to have a son around the same age. The two families hit it off on their vacation so well that, several months later, Bjørn and Louise receive an invitation from their new Dutch friends to come out and visit them for a weekend, and they decide to make the trip to see their new friends. Things start off well enough, despite Bjørn, Louise, and their daughter, Agnes (Liva Forsberg), not quite feeling like they fit in at Patrick and Karin's house, but as the weekend rolls on, the overly polite Danish visitors find themselves tested in their ability to be polite in response to their hosts' micro-aggressive natures, and eventually, the differences between the two families come to a head in a horrifically devastating final act that I still cannot shake off several weeks later.
I think one of the biggest reasons Speak No Evil crawled under my skin so easily is that I wholly identified with both Bjørn and Louise, as I like to describe myself as "Painfully Midwestern," which means I pretty much put up with anything because that's my nature (that's due to my upbringing, but since this isn't a therapy session, I'll just move on). But with that in mind, how everything just subtly escalates in this narrative crafted by the Tafdrup brothers deeply disturbed me on so many levels because I would totally be that person who wanted nothing more than to go home and get away from these horrible people, but I would stick around because if I left, it would be considered "rude." So if nothing else, I think I finally found a horror movie scenario where I'm not so sure I'd actually survive, and I have a sneaking suspicion there are many others out there who are in the same boat.
And in terms of the subtlety at play in Speak No Evil's storytelling, the way that Tafdrup just slowly amps things up throughout the film is downright genius, with things starting off as these little things, like Louise telling their new friends on vacation that she's a vegetarian, and for their first dinner at the house, Patrick cooks a giant roast that he forces her to taste. It doesn't get much better from there, like when Patrick comes into the bathroom to relieve himself while Louise is showering, or how both Patrick and Karin demonstrate abusive parental tendencies towards their son, Abel (Marius Damslev), who we are told was born without a tongue. And as Bjørn and Louise continue to find their patience with their hosts pushed to the very limits, Tafdrup continues to build up the suspense by throwing in some unexpected character-driven twists just so that he can wallop the hell out viewers with a gut-punch finale that I guarantee people are either going to love or they are going to hate with every fiber of their being. And for me personally, I love when filmmakers aren't afraid of being this confrontational in their work, which is why I ended up being such a fan of Speak No Evil, even if it totally destroyed me by the time its credits rolled. The film will hit Shudder later this year and it is definitely a film I think all genre fans should keep on their radar.
Movie Score: 4.5/5
[Photo Credit: Above photo courtesy of Erik Molberg / Sundance Institute.]
---------
Go HERE to catch up on all of our coverage of the 2022 Sundance Film Festival!