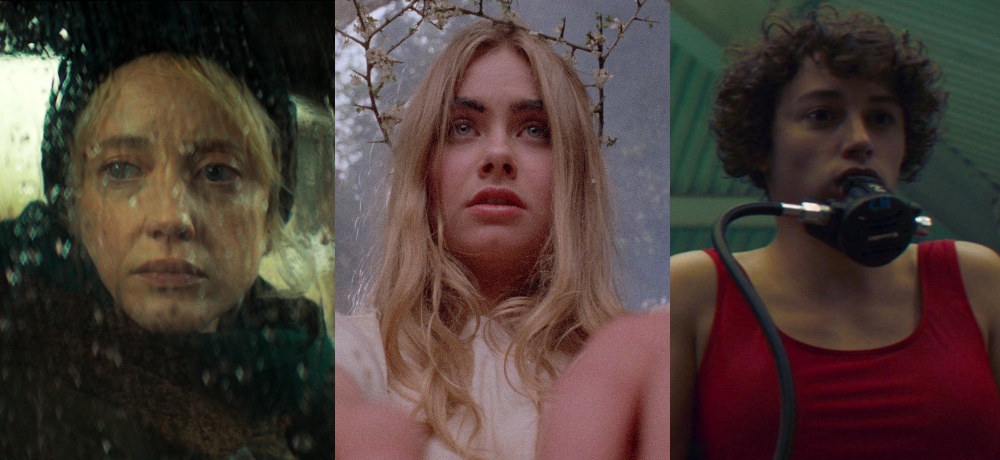 Earlier this month, I had the opportunity to check out an array of projects from three different female filmmakers who were part of the 2021 SXSW Film Festival, including Here Before, which was written and directed by Stacey Gregg, Kier-La Janisse's folk horror doc Woodlands Dark and Days Bewitched, as well as Witch Hunt from writer/director Elle Callahan.
Read on to see what I thought of this trio of films out of this year's SXSW, and be sure to keep an eye out for more on these projects in the near future as well.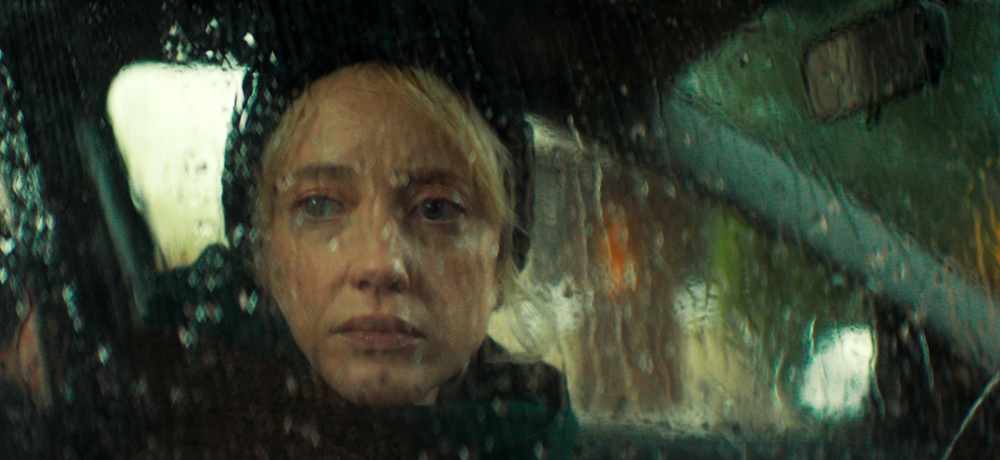 Here Before: With her feature film debut, Irish writer/director Stacey Gregg makes quite a statement with Here Before, a psychological thriller that also happens to be a thoughtful cinematic meditation on grief and motherhood. Featuring yet another all-timer performance from Andrea Riseborough, Here Before was easily the most surprising film I saw during this year's SXSW. It starts off as one thing, but as Gregg amps up the tension and emotions at the heart of her story, it evolves into something else entirely, and it's a narrative transformation that packed a huge wallop with me, especially during Here Before's final moments.
In the beginning, Gregg introduces us to Laura (Riseborough) and her family, who are in the midst of trying to find some normalcy in their lives after the sudden death of their daughter Josie. Everything seems to be going fine for Laura, her hubby, and teenaged son until a new family moves in next door, and their young daughter, Megan (Niamh Dornan), immediately latches onto Laura. Everything starts off innocently enough, but as Megan begins exhibiting some intriguing behaviors that share an eerie similarity to Josie's mannerisms, Laura wonders if she is being reunited with her daughter somehow through the arrival of Megan. As Laura's own sense of perception begins to meander into questionable territory, coupled with a few boundary-pushing decisions, her behavior causes some major friction between the two families—and within them as well—culminating in a devastating revelation that leaves Laura, Megan, and everyone else forever changed in unimaginable ways.
The greatest compliment I can pay Here Before is that Gregg really does a brilliant job of delivering up a wholly unexpected psychological thriller that shocked me once it showed its cards, so to speak. Riseborough is truly the MVP here (which was not a surprise, since she's quickly become one of my "must-see" actresses out there working today), but Dornan does an excellent job of delivering up a nuanced and thoughtful performance that seems well beyond her years, and I think both actresses deserve a lot of praise for what they manage to create in Here Before.
Gregg also demonstrates a great deal of talent behind the camera, creating an intriguing visual language throughout her debut film that sets a perfect tone for the often disconcerting relationship that unfolds between Laura and Megan, and tying other elements into how their kinship is affecting those around them. I really enjoyed Gregg's keen ability to explore grief here in a very different manner than it is usually portrayed in film, and after seeing what she's capable of with Here Before, I look forward to whatever project she takes on next.
Movie Score: 4/5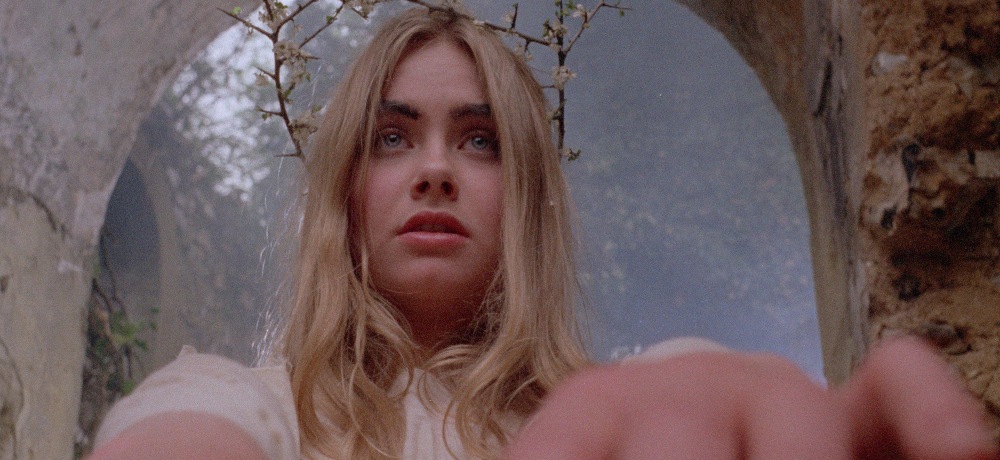 Woodlands Dark and Days Bewitched: If you are in the mood for a comprehensive celebration and examination of folk horror from around the world, look no further than Kier-La Janisse's Woodlands Dark and Days Bewitched: A History of Folk Horror, which provides viewers with a thoughtful and engaging rundown of this subgenre that covers so many topics and films, it left me with a "To Watch" list that took up like two full pages in my notebook. It's pretty evident that folk horror is enjoying something of a resurgence over the last decade, which makes the timing of Woodlands Dark perfect, as I think there is a ton of information given here that genre fans are going to want to parse through time and time again.
For Woodlands Dark, Janisse starts at the beginning of the movement, which came in the form of three different films: Witchfinder General, Blood on Satan's Claw, and The Wicker Man. From there, she continues to explore the impact of folk horror on both British film and television, which was enlightening for me, just because there were so many different projects of this ilk that I had no idea even existed, and that section of the doc provided me with a lot of great insights, especially as the various interviewees discussed how folk horror was often about the clashing of ideals between the old world and the new world. Janisse eventually crosses the ocean and dives into American folk horror, covering nearly 50 years of cinema that also includes a few newer genre favorites like Hereditary, Midsommar, and Jug Face. And to wrap things up, Janisse does a bit of globetrotting as she digs into the cinematic folklore of Japan, Australia, Latin America and more.
Clocking in at over three hours, Janisse has confidently created one of the most expansive genre docs to date of its kind with Woodlands Dark and Days Bewitched. And not only is it entertaining, but I think there's a great deal of information provided here for those who may be interested in studying folk horror in greater measure, which my inner nerd also appreciated. Janisse's passion for this subgenre of cinematic storytelling is evident from start to finish, and I really enjoyed the inclusion of several folk songs and the old-timey interstitials that really set the mood here.
Admittedly, I decided to watch Woodlands Dark in two parts, just because that runtime was a bit daunting for me, and I think that helped keep my energy and interest in the doc, as there's just so much information and content, I can see how some might feel overwhelmed. But I think what Janisse has managed to assemble for Woodlands Dark and Days Bewitched is something of a miracle, considering the scope and its thoroughness, and I think horror fans should definitely give it a watch just as soon as it gets a release (hopefully later this year).
Movie Score: 4/5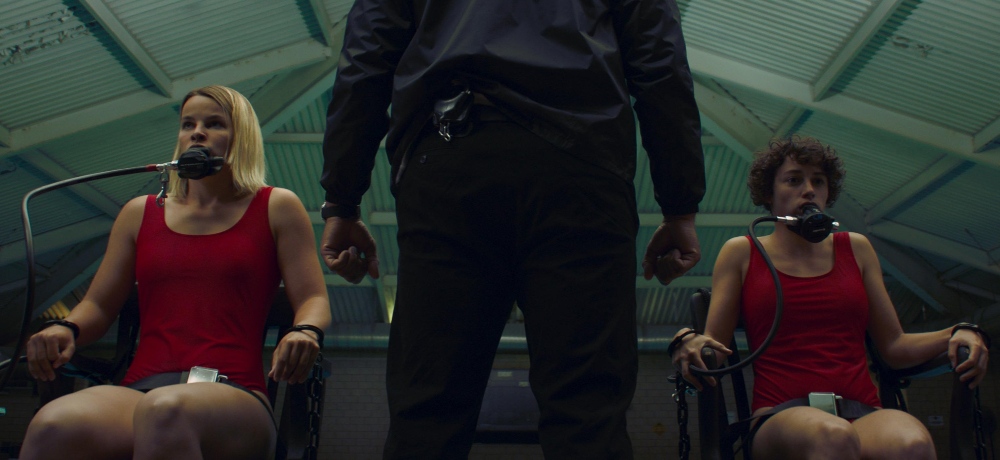 Witch Hunt: Utilizing witchcraft as a metaphor for current sociopolitical issues plaguing our society, I really enjoyed writer/director Elle Callahan's female-driven Witch Hunt that introduces us to an alternate reality where the practice of witchcraft has been declared illegal and witches are persecuted and eventually executed for their beliefs. Callahan's story is centered around a teenager named Claire (Gideon Adlon), who lives in Southern California with her mom (Elizabeth Mitchell), who uses their home as a transitionary place of refuge for witches looking to make their way to Mexico, the one place where they can live in peace and away from the oppressive laws of the United States. One day, a pair of young sisters (Abigail Cowen, Echo Campbell) arrive at their home seeking refuge, but things get complicated from there when an agent for the anti-witchcraft task force shows up, and his arrival puts everyone squarely in harm's way, including Claire, who begins to suspect that she might have her own spellbinding abilities as well.
From the get-go, there's something very intriguing about the basic concept at the core of Witch Hunt, and I think the way Callahan manages to ratchet up tensions throughout the film in a very relatable and humane way makes her second feature film a remarkable achievement in many ways. She does a brilliant job of bringing together a variety of elements from the days of the Salem Witch Trials into our modern world, like float tests and the checking of young women's bodies for birth marks, and as those concepts are explored here, they make for some truly unsettling moments in the story (watching young women confined to chairs being dropped into a high school pool against their will, with a quiet desperation in their eyes is one image that has yet to leave my psyche). I also think the performances in Witch Hunt are rather strong across the board, and I think all the women involved here have a lot to be proud of.
That being said, I do have some minor quibbles with the film, but nothing that derailed my enjoyment overall. One of the conceits of Witch Hunt is that the witches are, more often than not, ginger-haired women, so you end up with a film that feels very lacking in diversity in that respect. In the latter half of the film, it feels like some of the rules that Callahan established early on in Witch Hunt get tossed aside as well, and thus the movie's finale suffers a bit for it (it's still solid though, and again, didn't really take me out of the experience as a whole).
But even though it does have a few minor missteps, there's still a lot that I enjoyed and appreciated about Witch Hunt, and I loved how, for as bleak as it was at times, it ended up being this lovely celebration of sisterhood and feminine energy that tips its hat to Thelma & Louise as well.
Movie Score: 3.5/5
---------
Go HERE to catch up on all of our reviews and interviews from the virtual 2021 SXSW Film Festival!
[Image Credit: Angel Blake (Linda Hayden) in Piers Haggard's Blood on Satan's Claw (1971), courtesy of Severin Films.]