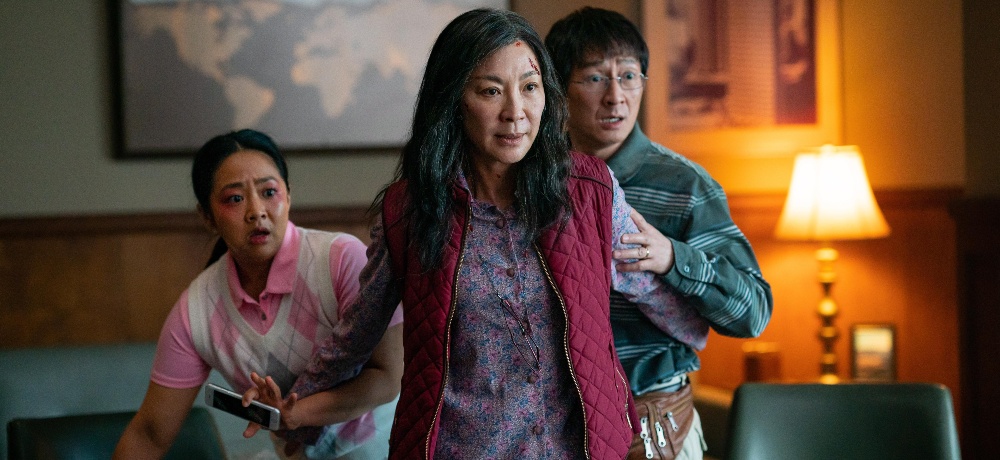 For their follow-up to Swiss Army Man, filmmakers Dan Kwan and Daniel Scheinert go the kitchen sink route (which I mean purely as a compliment) with Everything Everywhere All at Once to deliver up a wildly entertaining action comedy that also happens to be a heartfelt examination of a family in crisis as well as a thought-provoking metaphysical romp to boot. Truth be told, it's been a long time since I've seen a film that bends as many genres as Everything Everywhere does, and does it as well as the Daniels do here, resulting in a mind-blowing cinematic experience that will undoubtedly defy your expectations at every turn and will also leave you feeling wholly rapt from start to finish.
At the center of Everything Everywhere is Evelyn Wang (Michelle Yeoh), a super stressed-out laundromat owner who barely has time for her husband, Waymond (Ke Huy Quan), as she's too busy worrying about taking care of her elderly father Gong (played by the legendary James Hong), fighting with her daughter, Joy (Stephanie Hsu), and preparing for a brutal audit from an unforgiving IRS employee named Deirdre (Jamie Lee Curtis, in truly one of the most unexpected roles we've seen from her ever). As if Evelyn's life isn't chaotic enough, suddenly she finds herself thrown into this new reality where multiverses exist and only this version of herself can stop the universe(s) from total destruction at the hands of a space-time continuum-hopping force of evil that just so happens to hit a little too close to home for poor Evelyn.
Truth be told, this only summarizes about 20 percent of all the cinematic madness that unfolds throughout Everything Everywhere All at Once, but to say anything more would ruin this completely out-of-left-field journey for those who have yet to discover its transcendental magic, so I'll leave it at that. But in terms of all the endearing silliness that both Scheinert and Kwan manage to conjure up throughout the film's more than two-hour running time, all of that is eclipsed by their heartfelt story about a woman contemplating all the "could have been" versions of herself had Evelyn not followed this particularly challenging life path to begin with, which is completely relatable even to those of us who have never found ourselves traversing throughout the multiverse.
Without a doubt, though, Everything Everywhere is a fantastic vehicle for Yeoh, whose versatility in front of the camera is perfectly showcased here in so many ways due to the genre-bending nature of the film's story, and her performance here is easily amongst some of the veteran actress' best work in her career, which says a lot considering what we've seen from Yeoh in the past. Beyond that, though, Quan (whom many fans will remember from his work in Temple of Doom, The Goonies, or even Head of the Class, which was one of my favorite series growing up) delivers up a revelatory performance in Everything Everywhere that seamlessly shifts between a loving husband who puts googly eyes on everything as his small way of bringing about some kind of happiness in his life and a no-nonsense time traveler who is hellbent on trying to save the universe. I truly hope that Quan gets the recognition he deserves for his performance here, and that this leads to other opportunities for him in the future, because he is just that great in this.
Both Hsu and Hong are equally fantastic as well in Everything Everywhere All at Once, and I gotta say that I have always known that Curtis had some killer comedic chops in her performer's tool bag, but I never could have expected the legendary actress to deliver up the kind of hilarity that she doles out here, and it's all great. Truth be told, one of the biggest reasons that Everything Everywhere works as well as it does is because both Kwan and Scheinert put together this fantastic ensemble, but even more so, they smartly understood that if they gave these actors the right material, they could shine in the most astonishingly and unorthodox ways possible.
The thing of it is, Everything Everywhere All at Once shouldn't work as well as it does simply because it feels like the filmmakers took this route where it seems like they both infused their ambitious story with every little thing they love about the cinematic experience in general, which is an approach that can often result in a messy endeavor that lacks focus or purpose. That's not the case with Everything Everywhere whatsoever. What both of the Daniels manage to create in their latest collaboration that takes some very big thematic swings is a staggering storytelling achievement that pushes so many boundaries, but also manages to deliver this intricate exploration of the meaning of life and what happens when we have to face our own feelings of inadequacy and wondering just what might have happened had we made different decisions in our lives or fulfilled alternate destinies altogether.
Movie Score: 4.5/5
---------
Go HERE to catch up on our coverage of the 2022 SXSW Film Festival!
[Photo Credit: Above photo courtesy of Allyson Riggs / SXSW.]