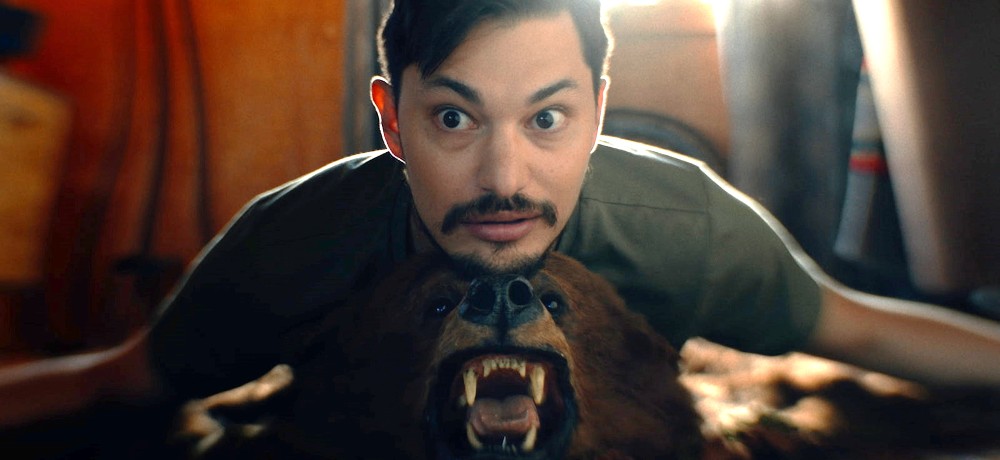 There is nothing funny about having a nervous breakdown, so it's extremely admirable when someone can not only share their story with the world, but also manage to insert humor into a difficult situation. Writer/director Addison Heimann's feature film debut, Hypochondriac, is an intimate, and sometimes hysterical, glimpse into his own personal experience with mental illness and the film is premiering at this year's SXSW Film Festival. 
Hypochondriac follows a young, gay man named Will, played by Zach Villa (American Horror Story), who gives a wonderfully authentic performance. When Will was a child, his mother (Marlene Forte) began acting strangely and after becoming violent, was admitted to a psychiatric hospital. Will then cut off all communication with his mother, partially on the advice of a therapist, played by Paget Brewster (Criminal Minds), and eighteen years later, he has a boyfriend and a job as a potter for an exclusive gallery. On the surface, Will seems to have his life together. He helps his co-worker Sasha (Yumarie Morales) manage her panic attacks at work and goes home to his loving boyfriend, Luke, played by Devon Graye (Dexter), who cooks extravagant meals for him. According to Will, everything is fine, until his mother begins constantly leaving rambling voice messages and sending him packages with empty DVD cases and nonsensical notes. 
Will has no desire to talk to his mother, but she won't stop contacting him, and eventually, he begins suffering from unusual physical symptoms. He frequently forgets to eat, gets dizzy, and his arms mysteriously go numb. Even worse, Will thinks he's seeing a wolf, who also calls his name. The wolf looks a lot like Frank the Bunny from Donnie Darko. There are also scenes of Will sitting with the wolf that also seem to be referencing the film and are effective in the way those scenes illustrate the beginning of his struggle with mental illness, similar to the movie theater scene with Donnie and Frank in Donnie Darko.
Repeated trips to the doctor and lab work make Will's situation even more frustrating when the doctors tell him he's only suffering from stress. Hypochondriac feels incredibly personal and Villa's profoundly emotional performance of a man helplessly descending into madness is spectacular and moving. Will's hallucinations of the wolf increase and soon he's suffering from paranoia and unable to determine what is real and what is only in his mind. He's terrified of ending up like his mother and returns to see his old therapist Dr. Sampson (Brewster), who prescribes anti-psychotics. The medications don't seem to be helping Will and as his visions become more bloody and violent, he reaches out to his father, hoping for consolation. Instead, Will's father is apathetic to Will's illness, much like he was with his mother, leaving Will to feel very alone in the world. 
Will's sometimes agonizing journey to the realization he is experiencing a nervous breakdown isn't all depressing. Heimann skillfully injects small doses of dark humor into the story, which makes Hypochondriac all the more realistic. Even when it feels like everything is awful, it's still possible to find things to laugh about in life and sometimes that's what gives us hope. When Will ends up in a psychiatric hospital, he's forced to finally confront the wolf, as well as his mental illness. He can either accept this fact about himself and learn how to live with it, or he can give up. 
Ultimately, Hypochondriac is funny, heartbreaking, and thought-provoking. Heimann's willingness to share the story of accepting his own nervous breakdown in a brutally honest, and sometimes amusing way, along with Villa's extraordinary performance as Will, is awe-inspiring. Hypochondriac also reminds us that regardless of how bad things might be, sometimes it's okay to laugh and laughter can be healing.
Movie Score: 4/5