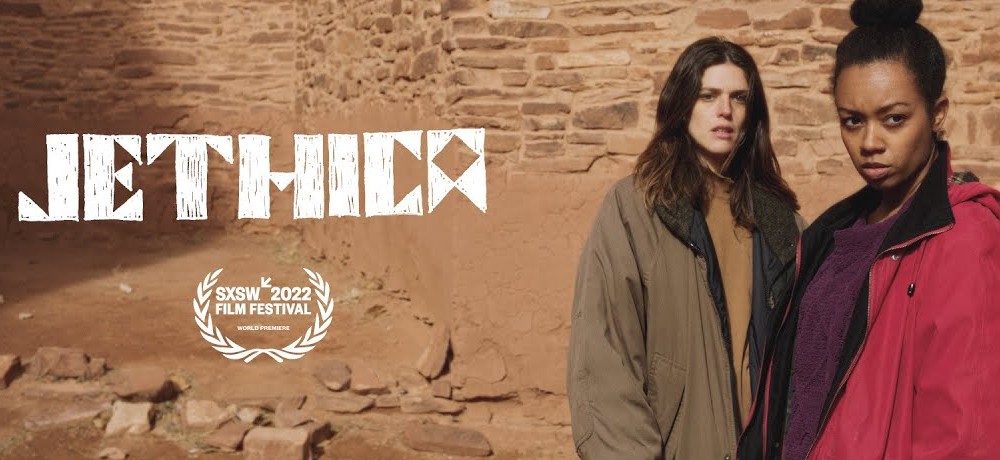 The ongoing Covid-19 pandemic has made everyday life challenging for everyone. Despite the fact filmmakers have had to drastically change the way movies are made to ensure the safety of their cast and crew, we've gotten a slew of pandemic-shot films in the past couple of years. Director Pete Ohs (Everything is Beautiful Far Away) has proven he's more than capable of making an extraordinarily ambitious movie during a global pandemic. For his new horror comedy Jethica, he not only directed, but he was also the crew, including editing and cinematography, and even collaborated with the cast on the clever script. Jethica is Ohs' third feature film and is having its World Premiere at this year's SXSW Film Festival. 
Jethica opens with Elena, played by Callie Hernandez (Blair Witch, The Endless) hooking up with a guy in a car and then telling him a story about living alone in her grandmother's trailer in rural New Mexico. This is when the fun begins, and it doesn't let up for the remainder of the film's seventy-minute runtime. In New Mexico, Elena runs into an old friend from school, named Jessica (Ashley Denise Robinson), who appears to be distracted. Sensing that Jessica needs a friend to talk to, Elena invites her to come stay with her in her grandmother's trailer in the middle of nowhere. 
Jessica finally opens up to Elena and tells her she had to leave California because she had a stalker, who then followed her to New Mexico. She shares a pile of creepy love letters and even more disturbing videos from the relentless stalker named Kevin, hilariously played by Will Madden (The Wolf of Snow Hollow). In the videos, Kevin films himself rambling endlessly about his undying love for Jessica and begs her to be with him. When Kevin suddenly shows up outside Elena's trailer in New Mexico, calling to Jessica, Elena informs her friend that Kevin is a ghost. She knows this because her grandmother was a mystic and put a spell on the land and also because she is able to confirm that Kevin is dead. 
Hernandez's deadpan delivery, as Elena explains to Jessica the three ways to get rid of a ghost, is perfect, and helps establish the brilliance of the comical tone of Jethica. Even funnier is Madden's enthusiastic performance as the ghostly Kevin, who literally never shuts up. You can't help but wonder how truly awful it would be to be haunted by Kevin, who never stops babbling to himself, and to poor Jessica. According to Elena, one way to get rid of an unwanted ghost is to summon another ghost and convince them to kill the first ghost. This plan, of course, goes ridiculously sideways and Elena and Jessica continue to spend all their time trying to figure out how to get rid of the very persistent Kevin. 
Jethica is frequently laugh-out-loud funny, but the story also touches on the seriousness of how terrible it feels to be alone in the world and the importance of human connection while we're alive. Obviously, there is nothing amusing about having a stalker, but Jethica succeeds at handling the subject matter with thoughtfulness and wit, and the predicament Kevin finds himself in is not only farcical, it's well-deserved.
The fact the small, but outstanding cast collaborated on the script with Ohs, who also served as the crew and lacked producers or a budget, makes Jethica an incredibly impressive example of DIY filmmaking. Boasting standout performances from Madden, Hernandez, and Robinson, a highly imaginative story, and excellent comedic timing, Jethica is a blast.
Movie Score: 4/5