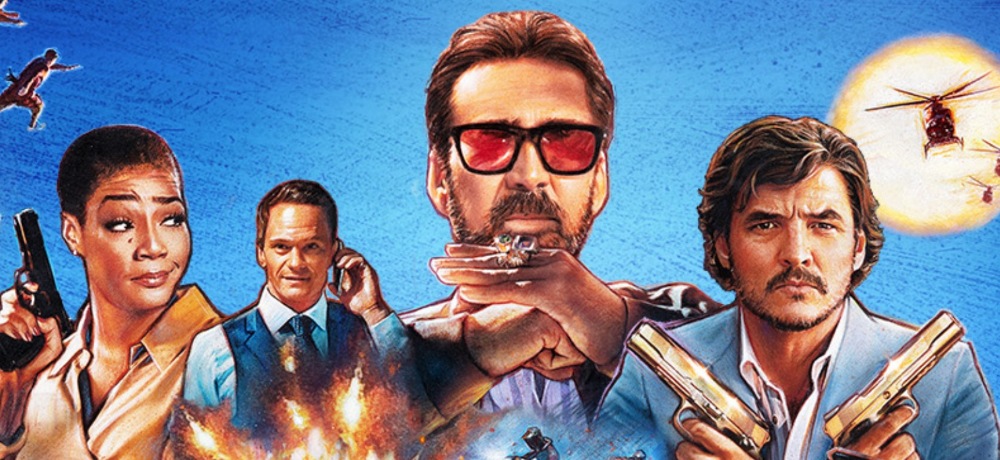 For many Nicolas Cage fans out there, a meta comedy centered around the iconic actor playing a cinematic version of his wildly unpredictable self alone would be enough of a reason to show up for Tom Gormican's The Unbearable Weight of Massive Talent. But thankfully the director, who co-wrote the film's script with Kevin Etten, delivers up so much more beyond this audaciously meme-worthy concept, resulting in a delightfully hilarious, action-fueled buddy movie of sorts that features an inspired self-portrayal by Cage and a wholly endearing performance from Pedro Pascal that not only deepened my total adoration for the actor in so many unexpected ways, but also demonstrated how Pascal is truly one of the most versatile performers working today.
Without a doubt, the Cage diehards out there are going to have a blast with Massive Talent, but I think the movie is charming and entertaining enough to have a lot to offer even the most casual of Cage fans as well.
In Massive Talent, Cage plays a fictionalized version of himself who is a bit down on his luck. He's $600,000 behind on his rent, his relationship with his ex-wife, Olivia (Sharon Horgan), is strained at best, his teenage daughter, Addy (Lily Sheen), pretty much thinks her dad is the worst, and he's just lost the role of a lifetime after auditioning for David Gordon Green (playing himself here). Unsure of what his next move is, Nick (writer's note: I know that most people are used to seeing Cage's shortened name as "Nic," but in the press materials and in various articles, it's been reported that he prefers Nick, so that's what I'm going with here), gets a call from his agent, Richard Fink (Neil Patrick Harris), who tells him that there's a superfan named Javi Gutierrez (Pascal) located in Spain willing to pay Cage $1 million if he shows up at his birthday party and hangs out for a few days. With no other options, Cage reluctantly agrees to the gig.
But as Nick and Javi get to know each other, a true sense of friendship grows between them as they bond over their shared love of The Cabinet of Dr. Caligari and Paddington 2. Everything between the new pals is hunky dory until Cage finds out his new bestie is actually a dangerous arms dealer, and he ends up being recruited by a pair of CIA operatives (Tiffany Haddish, Ike Barinholtz) to help take Javi down, which just causes all sorts of mayhem and madness for Cage and everyone else involved.
While Massive Talent isn't Cage's first dance with meta material (looking at you, Adaptation), I do feel like how he tackles the almost impossible task of playing himself here is pretty damn fantastic all around. It's evident that Nick is clearly aware of his status in the world of pop culture at this point in his career (he'd have to be living under a rock to not know it), but when it comes to the story here, there's a very fine line that has to be walked concurrently between the script and Cage's performance in Massive Talent so that the end results don't wander into farcical territory, and thankfully it all works beautifully, resulting in an experience that's having a lot of fun with Cage and his legacy, and not having fun at the expense of those things.
And for as great as Cage is in Massive Talent, I think Pascal ends up overshadowing him at times with his utterly charismatic and at times even adorable portrayal of Javi, Cage's superfan who wants nothing more than to just hang out with his cinematic hero and talk about all the cool stuff he's done throughout his career. Honestly, I think in that way Javi represents the audience because I think that's something we'd all like to experience at one point in our lives, whether it's with Nicolas Cage or someone else we admire. Pascal's approach to his character is so relatable in that way, it's impossible not to completely fall in love with Javi at certain moments in Massive Talent because he's truly living his dream, and it's just so much fun to watch.
All the comedy bits work exceedingly well throughout The Unbearable Weight of Massive Talent, with both Haddish and Barinholtz adding a lot to the mix (newcomer Sheen is a delight, too), but admittedly, the film's goofy vibes and pure-heartedness go on a bit of a detour during the third act when everything gets a bit more action-oriented, and that's when things feel a bit disjointed from everything that preceded it. Thankfully, the way everything wraps up in Massive Talent is just pure cinematic joy and feels much more in line with the overall spirit of the project, leaving me with a huge grin on my face once the credits started rolling.
Truth be told, it's almost hard to believe that The Unbearable Weight of Massive Talent works as well as it does, but it genuinely is one of the most wonderfully gonzo action comedies I've seen in a long time. Not only does it deliver on everything that Cage devotees could possibly want, but then Massive Talent hits even greater heights by giving us one of the most irresistible bromances ever with Nick and Javi that I would love to see again in future movies (maybe they could even bring along Paddington, too?).
Movie Score: 4/5
---------
Go HERE to catch up on our coverage of the 2022 SXSW Film Festival!