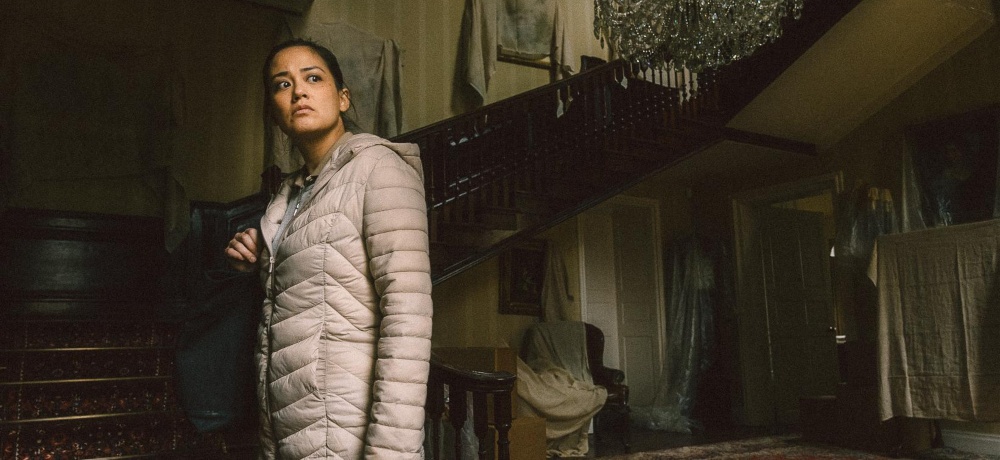 This past weekend at the 2023 SXSW Film Festival, first-time feature filmmaker Paris Zarcilla celebrated the world premiere of Raging Grace (which was also just honored with a Grand Jury Award from the festival yesterday), a genre-bending examination of the U.K.'s racial and class divides, the story follows a struggling Filipina home care worker (Max Eigenmann) who is just doing her best to support herself and her young daughter, Grace (Jaeden Paige Boadilla), all while navigating the demands of her upper-class clientele.
Daily Dead spoke with Zarcilla, as well as producer Chi Thai, over the weekend in support of Raging Grace's debut, and the duo discussed the personal nature of the film's script, working with Eigenmann and Boadilla, and more.
First and foremost, congrats on Raging Grace. I watched the film yesterday and I have to say, I didn't even know what to expect as everything was unfolding because as soon as I thought I had sure footing on just what exactly the story was like, you pulled the rug out from under me and I loved that. 
Chi Thai: Oh, thank you. It's so great to hear that. I mean, what you experienced is exactly what I experienced when I first read the first draft of the script. It was just a wonderful, exciting ride. So thank you.
Paris Zarcilla: Yeah, to hear that makes me very happy. Thank you.
So Paris, I'd love to start with you if that's cool and talk a little bit about this story. It's a fun story that has some great back-and-forth moments between the characters, but it has a lot to say, too, about how the system treats undocumented immigrants and how much our society relies on those folks, and how we could all be doing better to support them in their desire to have a better life. And I thought your script did a really great job creating something that's entertaining but also has something on its mind as well.
Paris Zarcilla: Yes, I'm so glad you said that because the aim first and foremost was to do something that was entertaining. And although this came from sort of a very real place of anger, rage, and trauma, I was very conscious about doing things that were too traumatizing. We are so into trauma porn at the moment, and in our U.K. system for film, they really encourage that type of storytelling, and I think it doesn't really help the conversation go forward. I felt like we needed an entry point for a broader discussion to happen, and I felt like trying to make it entertaining within the genres of horror and thriller, and even comedy, could just make it a lot more of a film that is accessible to everyone.
It has a design that is to get you on the edge of your seat and enjoy what you're watching. But also, it's there to remind the minorities, especially in the U.K., and very particularly Southeast Asians, even more specifically the Filipino community, to just remind them of the fire that I know they were born with and to inspire pride to be able to move beyond trauma and to really celebrate our culture and to be confident and proud.
Chi, for you, coming on as a producer, was there something about this story when you read it, you knew immediately that this was something that you wanted to help shepherd and guide along to help Paris get this across the finish line?
Yeah, 100 percent. I think the great thing is Paris and I knew each other before we worked on this. There was a project that almost happened then but didn't happen because of the lockdown and then this happened. So we were already, in many ways, aligned. But when he wrote Raging Grace, he was writing a story that spoke to my heart. When I read it, I fell in love with the story straight away. And although I'm not Filipino, I come from a Vietnamese refugee background, so there was so much overlapping of the day-to-day lived experience that I felt in the many ways that the film was also speaking to me. As much as it's a deeply, deeply personal film for Paris, it says so many things about my experience growing up as a Vietnamese person in the U.K. as well. So I knew soon as I read it that this was something that I had to be part of.
And both of us felt like we had to make this film now, and we didn't really know at that point when the first draft was delivered just how we would do that. But we both felt so passionately strong about making this film and being able to speak to those things that meant so much to both of us.
I want to talk about Max and Jaeden, because if they don't work in this movie, you're not in as a viewer. If you don't connect with them, you're not really going to go for that ride. I was wondering if you could talk about finding them and developing the relationship between their characters because I truly believed they were mother and daughter.  They're great, and Jaeden was a little firecracker. I loved her performance so much.
Paris Zarcilla: Oh gosh. She'd be so happy to hear that. Yeah, Jaeden was someone we really wanted to work with before, and she was someone that had to be a part of the conversation for Grace. We had almost worked with her before, so because it had been a while since we had last talked to her, we thought we should broaden out and see some other young actors, but she still managed to very easily climb to the top of the pile. She's so deeply and fiercely intelligent. She seemed to understand the nuance of the film and what her character was going through, and she just has a scary emotional intelligence that was far beyond her years. I often had to remind myself that I was speaking to a young child and not a fully realized person.
She doesn't have an acting background, but I knew working with a non-actor, if you get it right, you are watching someone who is truly living within the truth of that moment within the constraints of that scene. They're not acting, they're not performing, they're really feeling it. And that's what I loved about her immediately. Do you want to talk about Max?
Chi Thai: Yeah, sure. What I want to say about what you said is that I think it's the greatest compliment for them to get when someone comes away and believes that they're really mother and child. It's great to hear. And we came by Max via our co-producer. Darlene Catly, who is based in the Philippines. We felt given who this character was, that should be the first place that we go to. So we worked with Darlene really closely, who had all that local intelligence and relationships networks to put together a selection of amazing dramatic actresses, and Max is the one we auditioned.
We had quite an extensive screen-testing process, but she had this very natural comedic kind of physicality and what that brings to the film, for me, elevated it so much. It was a wonderful surprise.
I know we're pretty much out of time, but I was wondering if you both could reflect on being able to be a part of SXSW and sharing this story with the audiences at this festival? It's a reflection of a specific experience, but also, it feels very universal in a lot of ways.
Paris Zarcilla: SXSW was, for us, the festival that we felt we needed to launch a film of this kind. So, when we got the message about being accepted in December, we were so pleased. And it's because it is very much a film about the U.K., but it's also about the experience of diaspora, the immigrant experience, and it's about undocumented workers. We felt that it has such an international quality to it, and because it's expressed dramatically, and also through blended genres, that there really is nowhere better than SXSW to begin sharing such a story with the world. We're so delighted to be here. It's already been a fantastic adventure.
Chi Thai: Yes, we are truly honored to be here.
---------
Go HERE to catch up on our coverage of the 2023 SXSW Film Festival!
[Image Credit: Above image courtesy of SXSW.]