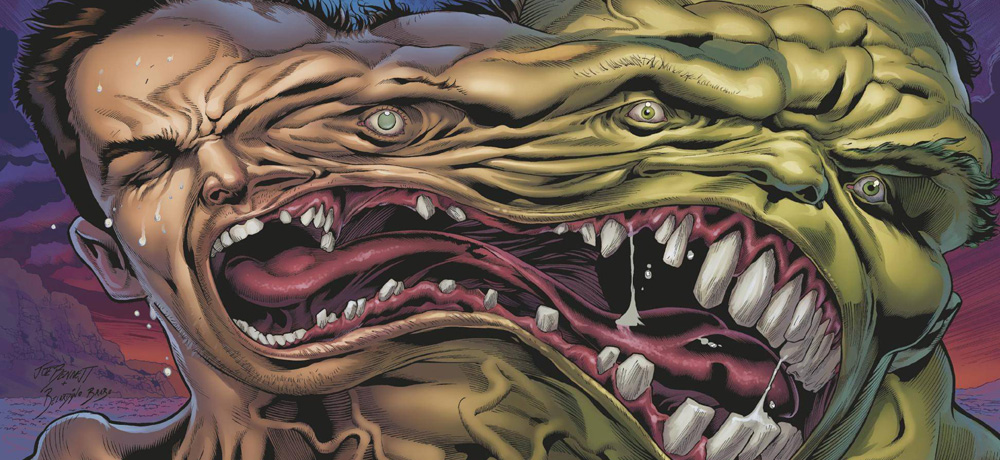 When it comes to comic books, the natural thought most of us have is that of costumed heroes and villains with otherworldly superpowers. No matter where you go for your entertainment—be it movies, television, or video games—it won't take long to come across any of the characters we've all come to know from the "Big 2" Publishers.
While superheroes may be the bread and butter of the industry, what about the other stories of comics? Ones that are on the darker, spookier side of lore?
Horror in comics is hardly a new concept, dating back as far as the beginning of the Golden Age of the 1940s and '50s. At that time, most were adaptations of popular fiction works such as Eerie Comics' New Adventures of Frankenstein and Classic Comics' Dr. Jekyll and Mr. Hyde. The genre really found its footing when EC Comics introduced the world to what would become one of the most popular and recognizable titles in horror with Tales from the Crypt. This gave rise to a slew of imitators, many with campy names synonymous with the times like Weird Tales, Weird Mysteries, and Adventures in Terror.
Not long after, the comic world was hit with an event that felt as though it belonged inside the newsprint pages themselves: the creation of the Comics Code Authority. The Code, which was enacted to regulate content deemed "inappropriate," including nudity and swearwords, was particularly stringent with horror comics. It went so far as to completely ban the use of the words "terror" and "horror," and vampires, zombies, and werewolves were prohibited from appearing in comics at all. Fortunately, during the 1980s, publishers began to pull away from the strict guidelines of the Code. By the early 2000s, adhering to it in any way was completely abandoned. Today, it's hard to fathom a time when going to the spinner rack at your local shop would find it devoid of anything spooky when franchise giants such as The Walking Dead reign supreme amongst various forms of media.
With the disbanding of the CCA came a resurgence of horror comics, rising up from the dead like the zombies that pesky code attempted to bury. Arguably two of the most influential and prominent comics to come out at this time were Alan Moore's Swamp Thing and Mike Mignola's Hellboy. Swamp Thing brought back the nostalgia of classic horror tales like Creature from the Black Lagoon, while Hellboy opened the gates for more unique and independent ventures to take place. It's a notable feat that there are places for both traditional and more avant-garde stories in a brand that is often characterized as categorically "hack and slash gore."
Another significant way horror comics have evolved is in the independent comics scene. Publishers often have their own imprints for titles in that genre specifically, and horror anthologies collecting short stories have risen in popularity substantially. Head on over to crowdfunding sites like Kickstarter and search for "horror comics," and you will find a plethora of campaigns currently running with impressive artwork, storylines, and funding totals.
While it's evident that horror comics aren't going anywhere, how they will continue to progress will most likely be an ever-evolving plotline. So, the next time you head into your local comic shop, take a moment to peruse the creepier, more horrific tales offered by both the Big 2 Publishers and smaller indie labels alike. Need some direction on where to start? Here are a few modern offerings in the comic world that are guaranteed to give you chills:
* Redneck (Image Comics - Donny Cates, Lisandro Estherren, Dee Cunniffe) - A modern tale of vampires attempting to live peacefully deep in the heart of Texas, only to be challenged by bad blood and rivalry.
* Locke and Key (IDW - Joe Hill, Gabriel Rodriguez) - After their father's murder, siblings Tyler, Kinsey, and young Bode move with their mother to their dark, foreboding ancestral family home full of puzzling keys with various abilities and uses.
* Wytches (Image Comics - Scott Snyder, Jock) - Attempting to start over after a series of horrifying events involving their daughter Sailor, a family soon learn the small New England town they've relocated to holds a dark secret involving its residents and the creatures living at the edge of town.
* Immortal Hulk (DC Comics - Al Ewing, Joe Bennett) - A deep dive into the Devil Hulk, an alternate personality of Bruce Banner, that personifies all of Banner's negative and destructive thoughts and feelings.
* Gideon Falls (Image Comics - Jeff Lemire, Andrea Sorrentino) - Moody horror about a washed-up priest who recently takes over for the deceased predecessor, only to discover the appearance of a strange black barn with an urban legend surrounding it.
* The Plot (Vault Comics - Michael Moreci, Tim Daniel, Josh Hixson) -  After becoming the reluctant guardian for a niece and nephew he hardly knows, Chase Blaine moves with them to the family home that is plagued by dark secrets and threats.
* Marvel Zombies (Marvel - Robert Kirkman, Sean Phillips) - Set within the alternate multiverse Earth-2149, this "what if" scenario explores what would happen if our favorite superheroes were infected with a virus that turns them into zombies.
* The Autumnal (Vault Comics - Daniel Kraus, Chris Shehan) - Following the death of her estranged mother, Kat Somerville moves with her daughter, Sybil, to her hometown of Comfort Notch, New Hampshire—a place boasting to have the country's most scenic autumn. What lies beneath the idyllic scenery, however, is much darker and more sinister.