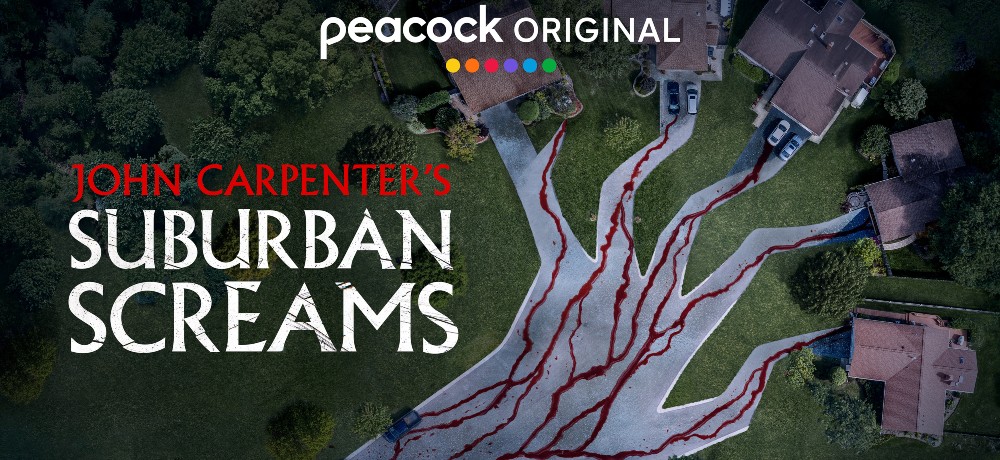 [Editor's Note: This article was written during the 2023 WGA and SAG-AFTRA strikes. Without the labor of the writers and actors currently on strike, the series being discussed here wouldn't exist.]
"In every neighborhood, there's always that one house that you ride your bike past just a little bit faster than the others." In addition to chilling and thrilling readers this fall with new comic books from their Storm King Comics imprint, John Carpenter and Sandy King will bring nightmares to life onscreen in their new series John Carpenter's Suburban Screams. Telling real-life horror stories from the vital perspectives of the victims themselves, John Carpenter's Suburban Screams will fittingly premiere on Peacock on Friday, October 13th (with the Master of Horror directing one episode of the six-episode series), and we have a look at the series' eerie trailer ahead of its premiere!
Press Release: HOLLYWOOD, Calif. — On tree-lined streets filled with children and families … behind the doors of well-appointed homes … in the least assuming neighborhoods, fear awaits, as fans of horror legends John Carpenter and Sandy King know all too well.

On Friday, October 13, Peacock presents JOHN CARPENTER'S SUBURBAN SCREAMS, which combines real-life horror with cinematic vision to create a fascinating, frightening limited series that ensures viewers will never look at their neighbors the same way twice. The series conveys the aching terror and unbearable suspense faced by the survivors of real crimes, underscoring the painful truth that they endured crimes in what should have been the safest places of all. JOHN CARPENTER'S SUBURBAN SCREAMS penetrates the veil of security that surrounds our own backyards.

"I always say, 'Nothing we create is as scary as reality,' and that's been the guiding philosophy for the series, which shows that your 'safe zone' is never truly safe," Carpenter says.

The six-episode series combines the aching suspense and visual language of horror films with the tools and techniques of documentaries — creating a uniquely unsettling experience for viewers. It's produced by the director behind such horror masterpieces as Halloween, The Fog, The Thing and In the Mouth of Madness, along with producers Sandy King with Tony DiSanto, Jordan Roberts, Patrick Smith and Andy Portnoy.

Carpenter directs one episode of the series, which weaves together archival footage, personal photos, news clips and cinematic-level dramatic production. Additional episodes are directed by Roberts, Michelle Latimer, and Jan Pavlacky. JOHN CARPENTER'S SUBURBAN SCREAMS is from Storm King Productions and DIGA Studios.

"Victims of these crimes are never the same afterward. What they have lived through is true horror — worse than movies, and too often told from the perspective of the heinous murderers and stalkers," says King. "No one talks about the wreckage left behind, and that is truly where the drama, and the terror, lie. We want viewers to come away from Suburban Screams unnerved and frightened, but also filled with immense sympathy for the brave souls whose lives were endangered and all too often lost."

As a blend of reality and scripted programming, JOHN CARPENTER'S SUBURBAN SCREAMS captivates viewers by capturing real stories through the eyes of those who lived through these horrifying experiences, while lauding both survivors and victims as true heroes.

JOHN CARPENTER'S SUBURBAN SCREAMS premieres Friday, October 13, exclusively on Peacock.