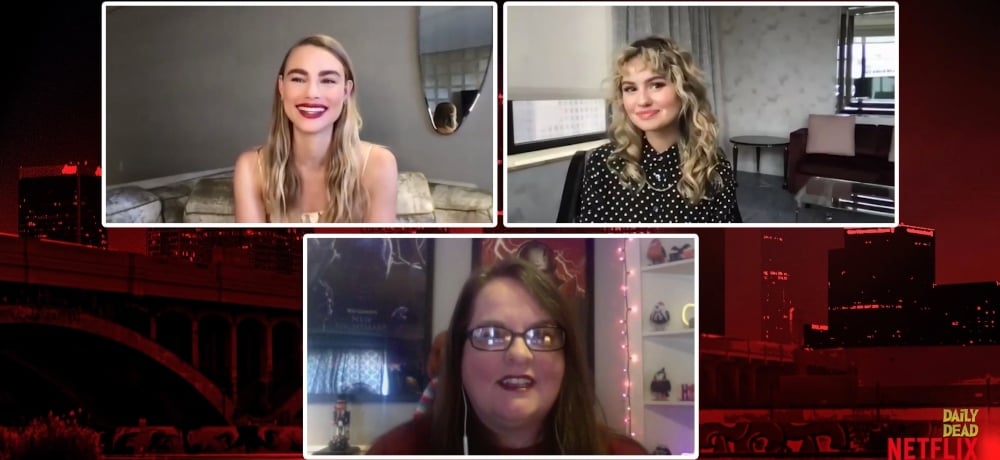 Arriving on Netflix tomorrow, October 20th, is Night Teeth, a stylish take on vampire lore that happens over the course of one fateful night in Los Angeles. Directed by Adam Randall and written by Brent Dillon, Night Teeth follows a college student named Benny (Jorge Lendenborg Jr.), who is in need of some extra cash and takes on a chauffeur job to help out his older brother, Jay (Raúl Castillo), but is completely unaware that his clients for the night—Blaire (Debby Ryan) and Zoe (Lucy)—are actually vampires who are leaving a bloody trail in their wake as they travel around the city of Los Angeles. Night Teeth also stars Alfie Allen, Megan Fox, and Sydney Sweeney.
During a recent press day for Night Teeth, Daily Dead had the opportunity to speak with both Lucy Fry and Debby Ryan about their involvement in the project, and the duo discussed what initially drew them to the vampire/action hybrid, how they were able to explore the fascinating dynamic of the friendship between their characters throughout production, and their experiences collaborating together and with Randall as well.
Check out our video interview below with both Ryan and Fry and be sure to watch Night Teeth once it hits Netflix tomorrow.