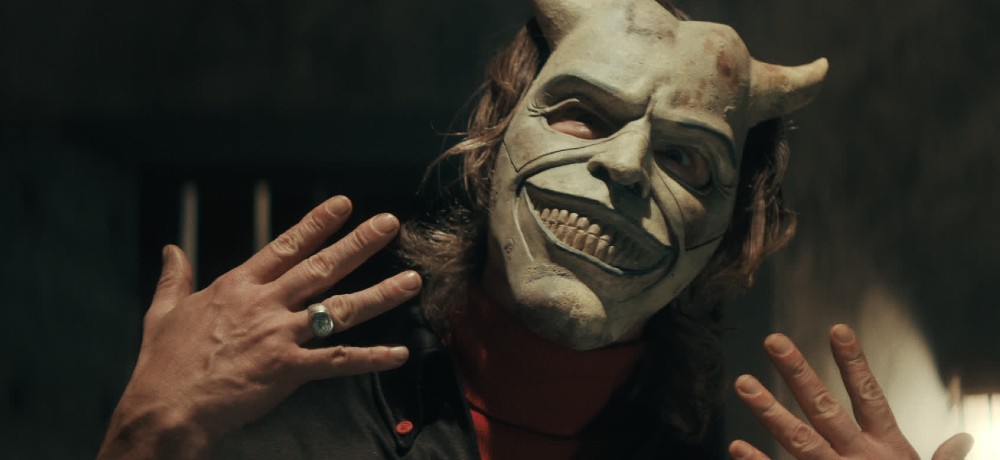 In 2012, Scott Derrickson and C. Robert Cargill created the scariest horror movie ever made – Sinister. The film stars the multi-talented Ethan Hawke as a man who comes to the horrifying realization that his family is the next target of an ancient demon. I don't know how many times I've seen Sinister, but a decade later, I am unable to watch it alone or with the lights off, and that's one of the many reasons I love the film so much.
So, I was beyond excited when I learned that Derrickson and Cargill had not only collaborated on a new horror screenplay, but they also cast Ethan Hawke in the new film in a role we've never seen him play until now. The Black Phone is based on the thrilling short story written by Joe Hill, but Derrickson and Cargill have added some unbelievably unnerving elements to the film version.
In The Black Phone, Ethan Hawke stars as a part-time magician who likes to snatch children, leaving behind only ominous black balloons. After several children go missing, he becomes known locally as the Grabber. As if all this isn't distressing enough, instead of showing his face to the children he kidnaps, he enjoys wearing the most unsettling collection of masks I've ever seen. The Black Phone also features amazing performances from Mason Thames, as Finney Shaw, who is abducted by the Grabber, and Madeleine McGraw as Finney's sister Gwen, who will do anything in her power to save her brother.
During a recent press day, Daily Dead had the pleasure of talking with Scott Derrickson about working with C. Robert Cargill and Ethan Hawke again, creating the Grabber's masks with Tom Savini, and a lot more! You can watch our video interview below!
Blumhouse and Universal Pictures will release The Black Phone in theaters on June 24th.