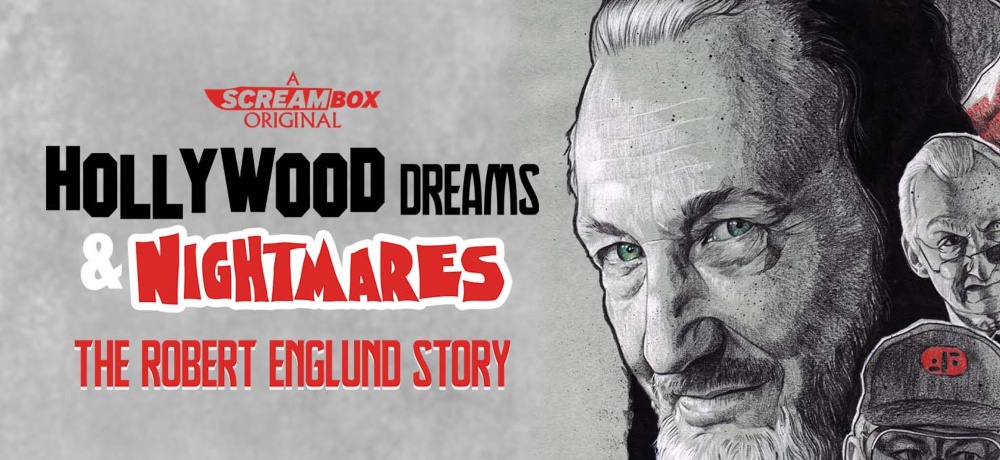 He may be best-known as the man of our nightmares, but in addition to his iconic portrayal of sinister dreamstalker Freddy Krueger, Robert Englund has played hundreds of roles in film, television, and theater throughout his impressive career.
In the new documentary Hollywood Dreams & Nightmares: The Robert Englund Story, Englund's amazing life story is spotlighted like never before, with directors Gary Smart and Christopher Griffiths exploring the journey of the classically trained actor beneath Freddy's skin through interviews with not only Englund but also his wife, Nancy, as well as other titans of the horror genre, including Tony Todd, Lance Henriksen, Heather Langenkamp, Lin Shaye, Bill Moseley, Doug Bradley, and Kane Hodder.
With Hollywood Dreams & Nightmares now streaming on SCREAMBOX and Digital via Cineverse, Daily Dead had the great pleasure of speaking with the legendary Robert Englund to discuss the new documentary centered on his life, including some of the television guest-starring roles he had in the years leading up to playing Freddy Krueger, why he wanted to team up with Gary and Christopher in particular for this documentary, and more!
Synopsis: A classically trained actor and director, Robert Englund has become one of the most revolutionary horror icons of our generation. Throughout his career, Englund starred in many well-known movies, but shot to super-stardom with his portrayal of supernatural serial killer Freddy Krueger in the NIGHTMARE ON ELM STREET franchise. This unique and intimate portrait captures the man behind the glove and features interviews with Englund and his wife Nancy, Lin Shaye, Eli Roth, Tony Todd, Heather Langenkamp and more.

The film which was shot over the course of two years, highlights the life and career of the classically trained actor and director.

The documentary follows Englund's career from his early days in Buster and Billie and Stay Hungry (starring with Arnold Schwarzenegger) to his big break in the 1980s as Freddy Krueger to his directorial debut with the 1988 horror film 976-EVIL to his iconic acting status in current roles such as the hit TV series "Stranger Things."