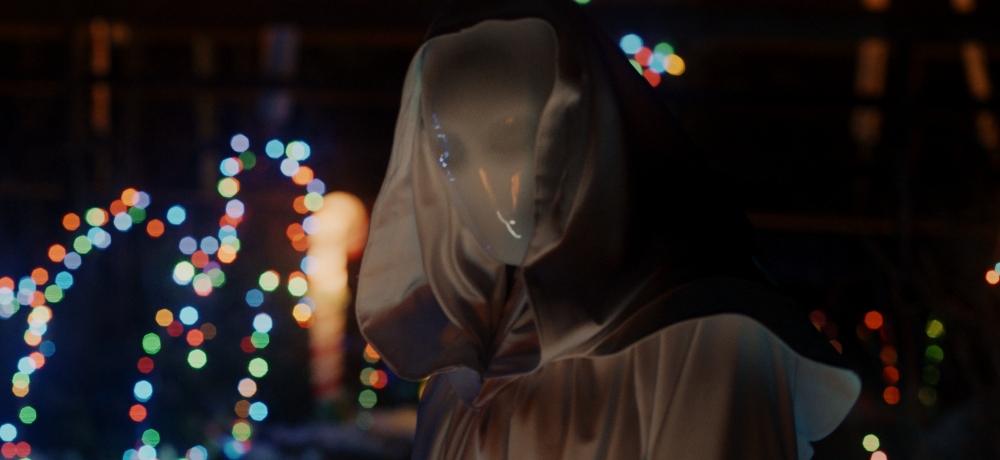 A celebratory slasher that slices into the traditional fabric of Christmas-themed cinema, It's a Wonderful Knife invites viewers into Angel Falls, a seemingly idyllic haven where everything is "perfect" around the holidays... except for that masked killer running around town. One year after putting a stop to the killer's Christmas Eve rampage, Winnie Carruthers (Jane Widdop) can't stand to live within her small town's toxic positivity in the aftermath of unspeakable tragedies. With a little murderous holiday magic, she finds herself whisked away to an alternate version of her town where she never existed... and the Christmas killer is not only still surviving but is thriving with a body count that continues to rise all year round. It's up to Winnie to stop the killer once again, save her friends and family, and find a way back to her own timeline, all while learning some things about herself amidst the Christmas carnage.
Written and produced by Michael Kennedy (Freaky) and directed by Tyler MacIntyre (Tragedy Girls), It's a Wonderful Knife is a subversive and gory gift for horror fans to unwrap this holiday season, and with the film coming to theaters on November 10th via RLJE Films and Shudder, I had the great pleasure of talking with Michael and Tyler about their ambitious holiday horror movie, including the origin of the film's unforgettable title, coming up with the unique look for the movie's killer, and the holiday films (both horror and otherwise) that influenced them while making It's a Wonderful Knife.
Below, you can watch our video interview with Michael Kennedy and Tyler MacIntyre, and go here to see where It's a Wonderful Knife is playing near you!
Directed by Tyler MacIntyre and written and produced by Michael Kennedy, It's a Wonderful Knife stars Jane Widdop, Katharine Isabelle, Jess McLeod, Cassandra Naud, Joel McHale, and Justin Long.
Synopsis: "A year after saving her town from a psychotic killer on Christmas Eve, Winnie Carruthers' life is less than wonderful — but when she wishes she'd never been born, she finds herself in a nightmare parallel universe and discovers that without her, things could be much, much worse. Now the killer is back, and she must team up with the town misfit to identify the killer and get back to her own reality. IT'S A WONDERFUL LIFE by way of SCREAM."
[Photo Credit: Above photo courtesy of RLJE Films and Shudder.]