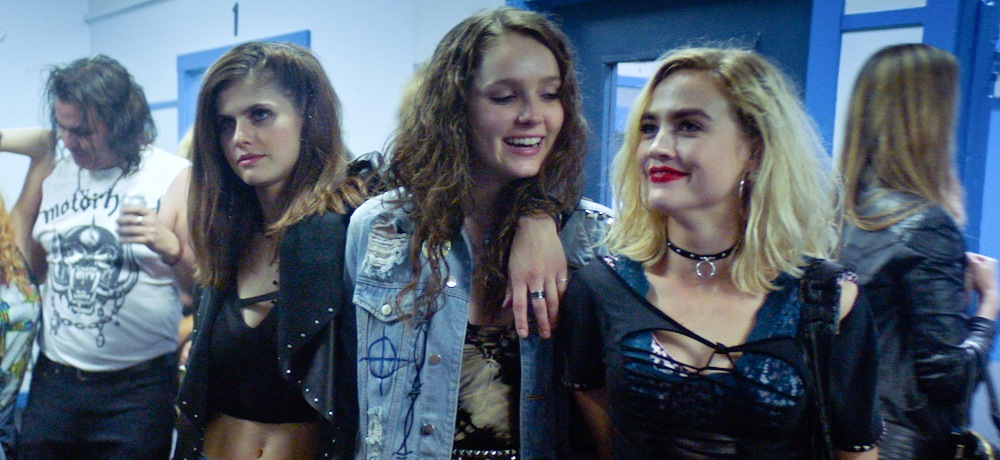 After exploring Jeffrey Dahmer's chilling formative years in his 2017 adaptation of John "Derf" Backderf's graphic novel My Friend Dahmer, filmmaker Marc Meyers is taking viewers on a satanic panic-fueled ride with We Summon the Darkness. Ahead of the movie's April release from Saban Films, the official trailer for We Summon the Darkness has now been revealed, showcasing the film's heavy metal story in which devilish surprises await.
Below, we have official details and the trailer for We Summon the Darkness ahead of its April 10th release from Saban Films, and in case you missed it, read our Q&A with co-star Tanner Beard.
"Saban Films will release the horror/thriller WE SUMMON THE DARKNESS in theaters, on VOD and Digital HD on April 10, 2020.

WE SUMMON THE DARKNESS stars Alexandra Daddario (Baywatch, San Andreas), Johnny Knoxville (Bad Grandpa, Jackass), Keean Johnson (Midway), Maddie Hasson ("Impulse"), Logan Miller (Scouts Guide to the Zombie Apocalypse), Amy Forsyth (Hell Fest) and Austin Swift (Live by Night). The film is directed by Marc Meyers (My Friend Dahmer) from a script by Alan Trezza (Burying the Ex).

On the way to a heavy metal concert, Alexis (Alexandra Daddario) and two girlfriends hear a news report of a local murder believed to be tied to a series of satanic killings. After the show, the girls invite three guys to join them at the estate owned by Alexis's father, a fire-and-brimstone preacher (Johnny Knoxville). What starts as a party suddenly turns dark and deadly in this devilishly entertaining thriller."