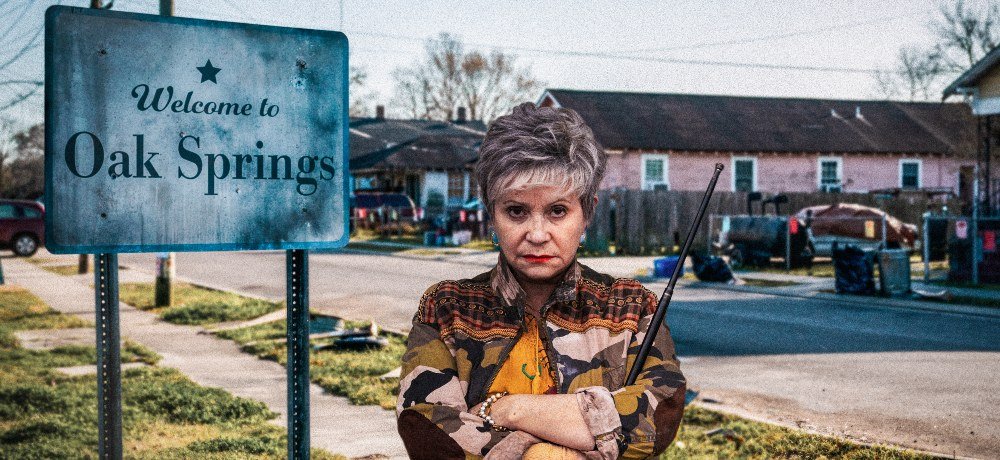 Part two of our Amazon Studios and Blumhouse Television Welcome to the Blumhouse directorial interview series interviews the director of Bingo Hell, who reveals just how blood-thirsty seniors can get over their beloved bingo game.
Bingo Hell, directed by Gigi Saul Guerrero, shows the unwanted gentrification of the Oak Springs barrio on its older residents, especially Lupita (Adriana Barraza), who calls it home. Soon a mysterious force takes over their beloved bingo hall, thrusting into a battle for the soul of their beloved neighborhood.
Guerrero has made a name for herself in horror as the director of several Crypt TV shorts, most recently Mistress of Bones. She also has directed several projects for Blumhouse television, including The Purge series episode "Hail Mary" and the Into the Dark: Culture Shock.
If you were a character in your movie, what would be your weapon of choice?
After the movie was made, I thought, "What if Lupita, used a chancla (Mexican slang for a sandal)?" That thing is deadly. I should have just done that. Honestly. That, or a flame thrower would have been great.
Recognizing that Bingo Hell has such a badass leading lady, who is your favorite cinematic leading badass lady?
I love Ripley. I think she's so strong, in all the Alien films. She's the best example of a survivor.
How were you selected for Welcome to the Blumhouse?
After the success of Culture Shock, Blumhouse trusted me enough to ask, "So what is next?" That, to me, was amazing, because they really are open to hearing new voices, and taking risks on such wacky stories. So, it felt the right time and place to introduce to them the idea of Bingo Hell.
As co-writer of the script, what influenced the story of the script?
I was catching up with co-writer Shane McKenzie. He shared to me, "Gigi, you're not gonna believe where I was last night. I went to visit my mother-in-law and went to her bingo hall. And boy, it was terrifying." He continued, "It was crazy to see all these older folks be so competitive at the game and be so into it. I didn't want to mess with any of them." I also shared, "Listen, my grandma loves Loteria (Mexican Bingo). And it's the same thing. You don't want to take that away from her."
Shane asked, "What would happen if we took it away from them?" Right away, we were both realized that's going to be the movie. We got so inspired by the people that we know, his mother-in-law and my grandma. The characters in this film are based on people we know. And yes, they are that stubborn.
What was your favorite scene to shoot?
At the very end of the movie when the whole community comes together for the fight. The big fight was a blast to shoot. I don't think these actors were acting. They were beating the crap out of the stunt double. I felt very sorry for him. I had to yell at them, "Cut! Cut! Pace yourselves!"
A lot of the dialogue in that scene we didn't write. All that swearing, like "Who's Your Mama now?" and "Fight me now!", were not us.
What was the most challenging scene to film?
The most challenging to shoot was, Clarence in the auto shop when he's going from reality to fantasy. That was also day one of shooting. It was an exciting challenge.
Grover Colson was the wonderful actor who played Clarence. He had never worked with fake blood and didn't know what it's like to be near fake blood. He's worked in this industry for forty-plus years. He admitted to me, "Mam, I don't know what it's like to have blood on me."
I assured him, "Well, we're about to make up 30 years of that. So, the moment you feel blood Grover, close your eyes." And, sure enough, he had fun. He even asked us to, "Take my pictures." It was a good time.
How was your experience as a director working with Adrianna Barraza?
Before I speak about just Adrianna, this entire cast was a dream come true. They're all such seasoned actors. That to me, as a filmmaker, has always been a dream. As a new director, I needed to really take into account that I had amazing actors. They have a lot of emotional scenes and a lot of banter. So, I had to just stretch out those scenes for them to play with. That was awesome.
Working with Adrianna was unbelievably great. She's such a ray of sunshine, always so happy, always so lovely. But the moment she had any of those weapons in her hand, you need to be six feet apart, because she was into it.
That enthusiasm was so contagious. She never had done a role like this, despite working in the industry for so long. She mentioned how, "This is the first time I feel that I'm playing a character that allows me to do everything, from comedic to emotional, to just chingona (Spanish slang for a badass woman)." I could tell in the movie that she's having a blast. So that trust was set from the beginning with her.
What is your favorite Blumhouse horror film?
That's a tough one because there are so many good ones, but I feel that the best Blumhouse film is The Invisible Man. It's a very solid movie, well-acted, well-executed, and a super scary film. It's one of the best reimaginings I've ever seen to.
Currently, what are your top five favorite horror films?
Oh, that's a list of 100, but I love The Devil's Rejects, REC, From Dusk till Dawn, and The Texas Chainsaw Massacre franchise. Also, I can't help but say I'm a sucker for Gremlins. That is definitely the best horror and holiday movie ever made. These films inspire me, so much.
Do you have any upcoming projects that you'd like to share?
For directing, I'm excited that Blumhouse and I are still working on a few more scripts. So hopefully something gets made in the next year. It's one of those moments in a career that you're hustling, rewriting, developing, and hopefully, someone says, "Yes". So I'm excited to see which egg is going to hatch first.
For appearances, there's going to be two animated shows that I do the lead voice for. That will get announced at the end of this year or the beginning of next year. These are the two biggest roles I've ever booked. My parents can watch these. I'm excited that people can enjoy my work, now through my voice. So, I look forward to sharing those very, very soon.
Bingo Hell premieres on Amazon Prime on October 1, 2021.