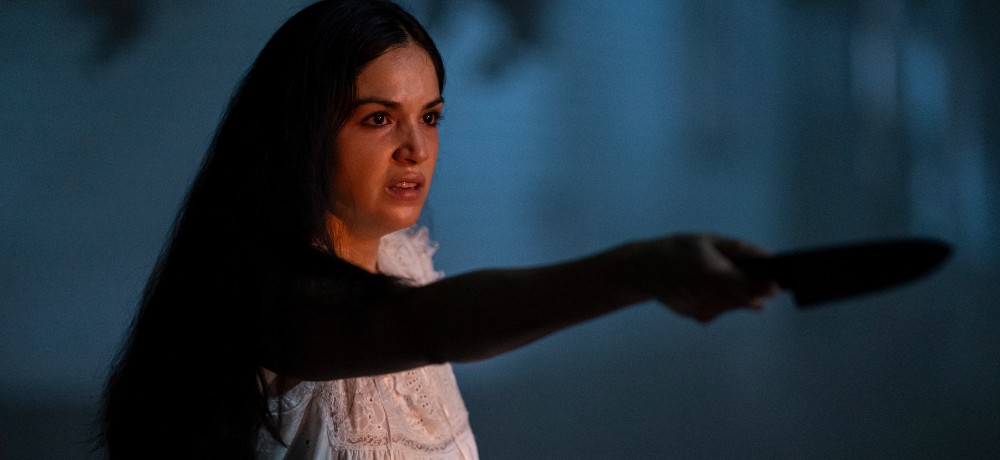 Our fourth and final Amazon Studios and Blumhouse Television Welcome to the Blumhouse directorial interview series, interviews the director of Madres, a hauntingly disturbing tale from the 1970s, based on true events.
Madres, directed by Ryan Zaragoza, goes back in time to a small 1970s California migrant community, where Beto (Tenoch Huerta) and Diana (Ariana Guerra), a young Mexican American couple are planning to start their new family. However, as strange symptoms and blood-chilling visions haunt Diana, the couple is forced to face the possibility that they are the newest victims of a local curse, or something far more terrifying.
Zaragoza has directed/written multiple short films such as Bebé and The Painter. He has also directed for The CW television series All American and for the upcoming Disney+ series Just Beyond. Madres is his directorial feature film debut.
What is your go-to Halloween movie?
The one that scares me the most is The Exorcist. I can't watch. I'm shocked when people are just so blase about it and think it's outdated. To me, it's terrifying, bold, and just such a great film. So I try to watch that when I'm looking to get scared.
Which filmmakers influence you?
I'm a big Stanley Kubrick and Steven Spielberg fan. Paul Thomas Anderson, I think he's my guy right now. I'm always fascinated every time he has something to say.
What is your favorite Blumhouse horror movie?
I really like Get Out. That opened up the doors for everything. I think the risk they took on, allowed for a series like this to get made.
How did you become a part of the Welcome to Blumhouse series?
I've been talking with Blumhouse for a little while, and they knew the types of films that I want to make. I think the series is really amazing. The platform that they give to filmmakers who are just starting out in their feature careers. They sent the right script my way which piqued my interest. I attached myself as soon as I could.
What inspired you to choose this script for your directorial debut?
Two things, first, that it took place in the 1970s. I am just a huge fan of 70s filmmaking and 70s horror filmmaking. I saw it as a vehicle to help contribute to what those filmmakers were doing at the time and pay homage to that style.
Second, because the story itself dealt with the Mexican American community and population, which is my background. I'm Mexican American. It gave voice to a group of women who were affected by a real-life horror that isn't really discussed. I saw it as a chance to shed light on the issue.
With Madres evaluating the cultural differences between Mexican immigrants and Mexican Americans, how important was it for you to explore a topic like this, which we normally don't see in films?
This was a huge part for me. I saw this story about a woman who speaks very little Spanish and her husband who is fluent, as it's his first language. Language is often associated with culture. I saw that immediately as an opportunity for great conflict.
Also, I wanted to express my own ideas and my own feelings on the subject through this story. I found moments for these characters to have conversations that address the issues because they're not black and white. They're very complex. You can see one way or another, by taking those moments and leaning into the conflict.
How was your experience working with Tenoch Huerta?
Tenoch's been on my radar for years. I am such a fan of his work and his ability to disappear into his roles. Honestly, I have made quite a few pitch decks and look books. If there is a Mexican male lead, he is the picture that I'm using. He's just that guy for me.
When we first set out making this film, he wasn't available. But then the pandemic happened, and we got shut down. By the time we went back up, he became available. So it just became this great moment of, "Oh, I get to finally work with this guy". Tenoch lived up to every expectation. He's just a wonderful person.
He's got something coming up in Black Panther: Wakanda Forever. It's a big deal. I'm so happy for him!
What was your favorite scene to film?
I have two. One of them is Diana and Beto having a big fight about speaking Spanish. Beto uses celery as a way of symbolism and communicating that he's sorry, in his very sweet way. I feel like I put a lot of myself into that moment. I wear my emotions on my sleeve. So, I remember being very teary-eyed as we're filming it. It just felt like a very raw thing for me to create.
Also, the chopping sequence, I really had fun shooting and making that. It was enjoyable. I could feel the tension building as we were shooting it.
Was there a scene that was the most challenging scene to film?
I think the most challenging scene to film for logistical reasons was on the farm. We were on such a tight schedule to create as much interesting and hopefully beautiful imagery as we could, we got rained out that day. And, we were constantly on the fly, just trying to film as much as we could.
Then it was super-hot. There were these love bugs that were all over everybody. It was really difficult, but everybody had great spirits. That was another beautiful thing. The cast was just so bright and cheerful. They made everything that was hard, much easier.
What do you hope audiences will take away from this film?
Hopefully, this is the start of a conversation with an audience that either feels like they aren't spoken to, whether you're of Latin background or you just like the style of filmmaking that I'm trying to do.
In the future, what type of projects do you hope to direct?
I'm looking to explore a lot of different genres like action, sci-fi, or drama-romance. I have quite a few projects that I'm ready to hop into. So we'll see what happens next.