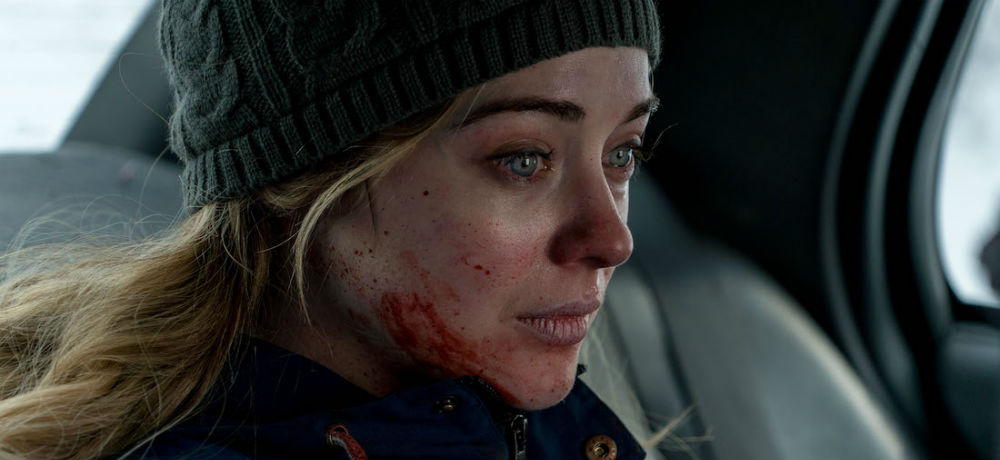 After its recent festival screenings, Shout! Studios is bringing Witches in the Woods to theaters and VOD on April 24th. We have the official press release, trailer, and poster below:
A tense tale of survival set in a fabled New England forest, Witches in the Woods is a suspenseful chiller about seven college friends whose off-the-grid snowboarding trip takes a turn for the worst when they get lost in the woods after experiencing car trouble. With temperatures falling fast and their nerves on edge, survival instincts take over as the friends turn against each other…and a witch-hunt begins.

Following its world premiere at Frightfest UK, Witches in the Woods opens in select theaters on VOD and On Demand everywhere April 24th, 2020 from Shout! Studios. This claustrophobic psychological thriller is directed by Jordan Barker (The Marsh, Torment) and stars Hannah Kasulka (FOX's The Exorcist), Craig Arnold (CBS's Ransom), Sasha Clements (Majority Rules!), Corbin Bleu (High School Musical), Alexander De Jordy (Rookie Blue), Humberly Gonzalez (CW's In the Dark), Kyle Mac (Titans), and Ian Matthews (NBC's Taken).

In Witches in the Woods, Jill, a tenacious college freshman, abandons her studies one weekend for an off-the-grid snowboarding trip with six friends. Driving through the freshly-logged mountains of western Massachusetts, a road closure forces them onto an unmarked route into the dark forest. These are the very woods where centuries ago, a dozen women were convicted and hanged for witchcraft. Disoriented in the dense wilderness, the friends slam the SUV into a ditch, totaling the car. As nighttime falls and temperatures drop, the group dynamic begins to unravel. Hypothermia sets in, and violent hallucinations threaten the group's sanity. With nowhere to go for help, the group risk freezing to death or facing the horrors that lie in the haunted wasteland beyond.

About Shout! Studios
Shout! Studios is the filmed entertainment production and distribution arm of Shout! Factory, specializing in all aspects of distribution, including theatrical, VOD, digital and broadcast. Reflecting Shout! Factory's ongoing commitment to innovation and excellence, Shout! Studios champions and supports like-minded filmmakers and creators at the forefront of pop culture, driving creative expression and diversity in independent storytelling. Shout! Studios finances, produces, acquires and distributes an eclectic slate of movies, award-winning animated features, specialty films and series from rising and established talent, filmmakers and producers.