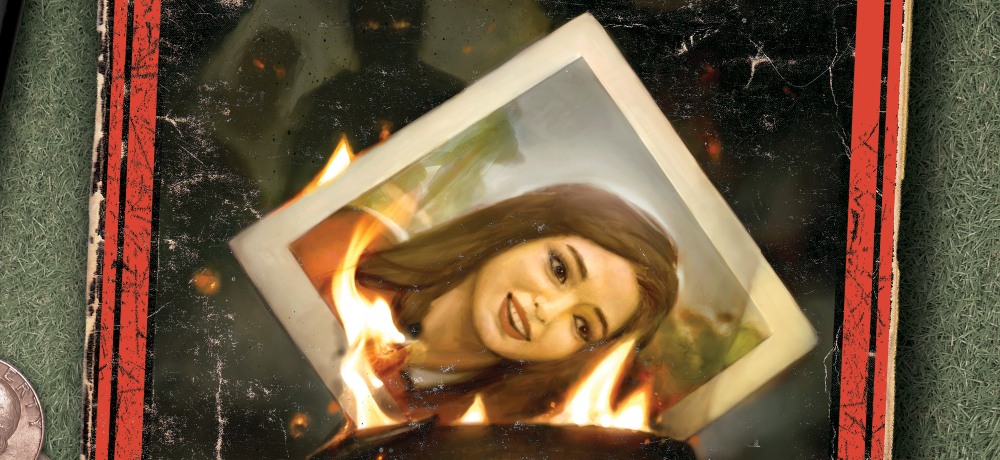 It's safe to say that horror is alive and well at DC Comics. In addition to the spooky stories creeping across the paneled pages in the DC Black Label and Hill House Comics, DC has launched a new horror imprint today with the release of The Conjuring: The Lover #1.
A prelude to The Conjuring: The Devil Made Me Do It (which is being released in theaters and on HBO Max on June 4th—read Heather Wixson's review here), The Conjuring: The Lover is written by David Leslie Johnson-McGoldrick and Rex Ogle and features eerily atmospheric artwork by Garry Brown, and with the first issue out now, Daily Dead had the pleasure of taking part in a virtual roundtable interview with David, Rex, and DC Comics Editor Katie Kubert to discuss expanding The Conjuring cinematic universe in comic book form, an ambitious idea that Katie helped make a reality.
"I'm a huge horror nerd, and as an editor at DC, I've been trying to figure out ways to elevate that genre in its own specific way," Katie said, "Joe Hill and the Joe Hill line have been doing amazing work with horror over there. Black Label and Chris Conroy and his group have been developing some amazing stuff—The Nice House on the Lake is such a good book—so DC has so many amazing horror titles coming out. When you look at WarnerMedia, which DC Comics is a part of, we also are a partner with New Line. New Line is the horror gods to me, so I'm like, 'Okay, would it be possible to create a partnership with this production company who is the House that Freddy Built, which is synonymous to any horror fan? How could we work together as a partnership to create something new and something familiar and something easy for fans to pick up? Maybe Conjuring fans have never read a comic book in their life, but they love the universe, they love the mystery, they love the world that has been built there. So what can we as comic creators make for them that they can just pick up and enjoy and want to binge and read more of?' That's how that partnership was created, as that creepy opening door that all horror fans are like, 'Oh man, there's something really weird and gross and terrifying inside, I want to walk through and read it, even though I've never done anything like this before.'"
To bring those nightmares to life on the other side of that creepy door, David Leslie Johnson-McGoldrick and Rex Ogle were enlisted to write the script for The Conjuring: The Lover, and as the screenwriter for The Conjuring: The Devil Made Me Do It, David saw the comic book as the perfect opportunity to expand on an intriguing character from the film, Jessica, a college student who finds herself haunted by regret, isolation, and a sinister force on campus in the winter of 1981.
"To me, the opportunity of the comic is similar to the opportunity to write in the cinematic universe. We're able to go down avenues that we couldn't explore in the flagship series of the franchise," David said. "If it was just Conjuring 1, 2, 3, there are all of these unexplored avenues that we wouldn't know about. The comic felt like a really good chance to meet a character who we weren't able to spend a lot of time with otherwise. This was very much an opportunity to expound on someone who felt possibly underserved or fill in these gaps that were there in the film. Without the comics, we wouldn't have the chance to do that. We can get into some of these smaller characters and tell little personal stories that way."
While creating a new story in a cinematic franchise with a deeply intricate mythology could be a daunting task, co-writer Rex Ogle found that the freedom provided by New Line and his own passion for The Conjuring franchise provided fuel for a fun and freeing creative process.
"I felt like New Line gave us a ton of freedom," Rex said. "The great thing was that David wrote this amazing script that had this C plot that we were able to pull out and make almost a prequel to The Conjuring 3. For me, going back and rewatching The Conjuring movies was a total blast. In a way, the homework I had to do was something I wanted to do anyways, so I had a blast."
The Conjuring fans should have no trouble having a creepy blast of their own with The Conjuring: The Lover, because in addition to the main story, each issue comes with a "Tales From the Artifact Room" segment that connects to a haunted item from the Warrens' artifact room (the first issue of The Lover features "The Ferryman" by writer Scott Snyder and artist Benys Cowan). So, whether or not you're new to The Conjuring universe or you haven't yet been acquainted with the haunted world of the Warrens, don't be afraid to walk through that creepy opening door into the new DC Horror imprint... there are so many spooky tales waiting for you on the other side.
----------
We have preview pages from The Conjuring: The Lover #1 below, and to learn more, visit:
The Conjuring: The Lover #1:
Tales From the Artifact Room: The Ferryman: