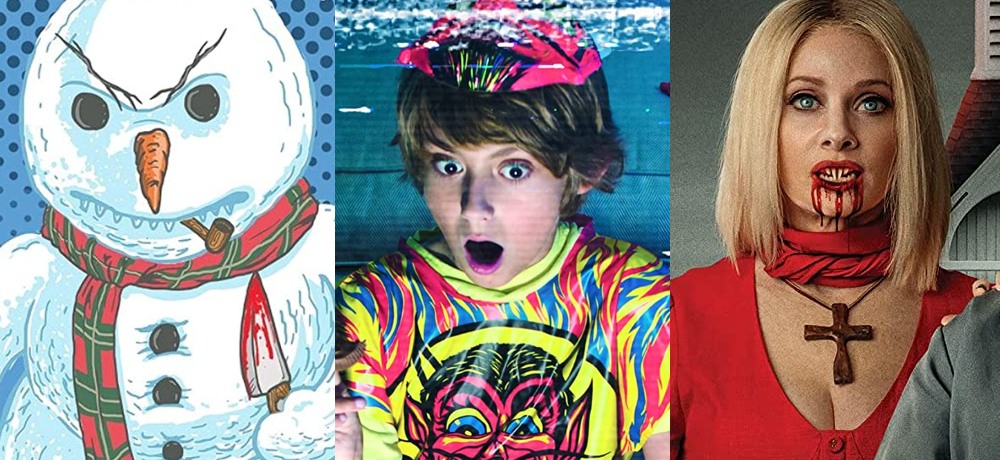 Happy Monday, dear readers! Normally, Mondays are nothing to get excited about, but now that we're officially into the holiday season, that's enough to put this writer in a pretty darn good mood. Last week, we officially kicked off our 2021 Holiday Gift Guide with Black Friday deals (many of these sales are good through today, so if you missed that post, you can check it out HERE), and today, we're back with a look at all the killer horror and sci-fi home media releases that have come out throughout the year (and in some cases, in the next few weeks) that would make for a great gift to find under the tree or stuffed in a stocking.
There are more than 75 different releases included in this edition of our gift guide, so I've done my best to categorize the releases in a way to make things easier on you as you check out all the great genre movies—new and old—that you can enjoy from the comfort of your own home. And be sure to head back here all this week for more installments of Daily Dead's 2021 Holiday Gift Guide.
Happy Shopping!
2021 CLASSICS IN THE MAKING:
Freaky (Universal Pictures Home Entertainment, Blu/DVD/Digital & DVD/Digital)
Prepare for a Freaky take on the body-swap movie which only Blumhouse (makers of Happy Death Day & The Purge Franchises) could bring: a teenage girl switches bodies with a relentless serial killer! High school senior Millie (Kathryn Newton, Blockers, HBO's Big Little Lies) is just trying to survive being the unpopular kid when she becomes The Butcher's (Vince Vaughn) next target. Their fateful encounter gets twisted and they wake up in each other's bodies. Now looking like a towering psychopath, Millie learns she only has 24 hours to reverse the curse and get her body back before the switch becomes permanent and she's trapped in the form of a middle-aged maniac forever.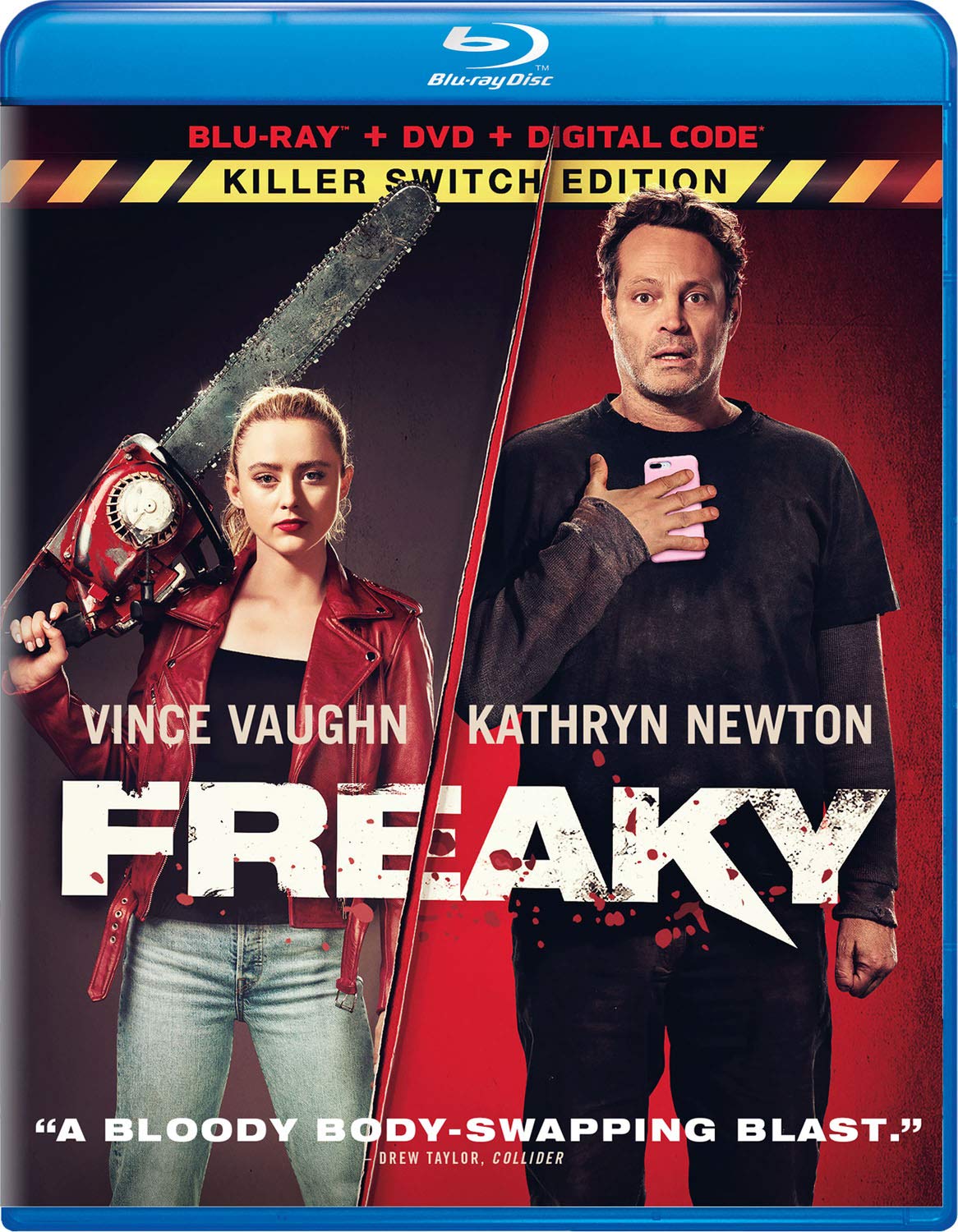 Werewolves Within (RLJE Films, Blu-ray & DVD) - Available December 7th
After a proposed pipeline creates divisions within the small town of Beaverfield, and a snowstorm traps its residents together inside the local inn, newly arrived forest ranger FINN (Sam Richardson) and postal worker CECILY (Milana Vayntrub) must try to keep the peace and uncover the truth behind a mysterious creature that has begun terrorizing the community.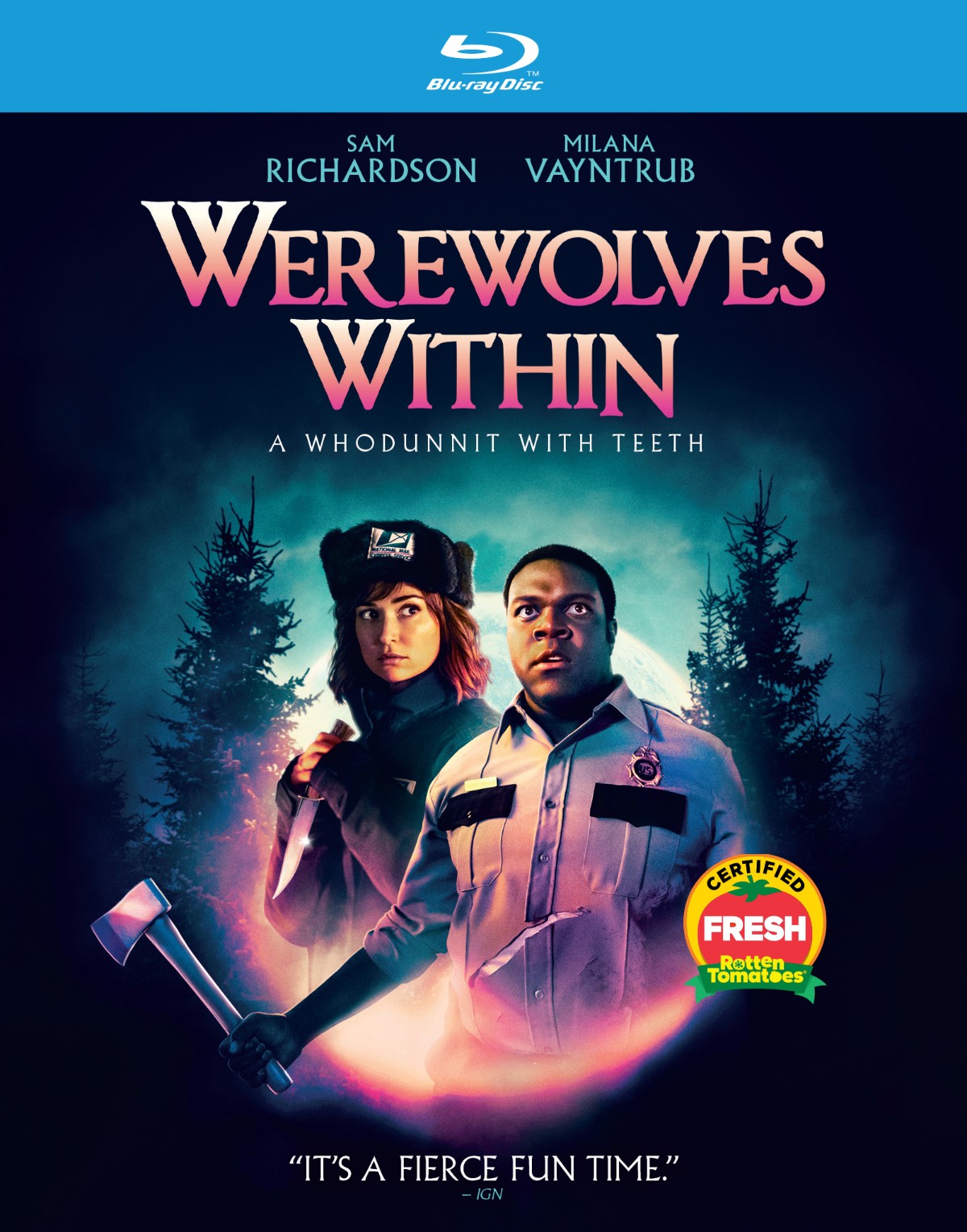 Love and Monsters (Paramount Home Entertainment, 4K Ultra HD/Blu/Digital, Blu/Digital & DVD)
Dylan O'Brien stars in this thrilling adventure delivering epic action and laughs. After monsters take over the world, Joel (O'Brien, The Maze Runner) and the rest of humanity are forced to live underground. Believing he's lost everyone he has ever loved, Joel finds his high school sweetheart Aimee (Jessica Henwick, "Game of Thrones") living just 80 miles away. Facing unknown dangers that stand in his way, Joel must discover his inner hero as he makes the impossible journey across a monster-infested land to be with the girl of his dreams. Also starring Michael Rooker (Guardians of the Galaxy) and Ariana Greenblatt (Avengers: Infinity War).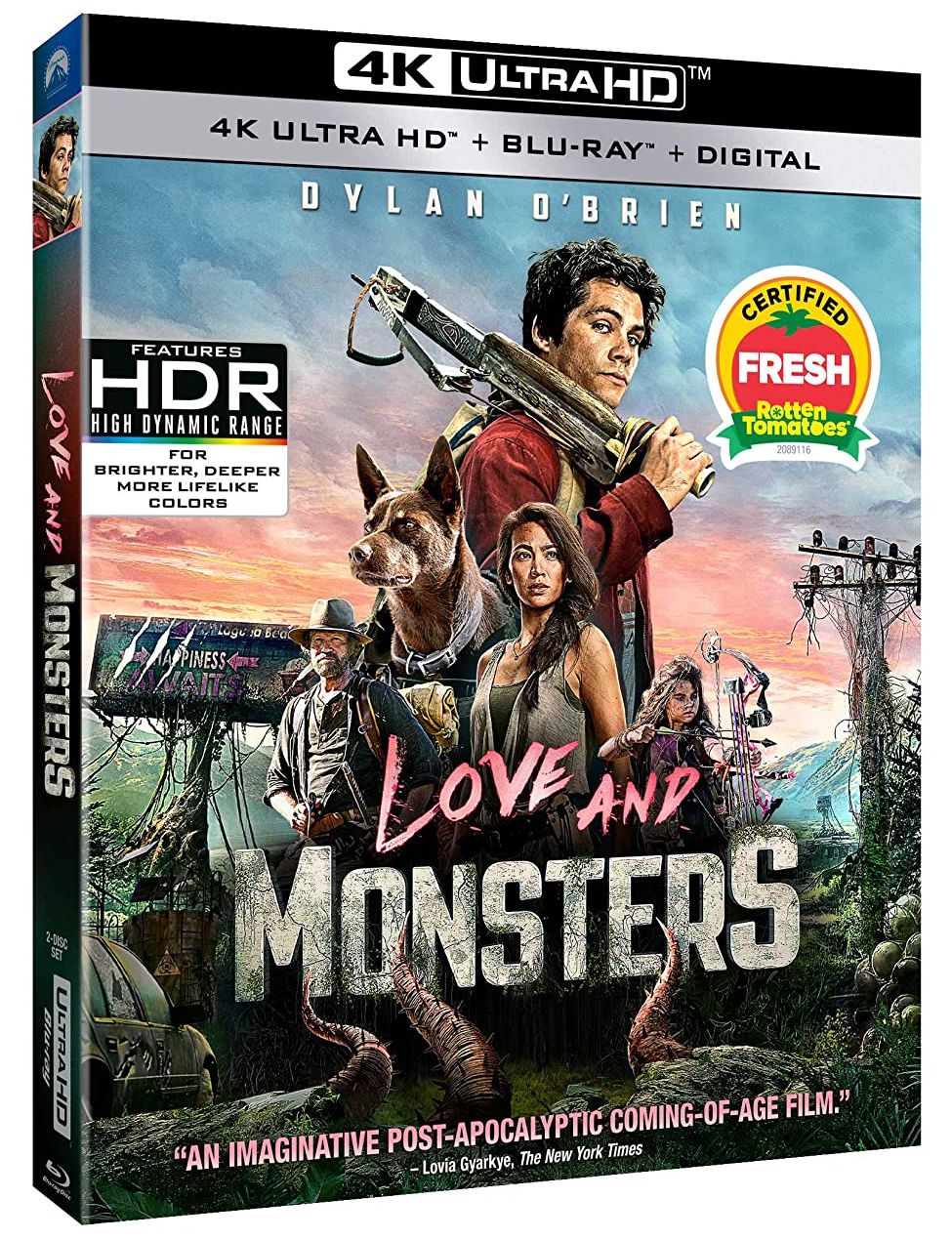 Candyman (2021) (Universal Pictures Home Entertainment, 4K Ultra HD/Blu/Digital, Blu/Digital & DVD)
Oscar® winner Jordan Peele and filmmaker Nia DaCosta unleashes a fresh take on the blood-chilling urban legend: Candyman. For decades the housing projects of Chicago's Cabrini-Green neighborhood were terrorized by a ghost story about a supernatural killer summoned by repeating his name five times into a mirror. In the present day, artist Anthony McCoy (Yahya Abdul-Mateen II) moves into the neighborhood, now gentrified beyond recognition. Anxious to maintain his status in the art world, he begins to explore the macabre history of Candyman, which unknowingly unravels his own sanity and unleashes a terrifying wave of violence that puts him on a collision course with destiny.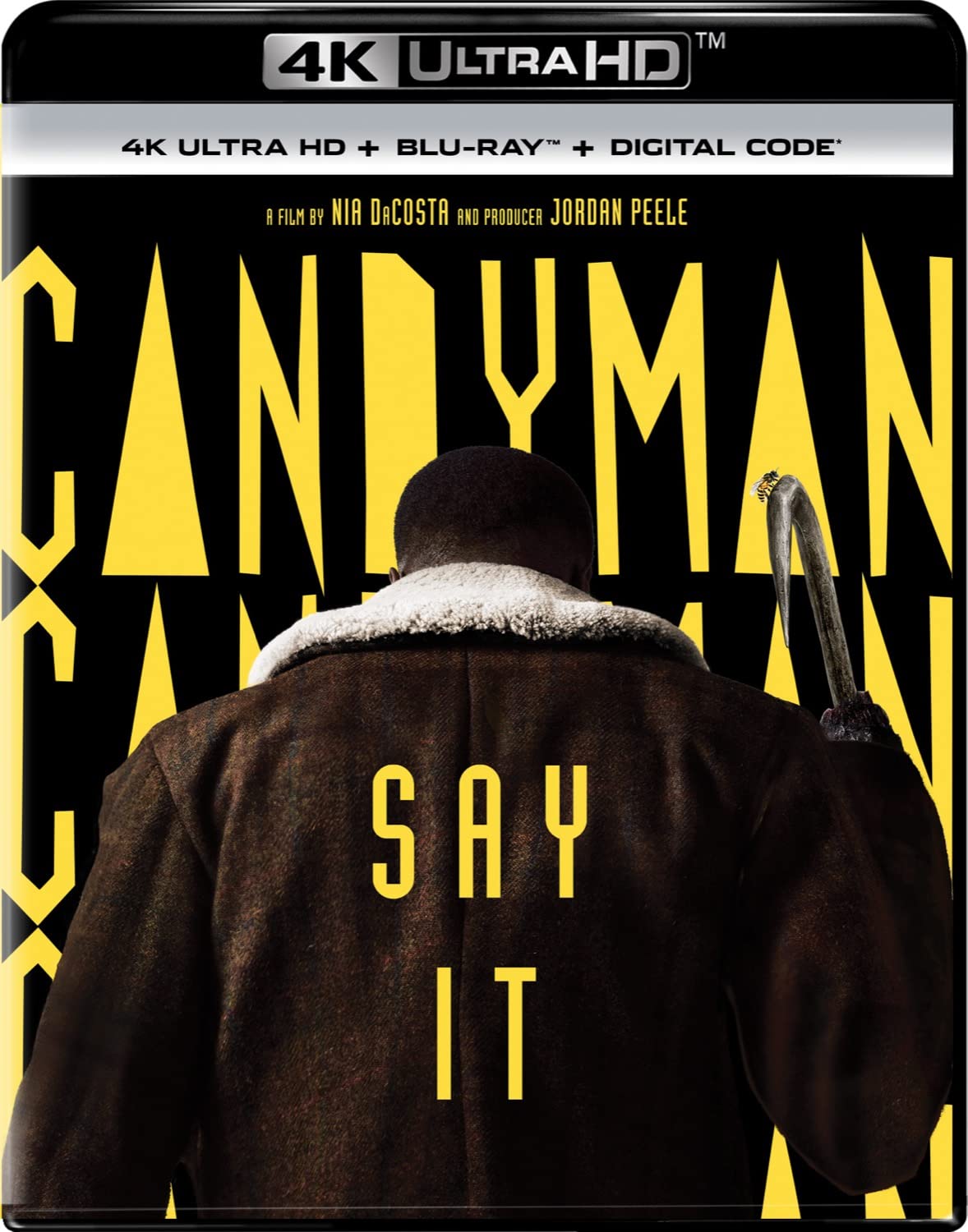 The Green Knight (Lionsgate, 4K Ultra HD/Blu-ray/Digital, Blu-ray/Digital & DVD)
An epic fantasy adventure based on the timeless Arthurian legend, THE GREEN KNIGHT tells the story of Sir Gawain (Dev Patel), King Arthur's reckless and headstrong nephew, who embarks on a daring quest to confront the eponymous Green Knight, a gigantic emerald-skinned stranger and tester of men. Gawain contends with ghosts, giants, thieves, and schemers in what becomes a deeper journey to define his character and prove his worth in the eyes of his family and kingdom by facing the ultimate challenger. From visionary filmmaker David Lowery comes a fresh and bold spin on a classic tale from the knights of the round table.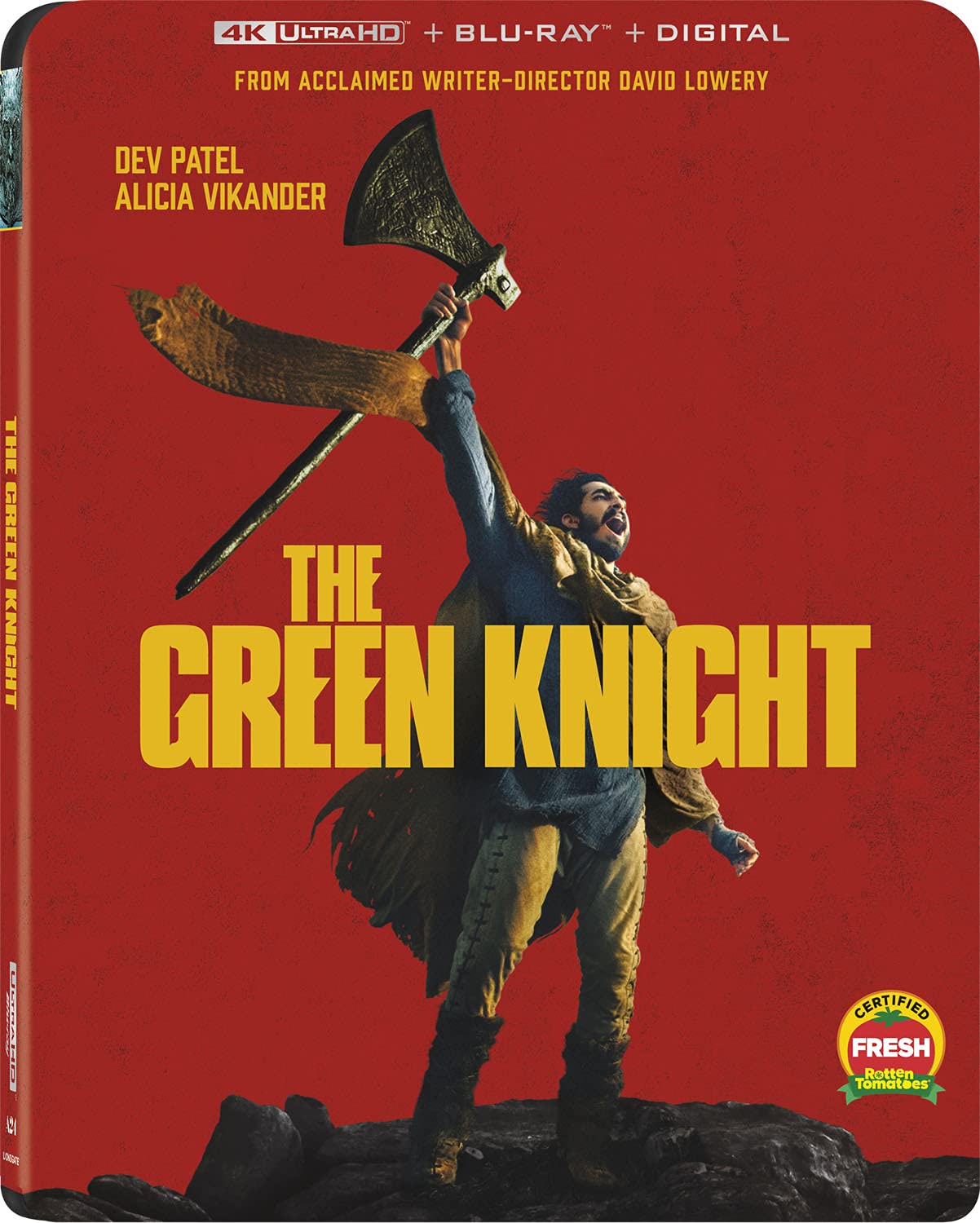 Malignant (Warner Bros. Home Entertainment, Blu/Digital & DVD)
"Malignant" marks director James Wan's return to his roots with this new original horror thriller. In the film, a woman is paralyzed by shocking visions of grisly murders, and her torment worsens as she discovers that these waking dreams are in fact terrifying realities.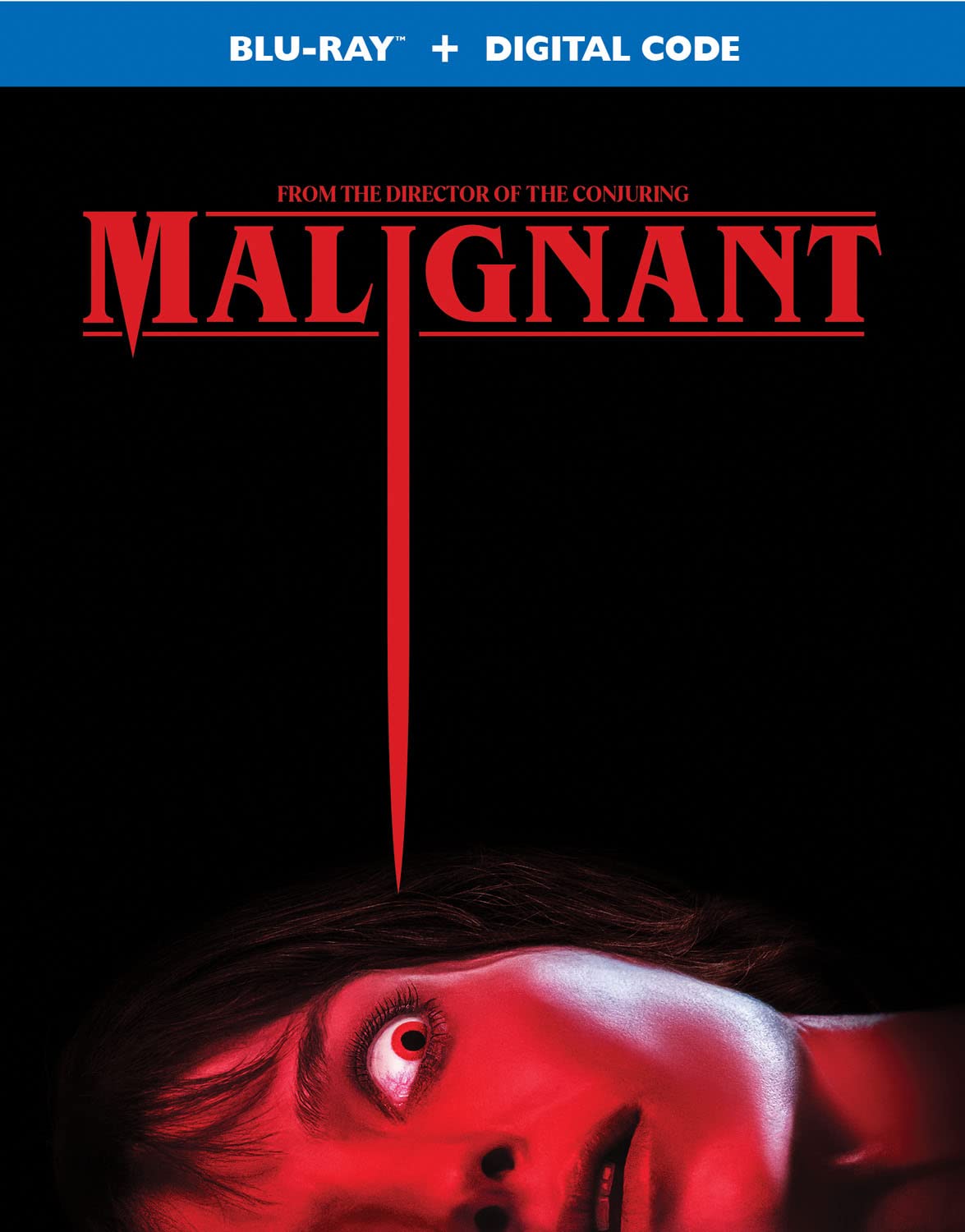 Jakob's Wife (RLJE Films, Blu-ray & DVD)
In JAKOB'S WIFE, Anne is married to a small-town minister and feels like her life and marriage have been shrinking over the past 30 years. After a chance encounter with "The Master," she discovers a new sense of power and an appetite to live bigger and bolder than before. As Anne is increasingly torn between her enticing new existence and her life before, the body count grows and Jakob realizes he will have to fight for the wife he took for granted.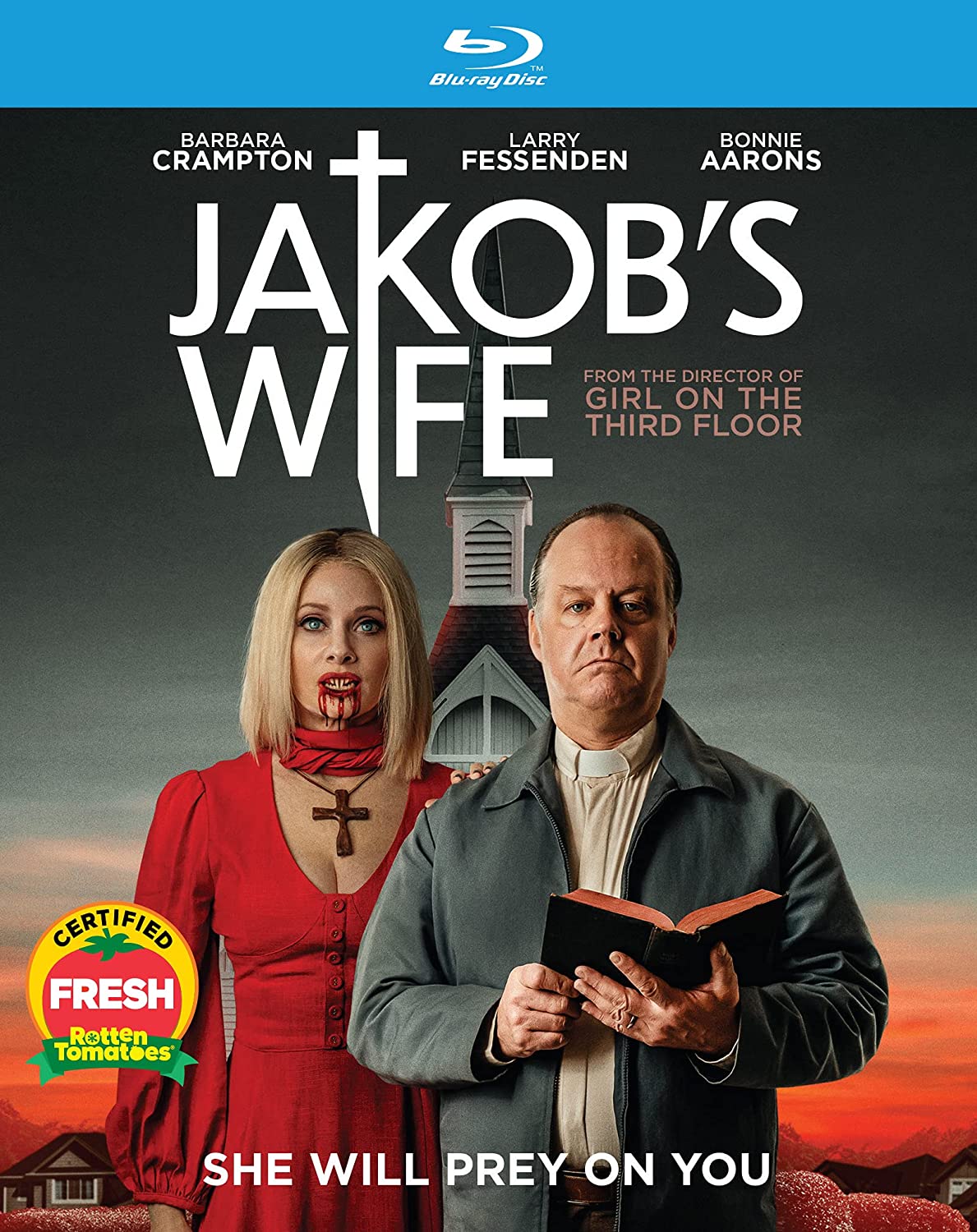 The Stylist (Arrow Video, Blu-ray)
Obsession gets a makeover in The Stylist, a deliciously twisted slice of female-led psychological horror, nominated for the New Visions Award for Best Motion Picture at the 2020 Sitges International Film Festival and based on co-writer/director Jill Gevargizian's award-winning short film of the same name. We all dream of being someone else... but for Claire (Najarra Townsend, Contracted), that dream goes from an obsession to a living nightmare. Hairstylist by day, serial killer and collector of scalps by night, Claire's lonely existence is thrown into turmoil when her regular client, Olivia (Brea Grant, After Midnight, Lucky), asks her to style her hair for her wedding day. Increasingly fixated on Olivia's seemingly flawless life, Claire vows to lock up her scalp collection and change her ways for good - only to discover that repressing your deadly desires is easier said than done...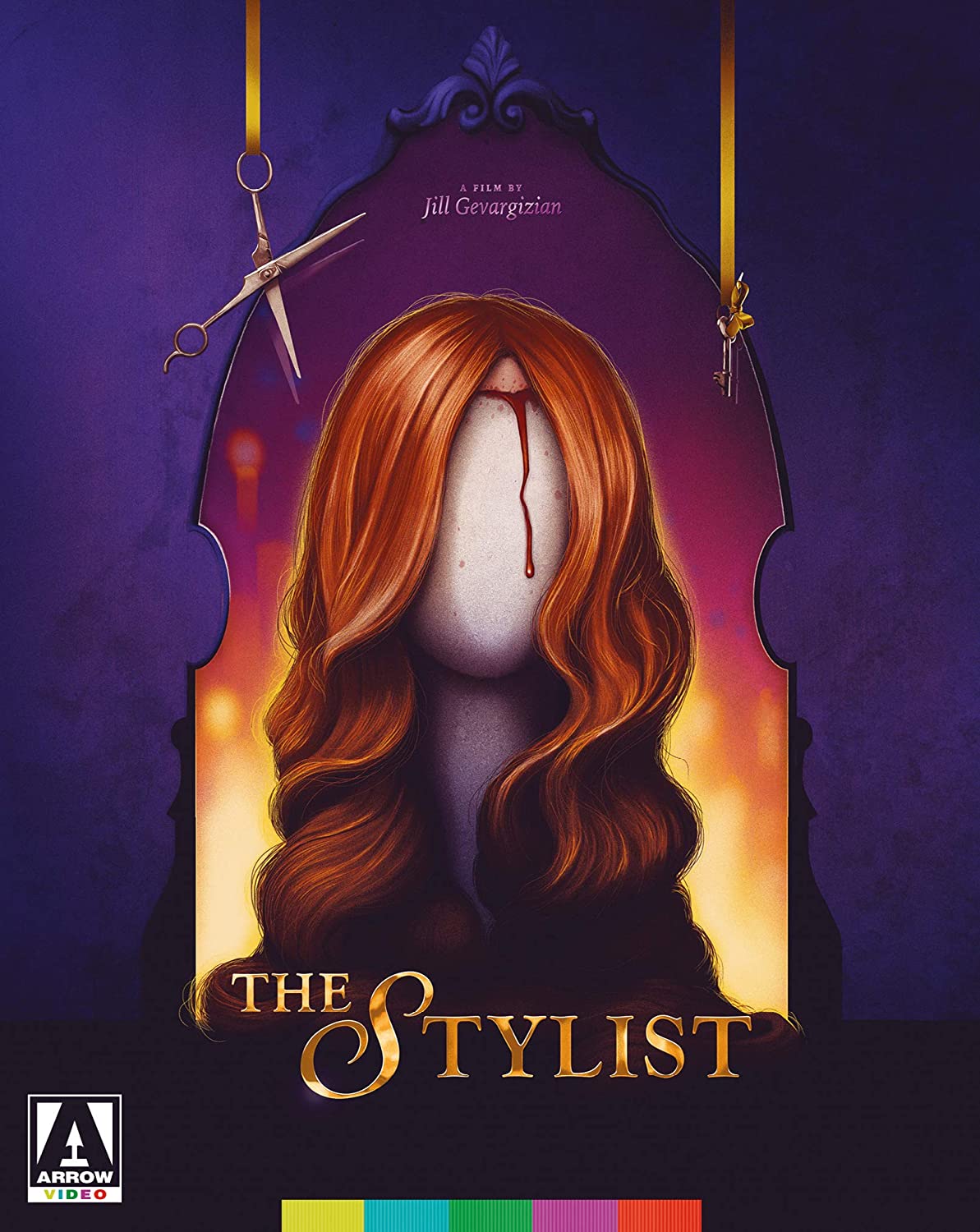 A truffle hunter who lives alone in the Oregonian wilderness must return to his past in Portland in search of his beloved foraging pig after she is kidnapped.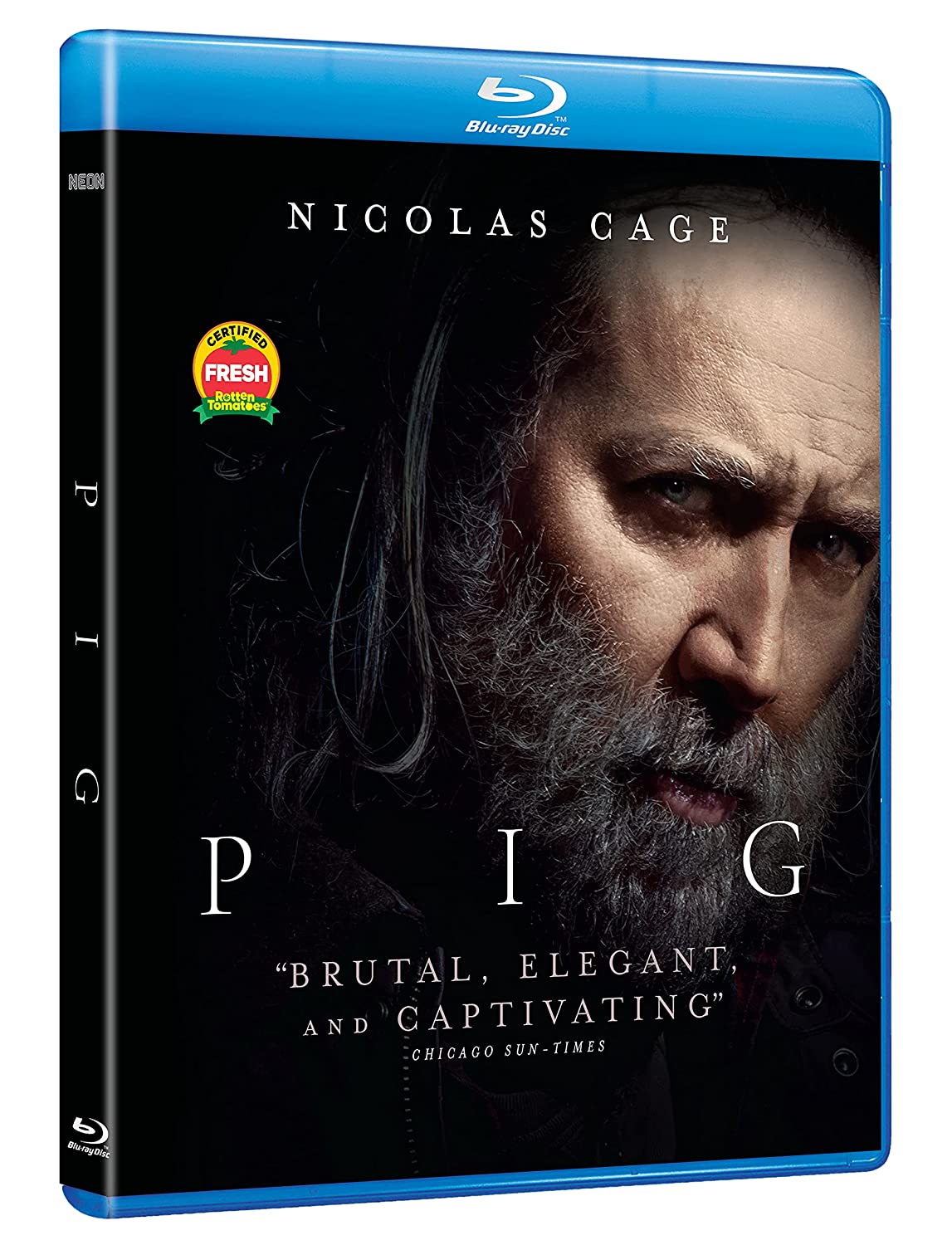 Godzilla vs. Kong (Warner Bros. Home Entertainment, 4K Ultra HD/Combo, 3D Blu/Combo & Blu/DVD/Digital)
Kong and his protectors undertake a perilous journey to find his true home, and with them is Jia, a young orphaned girl with whom he has formed a unique and powerful bond. But they unexpectedly find themselves in the path of an enraged Godzilla, cutting a swath of destruction across the globe. The epic clash between the two titans—instigated by unseen forces—is only the beginning of the mystery that lies deep within the core of the Earth.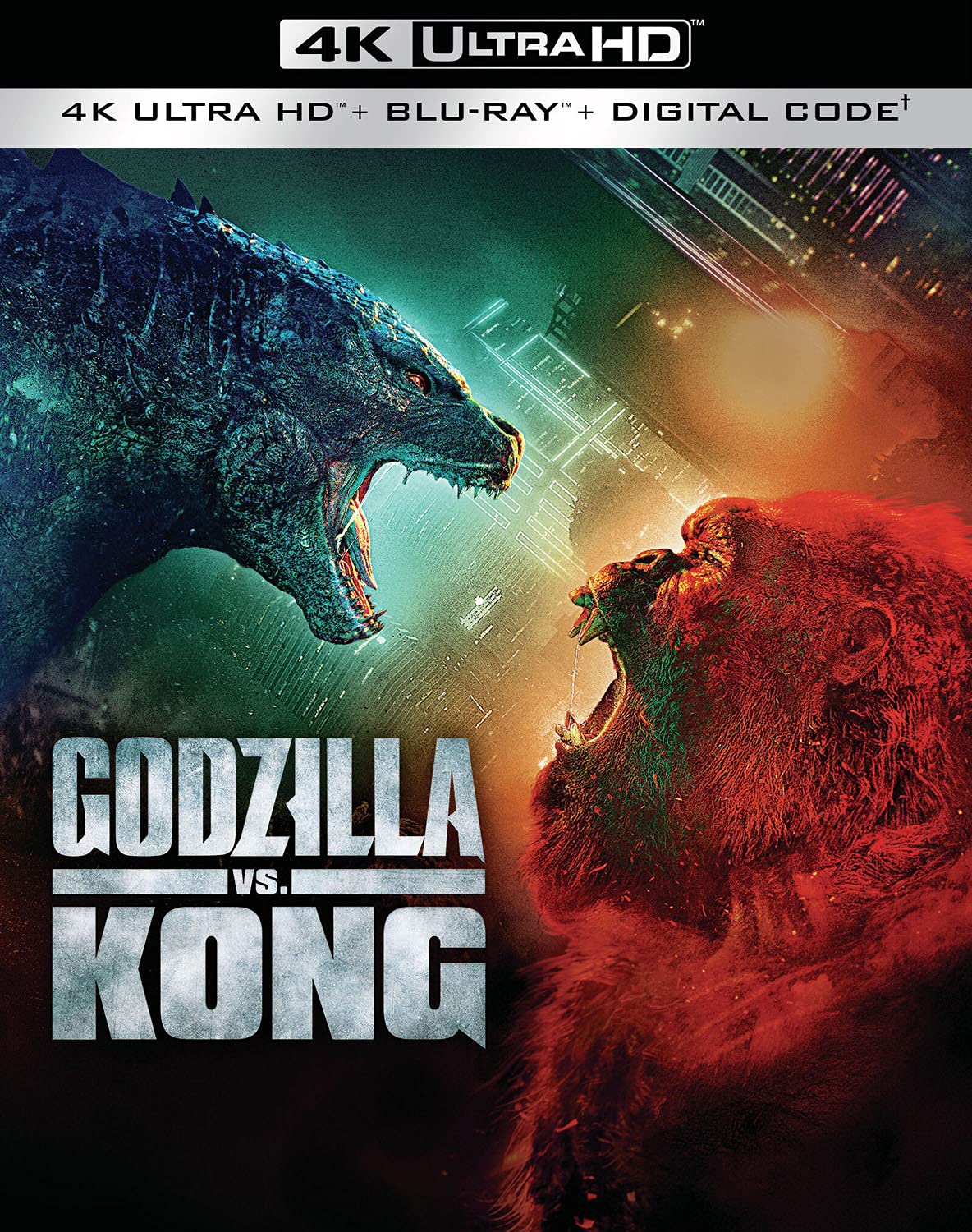 The Haunting of Bly Manor (Paramount Home Entertainment, Blu-ray & DVD)
From The Haunting of Hill House creator Mike Flanagan and producer Trevor Macy comes THE HAUNTING OF BLY MANOR, the next highly anticipated chapter of The Haunting anthology series, set in 1980s England. After an au pair's tragic death, Henry Wingrave (Henry Thomas) hires a young American nanny (Victoria Pedretti) to care for his orphaned niece and nephew (Amelie Bea Smith, Benjamin Evan Ainsworth) who reside at Bly Manor with the estate's chef Owen (Rahul Kohli), groundskeeper Jamie (Amelia Eve) and housekeeper, Mrs. Grose (T'Nia Miller). But all is not as it seems at the manor, and centuries of dark secrets of love and loss are waiting to be unearthed in this chilling gothic romance. At Bly Manor, dead doesn't mean gone.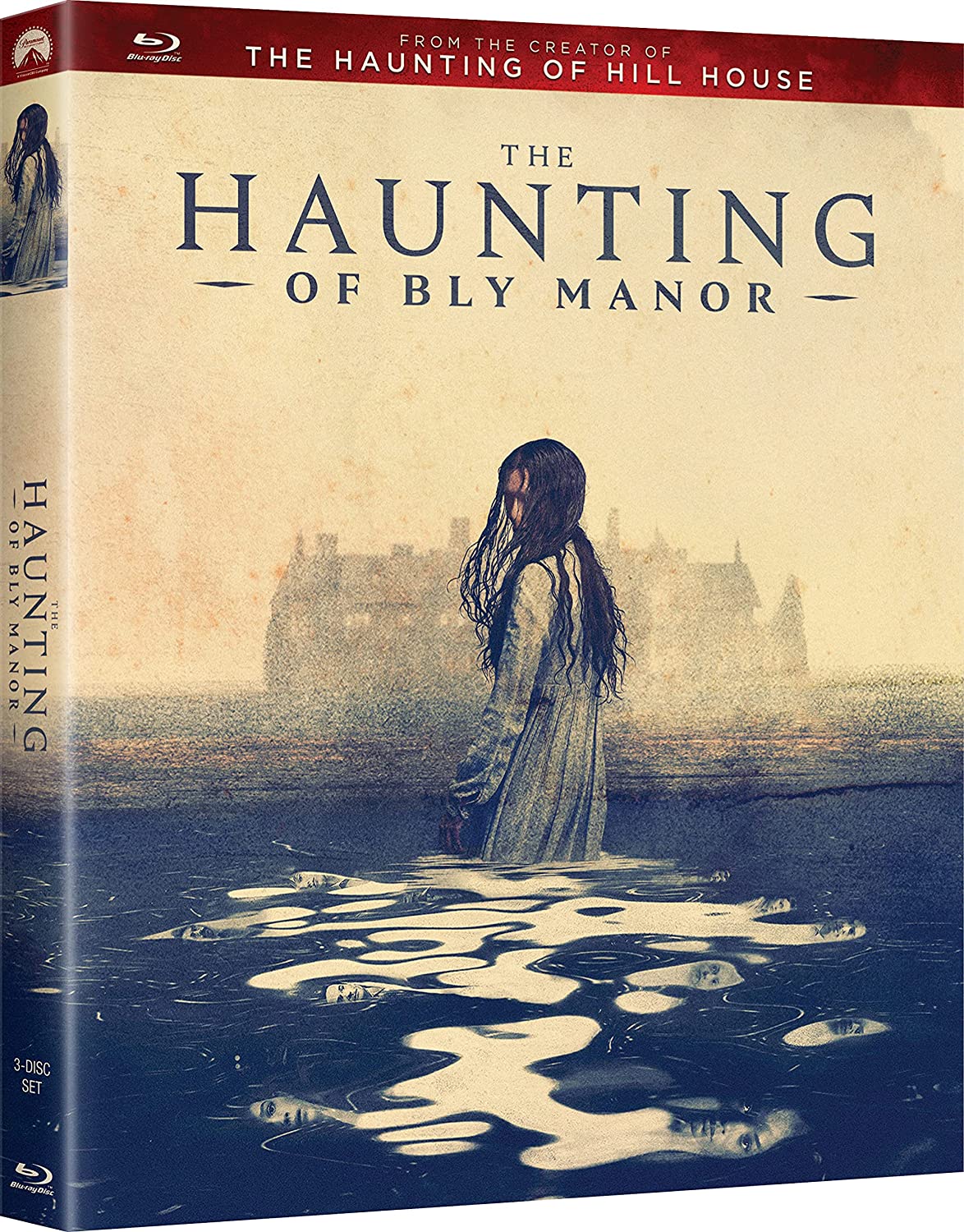 PG: Psycho Goreman (RLJE Films, Blu-ray & DVD)
Mimi and Luke unwittingly resurrect an ancient alien overlord who was entombed on Earth millions of years ago after a failed attempt to destroy the universe. They nickname the evil creature Psycho Goreman (or PG for short) and use the magical amulet they discovered to force him to obey their childish whims. It isn't long before PG's reappearance draws the attention of intergalactic friends and foes from across the cosmos, and a rogues' gallery of alien combatants converges in small-town suburbia to battle for the fate of the galaxy.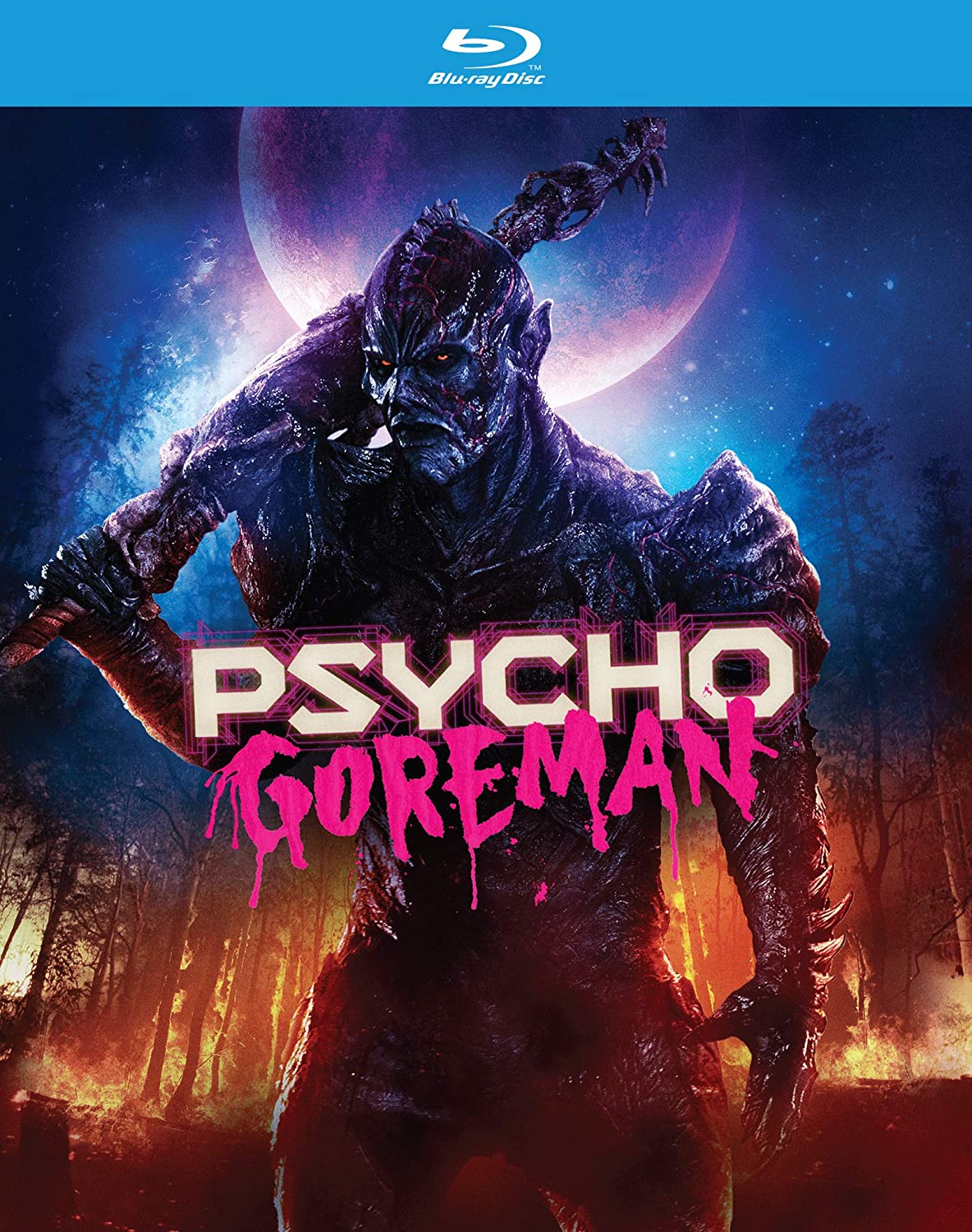 Come True (Scream Factory, Blu-ray & DVD)
Looking for an escape from her recurring nightmares, 18-year-old Sarah (Julia Sarah Stone) submits to a university sleep study, but soon realizes she's become the conduit to a frightening new discovery. Dreams twist and nightmares come true in this mind-altering new work of science-fiction from Anthony Scott Burns (Our House) that haunts the space between wakefulness and sleep. Come True is an unforgettable cinematic dream well worth the submersion.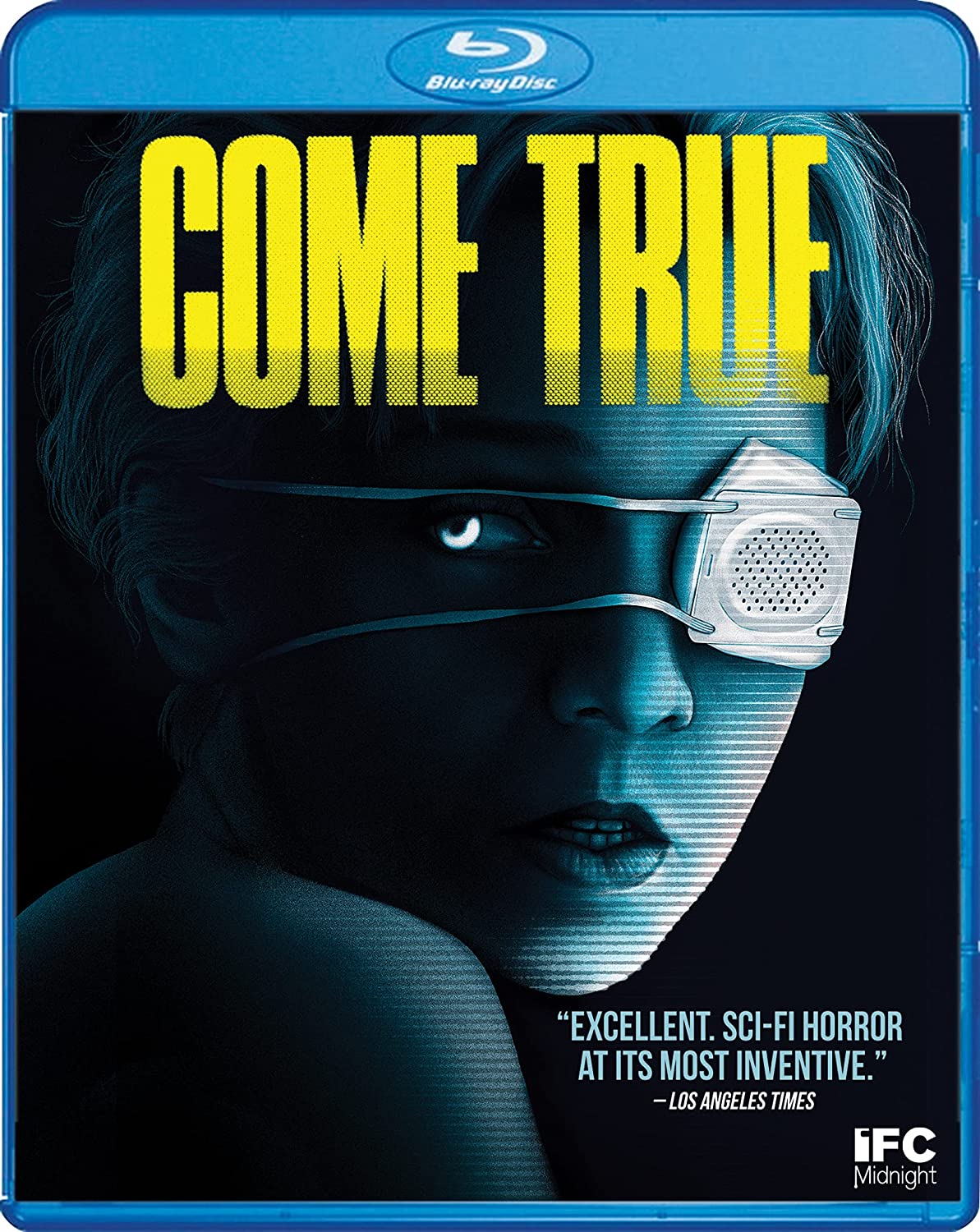 RECENT GENRE GOODIES:
WNUF Halloween Special (Terror Vision, Blu-ray)
For decades, obscure film collectors and lovers of esoteric cinema have sought it and now the search is over. Originally broadcast live on October 31, 1987, the "WNUF Halloween Special" is a stunning exposé of terrifying supernatural activity that unfolded at the infamous Webber House, the site of ghastly murders. Local television personality Frank Stewart leads a group of paranormal investigators including a Catholic exorcist, Father Joseph Matheson, and the prolific husband-and-wife team Louis and Claire Berger. Together, the experts explore the darkest corners of the supposedly haunted Webber House, trying to prove the existence of the demonic entities within. Did they find the horrific truth or simply put superstitious rumors to rest? Compiled from the highest-quality source material available, this blu-ray features the full program, including the original commercials that ran during the notorious broadcast.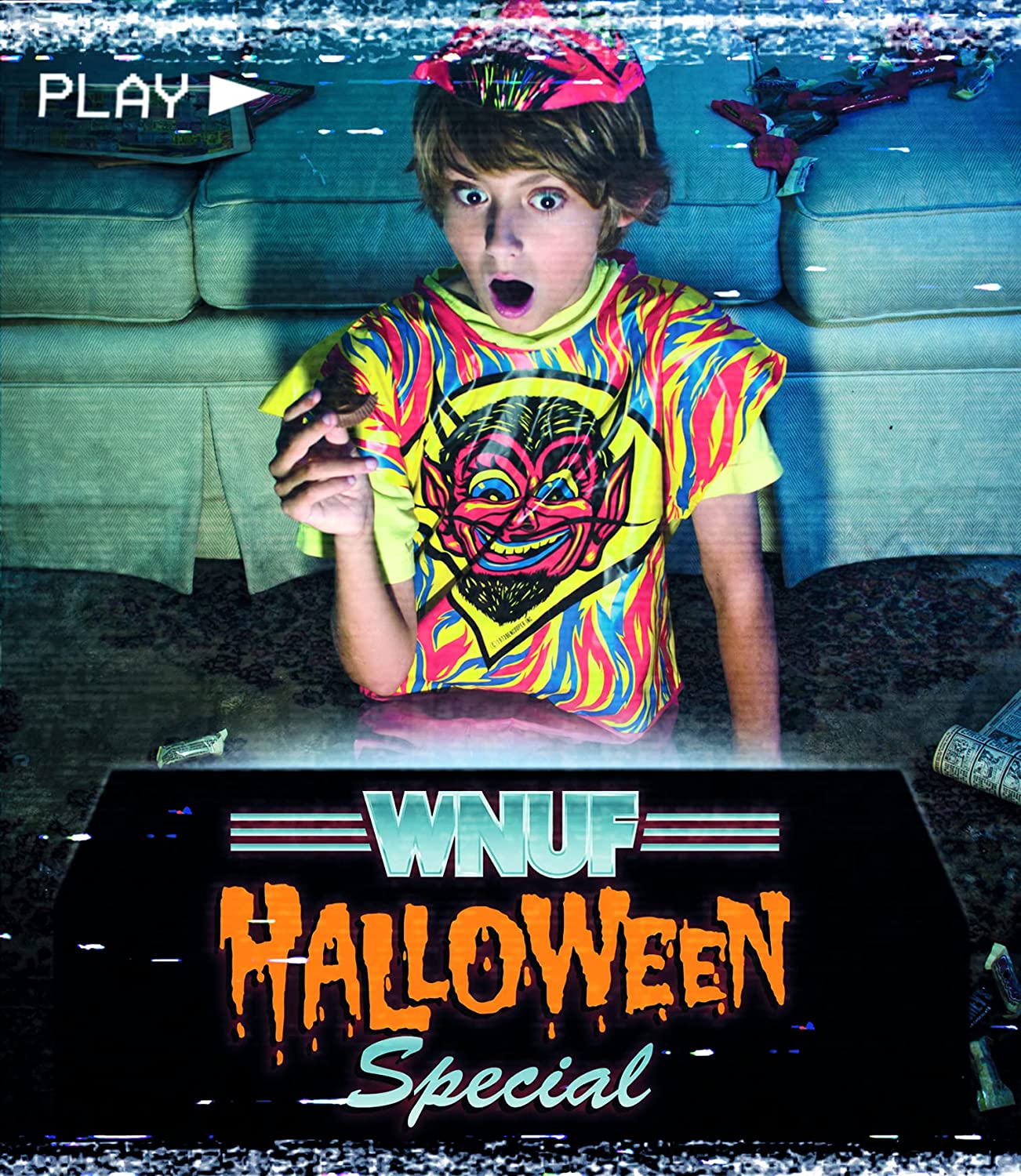 House of Wax (2005): Collector's Edition (Scream Factory, Blu-ray)
When their car breaks down on a road trip, six college friends are sidetracked into an eerie backwoods town. Curiosity gets the better of them when they are intrigued by its macabre House of Wax. They soon find out that the town is not what it seems, and that they must find their way out before they fall victim to its ghoulishly inventive killers.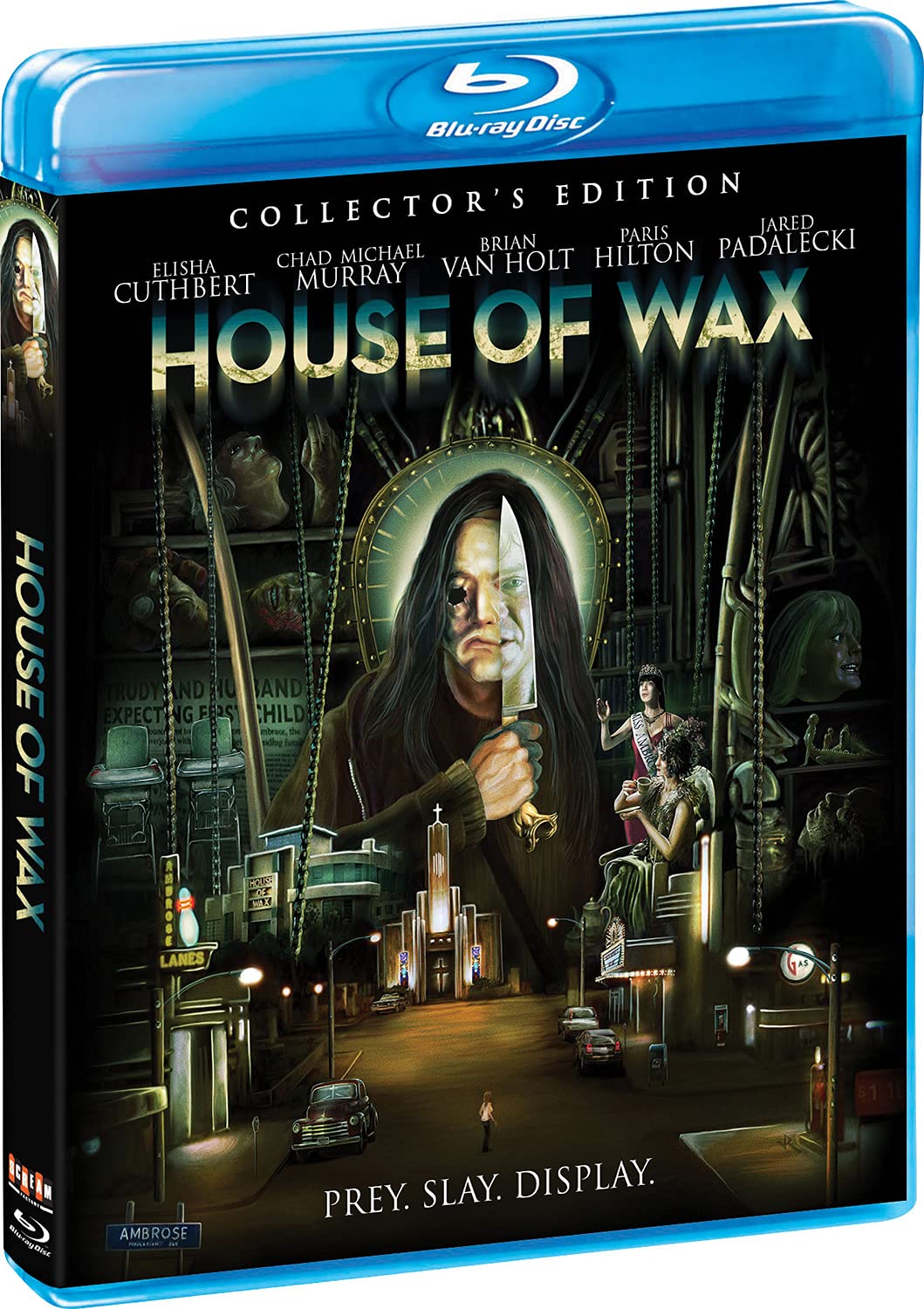 Jack Frost (MVD Rewind, Blu-ray) - Available December 14th
He's got ice in his veins and he's giving cold-blooded a whole new meaning… his name is JACK FROST. After five years of terror and 38 bodies in five states, serial killer Jack is on his way to execution. But a freak accident with a truckload of genetic material in the middle of a snowstorm mutates Jack into a killer snowman. Now only an army can stop the slayride of terror from this frosty monster with icicle fangs. Hell has just frozen over… he's the abominable Jack Frost.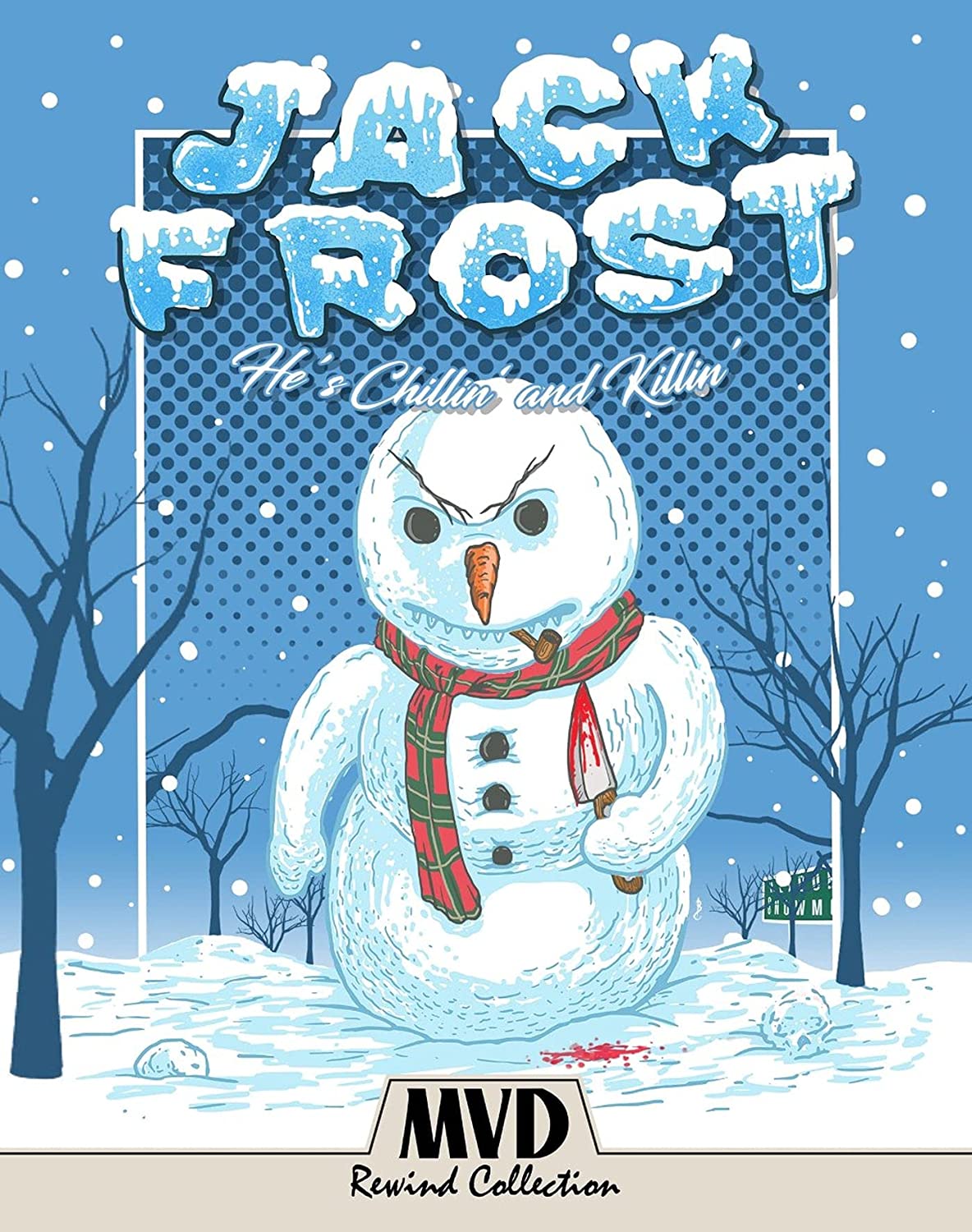 Jack Frost 2: Revenge of the Mutant Killer Snowman (MVD Rewind, Blu-ray) - Available December 14th
Jack Frost (Scott MacDonald), the chiller killer is back and he's mad as hell. An accidental lab experiment resurrected the evil snowman, but this time, the crystal killer can't be stopped by fire, bullets or even his worst enemy, chemical anti-freeze. With revenge on his mind, Jack sets out to finish off his nemesis, Sheriff Sam (Christopher Allport), who is vacationing on a Caribbean island. Sam's balmy paradise turns into a Winter Terrorland when Jack freezes the island and quickly ices everyone around him. No one can stop the chilling killing spree when Jack can travel as lethal liquid or fatal, frosty flakes. Just when you thawed it was safe to go back in the fridge!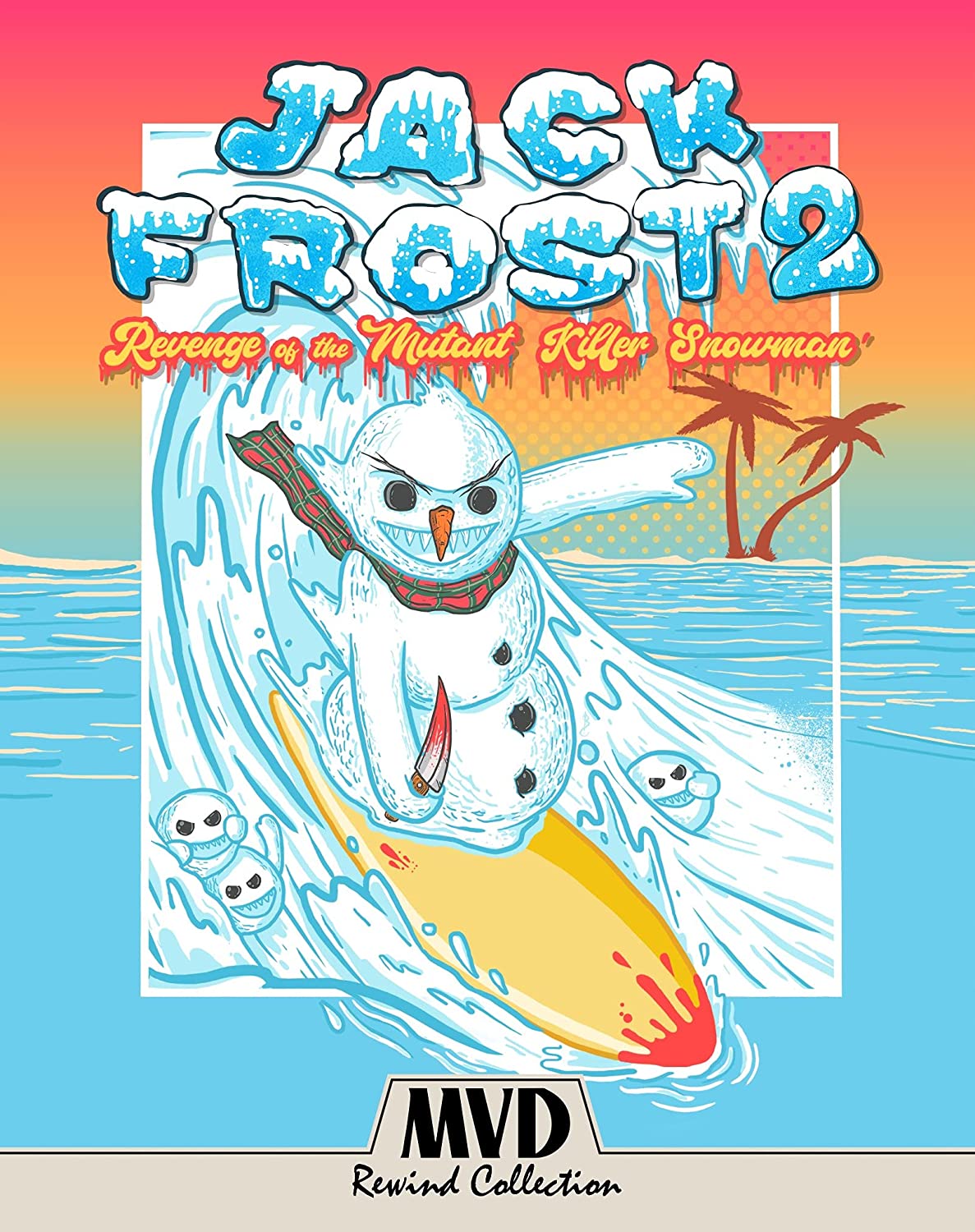 STEELBOOKS:
Elvira: Mistress of the Dark Steelbook (Arrow Video, Blu-ray)
She's back! Elvira, Horrorland's hostess with the mostest, busts out on a positively bursting-at-the-seams special edition of her big screen debut, Elvira: Mistress of the Dark!
Having just quit her job as a Los Angeles TV horror hostess, Elvira receives the unexpected news that she is set to inherit part of her great aunt Morgana's estate. Arriving in the small town of Fallwell, Massachusetts to claim her inheritance, Elvira receives a less than enthusiastic reception from the conservative locals amongst them, her sinister uncle Vincent, who, unbeknownst to Elvira, is in fact an evil warlock secretly scheming to steal the old family spellbook for his own nefarious ends
Campy, quirky and stuffed to the brim with more double entendres than your average Carry On movie, 1988's Elvira: Mistress of the Dark helped solidify the horror hostess (played by Cassandra Peterson) as a major pop culture icon, here owning every inch of the screen with her quick wit, sass, and of course, cleaving-enhancing gown!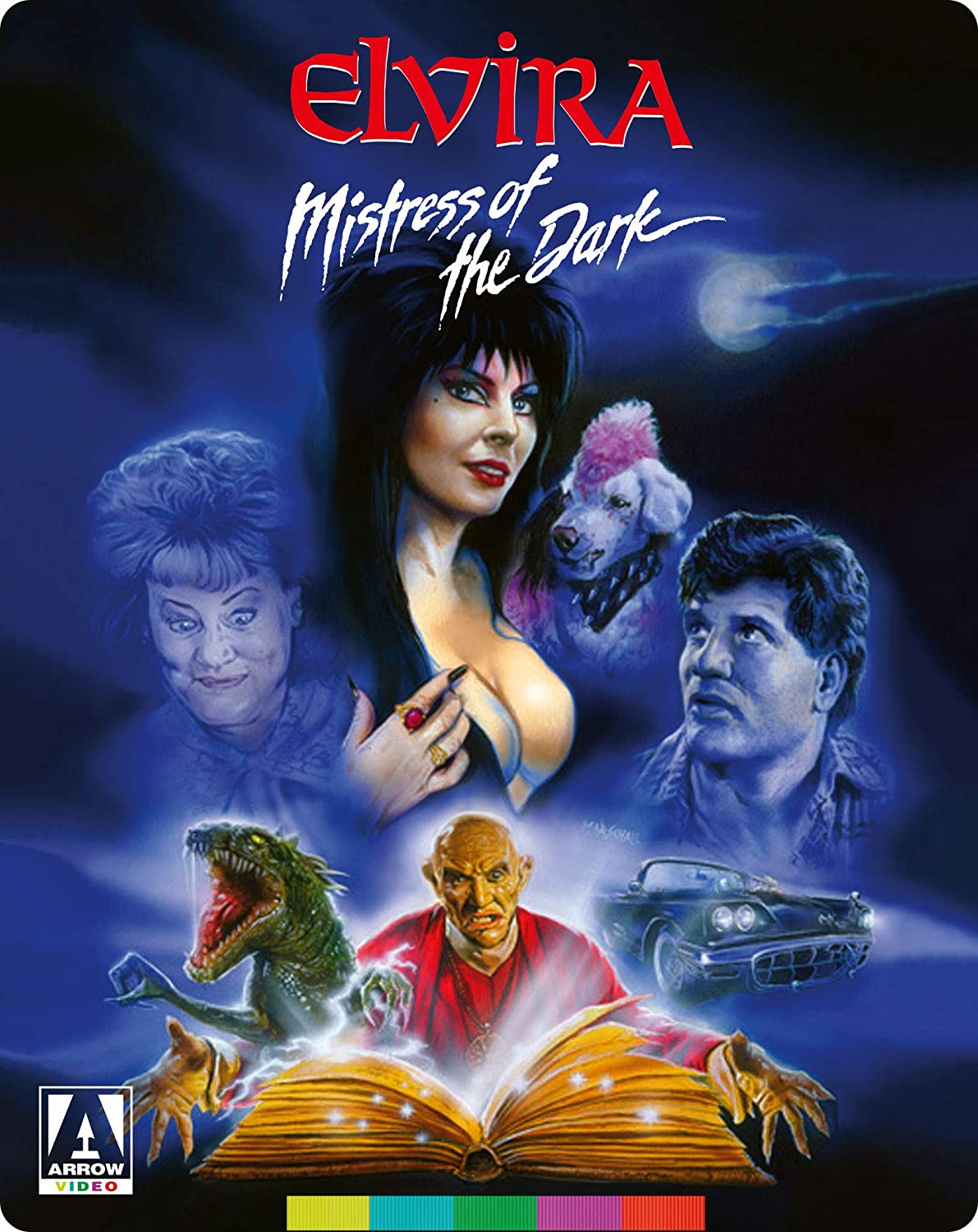 Friday the 13th: 8-Movie Collection Steelbook (Paramount Home Entertainment, Blu-ray/Digital)
Take a terrifying dip into the 8-Movie Paramount Pictures FRIDAY THE 13th collection, featuring every killer moment—starting in Camp Crystal Lake, and ending on the streets of Manhattan. The rampage begins with a group of counselors ignoring a wilderness camp's "death curse." Years ago, a young boy named Jason Voorhees drowned, and a series of vicious murders occurred thereafter. One by one they find out how unlucky Friday the 13th can be, as they are stalked by a violent killer. The bloodbath continues with each movie—one of the most celebrated horror franchises of all time. This collection contains newly remastered editions of the original theatrical cut of FRIDAY THE 13TH(1980), FRIDAY THE 13TH PART 2, FRIDAY THE 13TH PART 3, and FRIDAY THE 13TH: THE FINAL CHAPTER.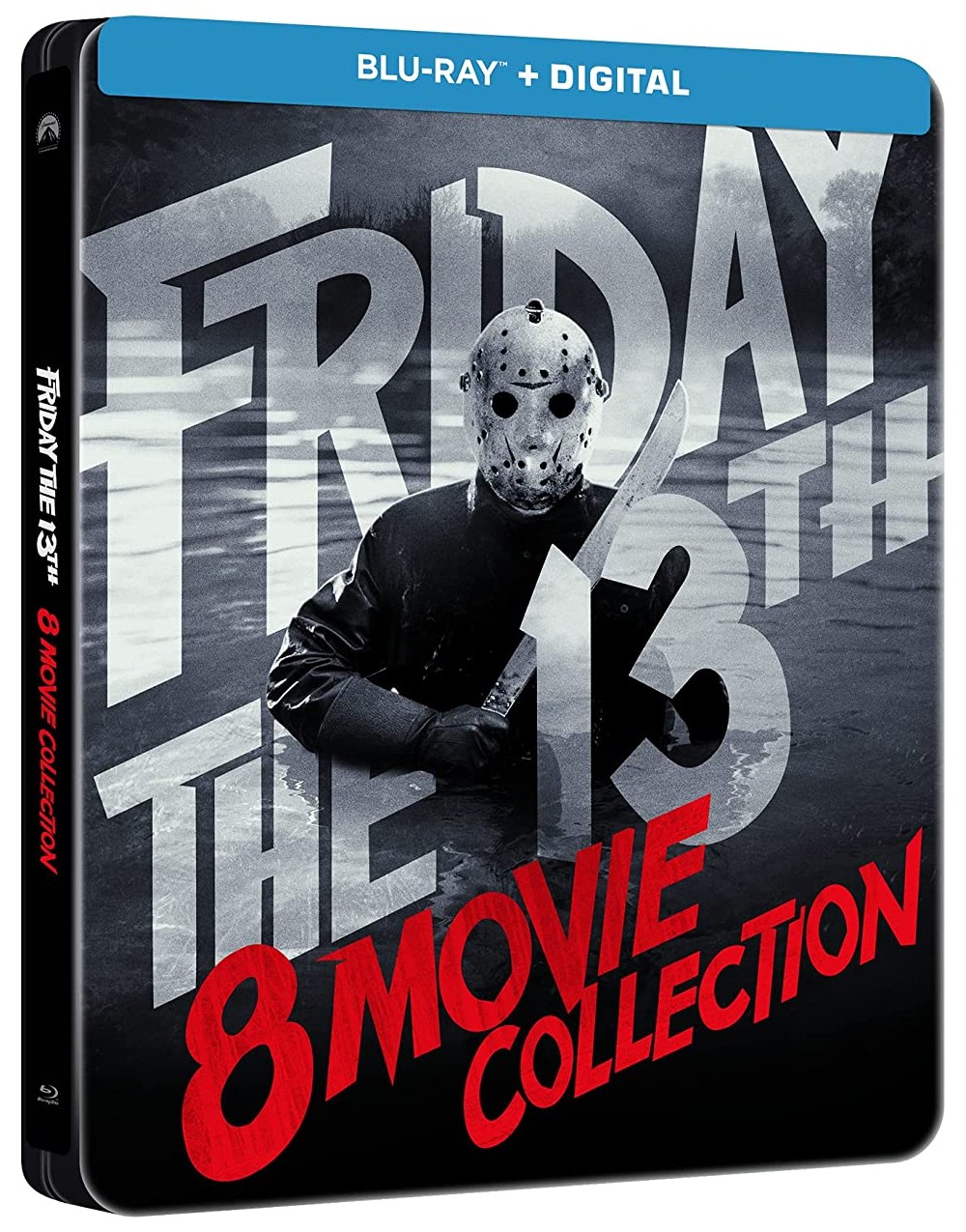 My Bloody Valentine (1981): Steelbook Edition (Scream Factory, Blu-ray)
On Valentine's Day, someone always loses their heart. Twenty years ago, this small town lost more than that when a tragedy claimed the lives of five miners. Now, the town is gearing up for another Valentine's Day. But when a box of candy containing an eerie warning and blood-soaked heart arrive, the townsfolk realize that romance is as good as dead. And so are they …
Friday the 13th Part II: 40th Anniversary Steelbook (Paramount Home Entertainment, Blu-ray)
Celebrate the 40th Anniversary of one of horror's greatest sequels with this limited edition Steelbook. Five years after the massacre at Camp Crystal Lake, the nerve-wracking legend of Jason Voorhees and his diabolical mother lives on. Despite ominous warnings from the locals to stay away from 'Camp Blood,' a group of counselors at a nearby summer camp decide to explore the area where seven people were brutally slaughtered. All too soon, they encounter horrors of their own and the murders begin again.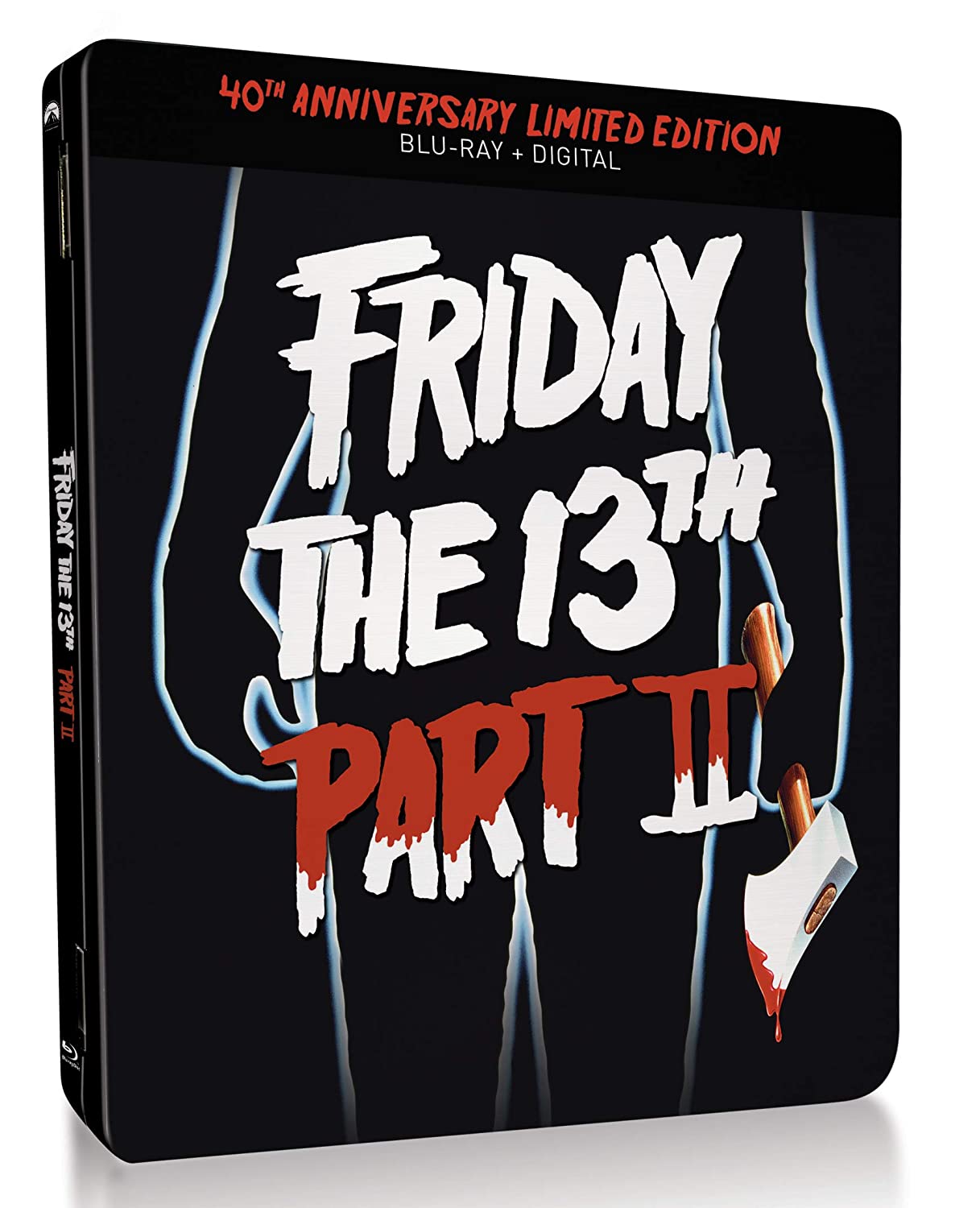 The Transformers: The Movie 35th Anniversary Limited Edition Steelbook (Shout! Factory, Blu-ray)
The year is 2005 … For millennia, the heroic Autobots, led by Optimus Prime (Peter Cullen), have been at war with the evil Megatron (Frank Welker) and his Decepticons over control of their home planet of Cybertron. However, an even greater threat – Unicron (Orson Welles, Citizen Kane), a colossal converting planet that devours everything in its path – is heading right for Cybertron. The only hope is the Autobot Matrix of Leadership. Will the Autobots be able to save themselves and their home world in time?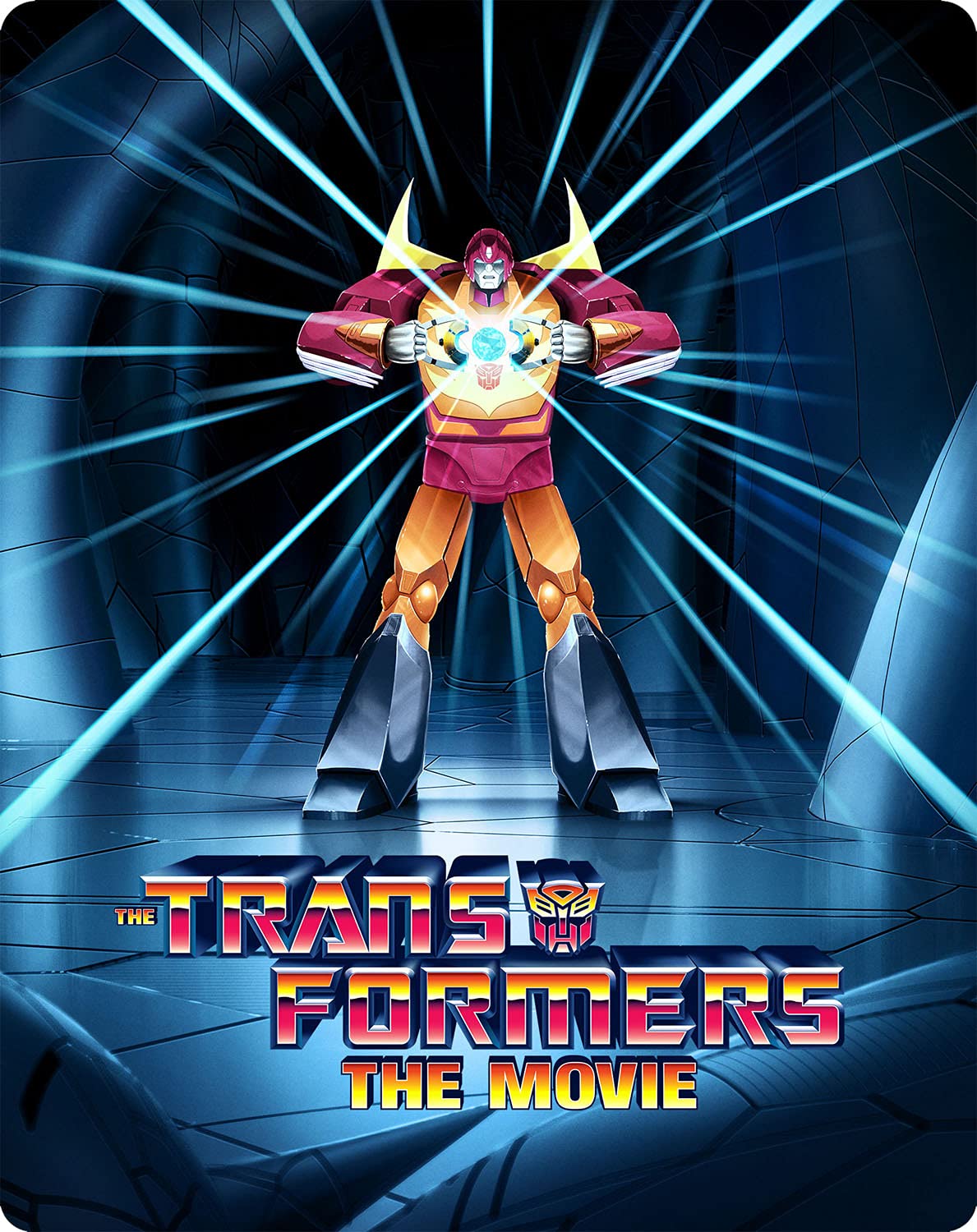 Battle Beyond the Stars: Limited Edition Steelbook (Scream Factory, Blu-ray)
Seven mercenaries are recruited from throughout the galaxy to save a peaceful planet from the threat of an evil tyrant bent on dominating the entire universe. Among them are a lizard-like humanoid, a space cowboy, a female warrior and a brooding killer-for-hire.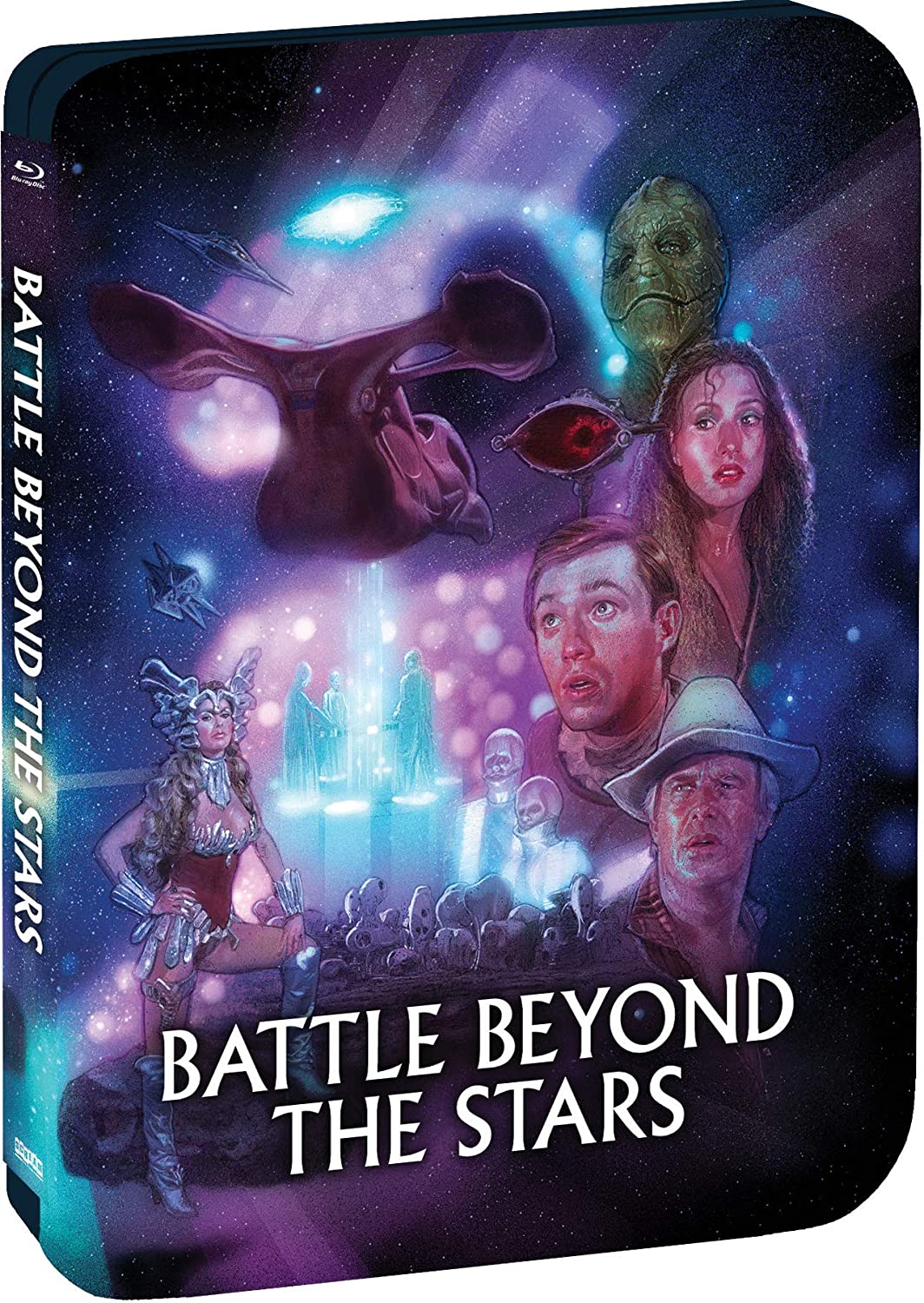 CRITERION:
Mulholland Dr. 4K: The Criterion Collection (Criterion, Blu-ray)
​​A love story in the city of dreams . . . Blonde Betty Elms (Naomi Watts) has only just arrived in Hollywood to become a movie star when she meets an enigmatic brunette with amnesia (Laura Harring). Meanwhile, as the two set off to solve the second woman's identity, filmmaker Adam Kesher (Justin Theroux) runs into ominous trouble while casting his latest project.This seductive and scary vision of Los Angeles's dream factory by David Lynch is one of the true masterpieces of the new millennium, a tale of love, jealousy, and revenge like no other.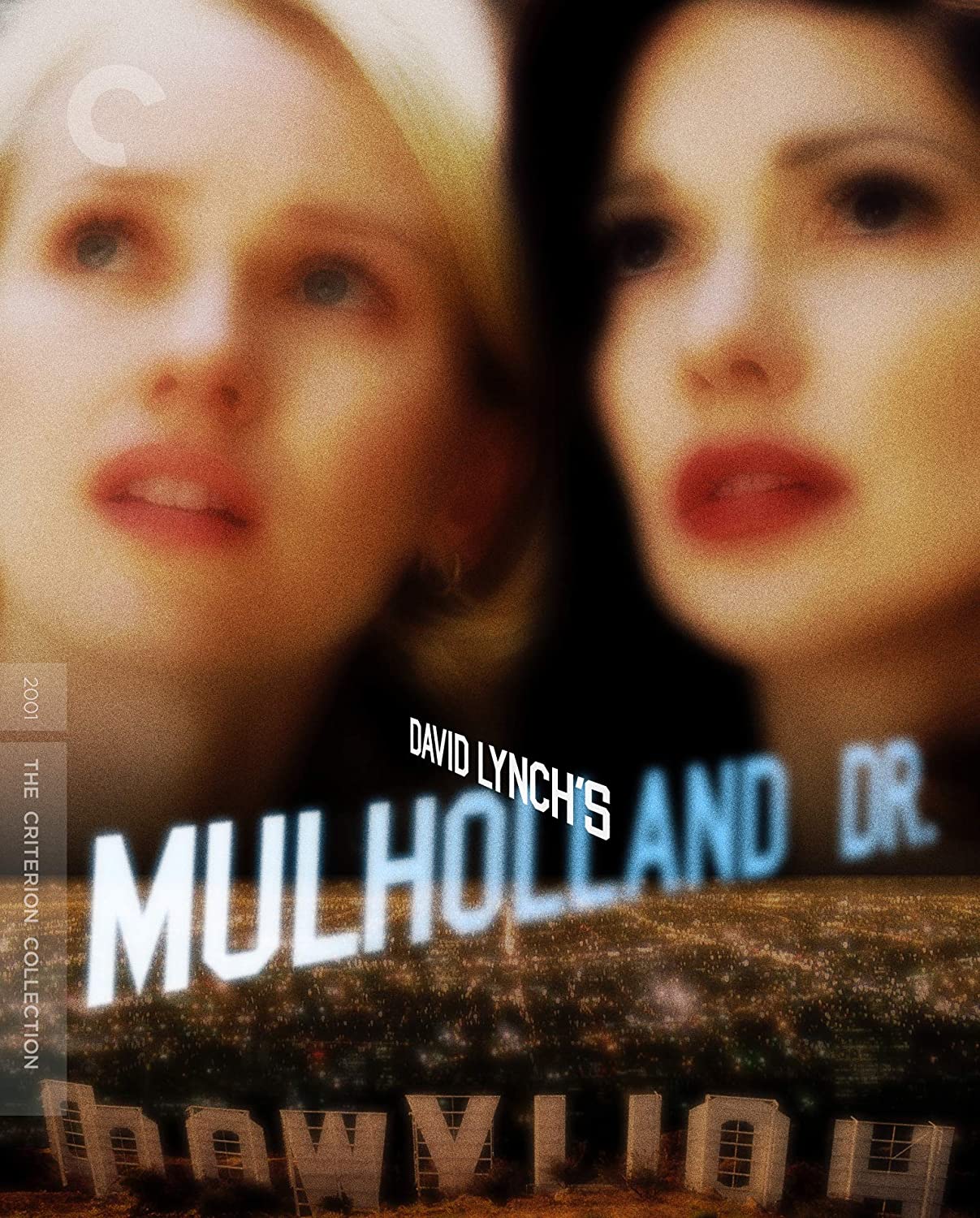 Memories of Murder: The Criterion Collection (Criterion, Blu-ray)
In his breakthrough second feature, Bong Joon Ho explodes the conventions of the policier with thrillingly subversive, genre-defying results.
Based on the true story of a string of serial killings that rocked a rural community in the 1980s, Memories of Murder stars New Korean Cinema icon Song Kang Ho as the local officer who reluctantly joins forces with a seasoned Seoul detective (Kim Sang Kyung) to investigate the crimes—leading each man on a wrenching, yearslong odyssey of failure and frustration that will drive him to the existential edge.
Combining a gripping procedural with a vivid social portrait of the everyday absurdity of life under military rule, Bong fashions a haunting journey into ever-deepening darkness that begins as a black-comic satire and ends as a soul-shattering encounter with the abyss.
Nightmare Alley: The Criterion Collection (Criterion, Blu-ray)
Darkness lurks behind the bright lights of a traveling carnival in one of the most haunting and perverse film noirs of the 1940s. Adapted from the scandalous and renowned book by William Lindsay Gresham, Nightmare Alley gave Tyrone Power a chance to subvert his matinee-idol image with a ruthless performance as Stan Carlisle, a small-time carny whose unctuous charm propels him to fame as a charlatan spiritualist, but whose unchecked ambition leads him down a path of moral degradation and self-destruction. Although its strange, sordid atmosphere shocked contemporary audiences, this long difficult-to-see reflection of postwar angst has now taken its place as one of the defining noirs of its era—a fate-fueled downward slide into existential oblivion.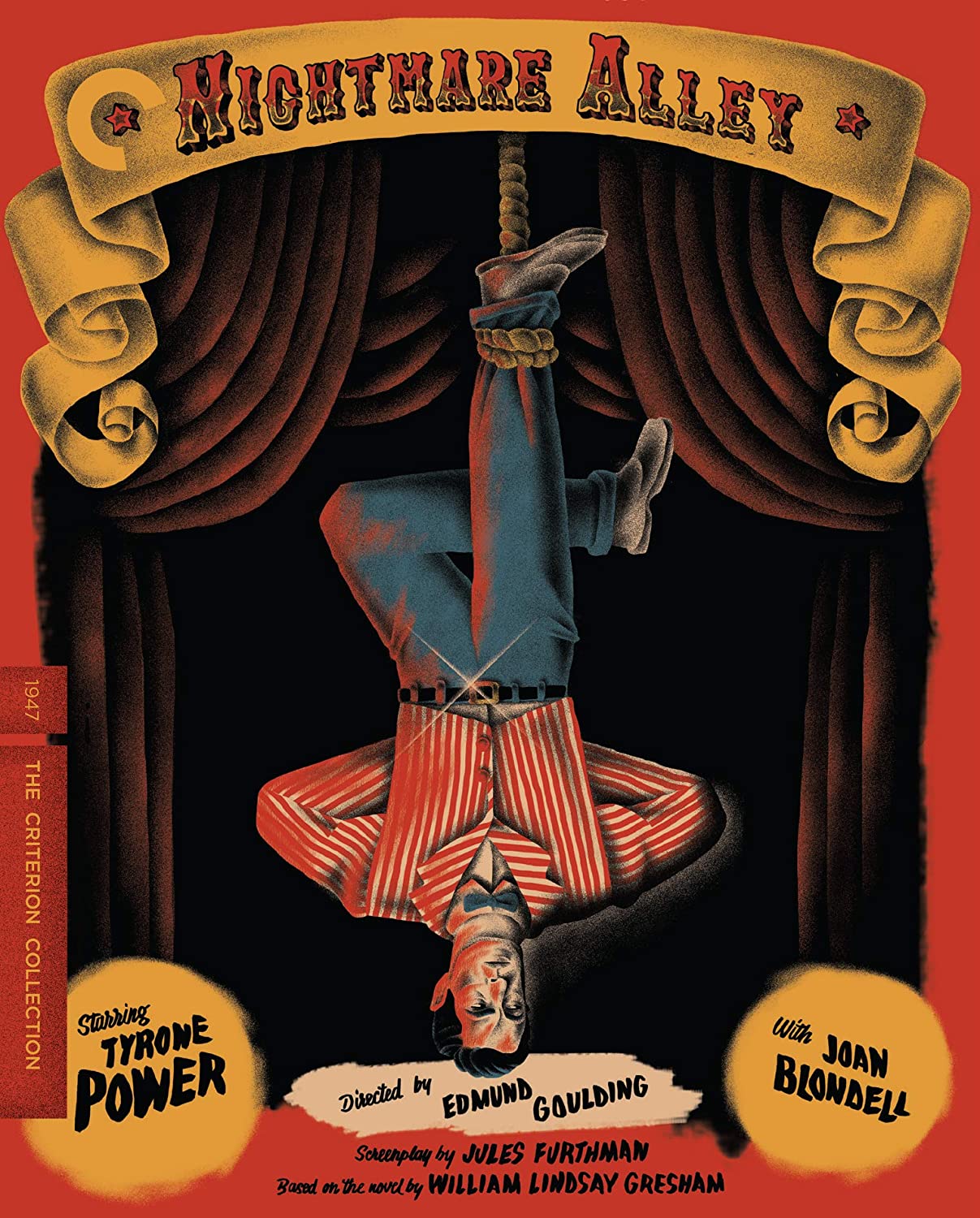 BOX SETS/COLLECTOR'S SETS:
The Evil Dead: Groovy Collection 4K (Lionsgate, 4K Ultra HD/Blu/Digital)
​​Horror fans, return to that iconic cabin in the woods, then travel decades beyond it, with this Evil Dead Groovy Collection. Wisecracking ladies' man Ash Williams (Bruce Campbell) is reborn as a slayer of Deadites in The Evil Dead (4K + Blu-ray™) after a vacation in the country is ruined by the reading of an ancient demon-summoning text. In Evil Dead II (4K + Blu-ray™), a chainsaw-armed Ash is pushed to the brink of madness by unhinged evil yet again, while "Ash vs Evil Dead" (Blu-ray™) follows an older, grayer Ash over three wild seasons as he reckons with his bloody past in the face of a Deadite plague.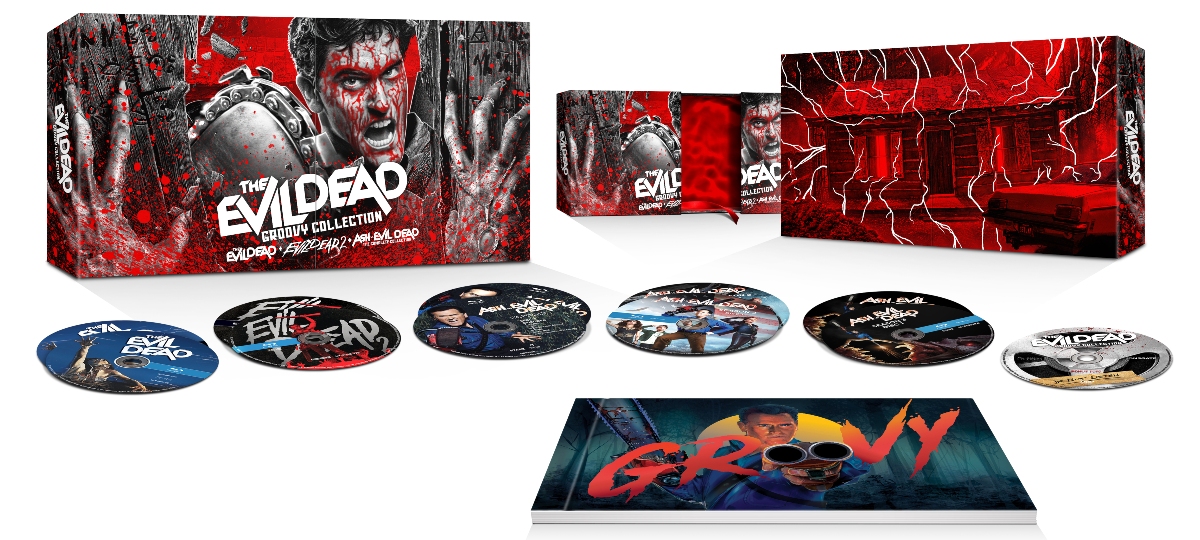 The Sergio Martino Collection (Arrow Video, Blu-ray)
One of Italian cinema's most celebrated and prolific filmmakers, Sergio Martino worked across a range of genres, but is arguably best known for his giallo thrillers. This collection brings together three of his finest.
In The Case of the Scorpion's Tail, recently widowed Lisa Baumer is summoned to Athens to collect her husband's generous life insurance policy, but soon discovers others are willing to kill to get their hands on it. In the Edgar Allan Poe-inspired Your Vice is a Locked Room and Only I Have the Key, abrasive drunk Oliviero amuses himself by holding drunken orgies and abusing his long-suffering wife… but when a series of grisly murders shakes the local community, Oliviero finds himself in the frame. Finally, The Suspicious Death of a Minor combines giallo and crime thriller tropes as undercover cop Paolo pursues the Milanese criminal outfit responsible for the brutal murder of an underage prostitute, but finds himself up against a killer-for-hire who's bumping off witnesses before they have a chance to talk.
Featuring sensational casts of genre stalwarts, including Edwige Fenech, George Hilton, Anita Strindberg and Luigi Pistilli, with scripts by giallo master Ernesto Gastaldi and sensuous scores by maestro Bruno Nicolai, this is an essential collection for any Italian cult cinema fan.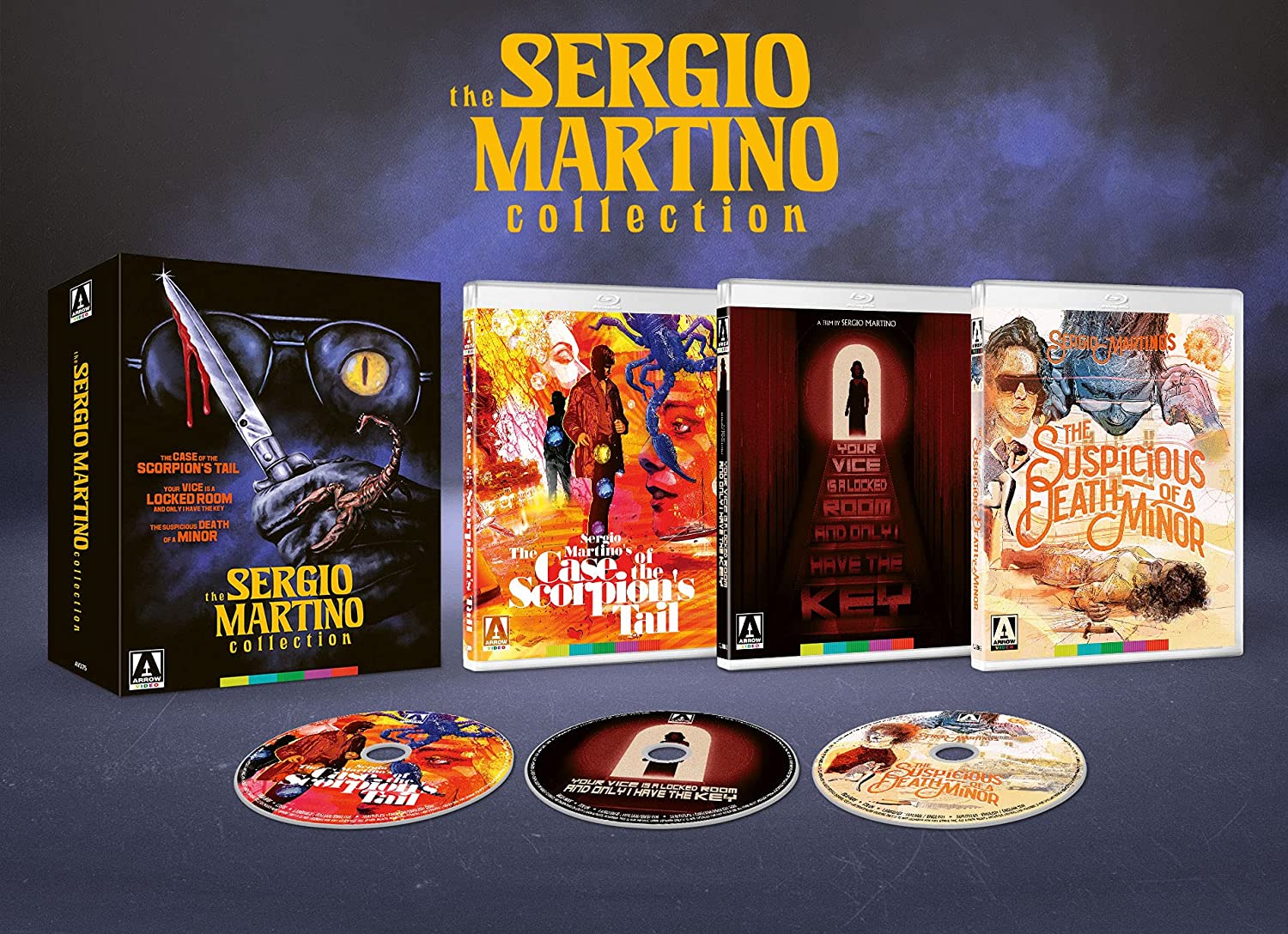 The Phantasm Sphere Collection (Well Go USA, Blu-ray)
The new limited-edition collection of the classic Phantasm films includes a scale-replica of the Phantasm sphere. This sphere was sized to the exact measurements of a screen-used prop in Don Coscarelli's personal collection.
The Phantasm Sphere Collection also debuts a new 4k scan from the original camera negative of PHANTASM II. For the first time ever, this new transfer of Don Coscarelli's director's cut includes the never-before-seen X-rated sphere/gore sequence banned by the MPAA at the time of its theatrical release. Coscarelli supervised and approved this new transfer. Experience PHANTASM II like never before.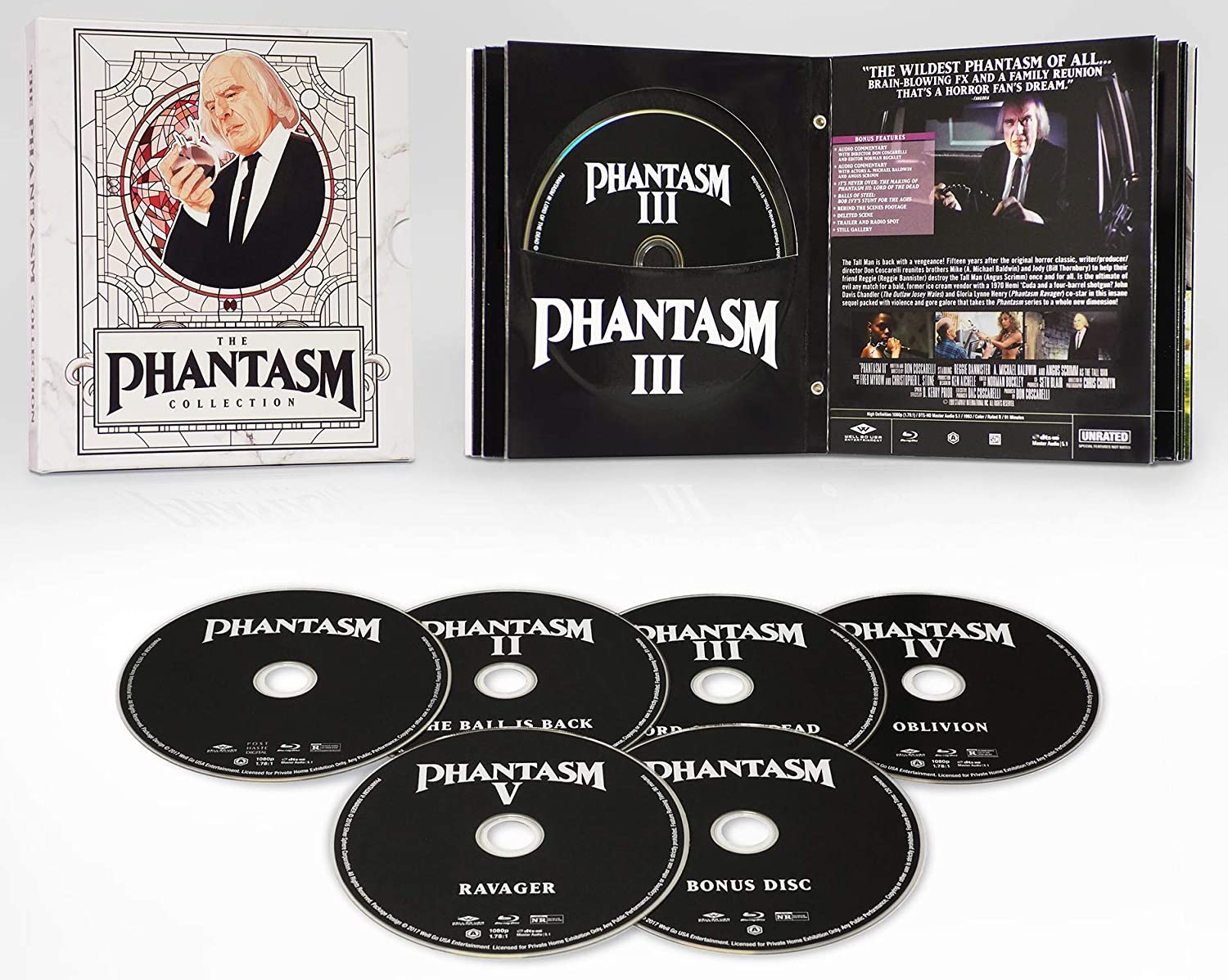 Underworld: Limited Edition 5-Movie Collection (Sony Pictures Home Entertainment, 4K Ultra HD/Blu-ray/Digital)
This limited edition gift set marks the first time that fans will be able to experience all five films on 4K Blu-ray disc with High Dynamic Range and Dolby Atmos audio.
The Underworld 4K Blu-ray Collection will include Underworld (both the original theatrical version and the extended cut), Underworld: Evolution, Underworld: Rise of the Lycans, Underworld: Awakening and Underworld: Blood Wars, as well as hours of SD & HD bonus content across all five films, including the Underworld: Endless War animated shorts. This must-own gift set is a limited edition, presented within a collectible outer slipcase.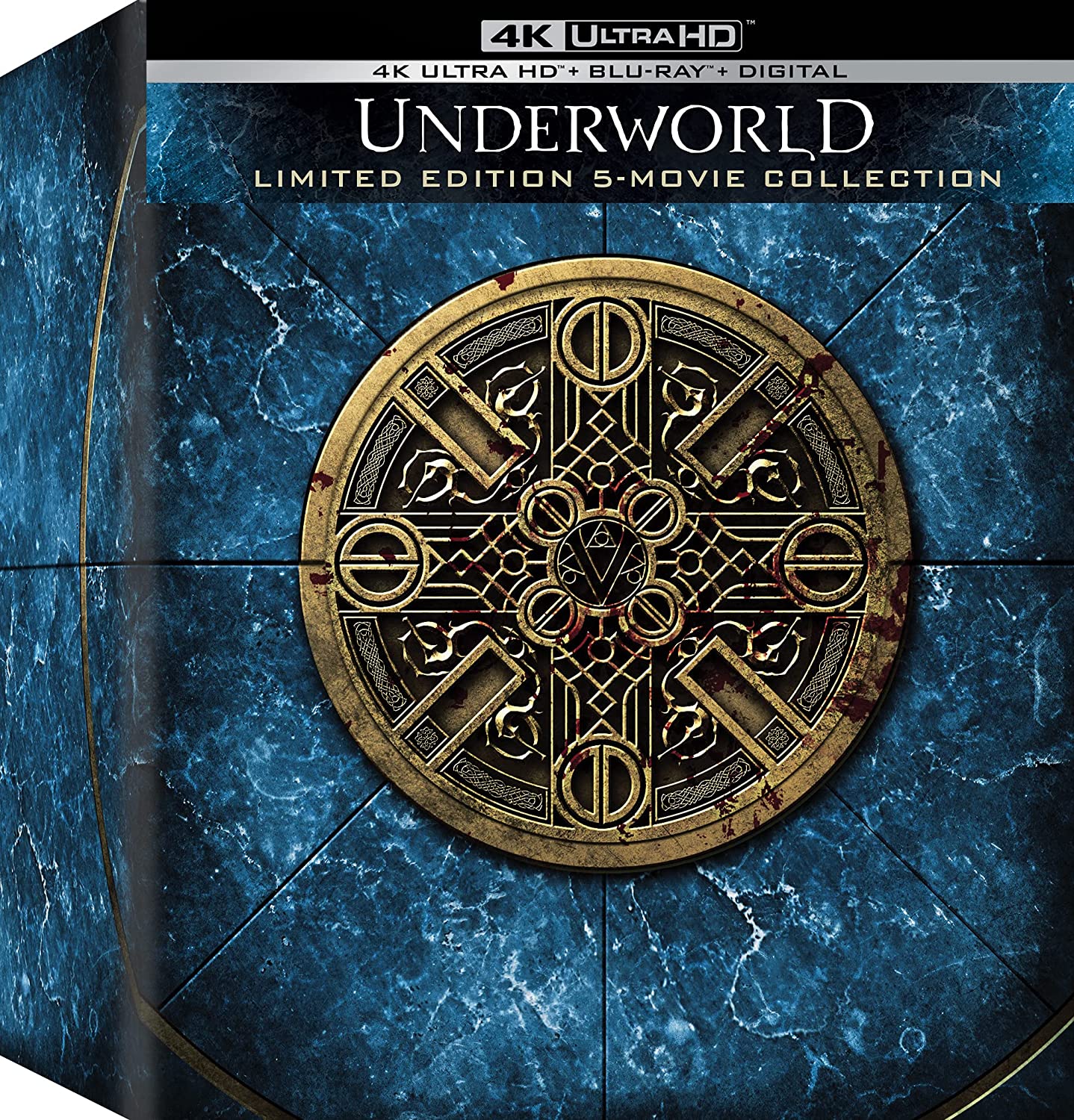 Legend: 2-Disc Limited Edition (Arrow Video, Blu-ray)
After changing the face of science fiction cinema forever with Alien and Blade Runner, director Ridley Scott turned his visionary eye to the fantasy genre, teaming with writer William Hjortsberg (Angel Heart) to create a breathtaking cinematic fairytale with one of the screen's most astonishingly rendered depictions of Evil. In an idyllic, sun-dappled forest, the pure-hearted Jack (Tom Cruise) takes his true love Princess Lili (Mia Sara) to see a pair of unicorns frolicking at the forest's edge. Little do they know, however, that the Lord of Darkness (Tim Curry, in a remarkable make-up designed by The Thing's Rob Bottin) has dispatched his minions to capture the unicorns and sever their horns so that he may plunge the world into everlasting night. After Lili and the unicorns are taken prisoner, Jack must team with a group of forest creatures and descend into Darkness' subterranean lair to face off against the devilish creature before it is too late.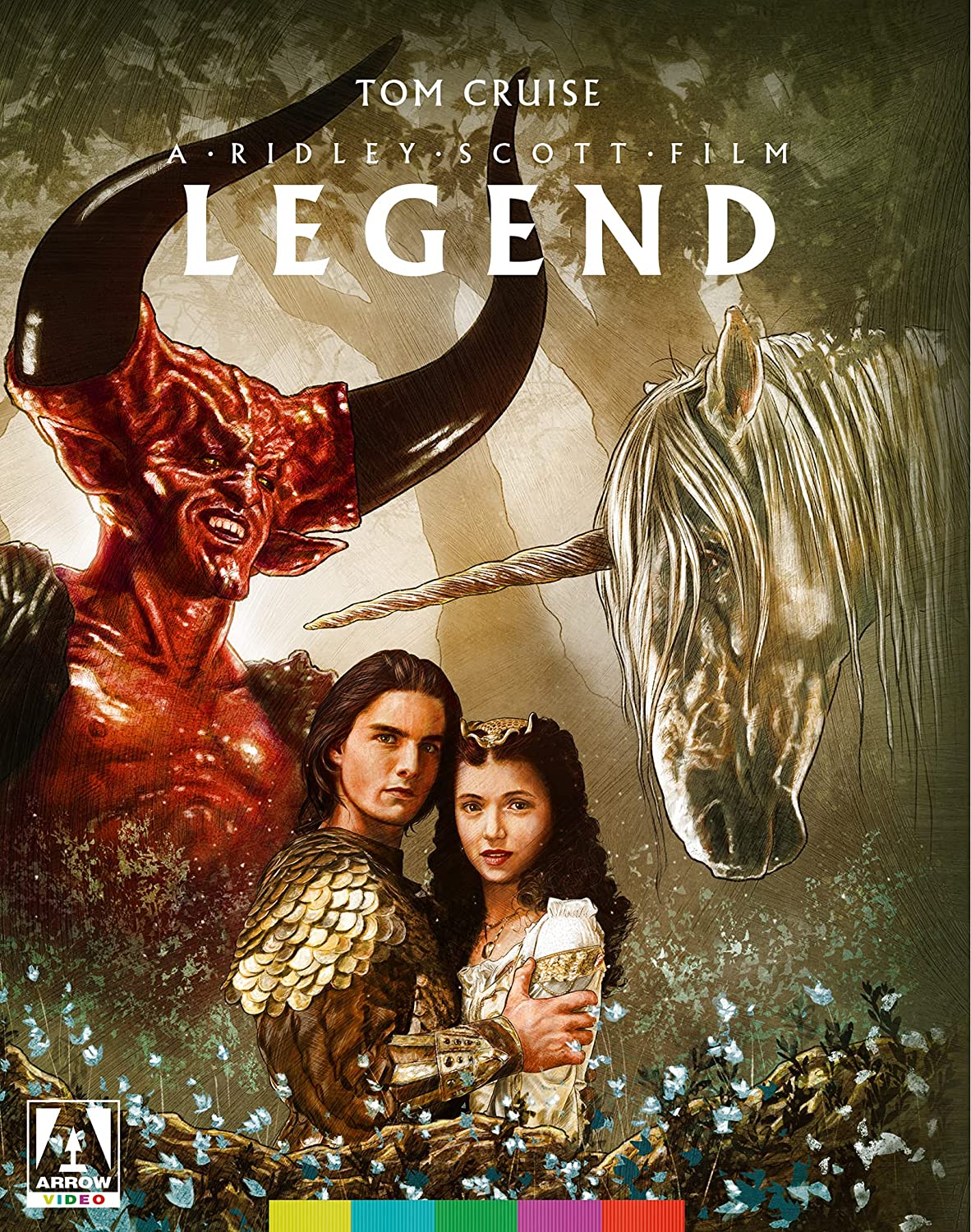 Forgotten Gialli: Volume 1 (Vinegar Syndrome, Blu-ray)
The giallo remains one of the most popular sub-genres in Italian & Spanish film history. But for all of the well-known and classic films the genre has spawned, so many others have been nearly impossible to enjoy since their theatrical debuts. This first entry in our 'Forgotten Gialli' series presents three rarities, none of which have ever been legally available in the U.S.
TRAUMA: Daniel, a writer seeking seclusion to work on his new book, finds himself stranded at a rural bed & breakfast run by a strange and prudish young woman and her ailing, wheelchair-bound husband who remains shut in his room all day. However, as night falls, a psychotic, razor-wielding killer begins stalking the B&B, brutally slashing the throats of its most sex-crazed guests, whose bodies and luggage then mysteriously disappear the following morning.
THE KILLER IS ONE OF 13: A recent widow has invited a group of family friends to her large and secluded country home. However, what the guests don't know is that they've been assembled because their host suspects one of them might be her husband's killer and is intent on uncovering the identity of his murderer. As the guests begin to suspect each other, revealing long kept and sinister secrets in the process, an unknown, black-gloved killer begins bumping them off in a variety of nasty ways.
THE POLICE ARE BLUNDERING IN THE DARK: A young nude-model is violently stabbed to death with a pair of scissors. It soon emerges that three other women have already fallen prey to this unknown maniac, and that all three victims have a single and unique connection: they all served as models for an eccentric photographer named Parisi. When another young woman with a date to be photographed is murdered, her journalist boyfriend decides to investigate the crimes and quickly finds himself mixed up with Parisi, who reveals that he's working on a camera capable of photographing people's thoughts!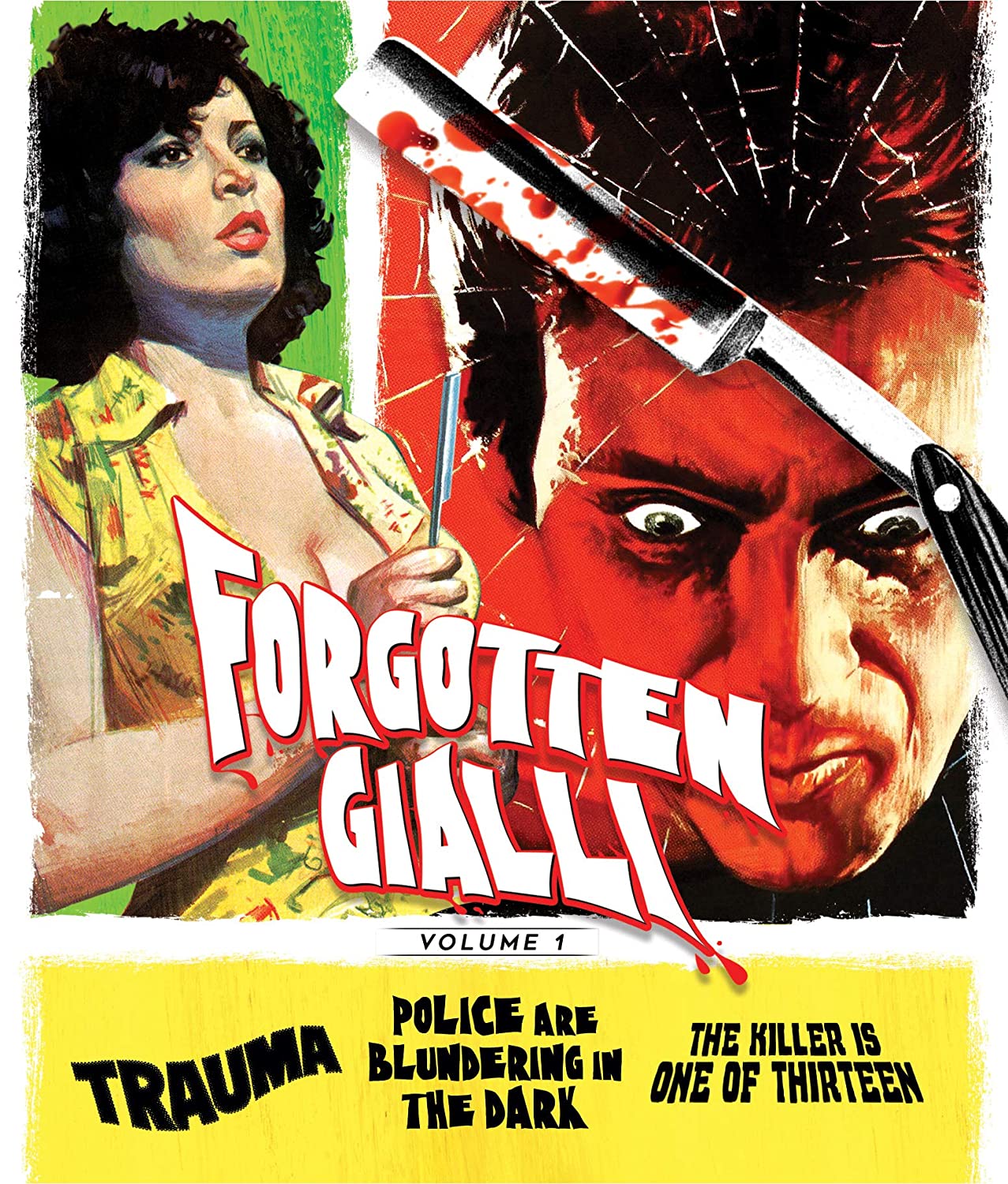 Forgotten Gialli: Volume 2 (Vinegar Syndrome, Blu-ray)
With the giallo at its peak in the early 70s, it seemed that every filmmaker working in Italy was vying to make one and put their unique creative stamp on this highly popular genre. Presented here are a trio of early 70s gialli, all directed by filmmakers who had never made one before (or after) and all presenting wildly different approaches to the genre's most prevalent trappings.
THE GIRL IN ROOM 2A: After being released from prison, Margaret (Daniela Giordano) goes to stay at a halfway house for female ex-cons, run by the kindly Mrs. Grant. It's not long before she begins experiencing strange happenings in the old house, and things take an even more unsettling turn when she befriends Charlie, who is searching for his sister, who disappeared after staying in the house.
THE FRENCH SEX MURDERS: Following the brutal death of a prostitute at a Parisian brothel, grizzled Inspector Fontaine (Robert Sacchi) is brought in to investigate. After implicating Antoine (Peter Martell), a petty thief & regular client of the murdered woman, Fontaine believes the case to be closed. However, after Antoine makes a daring attempt to escape, getting decapitated in the process, those affiliated with implicating him begin to meet their own violent ends. Has Antoine's vengeful spirit returned to kill those he believes responsible for his own gruesome fate, or has another, more sinister character been behind these diabolical murders from the very beginning?
MY DEAR KILLER: After a man is decapitated at a construction site, Inspector Luca Peretti (George Hilton) is assigned to the case. But what initially seems to be an isolated killing soon paves the way for an ever growing number of vicious murders. As Peretti tries to unmask the killer, he discovers that all of the victims were connected to another shocking & unsolved crime - the horrific murder of a young girl.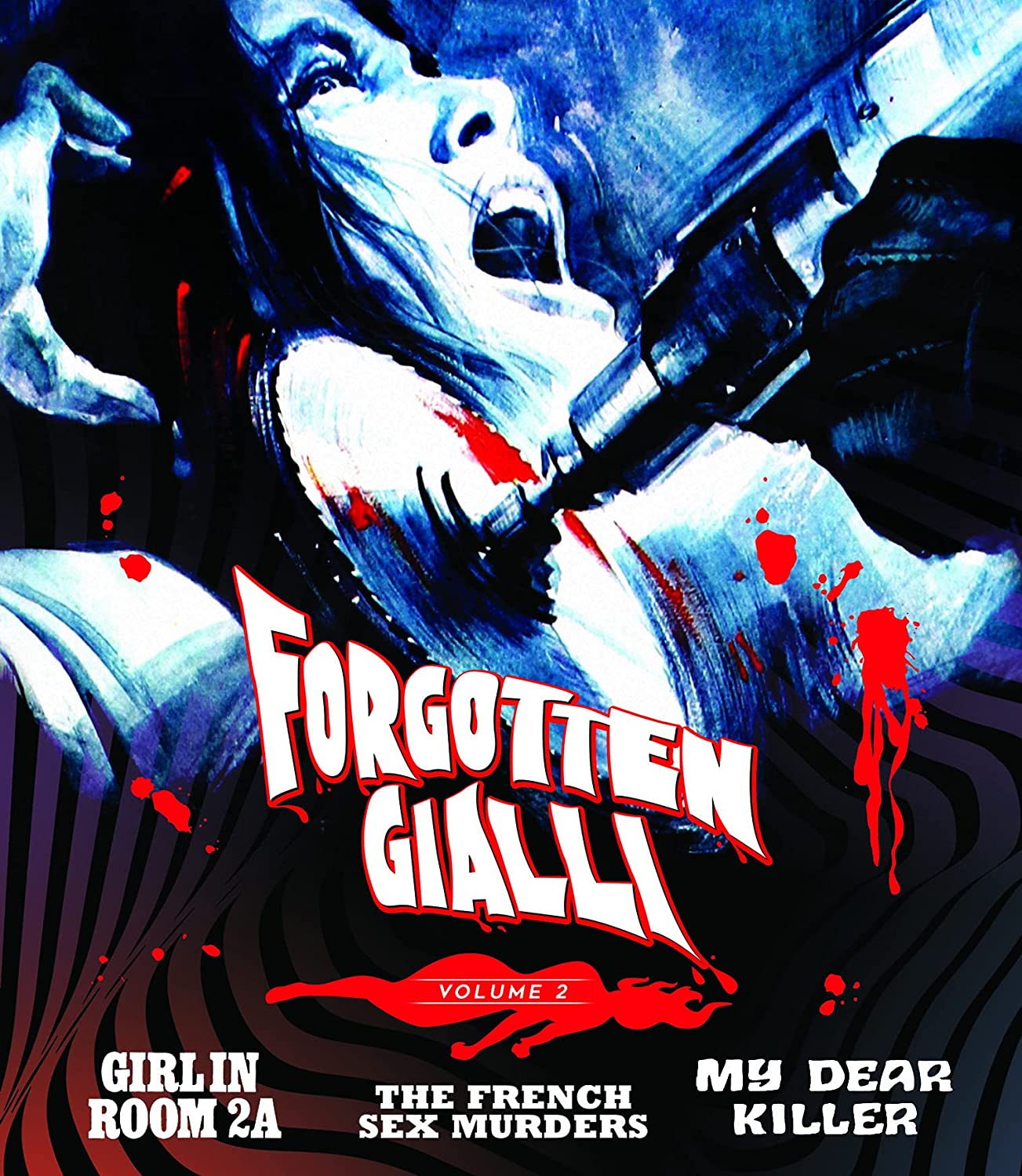 CULT CLASSICS:
Savage Streets (Code Red, Blu-ray)
Linda Blair (The Exorcist, Roller Boogie) is Brenda, vivacious leader of the "Satins", a fun-loving group of pretty high school girls. The Satins are in for trouble from the first moment they play a harmless prank on the "Scars" -- a vicious gang who runs loose on the Hollywood streets. The Scars and their malevolent leader, Jake (Robert Dryer, The Sisterhood), take their revenge seriously -- first with Brenda's deaf-mute sister (Linnea Quigley, Return of the Living Dead), and then her soon-to-be-married best friend. Caught up in her rivalry with the cheerleaders, Brenda is at first unaware of the Scars' involvement, but she soon finds out the full truth. Shocked... full of hate... in a skintight black suit… Brenda searches for the gang members and she takes them out one by one with deadly vengeance. Co-starring John Vernon (Chained Heat, Dirty Harry) and directed by Danny Steinmann (The Unseen, Friday the 13th: A New Beginning), now see the cult classic in widescreen and in HD!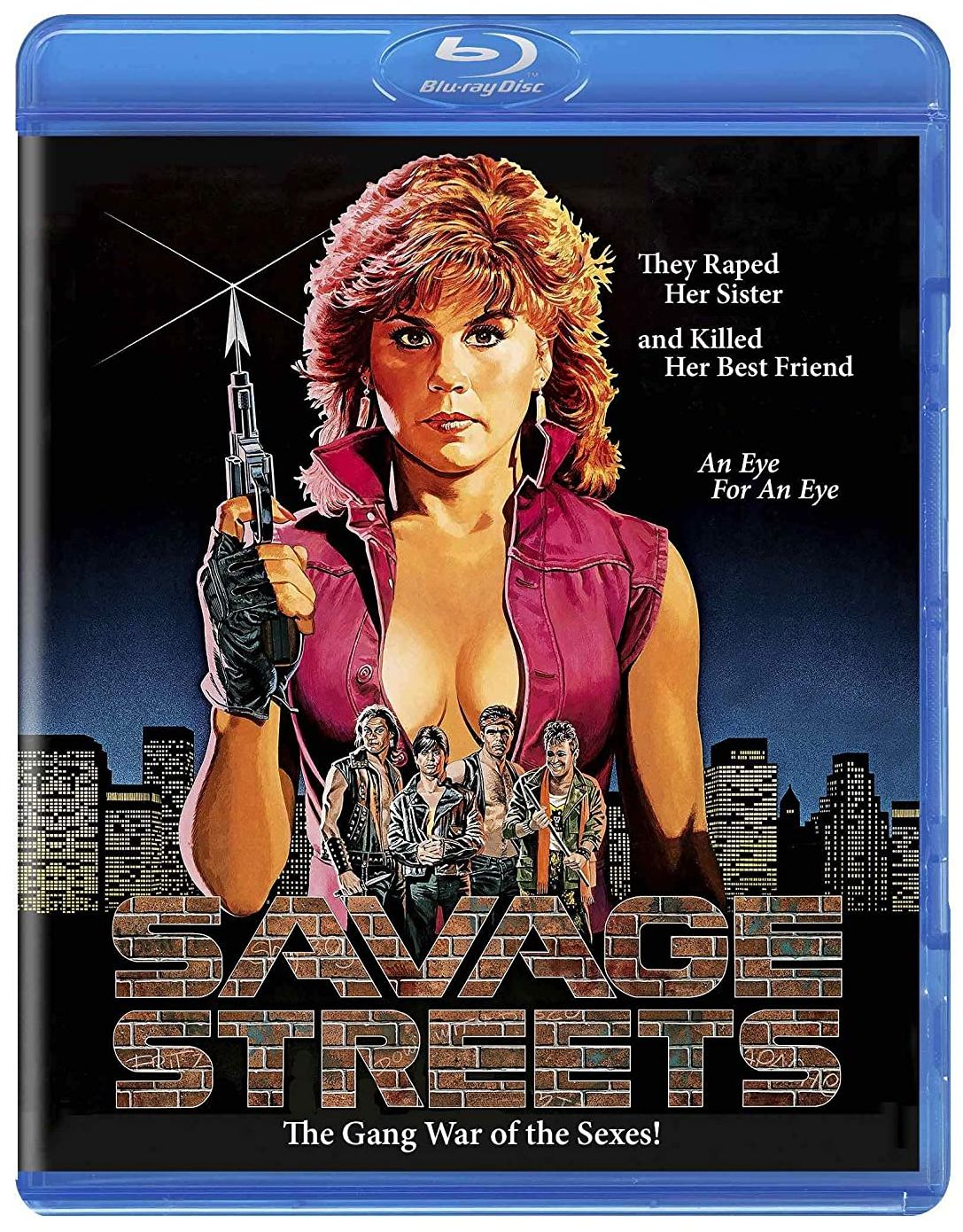 Fade to Black (Vinegar Syndrome, Blu-ray)
Eric Binford lives for, and if he could have it his way 'in', the movies. He works at a 35mm print depot as a delivery boy, but spends all of his free time watching classic films and collecting Hollywood memorabilia. Endlessly tormented by his colleagues, Eric drifts further and further into a dream world wherein he embodies the silver screen characters he so deeply worships. However, when the teasing pushes him too far, he snaps and literally goes into character, donning the outfits of his big screen idols and slowly but surely killing off his tormentors in outrageous recreations of his favorite film scenes...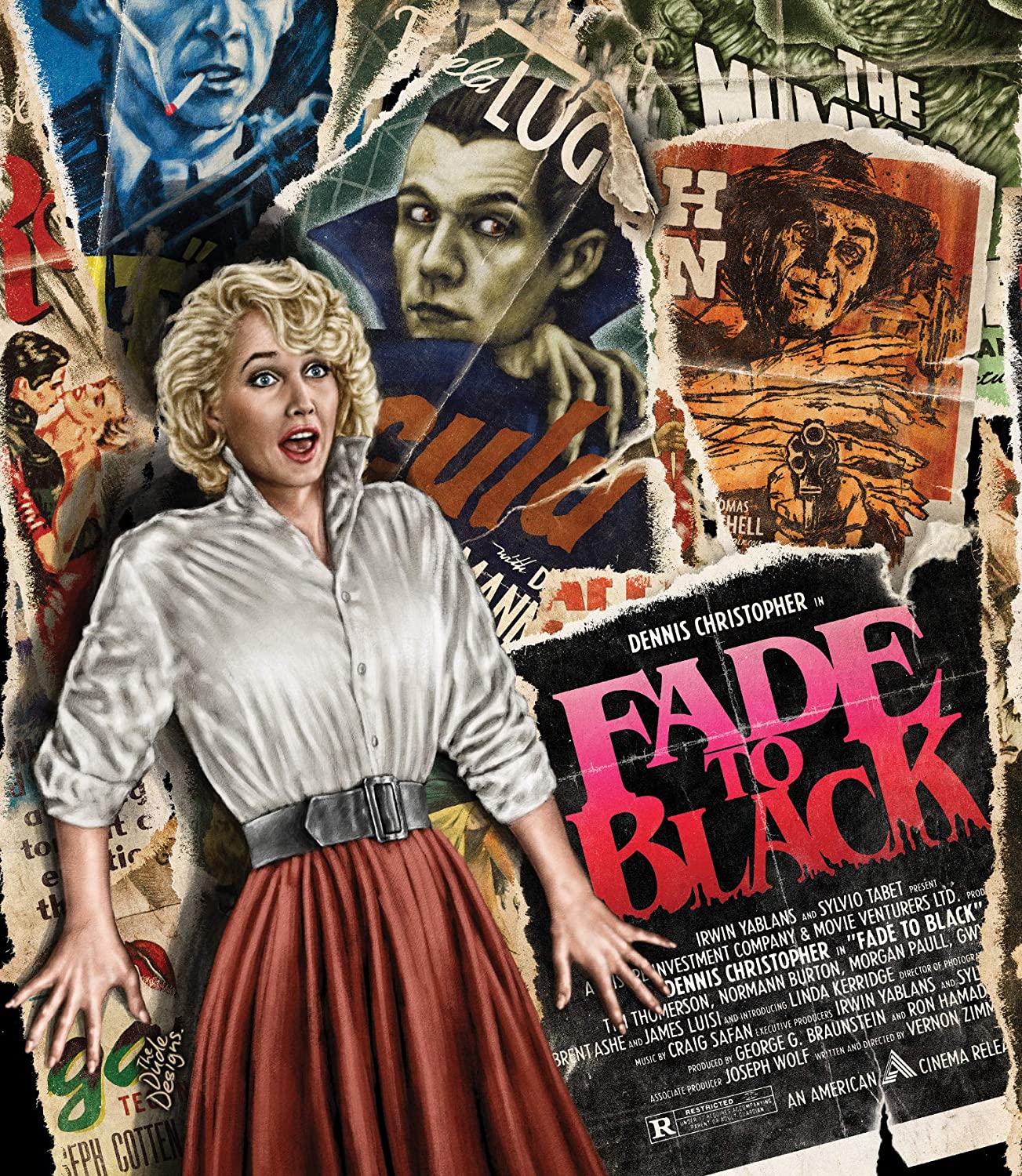 Alone in the Dark: Collector's Edition (Scream Factory, Blu-ray)
At a secluded mental institution, Dr. Bain (Donald Pleasence) maintains order while electricity fuels the asylum's hi-tech security system that keeps the nearby neighborhoods safe from menaces like Frank Hawkes (Jack Palance) and "Preacher" (Martin Landau). Meanwhile a new doctor, Dan Potter (Dwight Schultz), arrives in town with his family, but the inmates don't take kindly to his presence and believe he has killed off their former therapist. Suddenly a power outage leaves the town in chaos…and now the maniacs are free to roam the streets and hunt down the man they believe has invaded their lives. With the area quickly descending into riots and chaos, the innocent few must fight for their lives when they're left terrified, cornered and alone in the dark!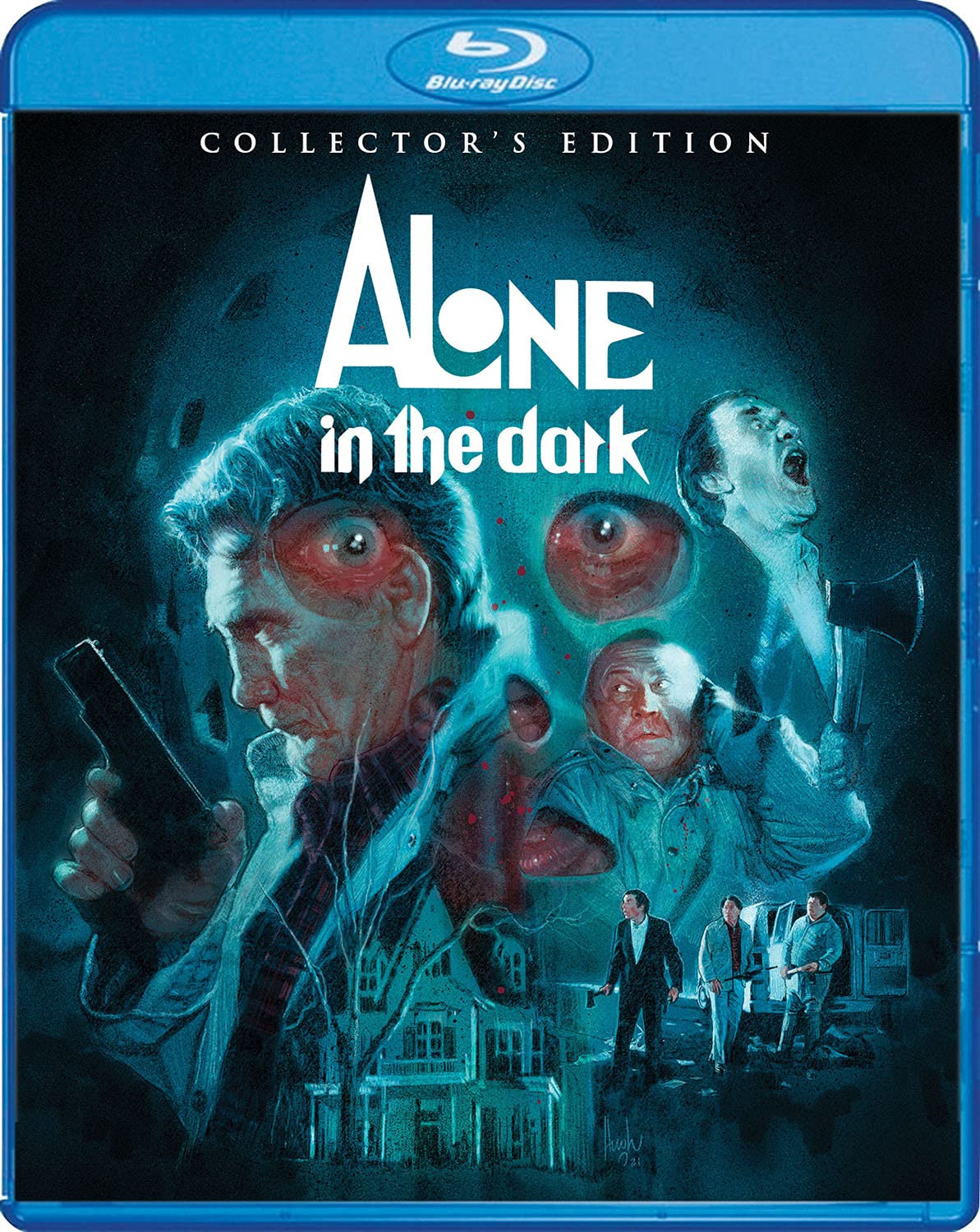 The Wraith: Collector's Edition: Vestron Video Series (Lionsgate, Blu-ray)
Charlie Sheen, Nick Cassavetes, Sherilyn Fenn, and Randy Quaid star in this turbocharged cult classic! When four glowing orbs crash into each other over the Arizona desert, they leave in their wake a badass Dodge Turbo Interceptor — and its enigmatic, helmeted driver. The next day, the mysterious Jake (Sheen) appears in the town of Brooks, catching the eye of Keri (Fenn) and the ire of Packard (Cassavetes), the ruthless leader of a gang of street racers. When gang members start losing races — and lives — to the Interceptor, the recent death of Keri's boyfriend suddenly seems connected to the arrival of Jake, the unbeatable car…and an avenging entity called The Wraith.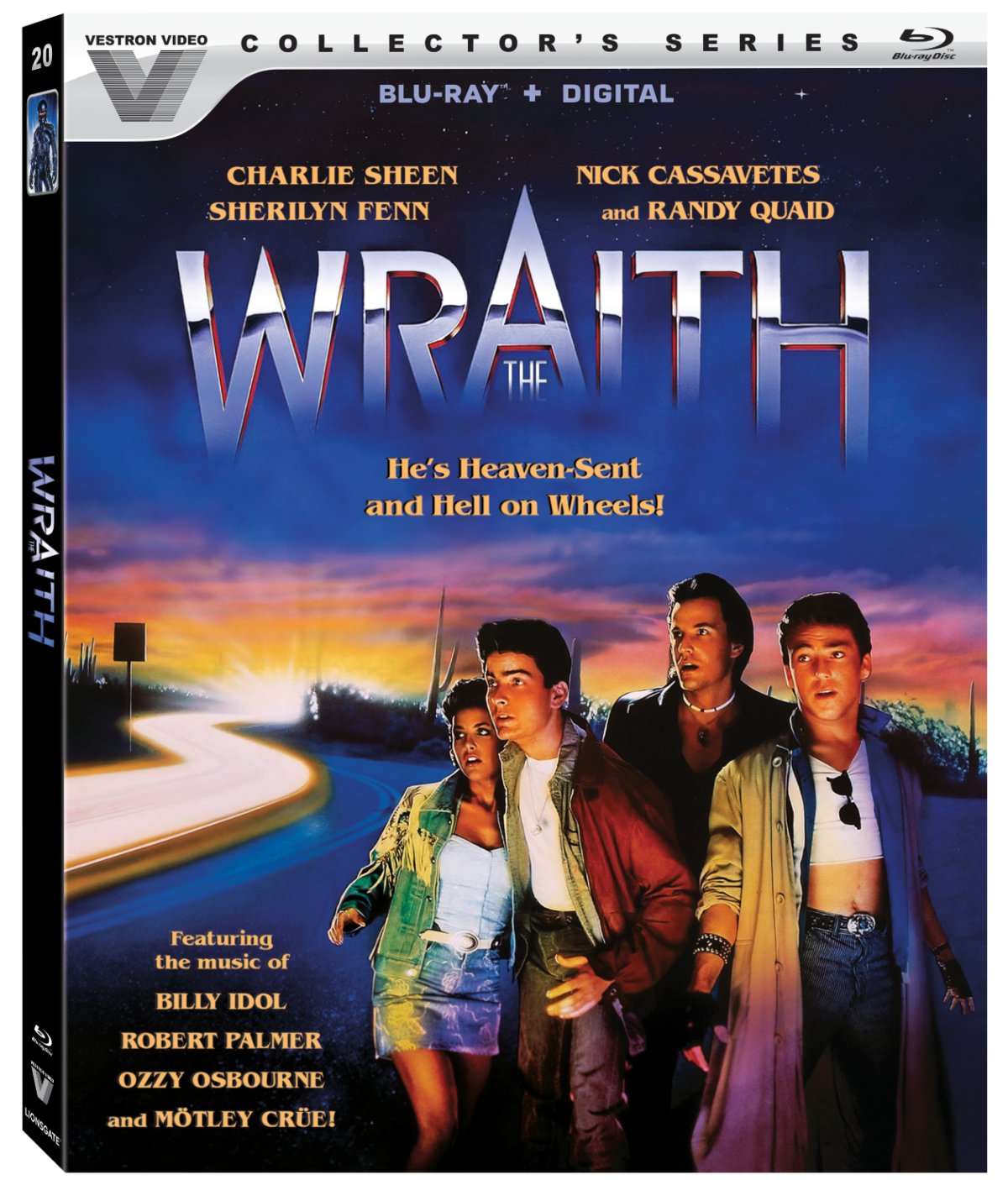 Deadly Friend: Collector's Edition (Scream Factory, Blu-ray)
A lonely teenage genius has two best friends: his remarkable robot and a beautiful girl next door. When tragedy strikes them both, he desperately tries to save them by pushing technology beyond its mortal limits into a terrifying new realm. Like a modern-day Dr. Frankenstein, Paul discovers too late that he has created a rampaging monster.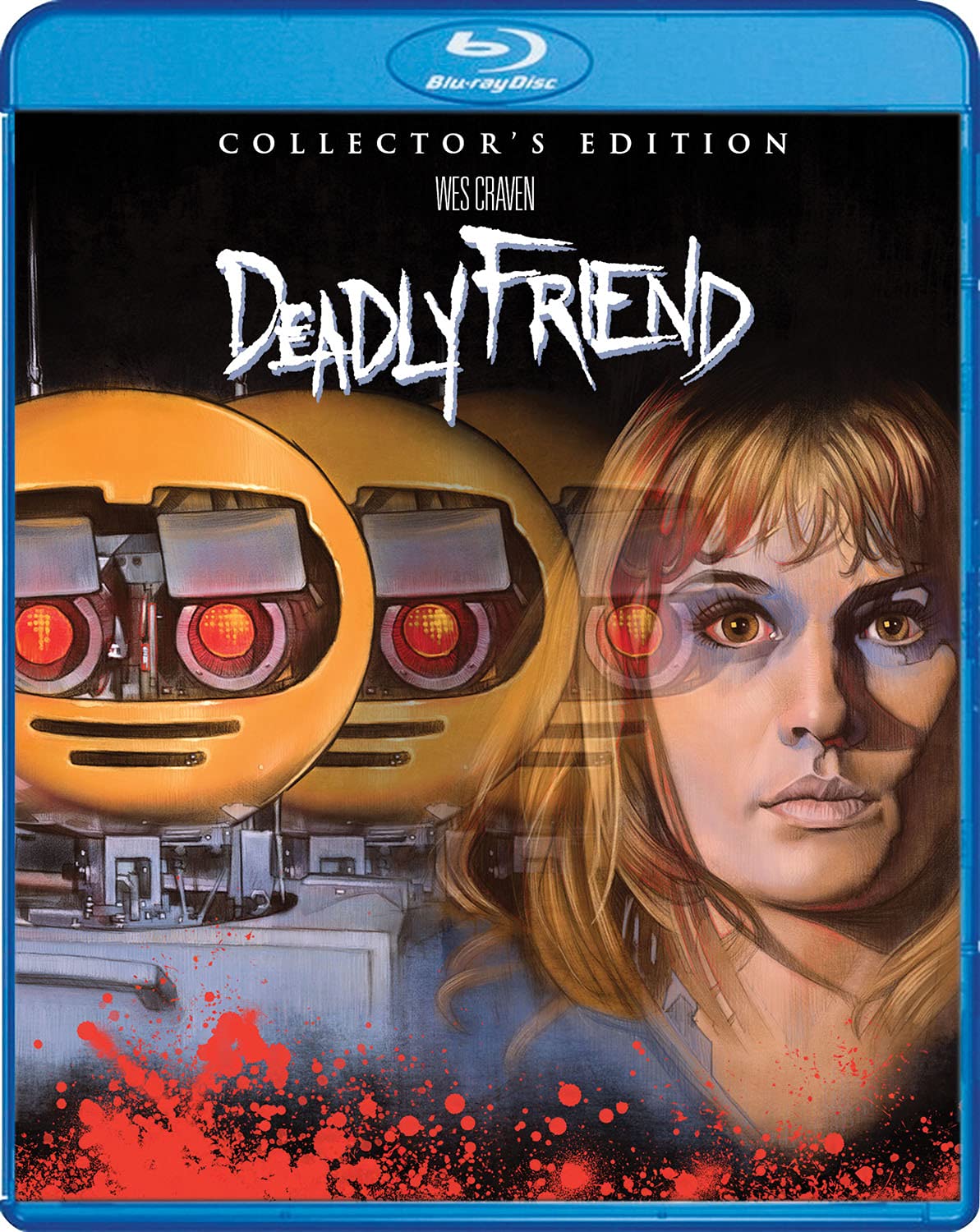 Butcher, Baker, Nightmare Maker AKA Night Warning: Special Edition (Code Red, Blu-ray)
Terror begins when a night of murder and bloodshed leads bigoted police detective Joe Carlson (Bo Svenson, Walking Tall Part 2, Choke Canyon, Breaking Point) to try to frame orphaned high school basketball player Billy Lynch (Jimmy McNichol, Escape From El Diablo). However, Billy's aunt Cheryl (Susan Tyrrell, Fat City, Forbidden Zone) is the real knife-wielding culprit, and with Billy about to graduate, her twisted urge to keep him all to herself is about to erupt in a wave of carnage. No one is safe when an unstable lawman and a psychotic aunt converge in a shocking climax you'll never forget! Julia Duffy (TV's Newhart) and Bill Paxton (Aliens, Mortuary) co-star in this cult shocker directed by TV great William Asher (Johnny Cool). Now see this cutting-edge thriller in HD from a 2k scan from the original camera negatives!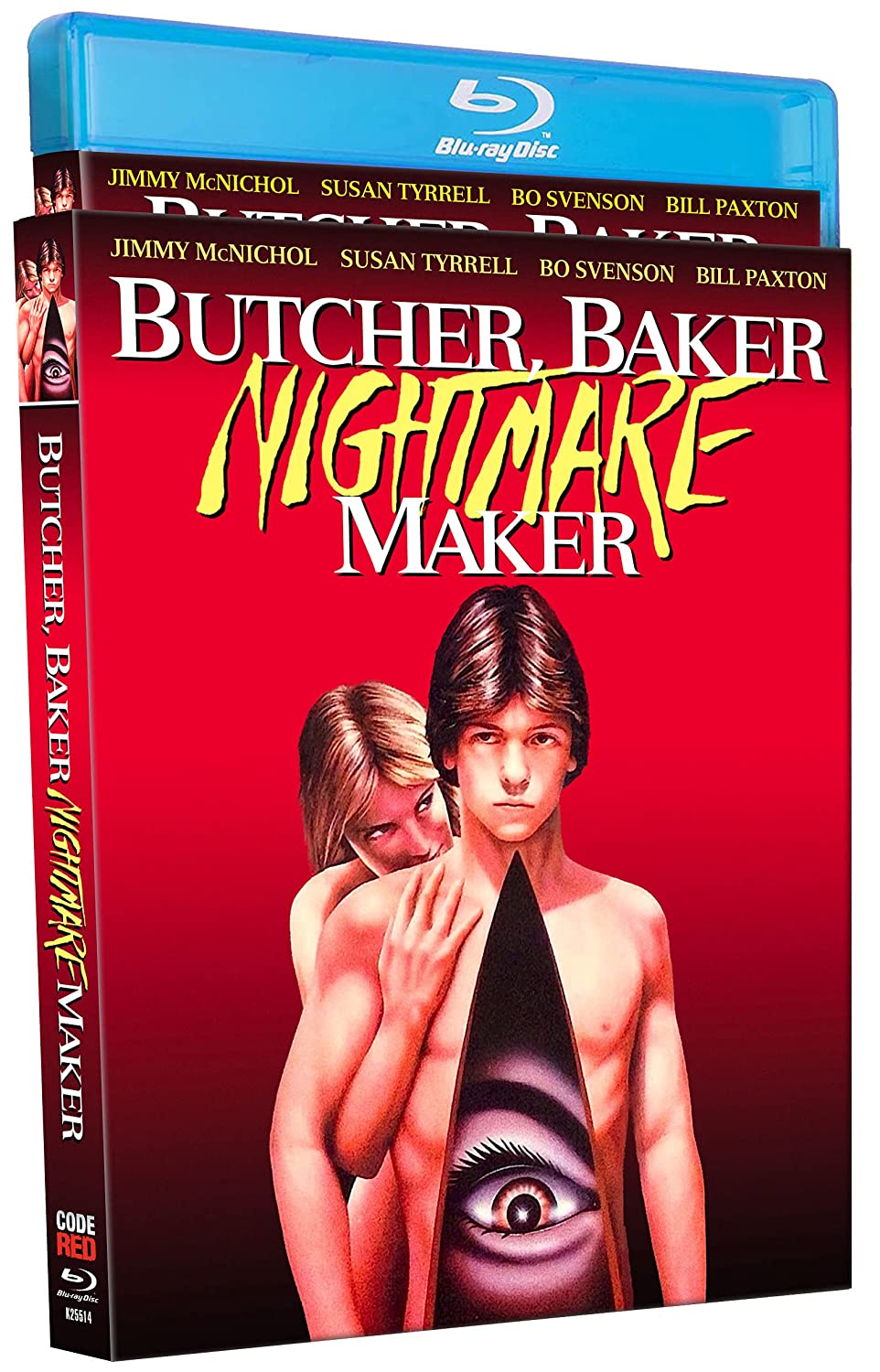 Phantom of the Mall: Eric's Revenge (Arrow Video, Blu-ray)
With numerous interpretations of Gaston Leroux's classic novel The Phantom of the Opera having been turned out over the years, it was only a matter of time before the slasher genre decided to take a stab at the tale – step forward 1989's Phantom of the Mall: Eric's Revenge!
High school sweethearts Eric Matthews and Melody Austin are so in love, but their youthful romance is cut tragically short when Eric apparently dies in a fire that engulfs his family home. One year later and Melody is trying to move on with her life, taking up a job at the newly built Midwood Mall along with her friends. But the mall, which stands on the very site of Eric's former home, has an uninvited guest – a shadowy, scarred figure which haunts its airducts and subterranean passageways, hellbent on exacting vengeance on the mall's crooked developers.
Directed by Richard Friedman (Scared Stiff, Doom Asylum), and featuring star turns from Pauly Shore and Morgan Fairchild, Phantom of the Mall: Eric's Revenge swoops onto Blu-ray in an extras-packed edition which proves that Arrow Video's love for '80s slasher fare never dies!
King Kong (1976): Collector's Edition (Scream Factory, Blu-ray)
The Petrox company's search for new oil reserves on a strange island unleashes a terror unseen by civilized man—King Kong! The timeless story of a beauty (Jessica Lange, making her feature-film debut) and a beast comes to the screen in this ambitious production from Dino De Laurentiis. Charles Grodin is the scheming oil company shark out to exploit the giant beast to his fullest. And Jeff Bridges is the desperate hero, Jack Prescott, who attempts to wrest the beautiful heroine from King Kong's grasp. New York City trembles with each echoing footstep of the towering ape set loose in the streets!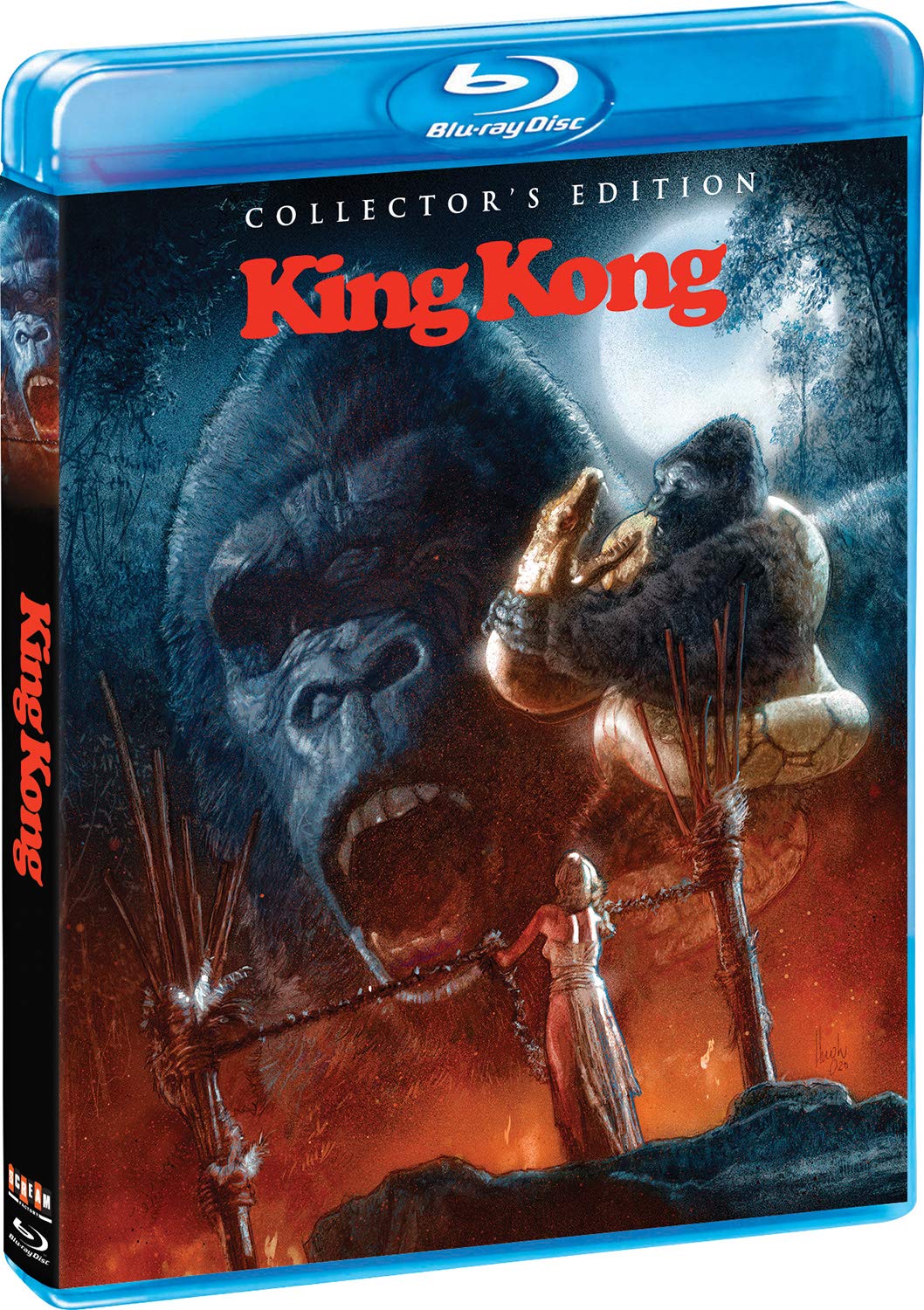 Dementia 13: Director's Cut (Vestron Video Collector's Series) (Lionsgate, Blu-ray)
Coming to the Vestron Video Collector's Series and presented in 4K for the first time in almost 60 years, Francis Ford Coppola's remastered "Dementia 13: Director's Cut" is quintessential gothic horror, wrapped in the twisted mysteries of a family's deepest, darkest secrets. A widow deceives her late husband's mother and brothers into thinking he's still alive when she attends the yearly memorial to his drowned sister, hoping to secure his inheritance. But her cunning is no match for the demented, axe-wielding thing roaming the grounds of the family's Irish estate in this cult favorite featuring Patrick Magee, Luana Anders, William Campbell, and Bart Patton.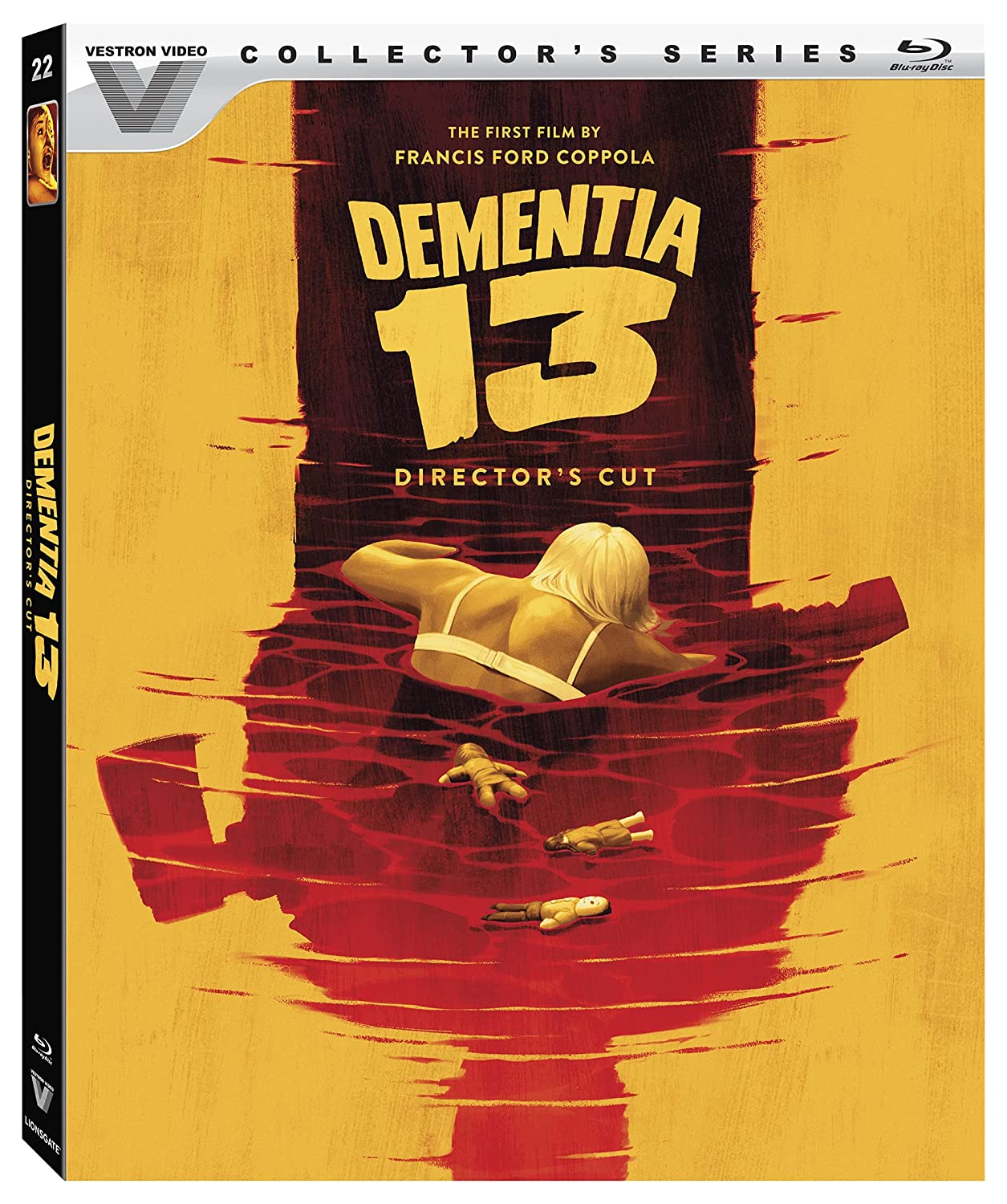 Tourist Trap: Uncut (Full Moon Pictures, Blu-ray & DVD)
UNCUT & COMPLETE for the first time! Every year young people disappear...An eerie and deserted wax museum, SLAUSEN'S LOST OASIS, is the site for spine-tingling terror where four unsuspecting young travelers (Including TANYA ROBERTS from Charlie's Angels) are lured into a very deadly TOURIST TRAP. Slausen (CHUCK CONNORS) is the reclusive and bizarre owner of this attraction, which is actually more like a macabre chamber of horrors. The grotesque and frightening mannequins in this sordid side-show are only the beginning of the murderous mayhem and nightmarish madness to come. TOURIST TRAP is widely recognized as one of the scariest and strangest horror movies of the 1970s, a film championed by none other than Stephen King as wielding an eerie, spooky power.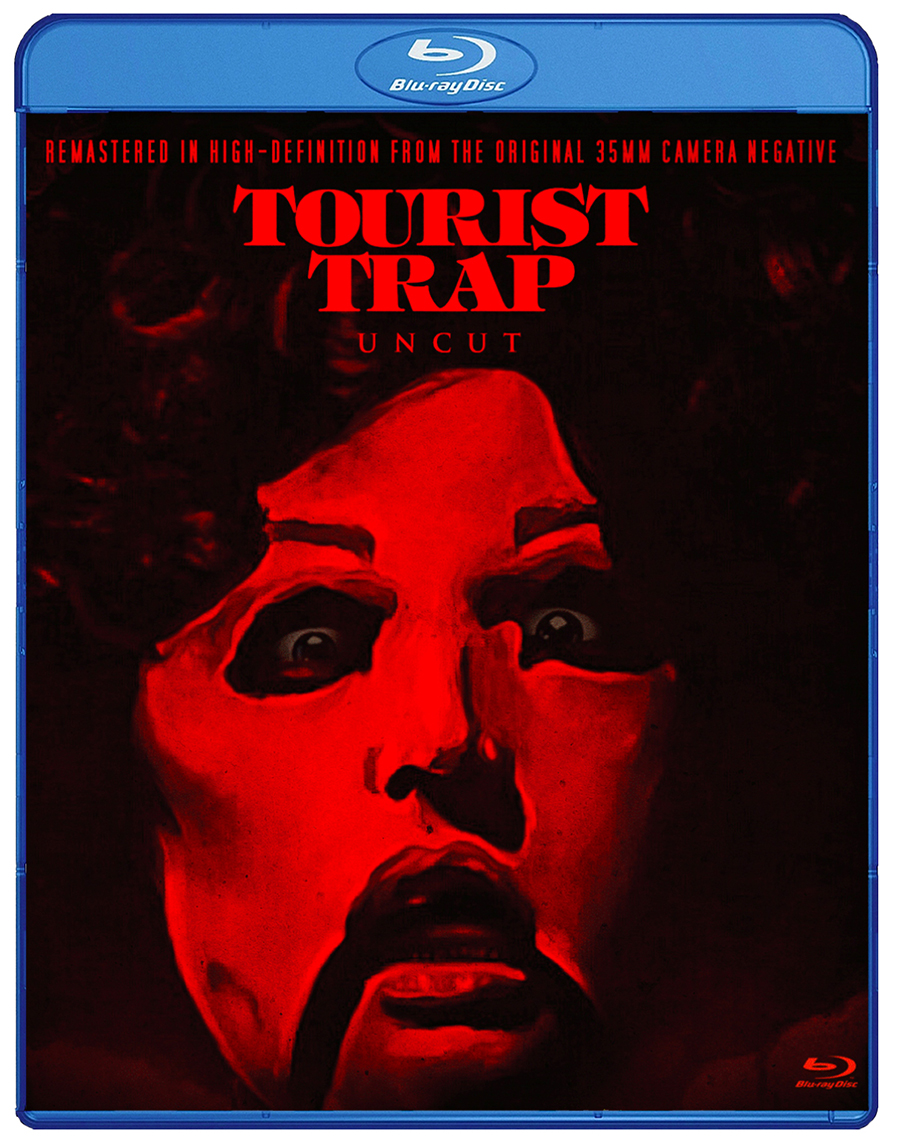 The Dead Zone: Collector's Edition (Scream Factory, Blu-ray)
School teacher Johnny Smith (Christopher Walken) had a beautiful fiancée, a rewarding career and a fortunate life…until one tragic accident changed everything. After slamming into an 18-wheeler, Johnny is plunged into a five-year coma. When he awakens, he finds his true collision was with destiny—he now has the remarkable gift (or curse) of seeing into the future. From horror master Stephen King and Director David Cronenberg (Scanners, Dead Ringers), this supernatural thriller turns an everyday guy into a reluctant hero…saving children in danger, helping the police and finding a serial killer. But Johnny's next vision may be his most terrifying yet…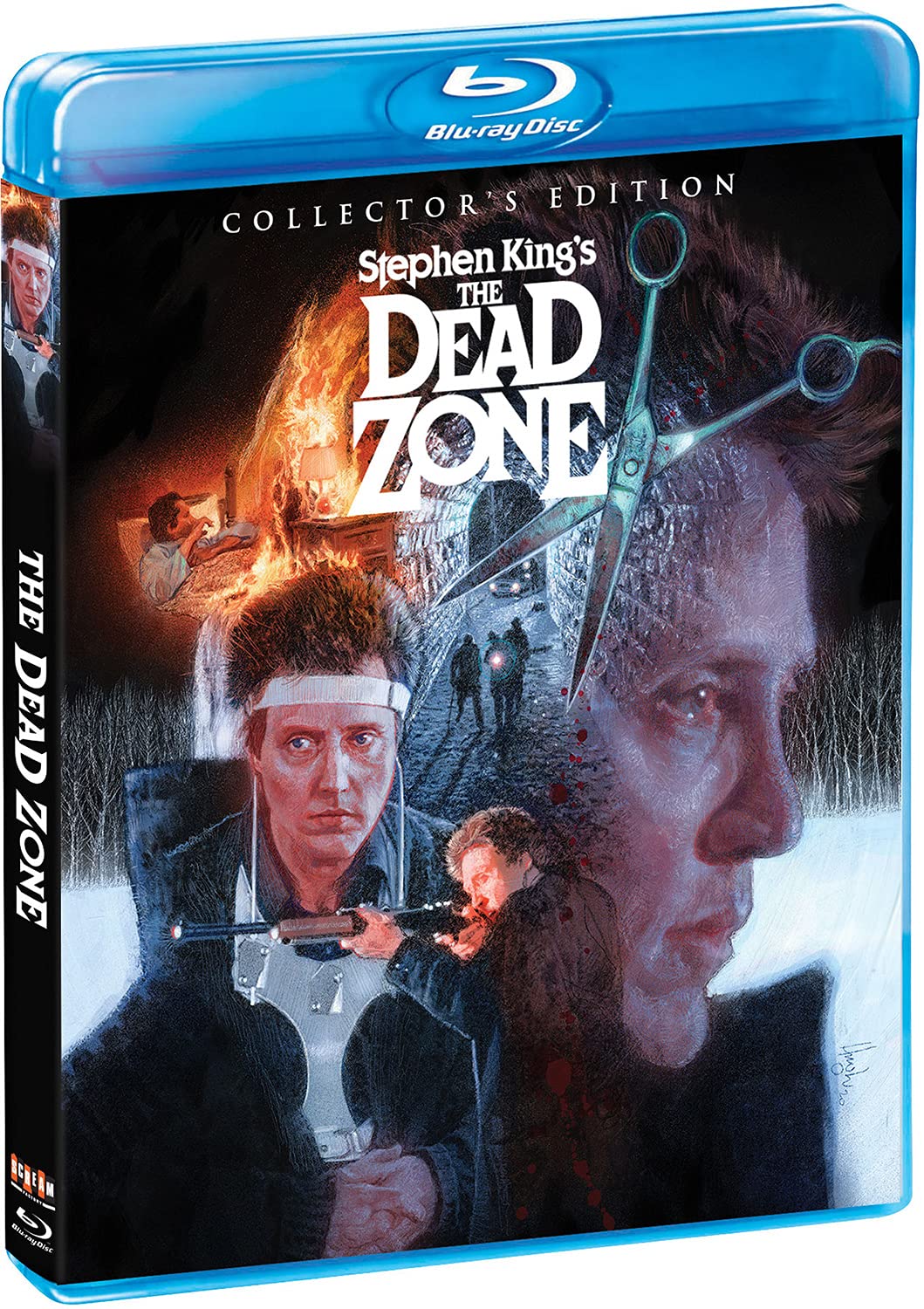 Paramount Presents: Mommie Dearest (Paramount Home Entertainment, Blu/Digital Combo)
The endlessly quotable cult-classic celebrates 40 years with this debut on Blu-ray, restored from a new 4K film transfer and packed with all-new special features. Based on Christina Crawford's controversial best-selling tell-all novel, MOMMMIE DEAREST features a powerhouse performance by Faye Dunaway as Joan Crawford, struggling for her career while battling the inner demons of her private life. While the public Crawford was a strong-willed, glamorous object of admiration, behind-the-scenes is a private Crawford—the woman desperate to be a single-mother and trying to survive in a devastating industry that swallows careers thoughtlessly.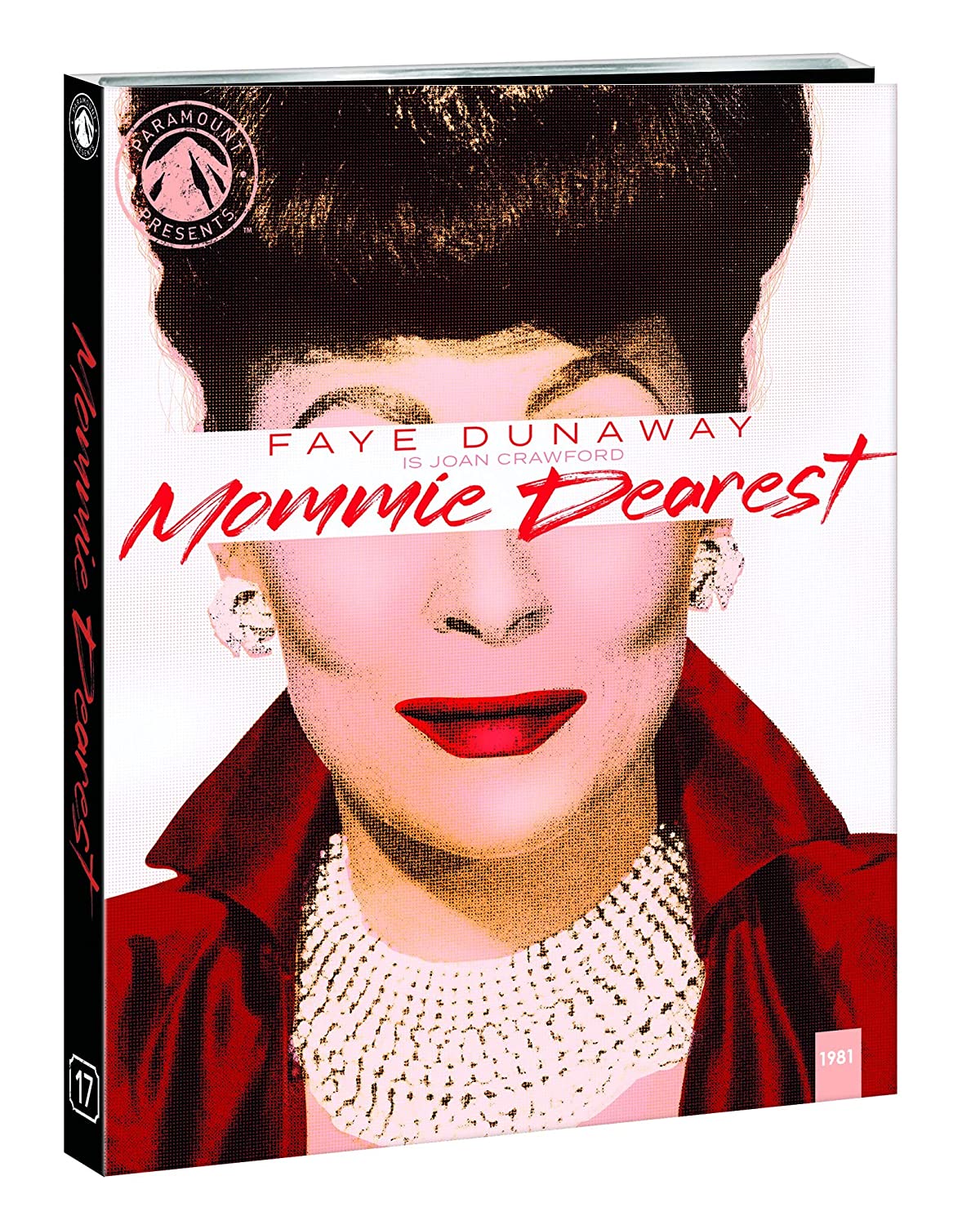 SCI-FI:
Donnie Darko 4K: 2-Disc Limited Edition Collector's Set (Arrow Video, Blu-ray)
Donnie is a troubled high school student: in therapy, prone to sleepwalking and in possession of an imaginary friend, a six-foot rabbit named Frank, who tells him the world is going to end in 28 days, 06 hours, 42 minutes and 12 seconds. During that time he will navigate teenage life, narrowly avoid death in the form of a falling jet engine, follow Frank's maladjusted instructions and try to maintain the space-time continuum.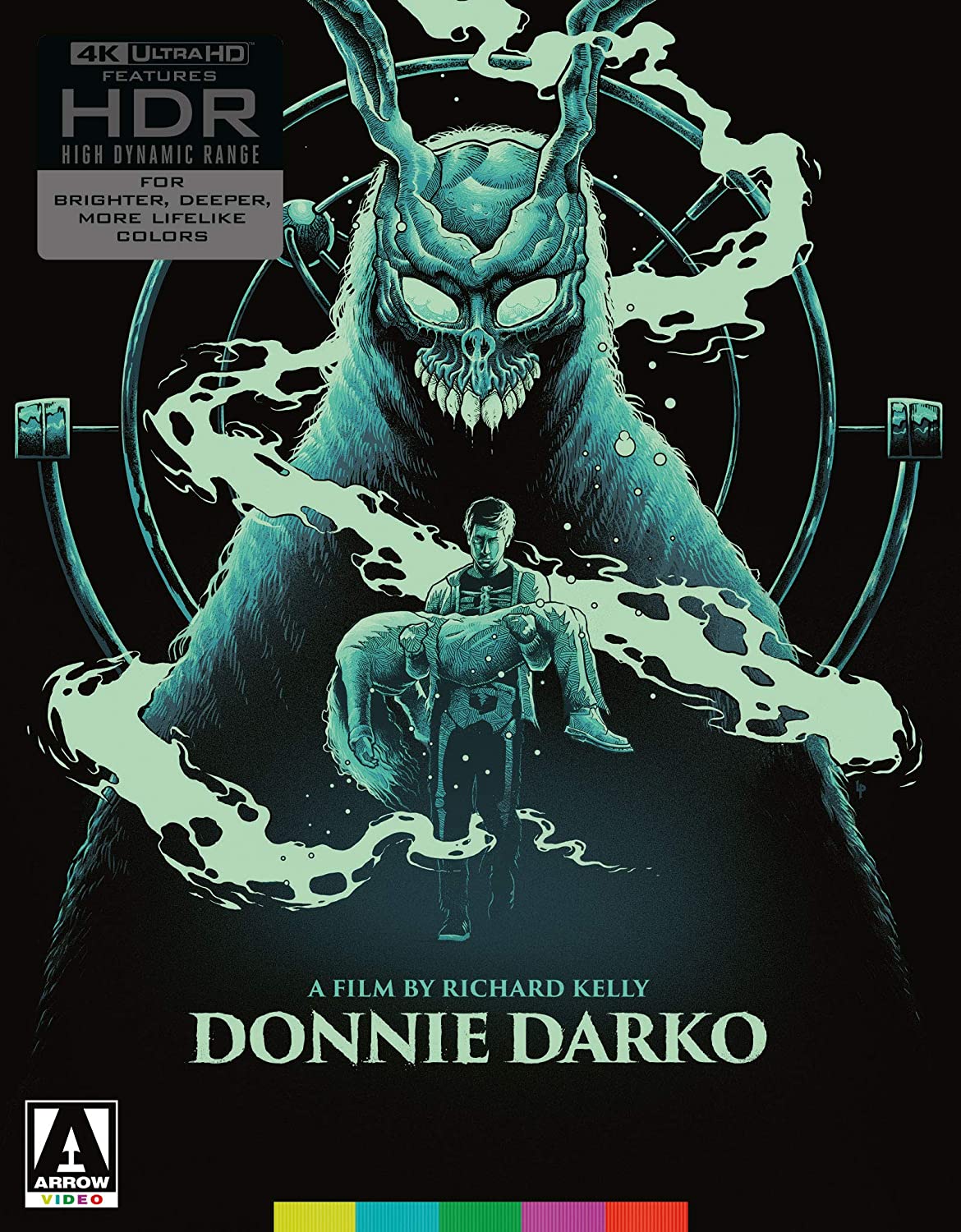 Event Horizon: Collector's Edition (Scream Factory, Blu-ray)
Its name: Event Horizon. The high-tech, pioneering research spacecraft mysteriously vanished without a trace on its maiden voyage seven years earlier. But a weak, persistent signal from the long-missing craft prompts a rescue team, headed by the intrepid Captain Miller (Laurence Fishburne), to wing its way through the galaxy on a bold rescue mission. Accompanying Miller is his elite crew and the lost ship's designer (Sam Neill). What they uncover is unimaginable interstellar horror.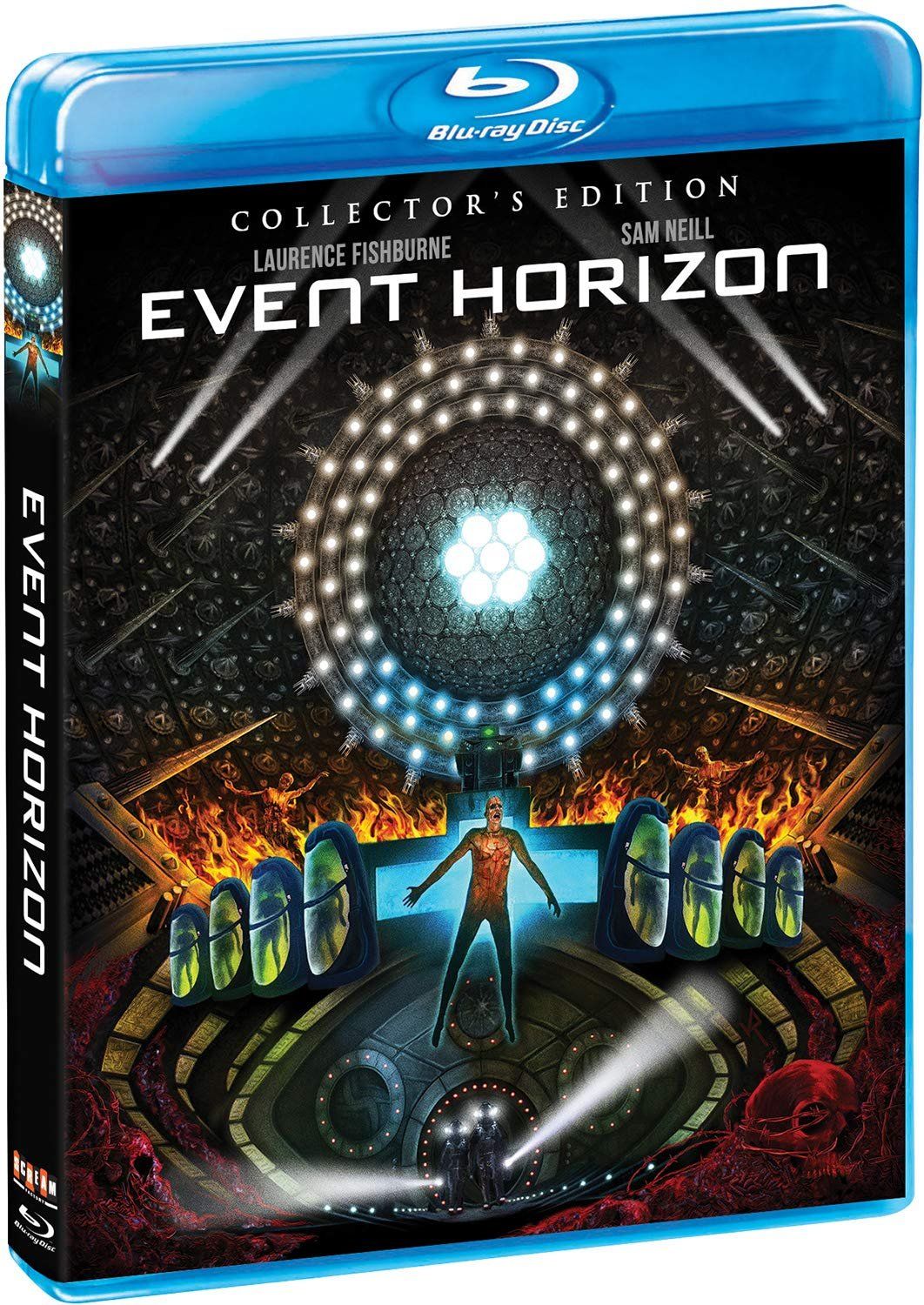 Gamera: The Heisei Era - 4 Disc Special Edition (Arrow Video, Blu-ray)
After laying dormant for fifteen years, Gamera was rebooted for the big screen in a smash hit trilogy masterminded by director Shusuke Kaneko, writer Kazunori Ito and SFX director Shinji Higuchi.
Trading the campy kid-friendly surrealism of the earlier films for a darker, more realistic tone and jaw-dropping innovative special effects, the Heisei trilogy are still regarded today as three of the best if not the very best kaiju films ever made.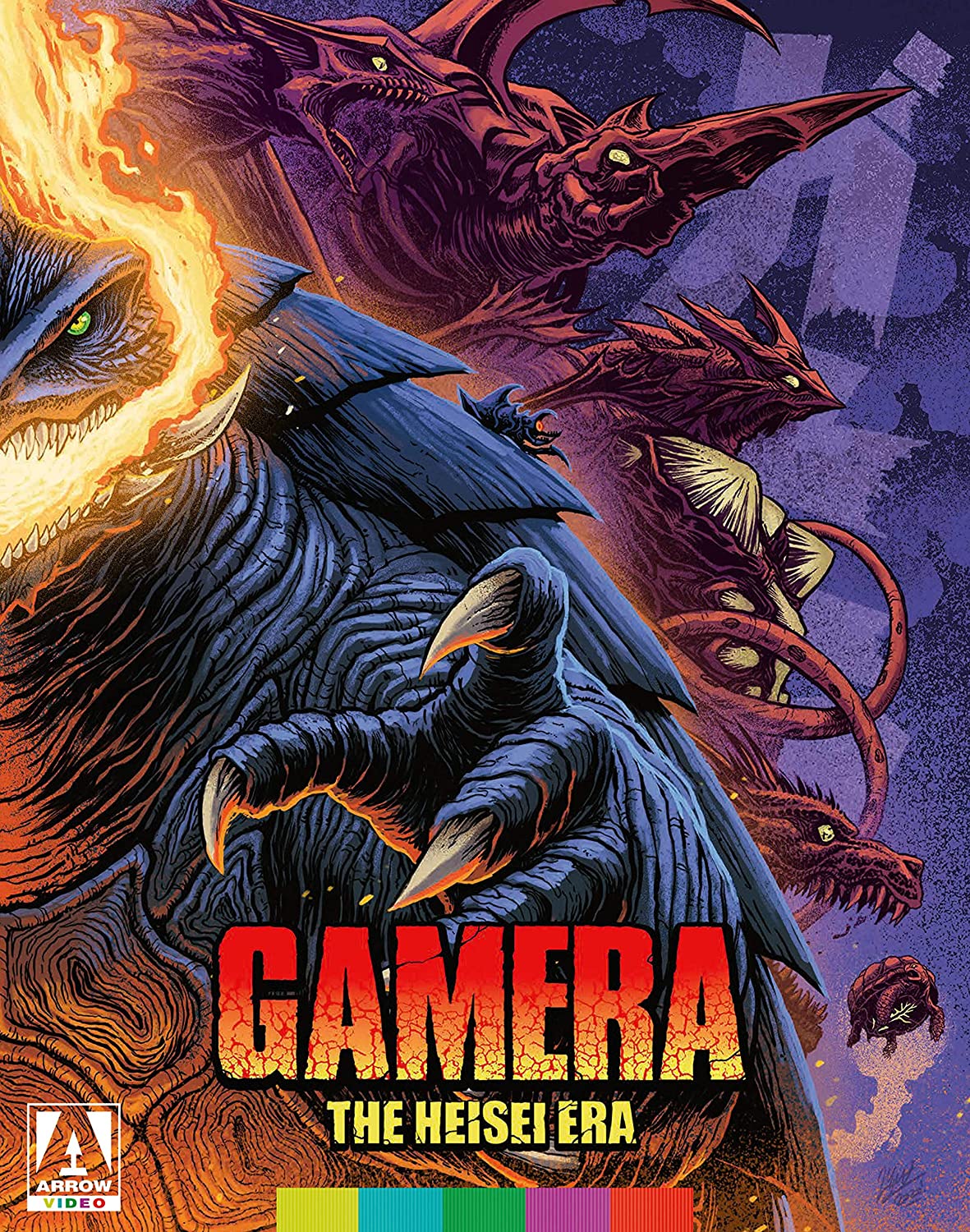 Gamera: The Showa Era - 4 Disc Special Edition (Arrow Video, Blu-ray)
As giant monsters rampaged the Japanese cinematic landscape during the kaiju boom of the mid-1960s, Daiei Studios introduced a new character to the screen that would be embraced for generations: Gamera, the giant, flying, fire-breathing turtle, and friend of all children! Buried under the Arctic ice for several millennia, the colossal chelonian is unleashed upon Japan, leaving havoc in his wake. After becoming an unexpected box office sensation, Gamera returned several more times, leaping to the world's defence against a motley assortment of evil creatures, from the death-ray-shooting flying terror Gyaos, to the knife-headed alien menace Guiron, to the underwater invader Zigra!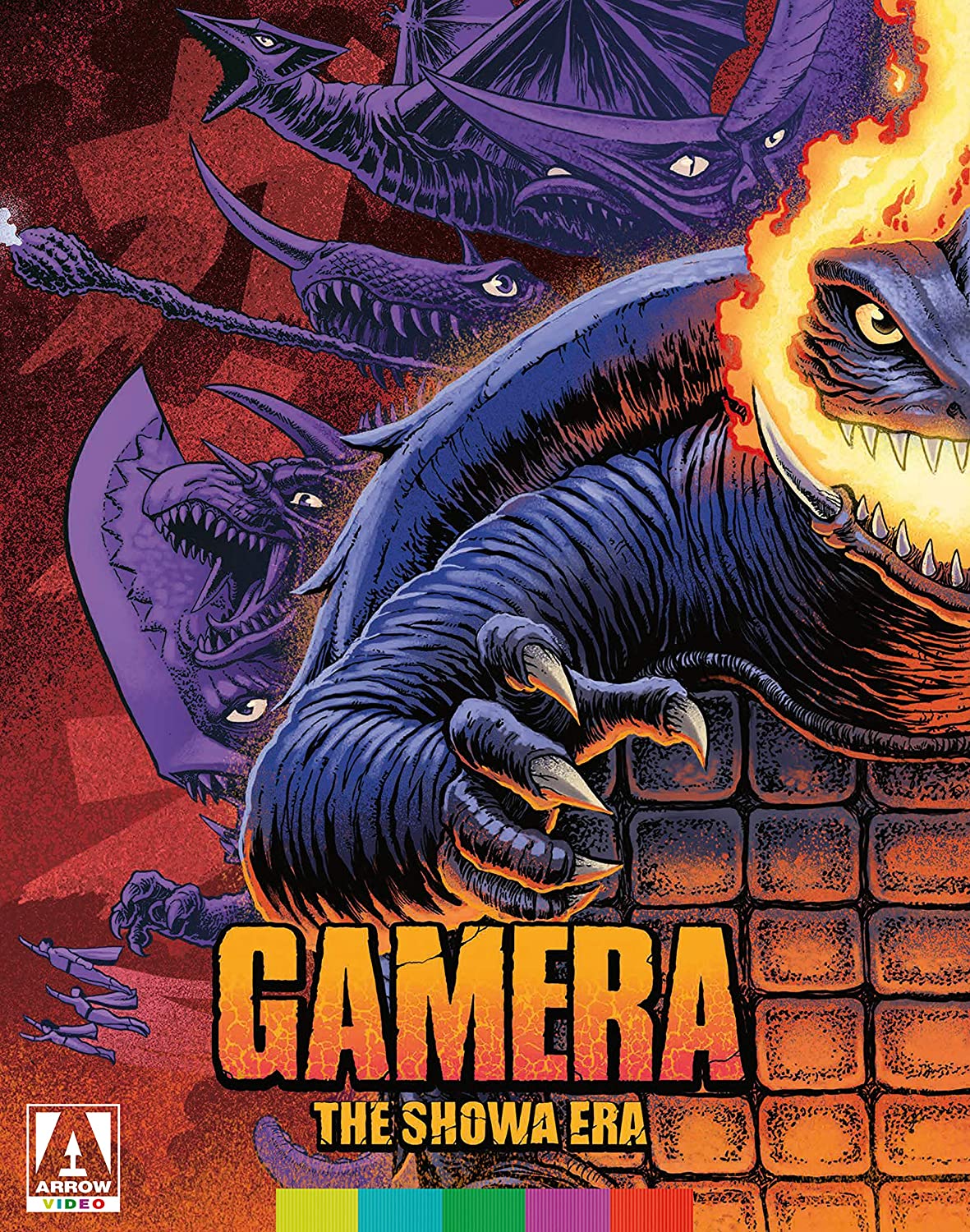 Dune 4K: 2-Disc Limited Edition (Arrow Video, 4K Ultra HD)
Following a notorious aborted attempt by Alejandro Jodorowsky in the 1970s, Frank Herbert's bestselling sci-fi epic Dune finally made it to the big screen as the third film by emerging surrealist wunderkind David Lynch, featuring an all-star cast that includes several of Lynch's regular collaborators.
The year is 10,191, and four planets are embroiled in a secret plot to wrest control of the Spice Melange, the most precious substance in the universe and found only on the planet Arrakis. A feud between two powerful dynasties, House Atreides and House Harkonnen, is manipulated from afar by ruling powers that conspire to keep their grip on the spice. As the two families clash on Arrakis, Duke Atreides' son Paul (Kyle MacLachlan, in his screen debut) finds himself at the center of an intergalactic war and an ancient prophecy that could change the galaxy forever.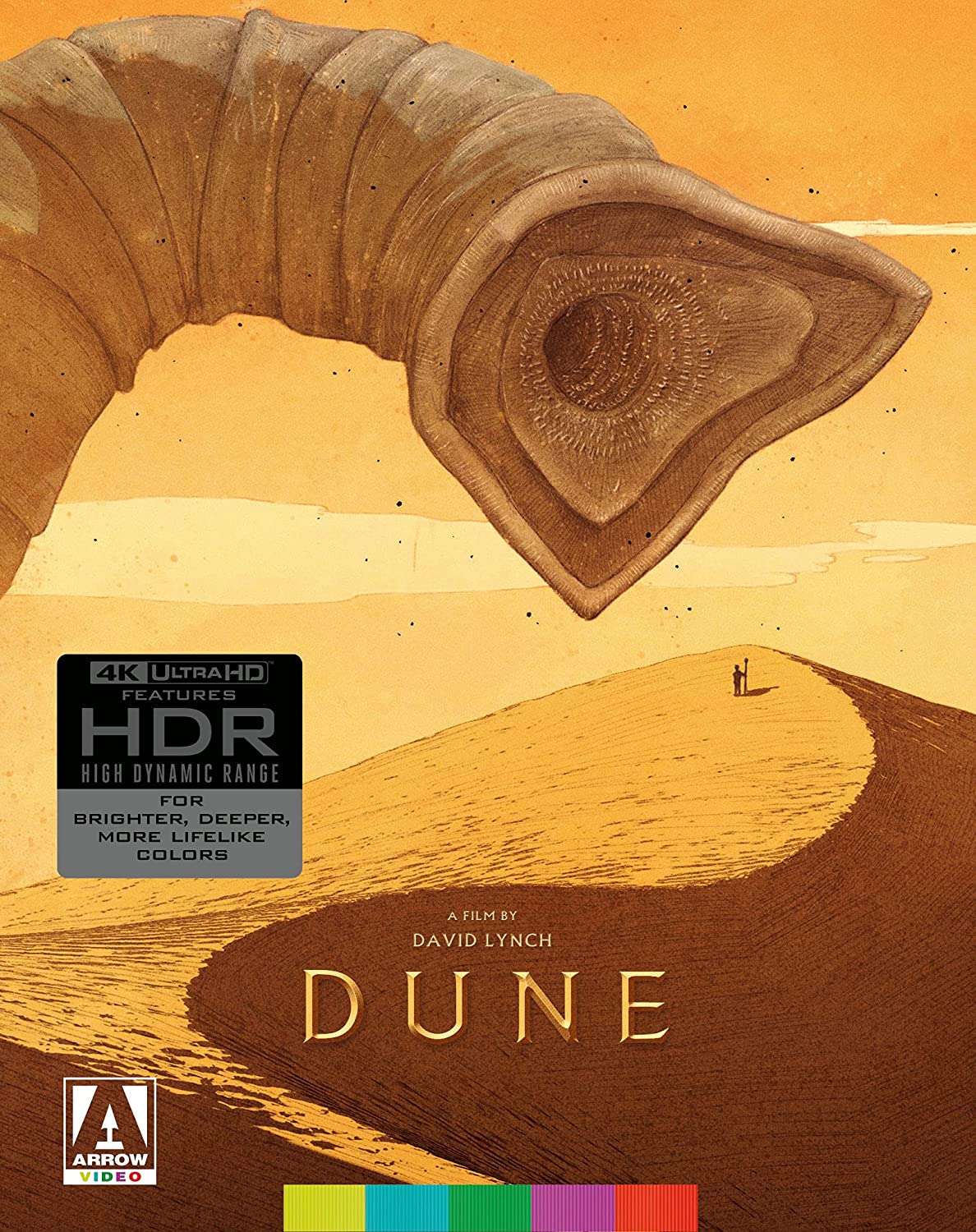 Explorers: Collector's Edition (Shout Select, Blu-ray)
The visionary dreams of three curious and adventuresome young boys become an exciting reality in Explorers, the action-fantasy from acclaimed director Joe Dante (Gremlins), who combines keen humor, warmth and fantasy with unexpected twists. In their makeshift laboratory, the boys use an amazing discovery and their ingenuity to build their own spaceship and launch themselves on a fantastic interplanetary journey. A galaxy of adventure for the whole family, Explorers stars a young River Phoenix (Stand By Me, Sneakers) and Ethan Hawke (Training Day, Reality Bites).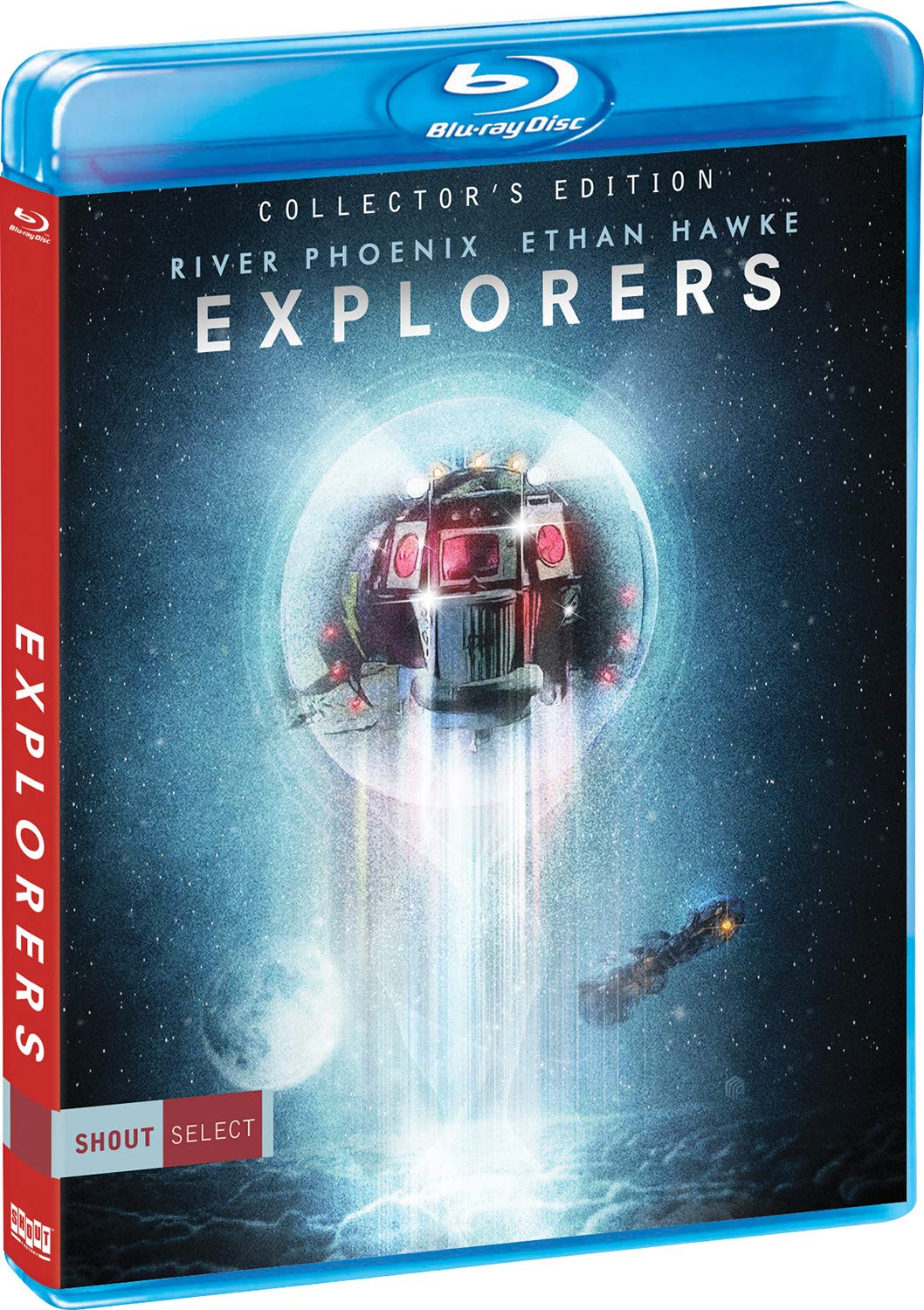 Southland Tales: 2-Disc Special Edition (Arrow Video, Blu-ray)
In 2001, writer/director Richard Kelly achieved cult status with Donnie Darko, an assured debut feature exploring deep existential questions through the lens of 80s nostalgia. Five years later, he followed up with a more ambitious and even more beguiling sophomore effort, in which forces of totalitarianism and anarchism collide against the backdrop of a post-apocalyptic, near-future world, the beguiling and baffling Southland Tales.
Los Angeles, 2008. As the city stands on the brink of social, economic and environmental chaos, the fates of an eclectic set of characters including an amnesia-stricken action star (Dwayne Johnson, the Fast & Furious series), an adult film star developing her own reality TV project (Sarah Michelle Gellar, Cruel Intentions) and a police officer whose identity has split in two (Seann William Scott, TV's Lethal Weapon) intertwine with each other and with the whole of humanity.
A darkly comic futuristic epic that speaks as presciently to our turbulent times as it did to the American socio-political climate in 2006, Southland Tales receives a fresh and timely lease of life with this new, director-approved restoration.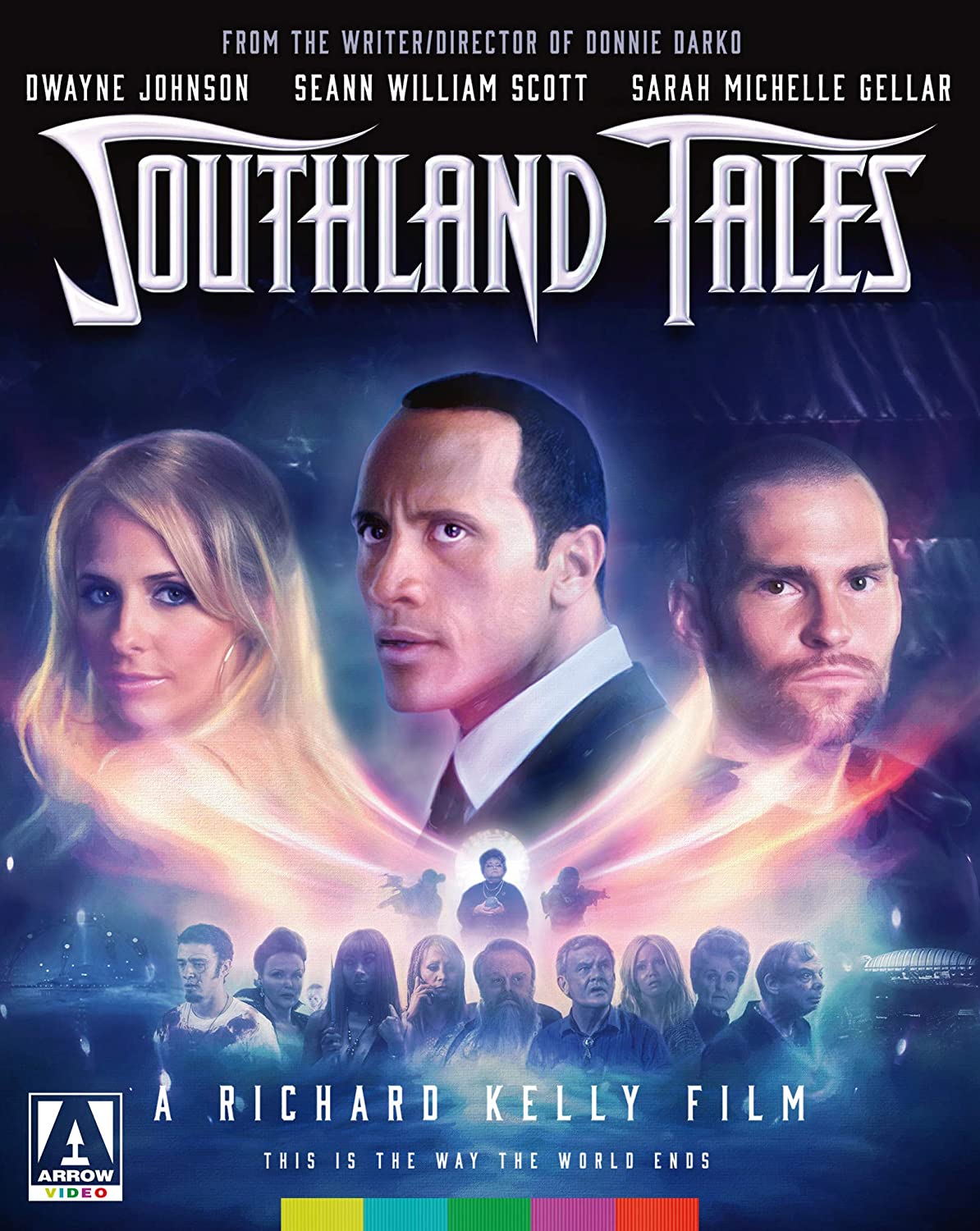 4K UPGRADES:
Labyrinth 4K: 35th Anniversary Edition (Sony Pictures Home Entertainment, 4K Ultra HD/Blu/Digital)
A 16-year old girl (Academy Award® winner Jennifer Connelly, Best Supporting Actress, A Beautiful Mind, 2001) is given 13 hours to solve a dangerous and wonderful labyrinth and rescue her baby brother when her wish for him to be taken away is granted by the Goblin King (David Bowie). Celebrate the 30th anniversary of this beloved fantasy classic from visionary filmmaker Jim Henson, now fully remastered in 4K.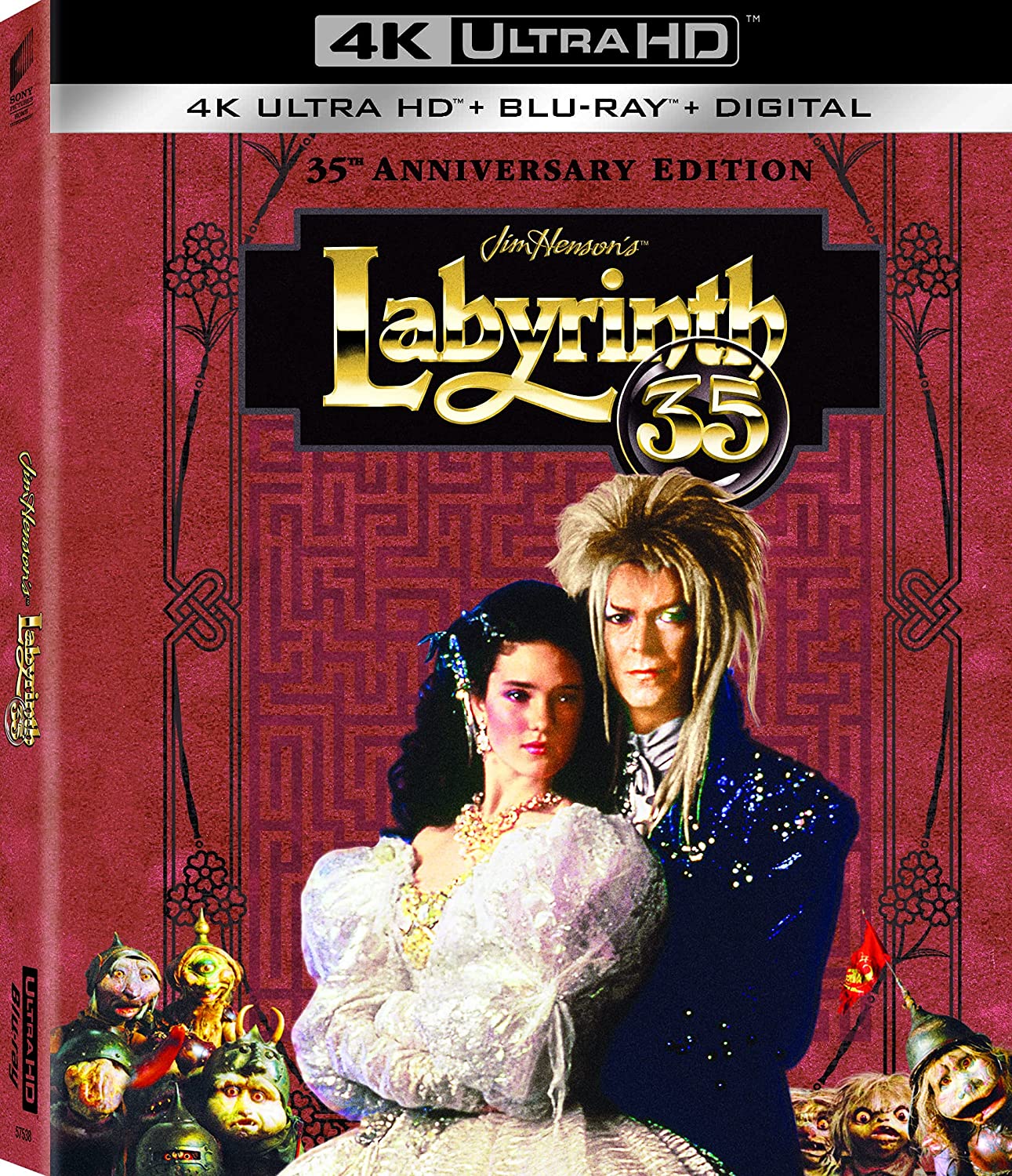 Invasion of the Body Snatchers (1978) 4K (Kino Lorber, 4K Ultra HD)
From acclaimed filmmaker Philip Kaufman (The Wanderers) comes this chilling '70s adaptation of Jack Finney's classic novel The Body Snatchers. Filmy spores fall from space over San Francisco, and the city blossoms with beautiful new flora. People take the flowers home and, as they sleep, the plants creep over them, devouring their bodies and stealing their identities—their emotions, their uniqueness, their souls. If you notice an eerie change in someone very close to you, chances are you're next! More than just a highly effective sci-fi thriller, Invasion of the Body Snatchers treats contemporary problems of urban paranoia and loss of individuality with intelligence and sensitivity... and ends with the single most horrifying frame in movies. Featuring a brilliant screenplay by W.D. Richter (Big Trouble in Little China), gritty camerawork by Michael Chapman (Raging Bull) and awe-inspiring special effects, Invasion of the Body Snatchers is a pulse-pounding shocker with wonderful performances by Donald Sutherland (The Puppet Masters), Brooke Adams (The Dead Zone), Leonard Nimoy (Star Trek II: The Wrath of Khan), Jeff Goldblum (The Fly) and Veronica Cartwright (Alien).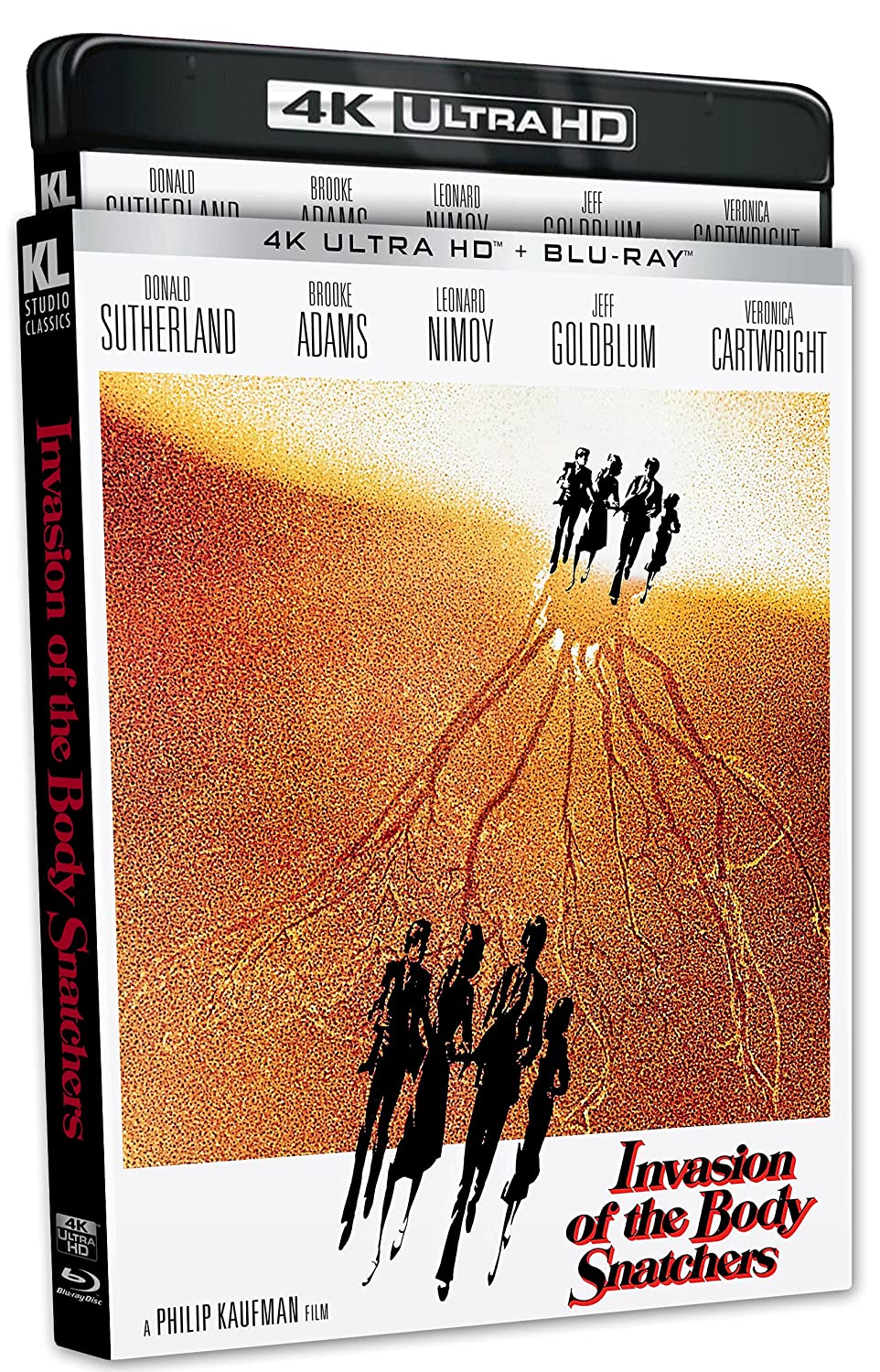 The Cat O' Nine Tails 4K (Arrow Video, 4K Ultra HD)
Following the success of his debut feature, The Bird with the Crystal Plumage, distributor Titanus tasked writer/director Dario Argento with delivering a follow-up in short order. The resulting film, granted a greatly enhanced budget and heralded in its US marketing campaign as nine times more suspenseful than its predecessor, was The Cat O' Nine Tails.
When a break-in occurs at a secretive genetics institute, blind puzzle-maker Franco Arnò (Karl Malden, Patton, One-Eyed Jacks), who overheard an attempt to blackmail one of the institutes scientists shortly before the robbery, teams up with intrepid reporter Carlo Giordani (James Franciscus, Beneath the Planet of the Apes) to crack the case. But before long the bodies begin to pile up and the two amateur sleuths find their own lives imperiled in their search for the truth. And worse still, Lori (Cinzia De Carolis, Cannibal Apocalypse), Franco's young niece, may also be in the killer's sights.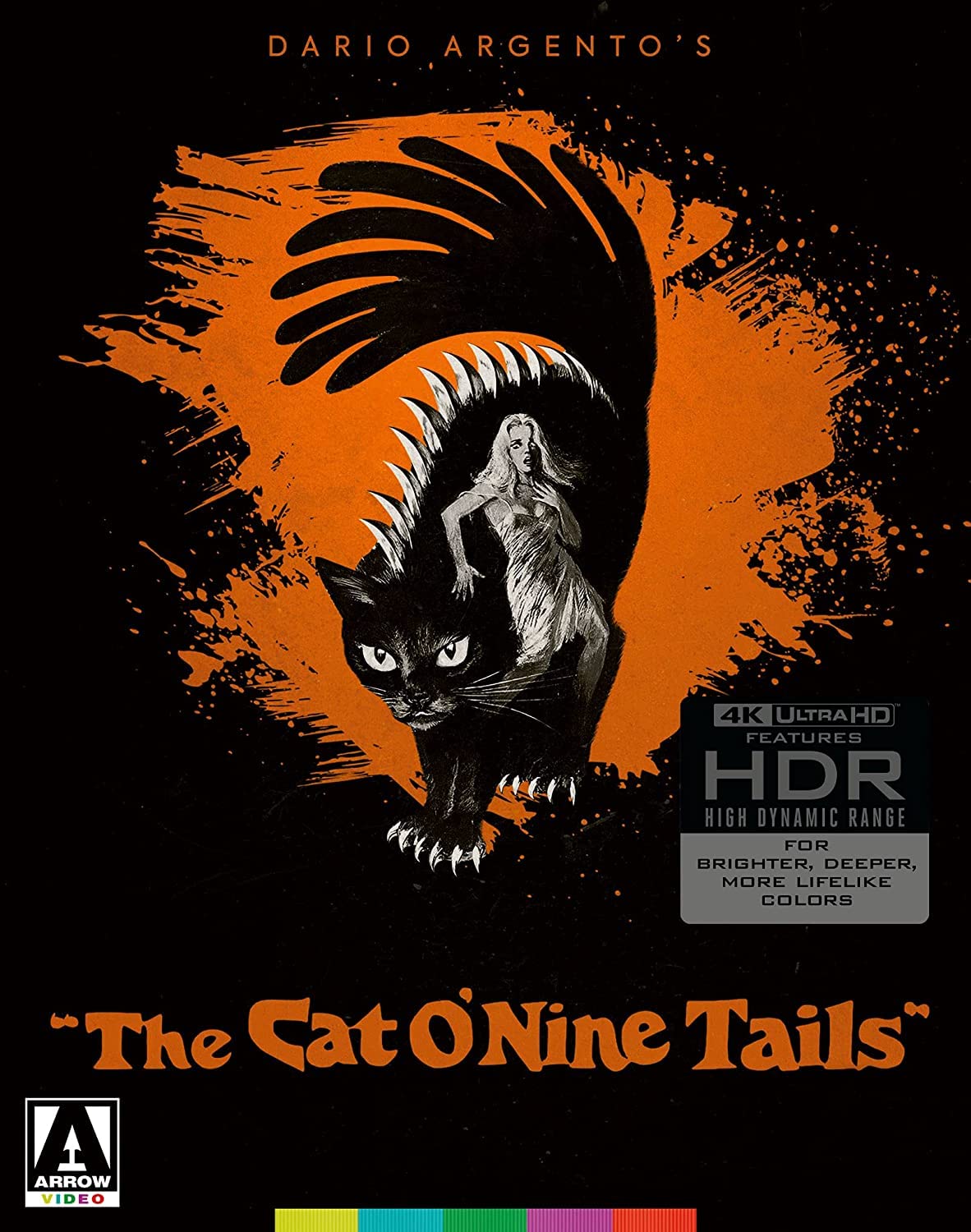 Misery 4K (Kino Lorber, 4K Ultra HD/Blu Combo)
From the mind of Stephen King, the master of horror behind Carrie, The Shining, The Stand and It, comes the terrifying psychological thriller that won the Academy Award for its iconic, bone-shattering performance by Kathy Bates (Dolores Claiborne). After his car crashes in the mountains during a blinding snowstorm, famous novelist Paul Sheldon (James Caan, Thief) is "rescued" from a car crash by Annie Wilkes (Bates), a fan obsessed with the main character in his series of novels. But when Wilkes reads his latest book—and learns he has killed her favorite character—she teaches Sheldon the real meaning of Misery. Injured and isolated far from help, Sheldon engages in a desperate battle of wits with Wilkes as she becomes ever more deranged and violent. Director Rob Reiner (The Princess Bride, A Few Good Men) and screenwriter William Goldman (Marathon Man, All the President's Men) deliver a white-knuckle suspense tale that features Frances Sternhagen (The Mist), Richard Farnsworth (The Grey Fox), and the great Lauren Bacall (The Big Sleep).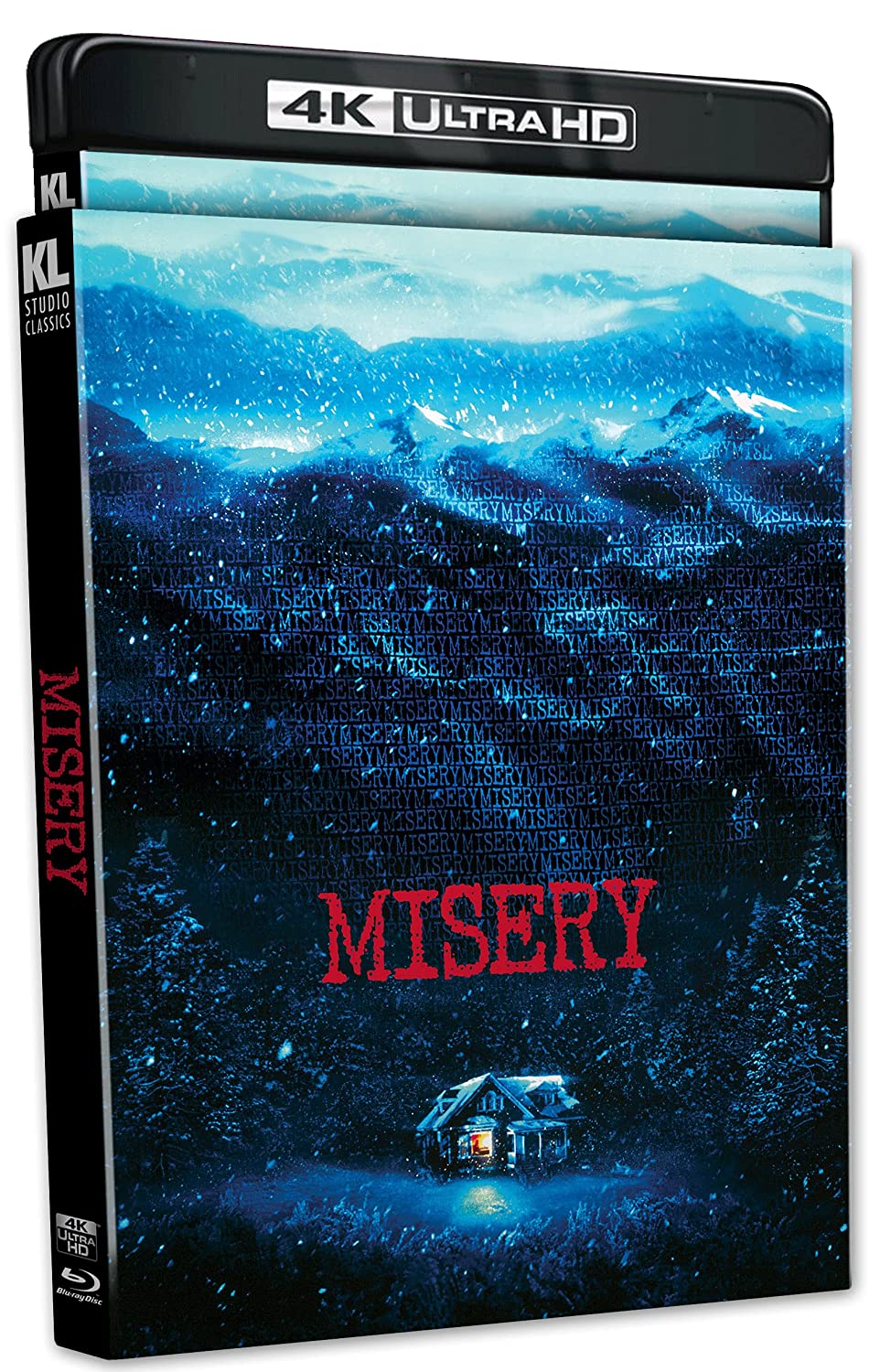 Psycho (1960) 4K (Universal Pictures Home Entertainment, 4K Ultra HD/Blu Combo)
One of the most shocking films of all time, Alfred Hitchcock's Psycho changed the thriller genre forever. After its original release in 1960, the film was censored for decades…until now. Join the Master of Suspense on a chilling journey as an unsuspecting victim (Janet Leigh) visits the Bates Motel and falls prey to one of cinema's most notorious psychopaths—Norman Bates (Anthony Perkins). Featuring one of the most iconic scenes in film history—the famous "shower scene," Psycho is "still terrifying after all these years" (Leonard Maltin's Classic Movie Guide).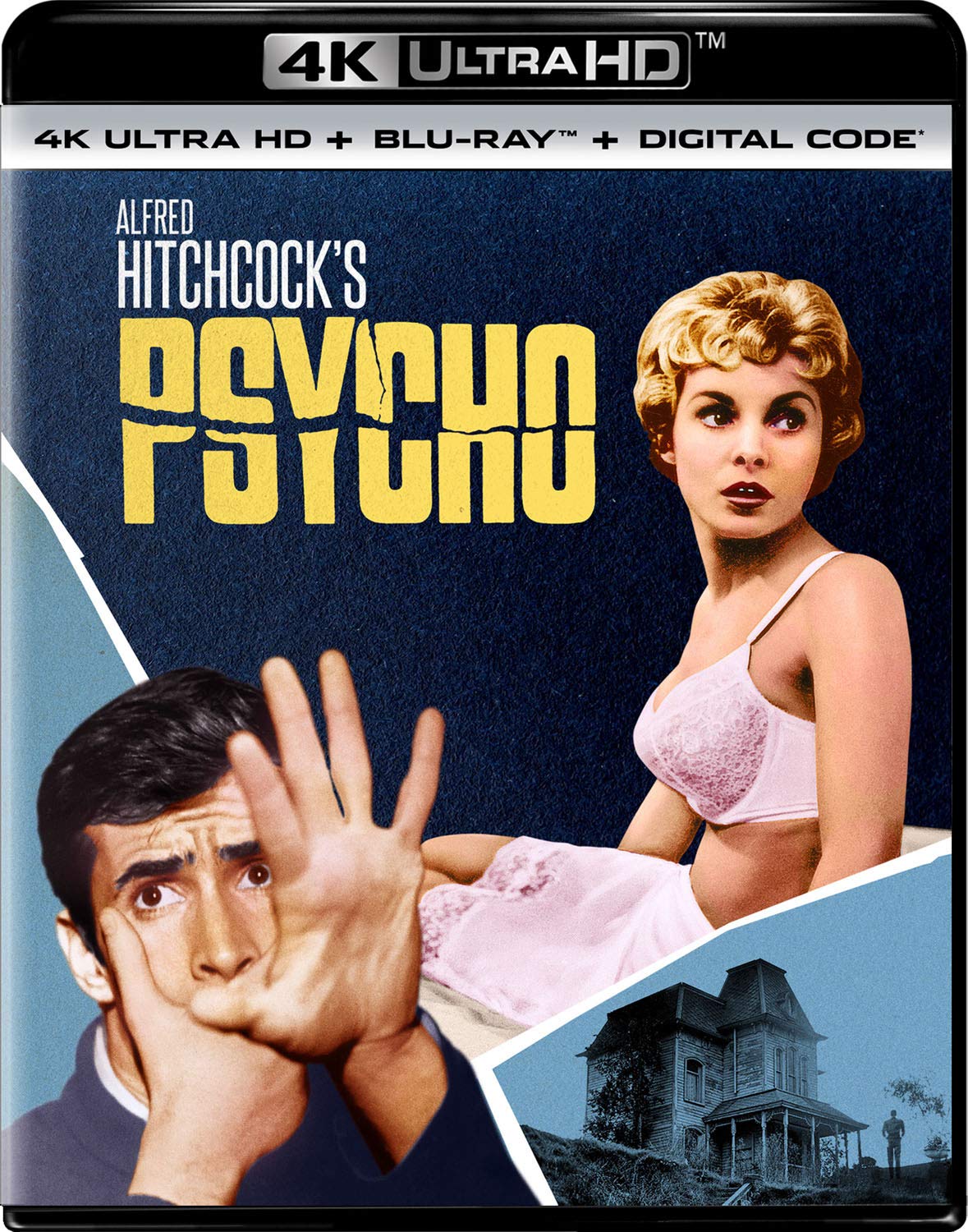 Maniac Cop 2 4K (Blue Underground, 4K Ultra HD/Blu)
The "Maniac Cop" is back from the dead and stalking the streets of New York once more. Officer Matt Cordell was once a hero, but after being framed by corrupt superiors and brutally assaulted in prison, he sets out on a macabre mission of vengeance, teaming up with a vicious serial killer to track down those that wronged him and make them pay... with their lives!
Robert Davi (DIE HARD), Claudia Christian (THE HIDDEN), Michael Lerner (BARTON FINK), Laurene Landon (HUNDRA), Leo Rossi (HALLOWEEN II), Robert Z'Dar (TANGO & CASH), Charles Napier (THE SILENCE OF THE LAMBS), and Bruce Campbell (THE EVIL DEAD) star in this chilling, action-packed sequel written by Larry Cohen (IT'S ALIVE) and directed by William Lustig (MANIAC). Now Blue Underground's stunning restoration of MANIAC COP 2, scanned in 4K from the original camera negative and supervised by Director of Photography James Lemmo (VIGILANTE), is presented with Dolby Vision HDR and a new Dolby Atmos audio mix for this definitive presentation!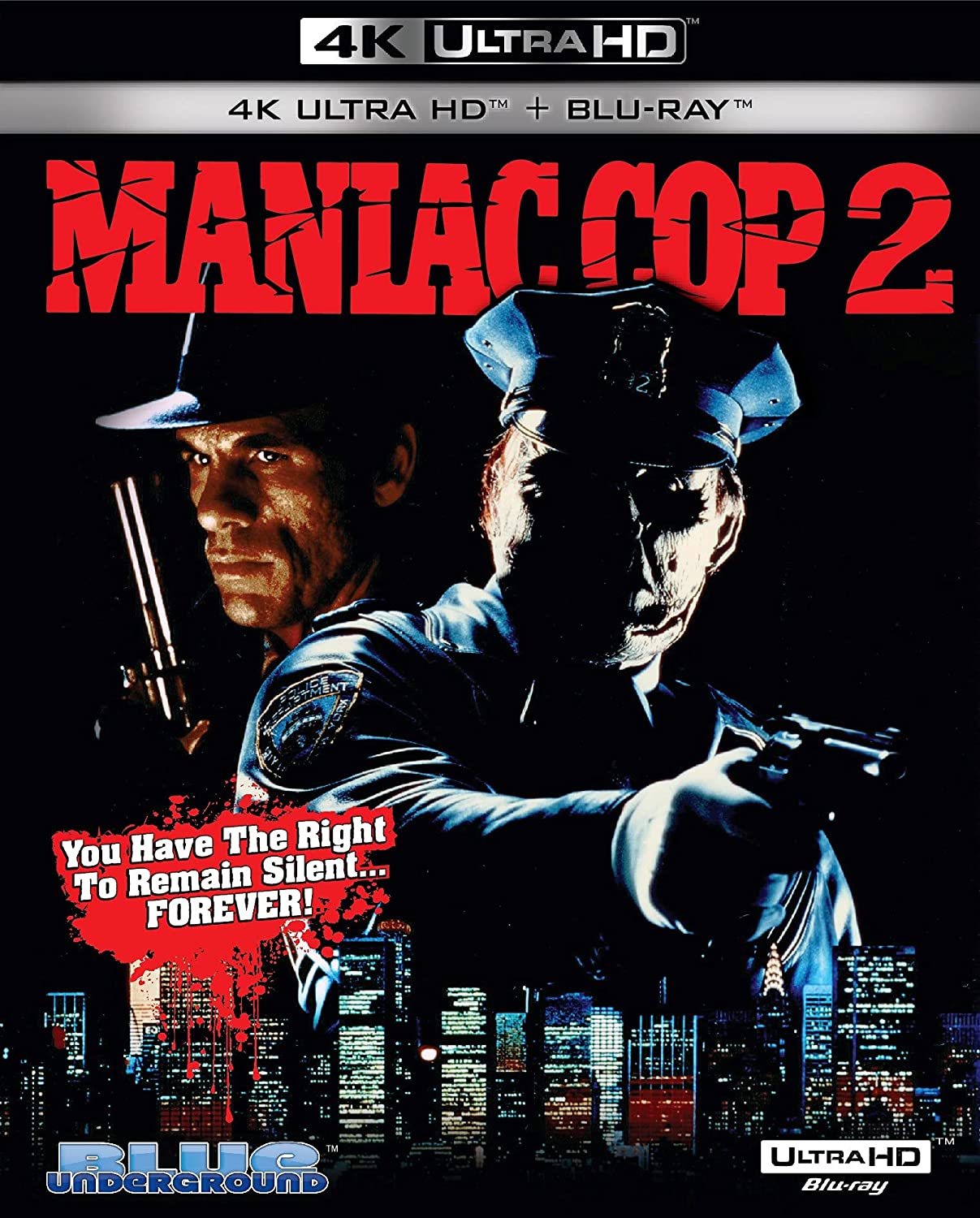 Children of the Corn 4K (Arrow Video, 4K Ultra HD)
From the mind of celebrated horror author Stephen King, the man behind such classic terror tales as The Shining, Carrie, and It, comes one of his most chilling offerings yet. Linda Hamilton (The Terminator) and Peter Horton (Thirtysomething) star as a young couple who find themselves lost on the backroads of Nebraska, eventually winding up in the seemingly deserted town of Gatlin. But the town is far from empty. As the couple soon discover, it is inhabited by a twisted cult of murderous children, thirsty for another blood sacrifice... Available for the first time ever in Ultra High Definition, Arrow Video is proud to present a brand new 4K restoration of the film that launched one of the most enduring horror franchises of all time. Children of the Corn... they're an adult nightmare!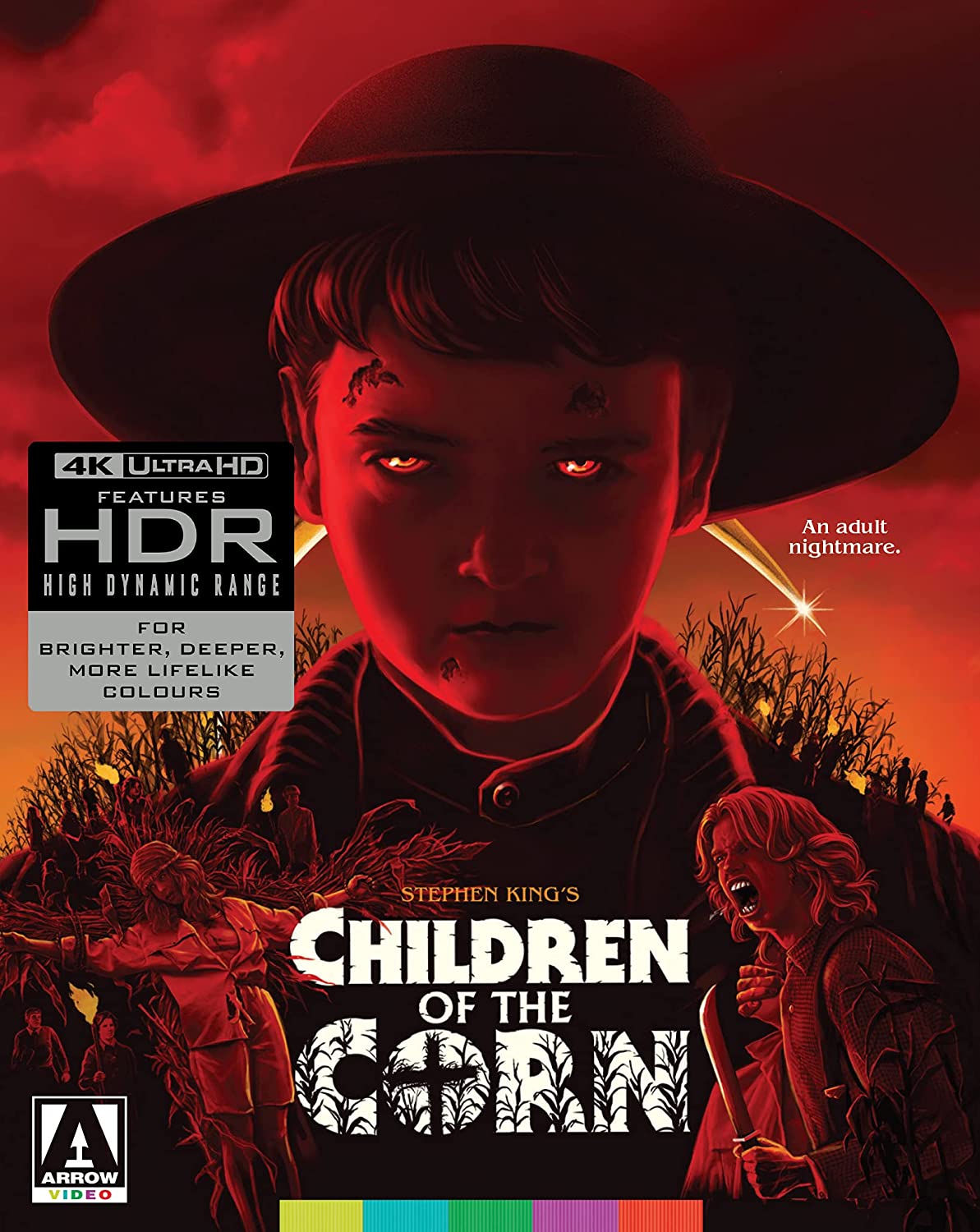 Saw 4K (Lionsgate, 4K Ultra HD/Blu/Digital Combo)
Photographer Adam Stanheight (Leigh Whannell) and oncologist Lawrence Gordon (Cary Elwes) regain consciousness while chained to pipes at either end of a filthy bathroom. As the two men realize they've been trapped by a sadistic serial killer nicknamed "Jigsaw" and must complete his perverse puzzle to live, flashbacks relate the fates of his previous victims. Meanwhile, Dr. Gordon's wife (Monica Potter) and young daughter (Makenzie Vega) are forced to watch his torture via closed-circuit video.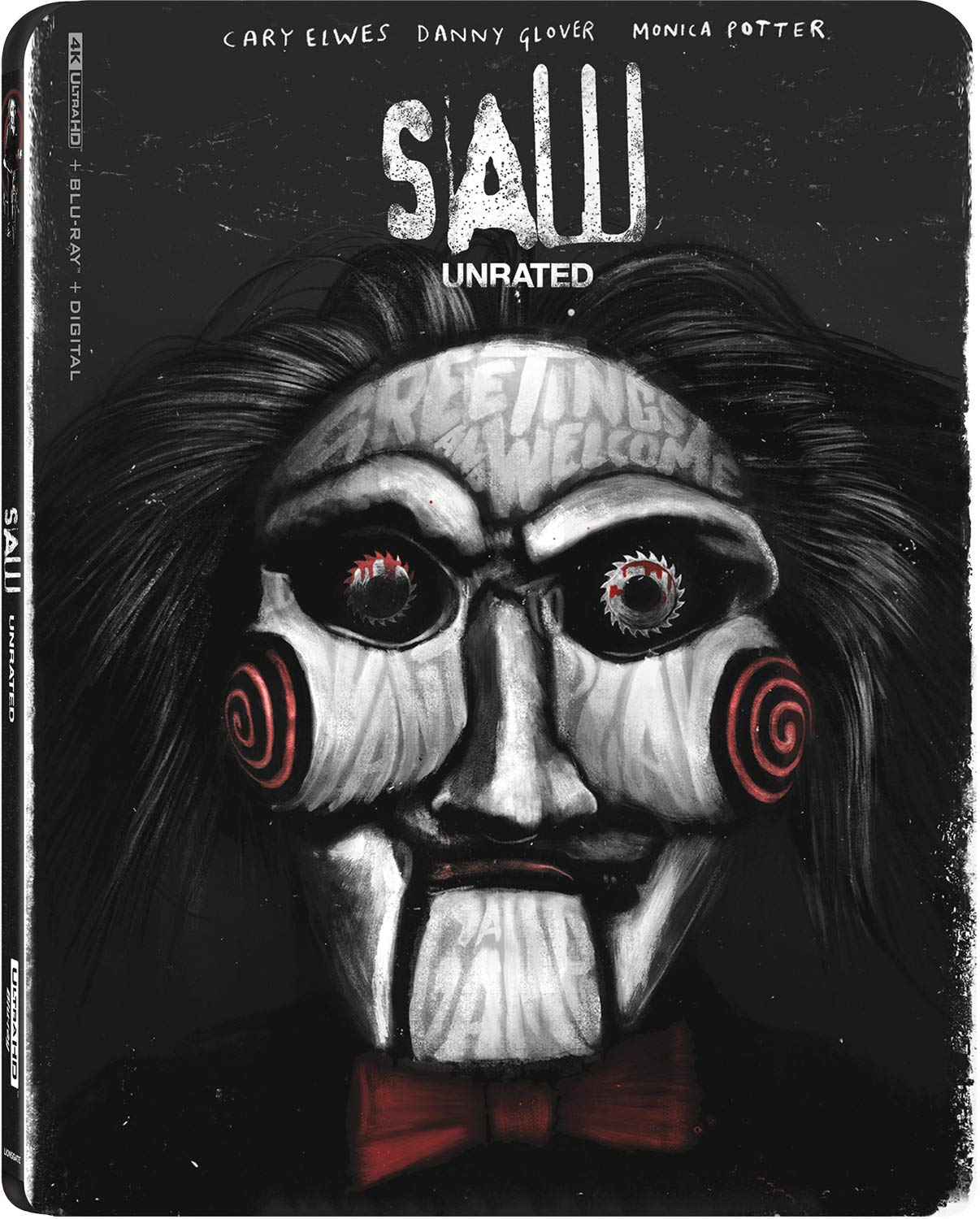 Prince of Darkness 4K (Scream Factory, 4K UHD/Blu Combo)
A group of graduate students and scientists uncover an ancient canister in an abandoned church, but when they open the container, they inadvertently unleash a strange liquid and an evil force on all humanity. As the liquid turns their co-workers into zombies, the remaining members realize they have released the most unspeakable of horrors, Satan himself.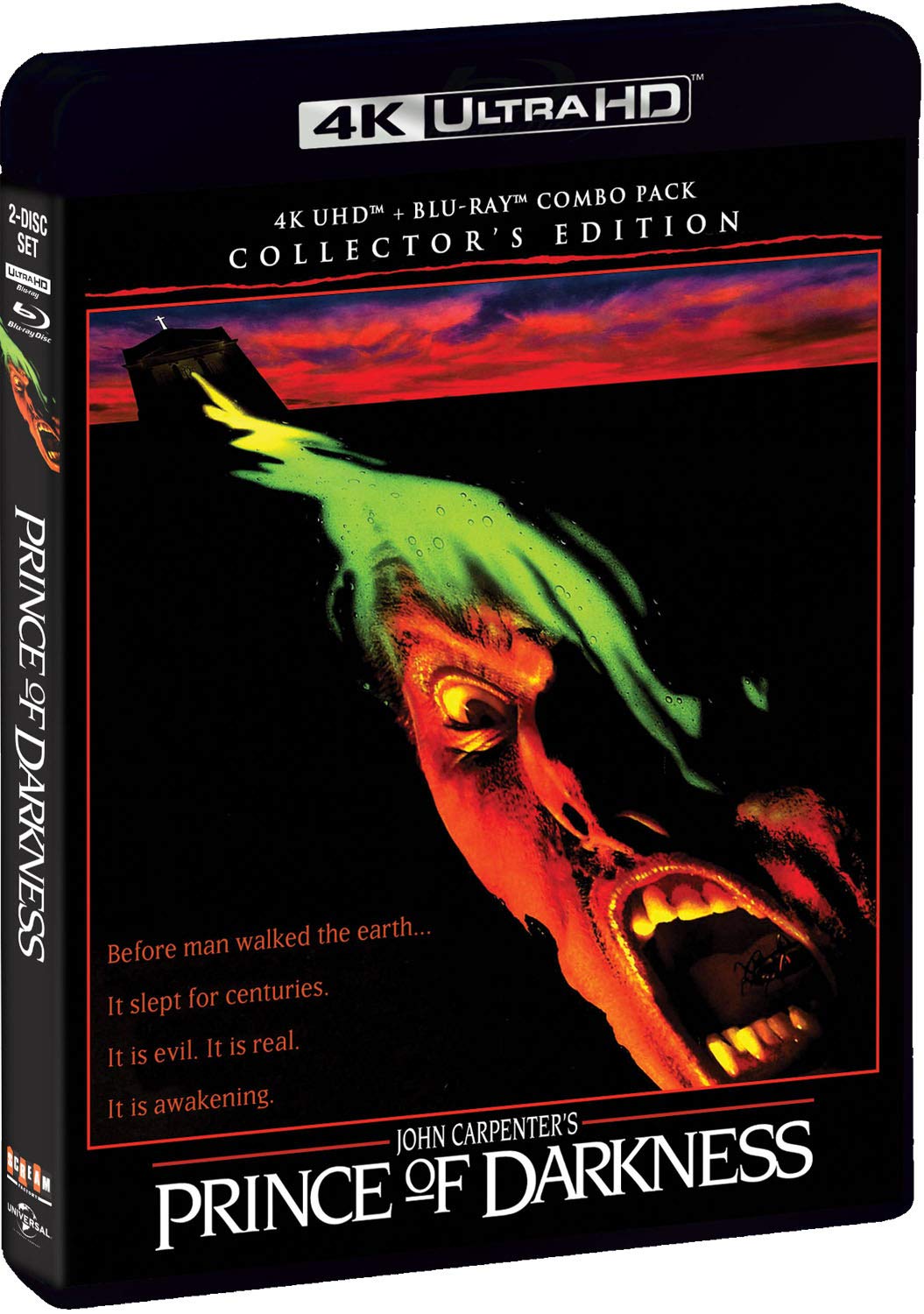 Demons & Demons 2 4K: Limited Edition (Synapse Films, 4K Ultra HD)
DEMONS (1985): A group of random people are invited to a screening of a mysterious movie, only to find themselves trapped in the theater with ravenous demons. 
DEMONS 2 (1986) A group of tenants and visitors are trapped in a 10-story high-rise apartment building infested with demons who proceed to hunt the dwindling humans down.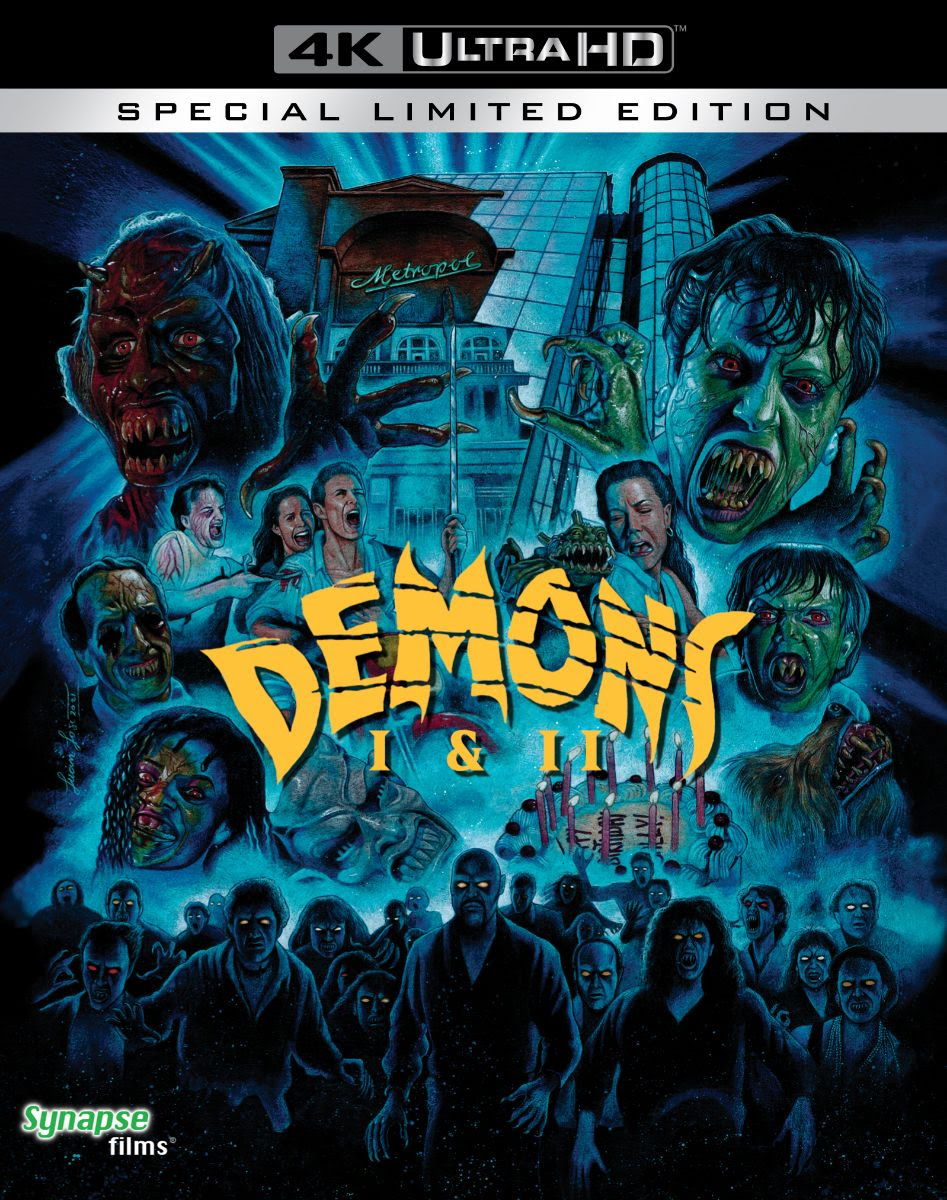 The Thing 4K (Universal Pictures Home Entertainment, 4K Ultra HD/Blu/Digital)
Horror-meister John Carpenter (Halloween, Escape from New York) teams Kurt Russell's outstanding performance with incredible visuals to build this chilling version of the classic The Thing. In the winter of 1982, a twelve-man research team at a remote Antarctic research station discovers an alien buried in the snow for over 100,000 years. Once unfrozen, the form-changing alien wreaks havoc, creates terror and becomes one of them.
Two Evil Eyes 4K (Blue Underground, 4K Ultra HD/Special Features Blu)
The Masters of Modern Horror - George Romero and Dario Argento - bring you an unprecedented pair of shockers inspired by the tales of Edgar Allan Poe. In Romero's The Facts In The Case Of Mr. Valdemar, a conniving wife (Adrienne Barbeau of THE FOG) and her lover use a hypnotic trance to embezzle a fortune from her dying husband, only to receive some chilling surprises from beyond the grave. Then in Argento's The Black Cat, a deranged crime scene photographer (Harvey Keitel of FROM DUSK TILL DAWN) is driven to brutal acts of madness and murder by his girlfriend's new pet. But will this cunning feline deliver a final sickening twist of its own?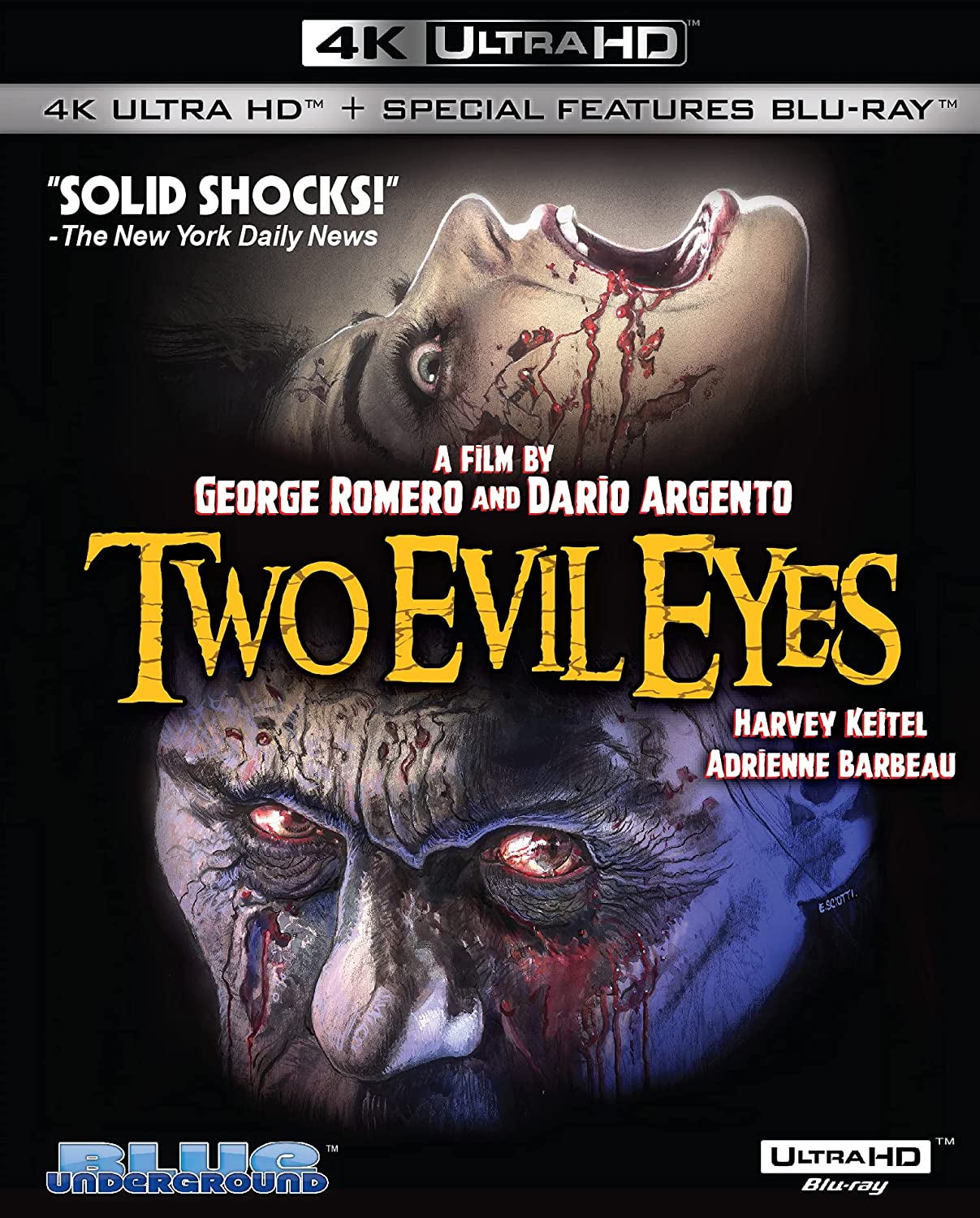 The Hills Have Eyes: Limited Edition 4K (Arrow Video, 4K Ultra HD)
Horror master Wes Craven achieved critical and commercial success with the likes of Scream and A Nightmare on Elm Street – but for many genre fans, the director's seminal 1977 effort The Hills Have Eyes remains his masterpiece.
Taking an ill-advised detour en route to California, the Carter family soon runs into trouble when their campervan breaks down in the middle of the desert. Stranded, the family finds themselves at the mercy of a group of monstrous cannibals lurking in the surrounding hills. With their lives under threat, the Carters have no choice but to fight back by any means necessary.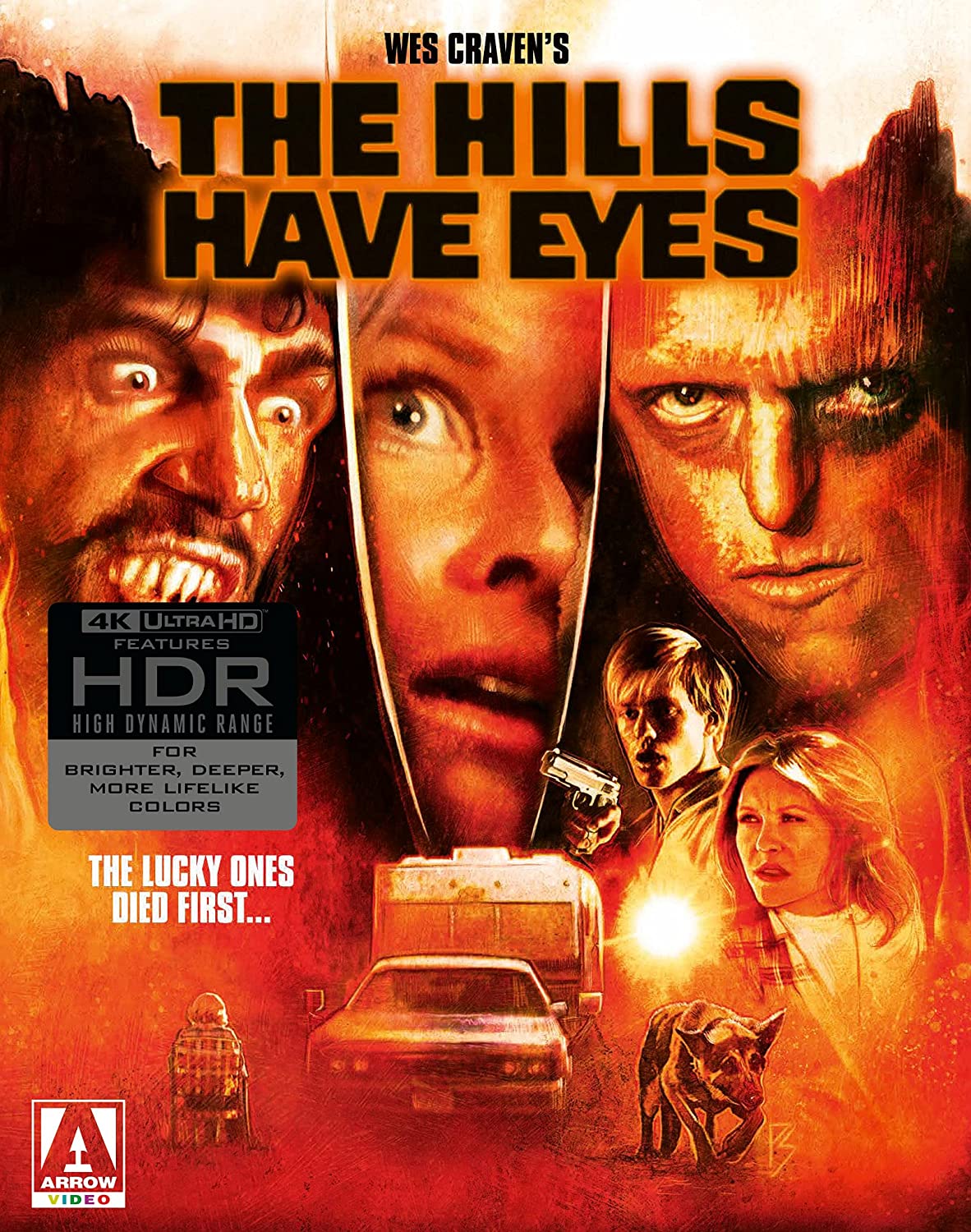 Scott Pilgrim vs. the World 4K (Universal Pictures Home Entertainment, 4K Ultra HD/Blu/Digital)
Meet charming and jobless Scott Pilgrim (Michael Cera). A bass guitarist for garage band Sex Bob-omb, the 22-year-old has just met the girl of his dreams...literally. The only catch to winning Ramona Flowers (Mary Elizabeth Winstead)? Her seven evil exes are coming to kill him. Genre-smashing filmmaker Edgar Wright (Hot Fuzz, Shaun of the Dead) tells the amazing story of one romantic slacker's quest to power up with love in Scott Pilgrim vs. the World.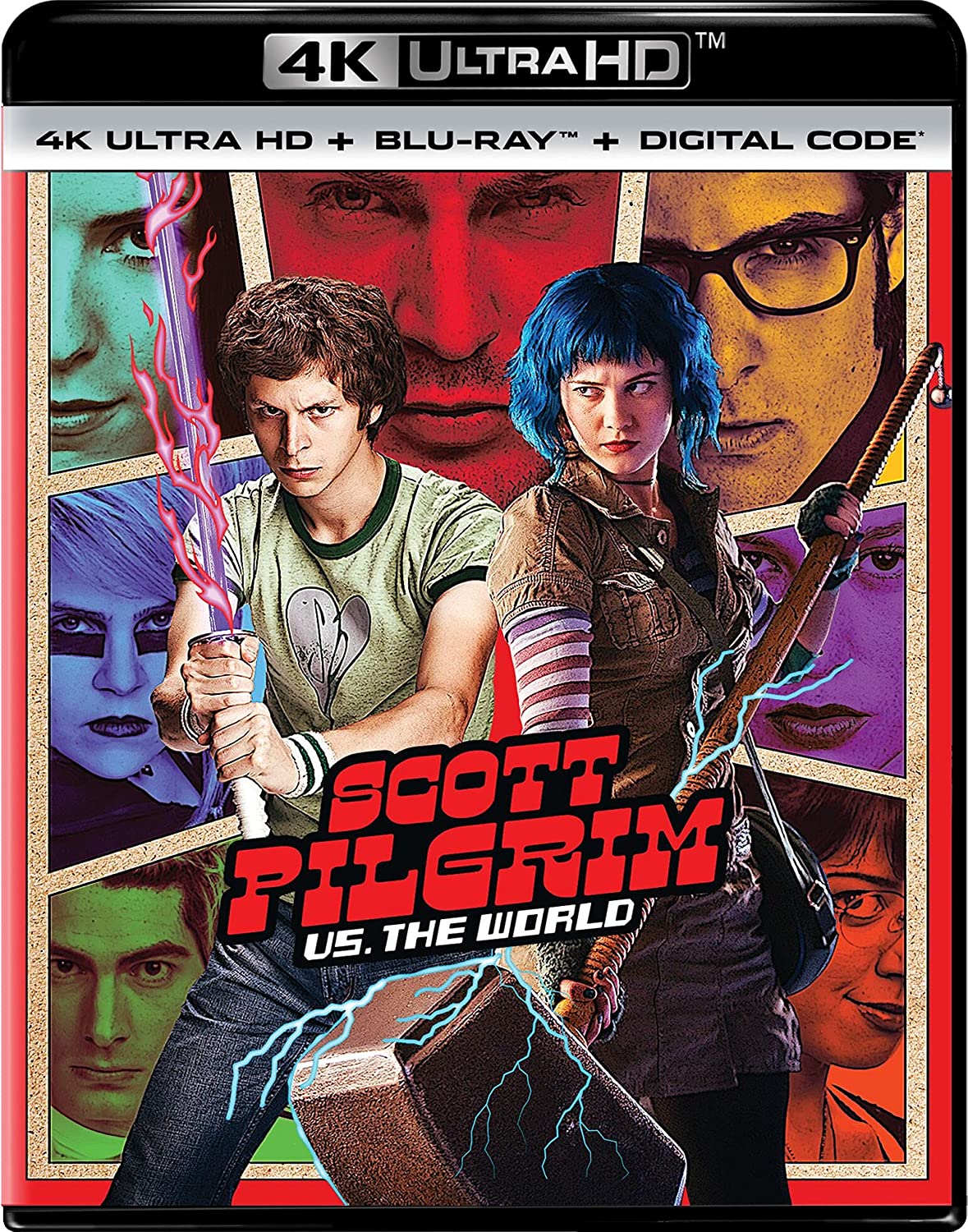 They Live 4K (Scream Factory, 4K UHD/Blu Combo)
They influence our decisions without us knowing it. They numb our senses without us feeling it. They control our lives without us realizing it. They Live. Horror master John Carpenter (Halloween, The Thing) directs this heart-pounding thriller in which aliens are systematically gaining control of the Earth by masquerading as humans and lulling the public into submission. Humanity's last chance lies with a lone drifter who stumbles upon a harrowing discovery—a unique pair of sunglasses that reveals the terrifying and deadly truth.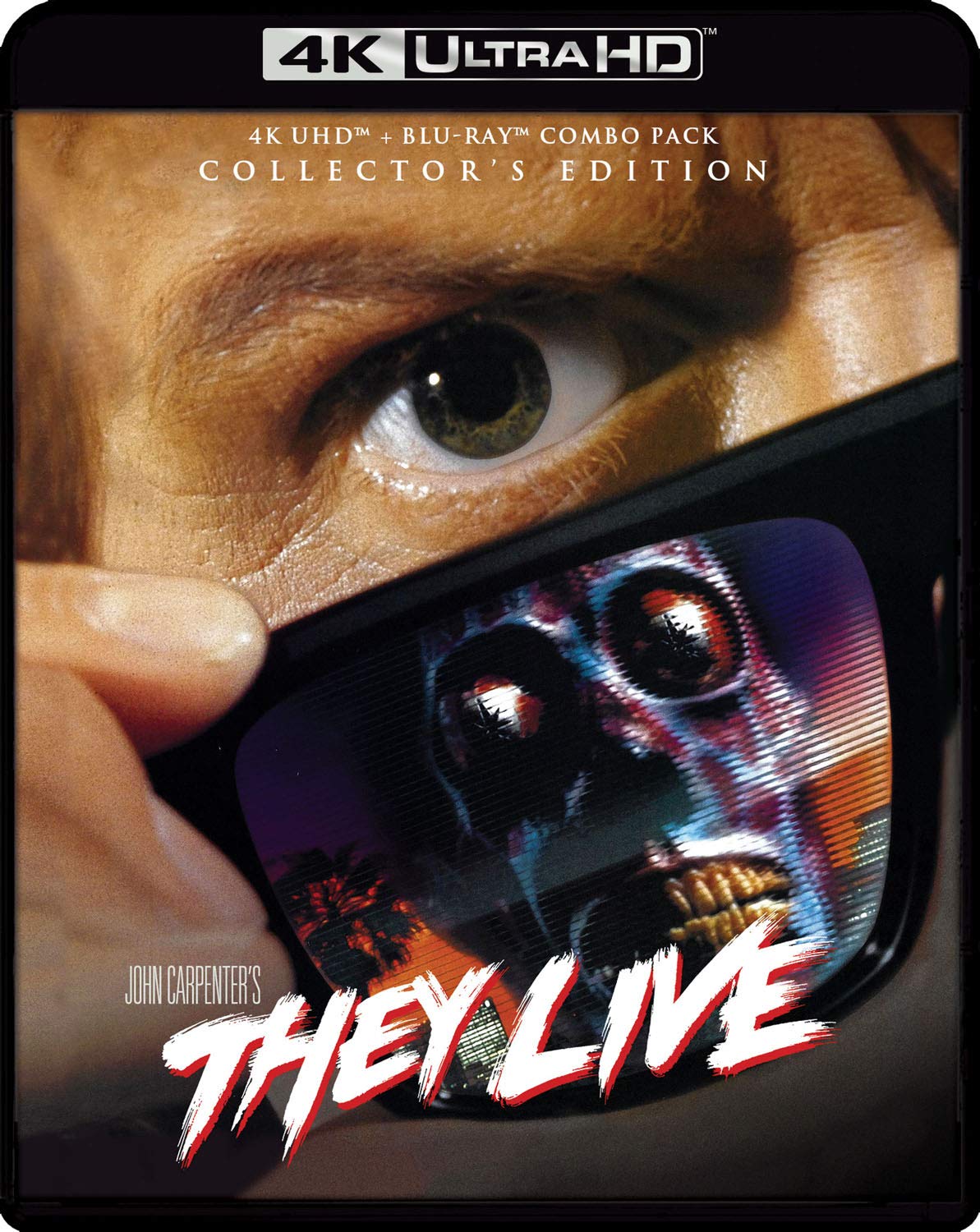 Scream 4K (Paramount Home Entertainment, 4K Ultra HD/Digital)
Neve Campbell leads an all-star cast in this iconic slasher thriller that launched the Scream franchise and breathed new life into the horror genre. After a series of mysterious deaths befalls their small town, an offbeat group of friends led by Sidney Prescott (Campbell) become the target of a masked killer. As the body count rises, Sidney and her friends turn to the "rules" of horror films to help navigate the real-life terror they're living in. Also starring Courteney Cox, David Arquette, Skeet Ulrich, Matthew Lillard, Rose McGowan, and Drew Barrymore, buckle up for an irresistible killer ride!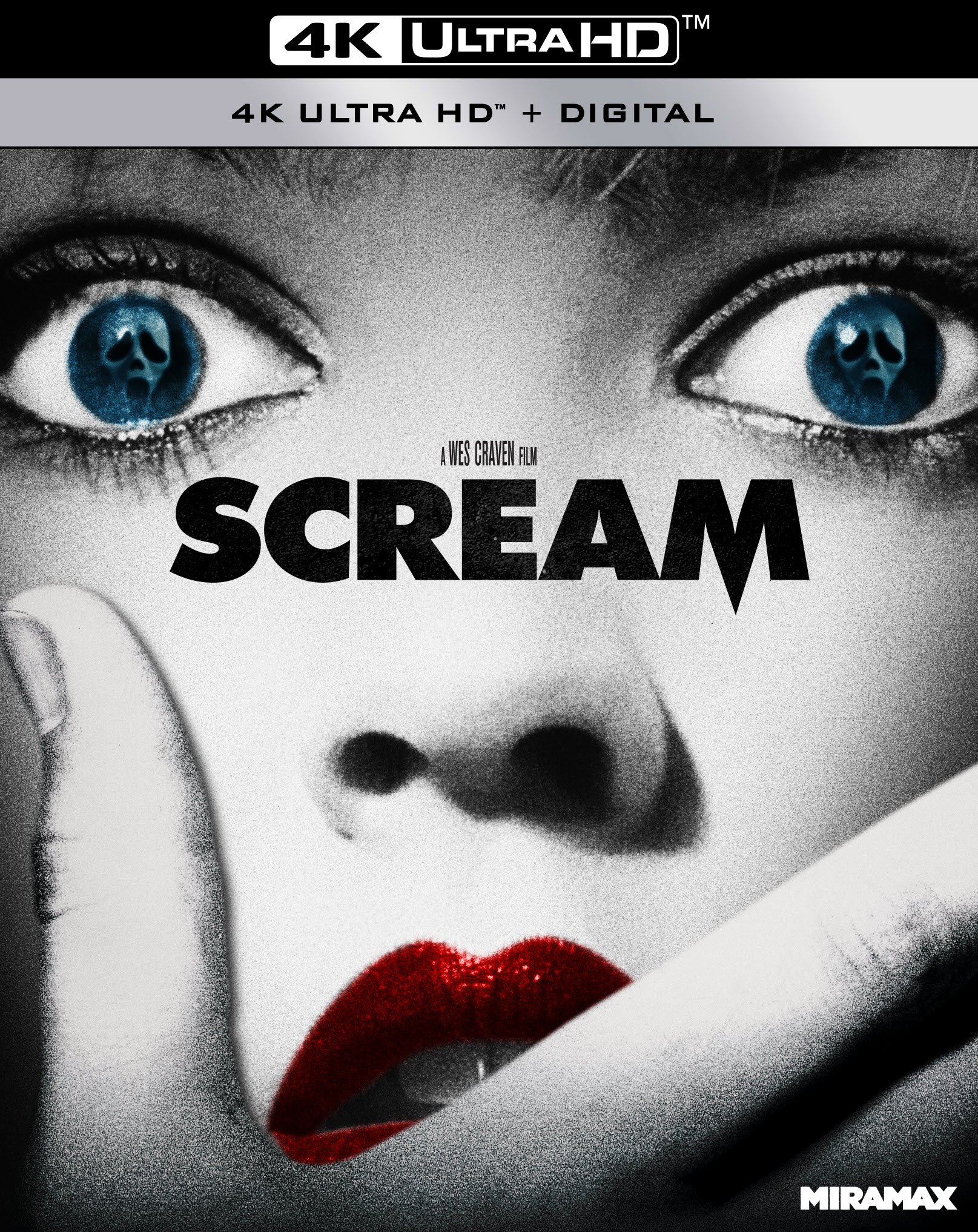 Dead & Buried 4K: 3-Disc Limited Edition (Blue Underground, 4K Ultra HD/Blu/CD Combo)
Something very strange is happening in the quiet coastal village of Potters Bluff, where tourists and transients are warmly welcomed... then brutally murdered. But even more shocking is when these slain strangers suddenly reappear as normal, friendly citizens around town. Now the local sheriff (James Farentino of THE FINAL COUNTDOWN) and an eccentric mortician (Academy Award® winner Jack Albertson of WILLY WONKA & THE CHOCOLATE FACTORY) must uncover the horrific secret of a community where some terrifying traditions are alive and well... and no one is ever really DEAD & BURIED.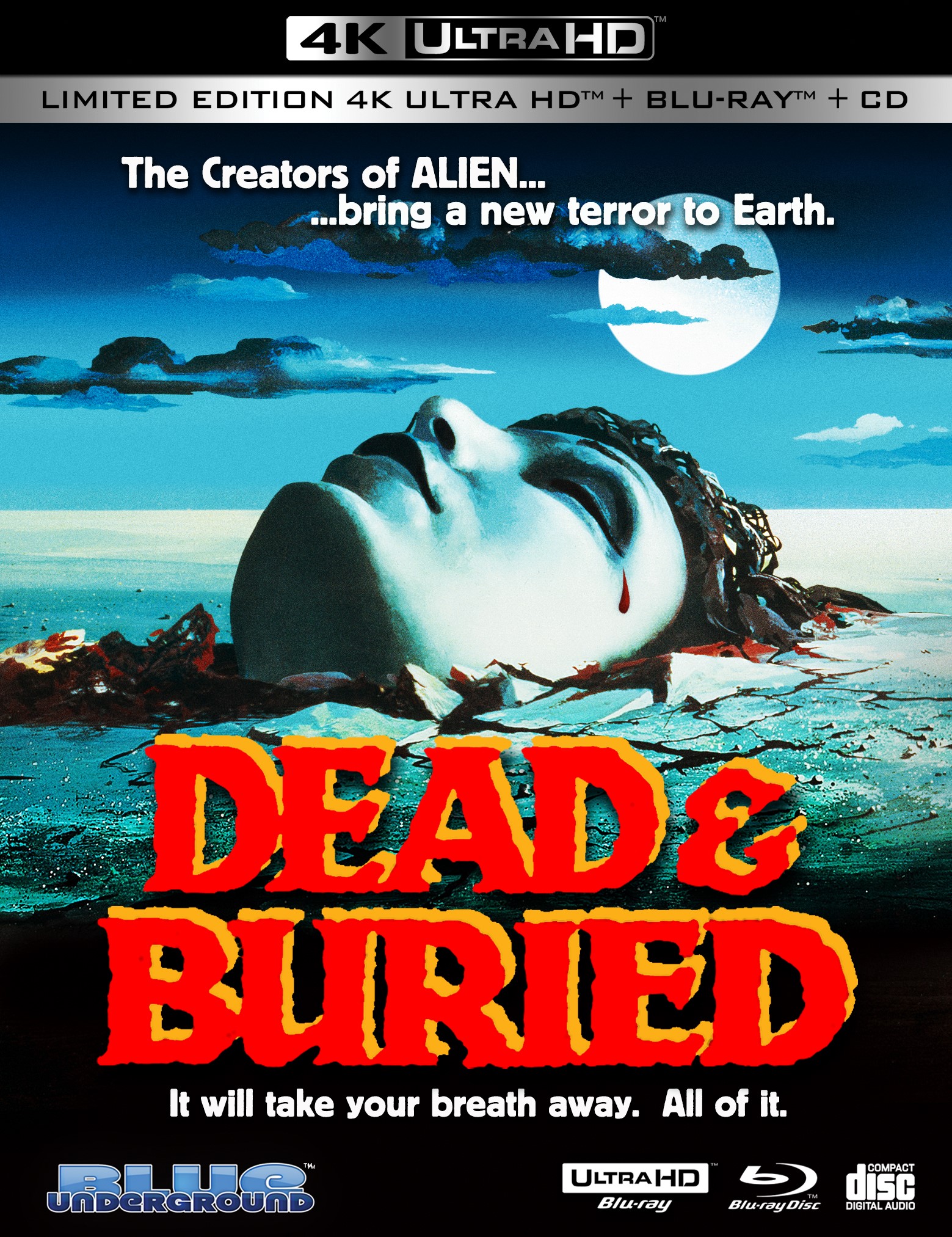 The Bird with the Crystal Plumage: Limited Edition 4K (Arrow Video, 4K Ultra HD)
In 1970, young first-time director Dario Argento (Deep Red, Suspiria) made his indelible mark on Italian cinema with The Bird with the Crystal Plumage - a film which redefined the 'giallo' genre of murder-mystery thrillers and catapulted him to international stardom. Sam Dalmas (Tony Musante, We Own the Night), an American writer living in Rome, inadvertently witnesses a brutal attack on a woman (Eva Renzi, Funeral in Berlin) in a modern art gallery. Powerless to help, he grows increasingly obsessed with the incident. Convinced that something he saw that night holds the key to identifying the maniac terrorizing Rome, he launches his own investigation parallel to that of the police, heedless of the danger to both himself and his girlfriend Giulia (Suzy Kendall, Spasmo)...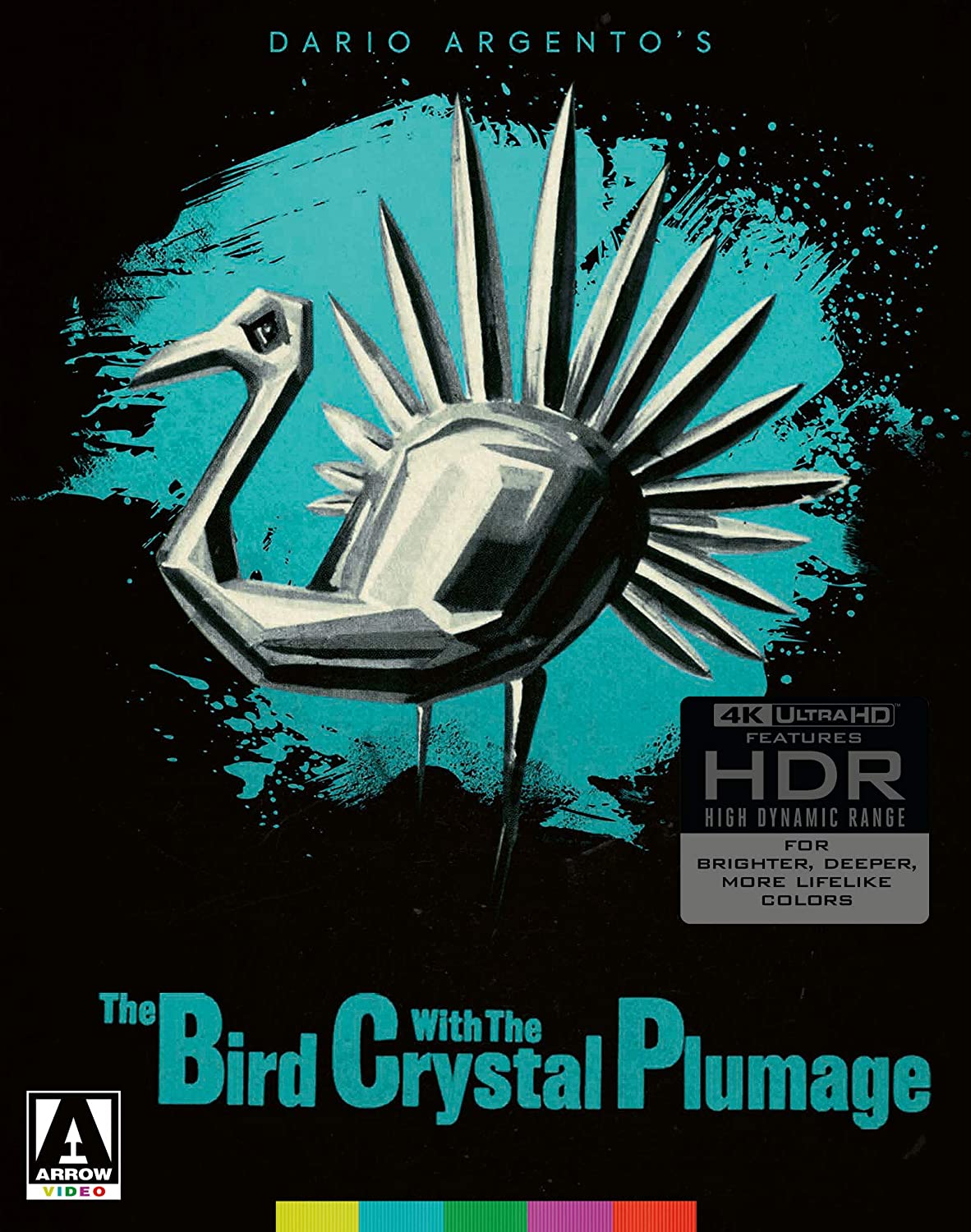 Santa Sangre 4K (Severin Films, 4K Ultra HD/Blu/CD Combo & DVD)
It has been hailed as ''extraordinary'' (The Guardian), ''visionary and haunting'' (Rolling Stone) and ''a grand work of art, full of symbols and imagery that reach beyond language to something primal and original'' (AV Club). Now forget everything you have ever seen as the modern masterpiece from director Alejandro Jodorowsky returns like never before, with 8+ hours of archival & all-new Special Features. Severin Films is proud to present this 4-Disc Deluxe Edition of Jodorowsky's epic odyssey through ecstasy and anguish, belief and blasphemy, beauty and madness - and the surreal genius behind it all - now featuring a 4K scan from the original negative supervised by the director himself.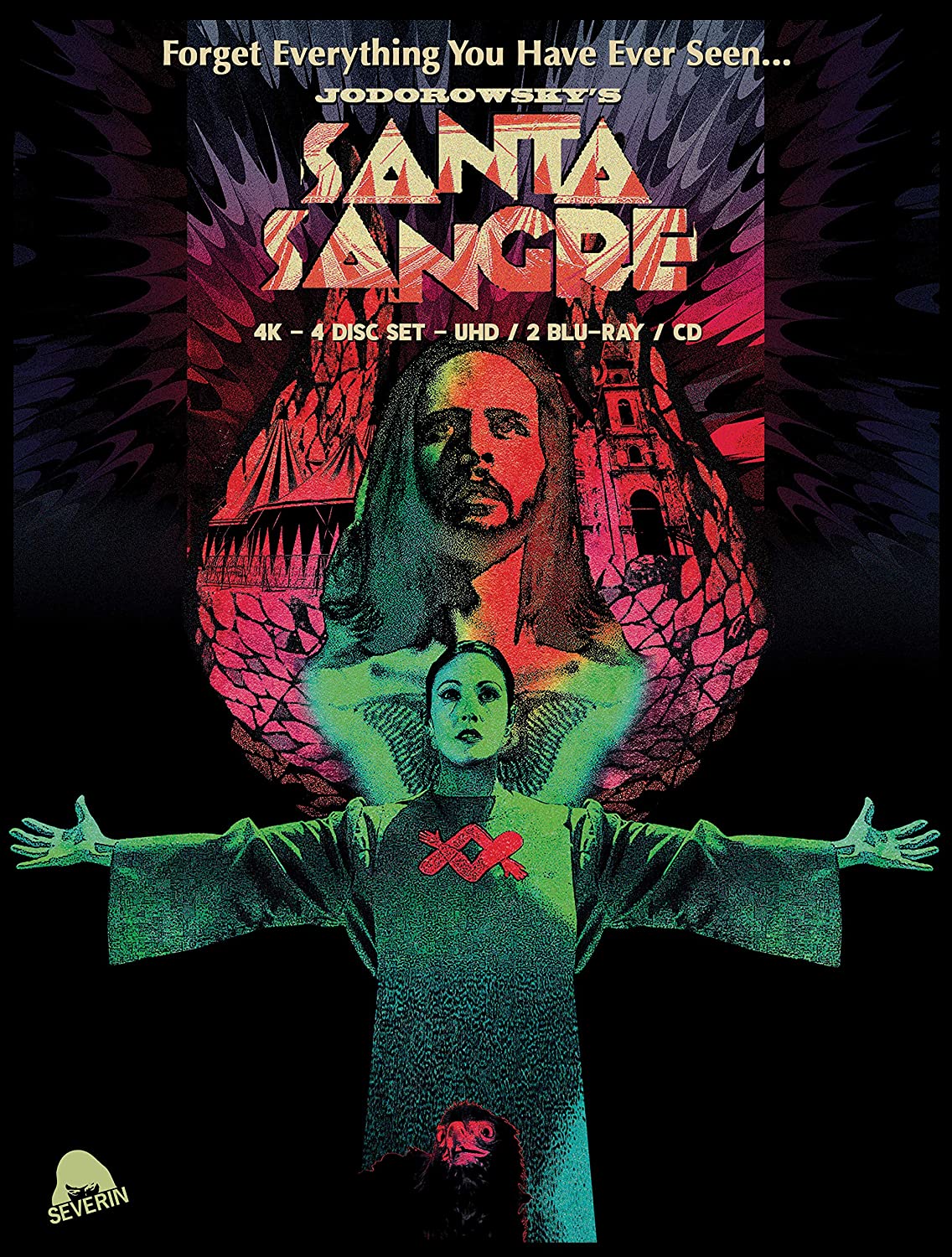 The Silence of the Lambs 4K (Kino Lorber, 4K Ultra HD)
Screen legends Jodie Foster and Anthony Hopkins deliver sensational, Oscar-winning performances in this spellbinding thriller based on the bestselling novel by Thomas Harris (Red Dragon, Hannibal). A psychopath nicknamed Buffalo Bill (Ted Levine, Heat) is murdering women across the Midwest. Believing it takes one to know one, the FBI sends trainee Clarice Starling (Foster, The Accused) to interview a demented prisoner who may provide clues to the killer's actions. That prisoner is psychiatrist Dr. Hannibal Lecter (Hopkins, Nixon), a brilliant, diabolical cannibal who agrees to help Starling only if she'll feed his morbid curiosity with details of her own complicated life. As their relationship develops, Starling is forced to confront not only her own hidden demons, but also an evil so powerful that she may not have the courage—or strength—to stop it!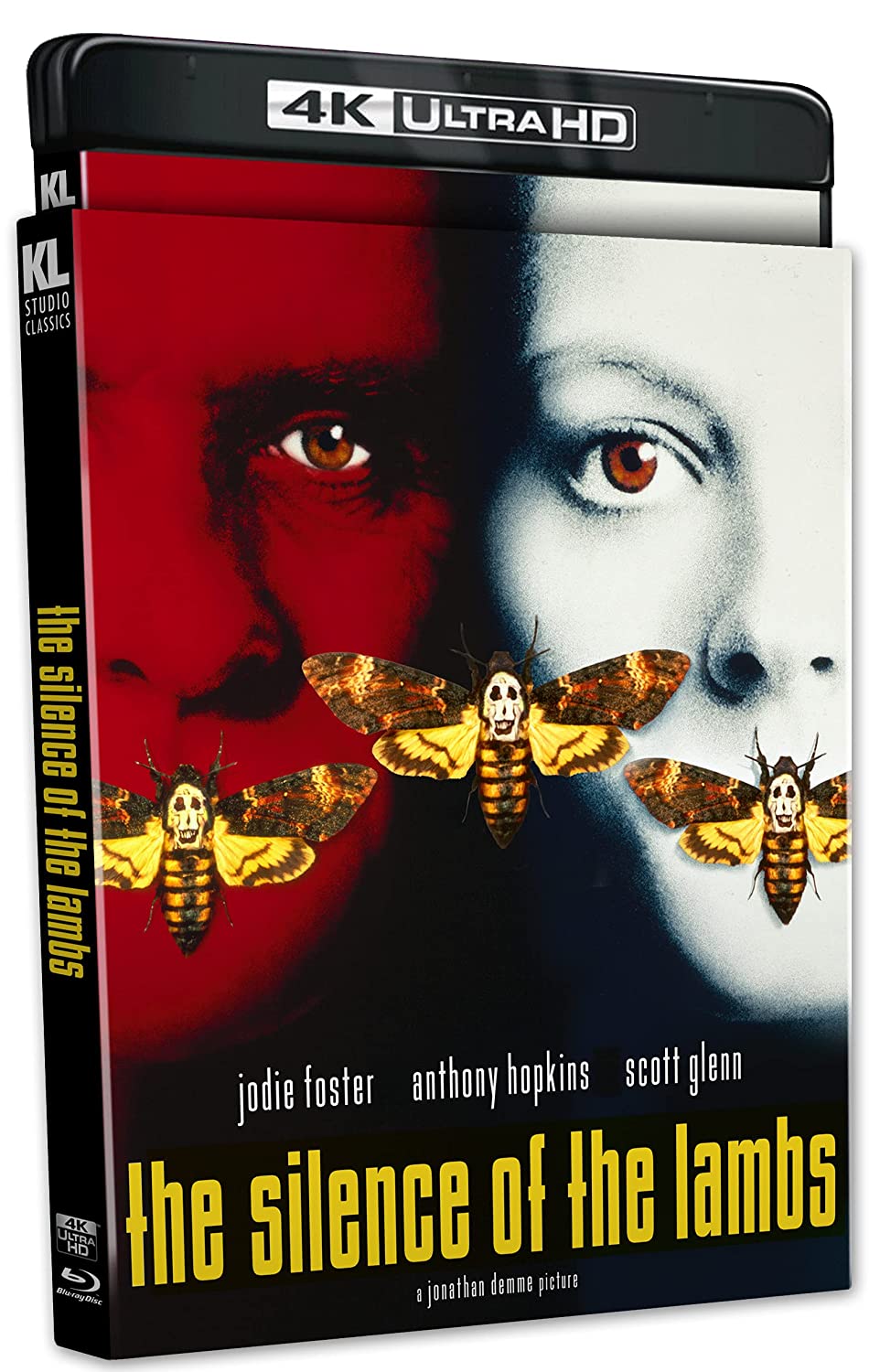 The Birds 4K (Universal Pictures Home Entertainment, 4K Ultra HD/Blu Combo)
Alfred Hitchcock's The Birds is an unforgettable masterpiece that is considered one of the most terrifying films from the Master of Suspense. When beautiful, blonde Melanie Daniels (Tippi Hedren) travels to Bodega Bay in pursuit of eligible bachelor Mitch Brenner (Rod Taylor), she is inexplicably attacked by a seagull. Suddenly, thousands of birds begin to flock into town, preying on schoolchildren and residents in a terrifying series of attacks. Mitch and Melanie must fight for their lives against a deadly force that cannot be explained or stopped in this film that makes you want to "hold onto something and watch!" (Leonard Maltin's Classic Movie Guide).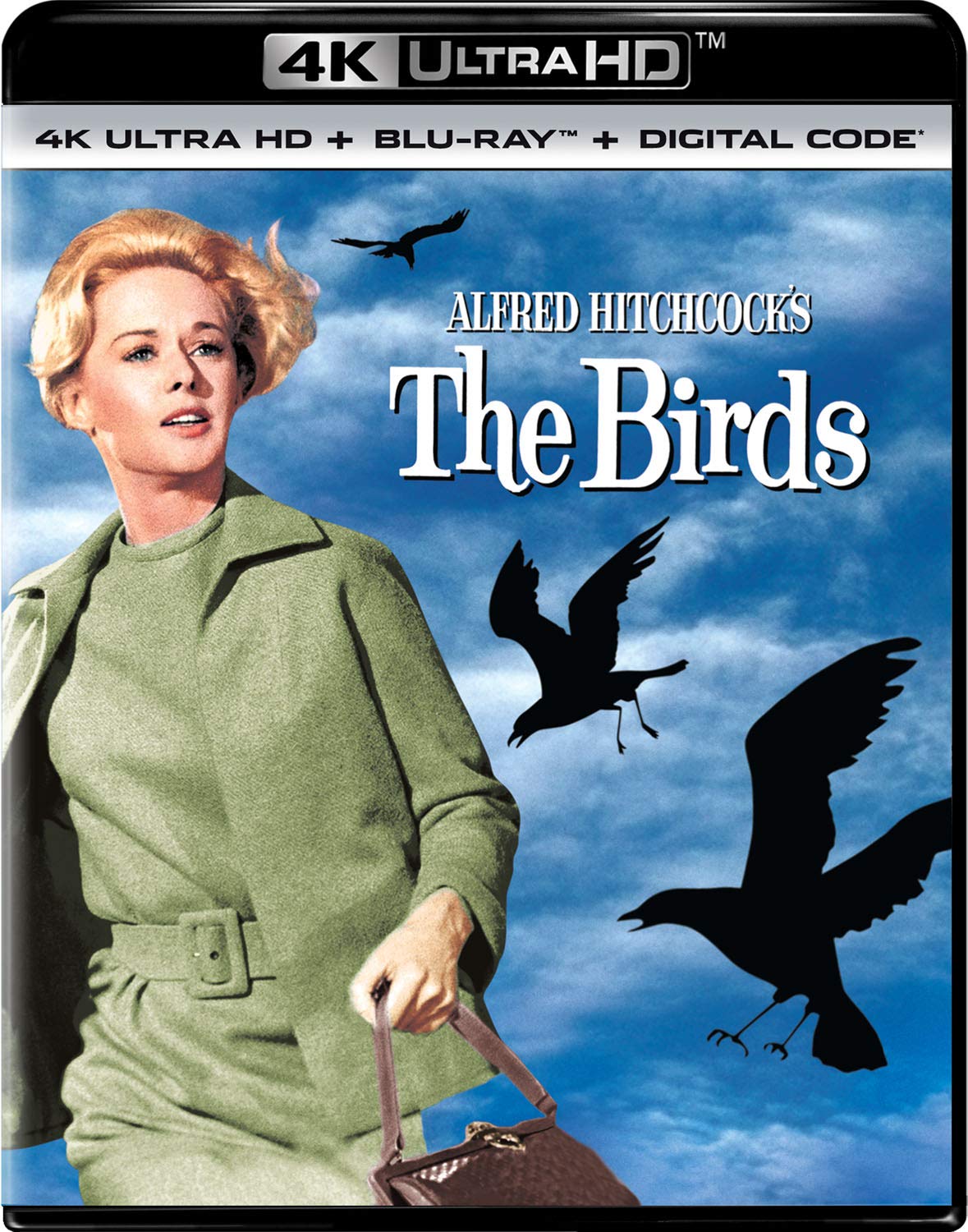 Halloween (1978) 4K (Scream Factory, 4K Ultra HD/Blu)
On a black and unholy Halloween night years ago, little Michael Myers brutally slaughtered his sister in cold blood. For the last fifteen years, the people of Haddonfield have rested easily, knowing that Michael was safely locked away in a mental hospital ... until tonight. Michael has escaped and he will soon return to the same quiet neighborhood to relive his grisly murder again. For this is a night of evil. Tonight is Halloween.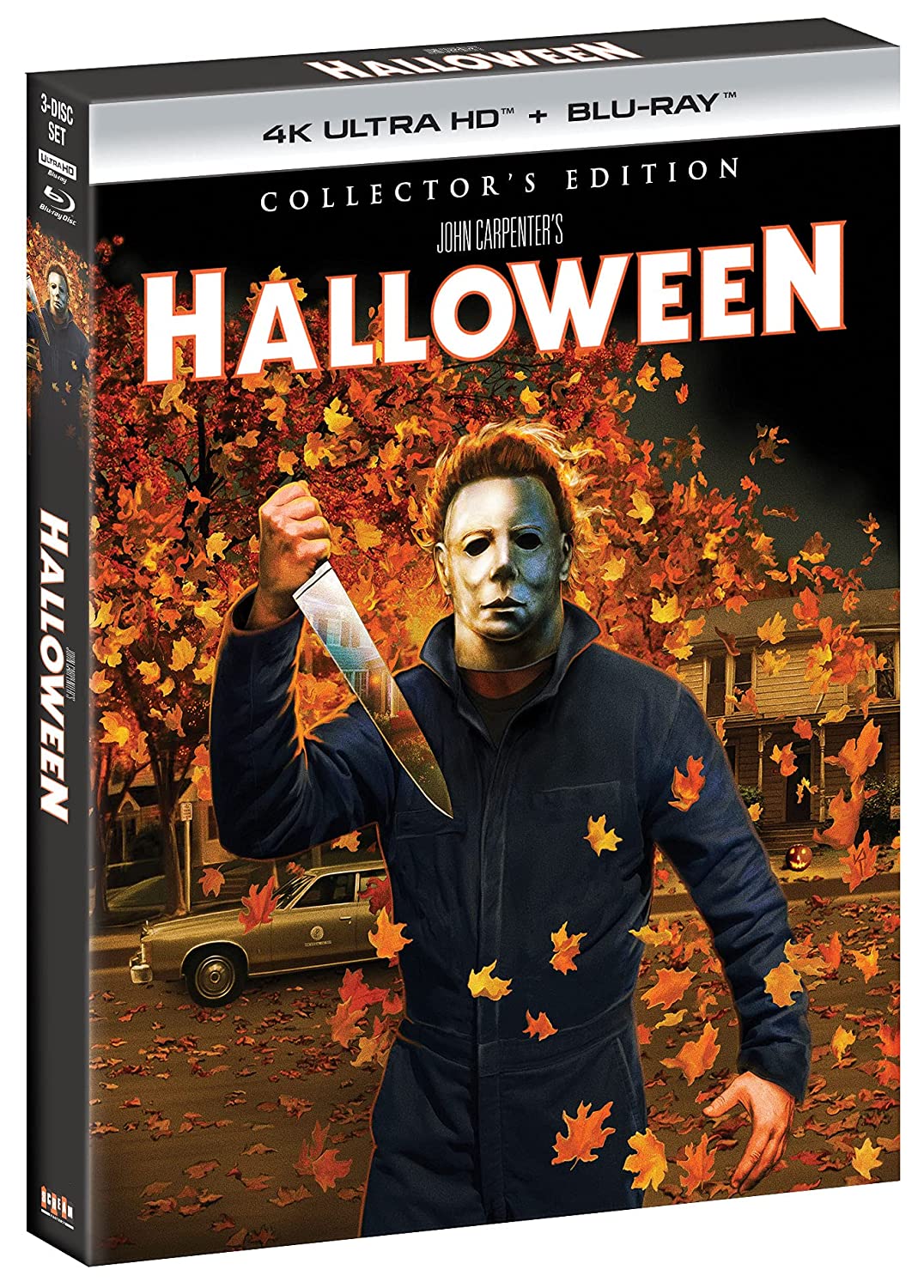 Halloween II (1981) 4K (Scream Factory, 4K Ultra HD/Blu/DVD)
Picking up exactly where the first film left off, Halloween II follows the same ill-fated characters as they encounter the knife-wielding maniac they left for dead in the first film. The inhuman Michael Myers is still very much alive and out for more revenge as he stalks the deserted halls of the Haddonfield hospital. As he gets closer to his main target, Dr. Loomis (Donald Pleasence) discovers the chilling mystery behind the crazed psychopath's actions. Written by John Carpenter and Debra Hill, Halloween II is a spine-tingling dark ride into the scariest night of the year.
Halloween III: Season of the Witch 4K (Scream Factory, 4K Ultra HD/Blu)
A terrified toy salesman is mysteriously attacked. At the hospital, he babbles and clutches the year's most popular Halloween costume, an eerie pumpkin mask. Suddenly, Doctor Daniel Challis (Tom Atkins, The Fog, Night Of The Creeps) finds himself thrust into a terrifying Halloween nightmare. Working with the salesman's daughter, Ellie, Daniel traces the mask to the Silver Shamrock Novelties company and its founder, Conal Cochran (Dan O'Herlihy, RoboCop).
Ellie and Daniel uncover Cochran's shocking Halloween plan and must stop him before trick-or-treaters across the country never come home in this terrifying thriller from writer/director Tommy Lee Wallace (Stephen King's IT).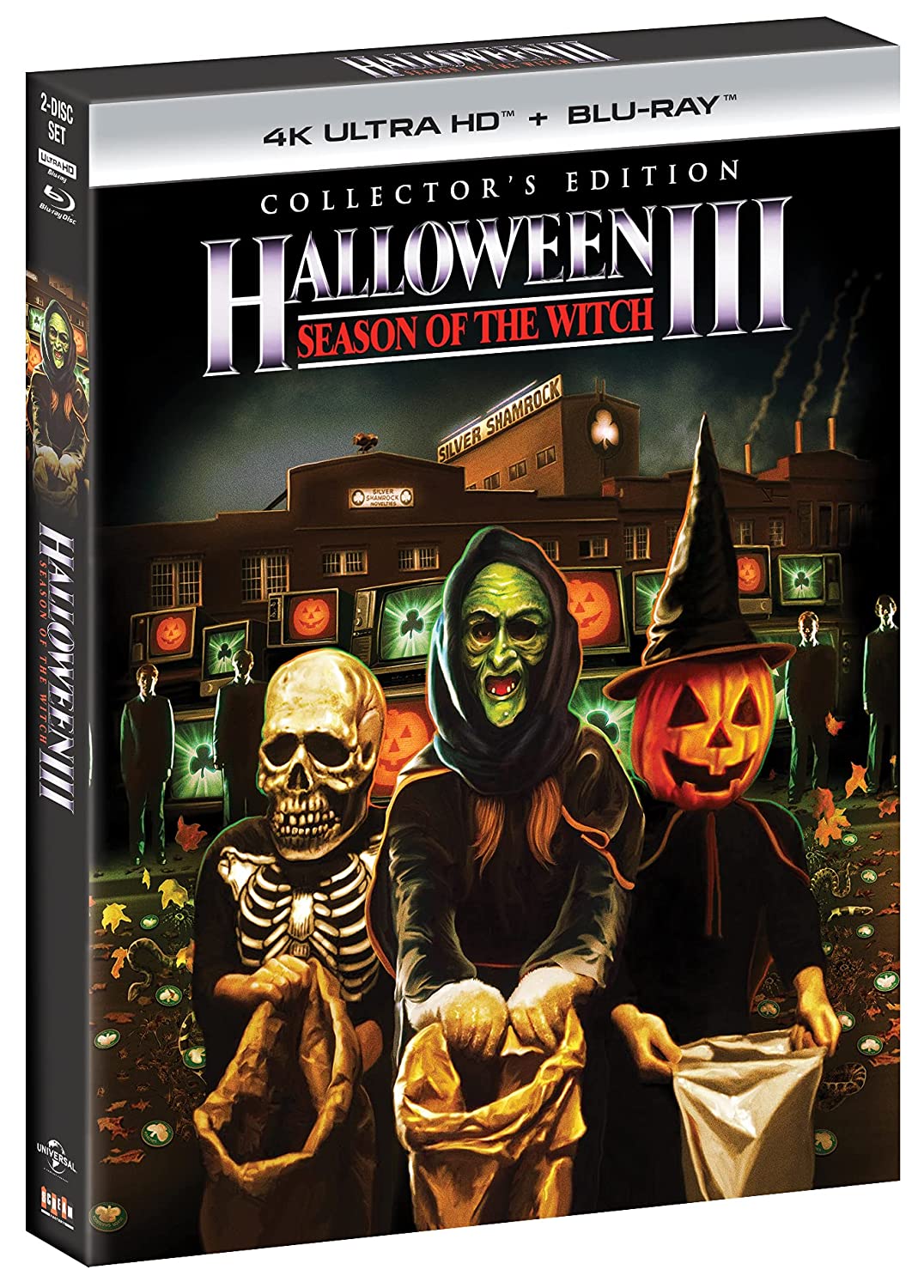 Halloween 4: The Return of Michael Myers 4K (Scream Factory, 4K Ultra HD/Blu)
He butchered 16 people trying to get to his sister. He was shot and incinerated, but still the entity that Dr. Sam Loomis (the legendary Donald Pleasence) calls "Evil on two legs" would not die. Tonight, Michael Myers has come home again ... to kill! This time, Michael returns to Haddonfield for Jamie Lloyd (Danielle Harris, 2009's Halloween II, The Last Boy Scout) – the orphaned daughter of Laurie Strode – and her babysitter Rachel (Ellie Cornell, Halloween 5: The Revenge Of Michael Myers, House Of The Dead). Can Loomis stop Michael before the unholy slaughter reaches his innocent young niece?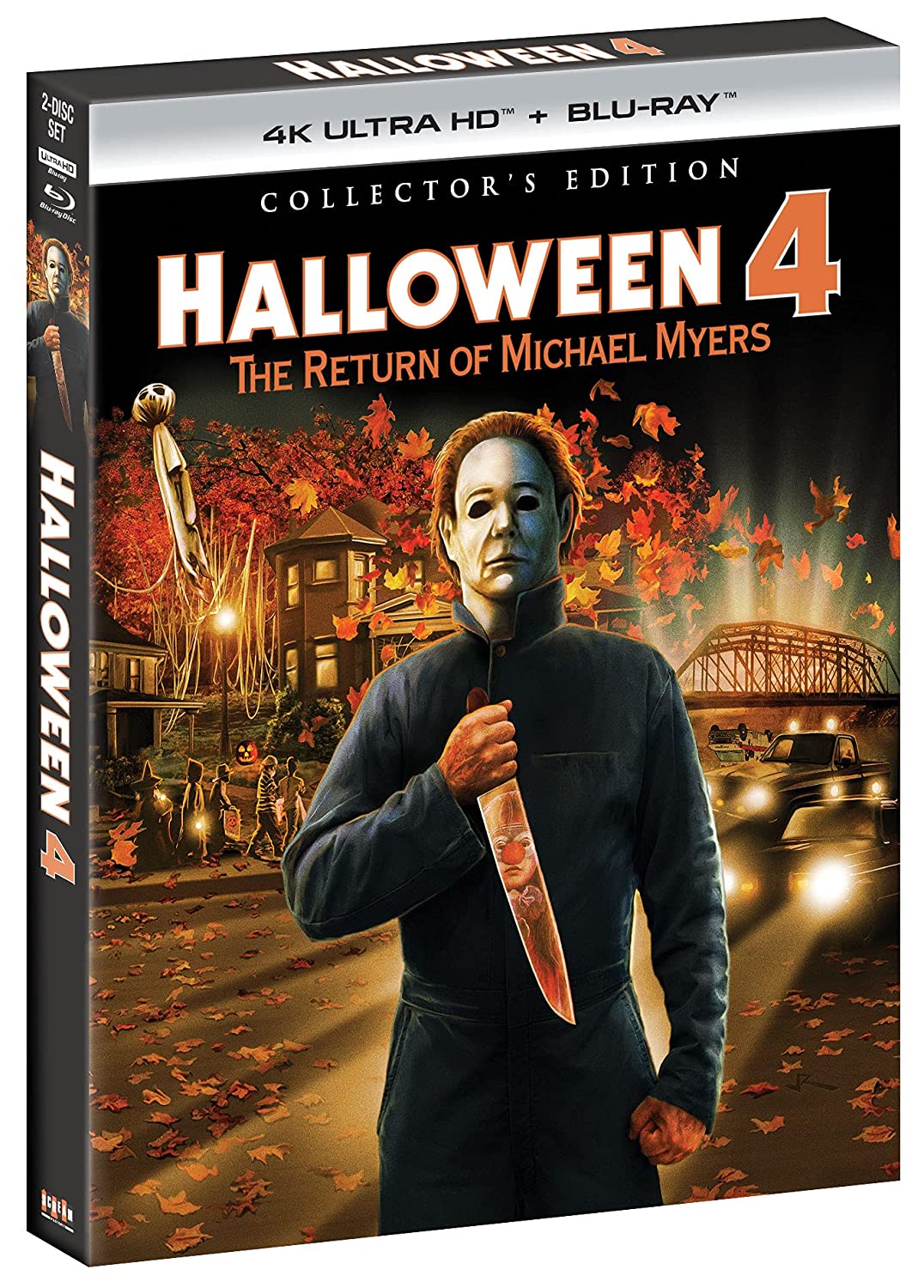 Halloween 5: The Revenge of Michael Myers 4K (Scream Factory, 4K Ultra HD/Blu)
Because Hell would not have him, Michael Myers survived the mine explosion thought to have killed him. One year later, his traumatized young niece Jamie (Danielle Harris, Rob Zombie's Halloween) is horrified to discover she has a telepathic bond with her evil uncle ... and that Uncle Michael is on his way back to Haddonfield. But Dr. Loomis (the legendary Donald Pleasence) has a new plan to destroy The Boogey Man in his childhood home using Jamie as bait. Tonight, the carnage begins again: Michael Myers is back with a vengeance! Ellie Cornell and Beau Starr return for this hit sequel that features grisly gore by K.N.B. EFX Group (The Walking Dead, Army Of Darkness).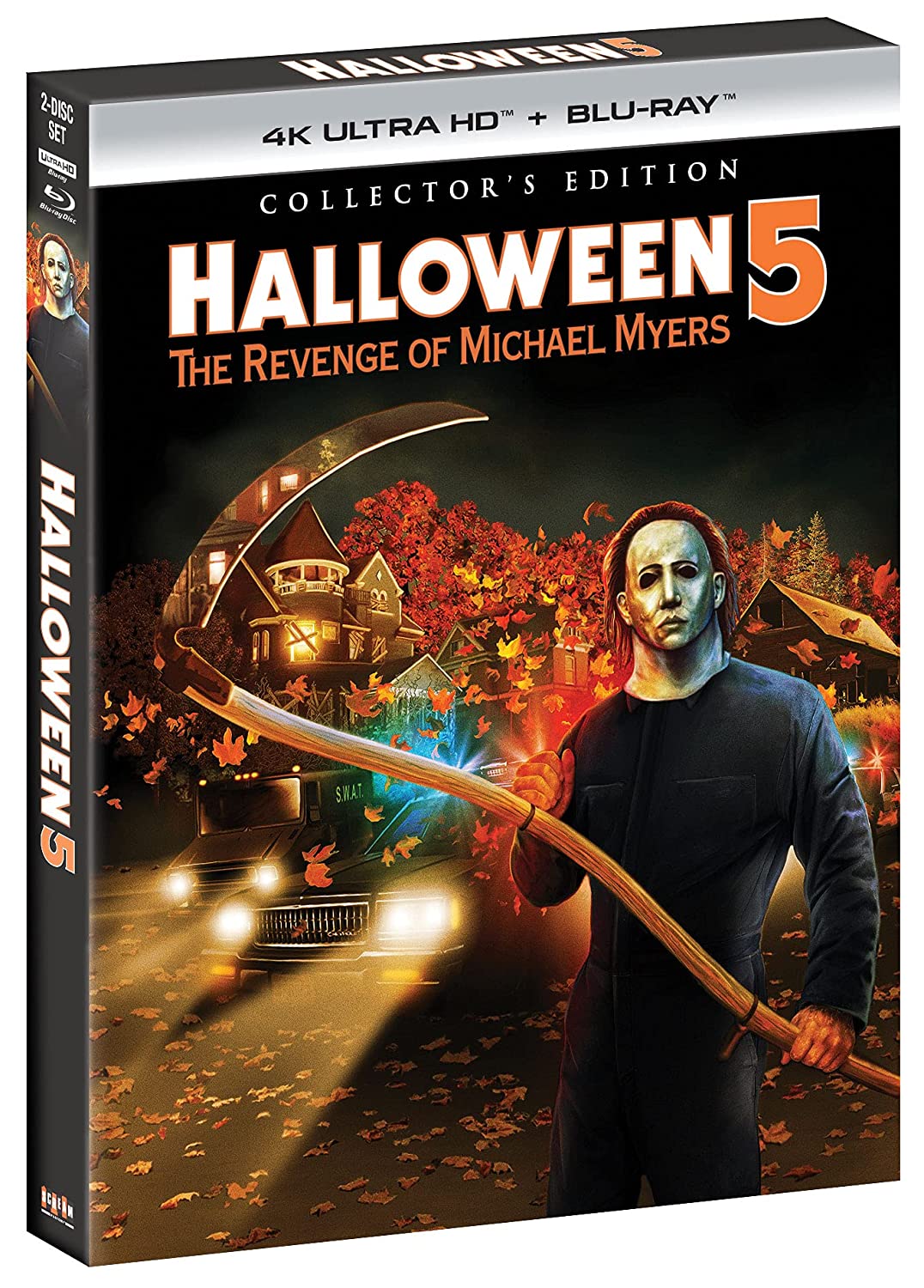 Deep Red 4K (Arrow Films, 4K Ultra HD)
From Dario Argento, maestro of the macabre and the man behind some of the greatest excursions in Italian horror (Suspiria, The Bird with the Crystal Plumage), comes Deep Red – the ultimate giallo movie.
One night, musician Marcus Daly (David Hemmings, Blow Up), looking up from the street below, witnesses the brutal axe murder of a woman in her apartment. Racing to the scene, Marcus just manages to miss the perpetrator… or does he? As he takes on the role of amateur sleuth, Marcus finds himself ensnared in a bizarre web of murder and mystery where nothing is what it seems…