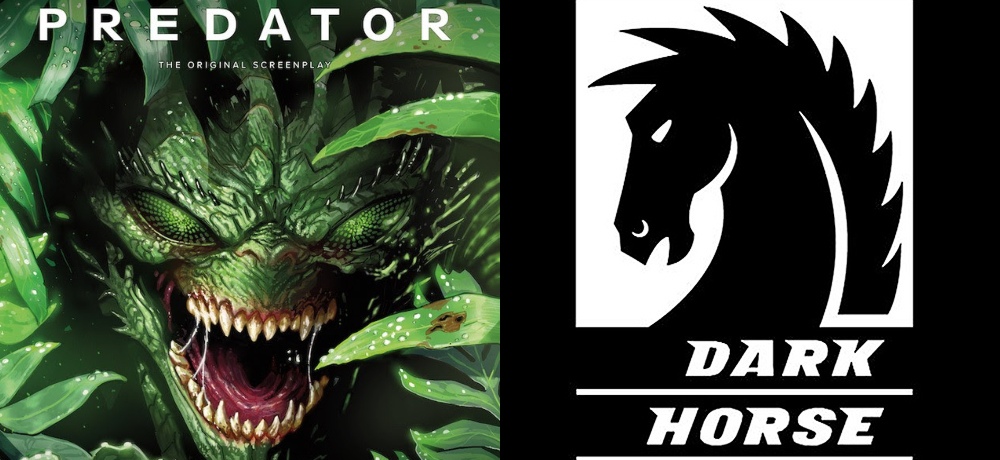 Following their announcement in January that they're adapting Dan O'Bannon's original Alien screenplay into a five-issue comic book series, Dark Horse Comics has now announced that they're also teaming up with Twentieth Century Fox to give the same ambitious treatment to the original screenplay for 1987's Predator.
Written by Jeremy Barlow and based on James E. Thomas and John C. Thomas' 1984 script Hunters, Predator: The Original Screenplay will be a five-issue series featuring artist Patrick Blaine and inker Andy Owens. The first issue will be released on June 10th.
We have the official press release with more details below, as well as the cover art for the first issue of Predator: The Original Screenplay, and be sure to visit Dark Horse Comics' website for more information on all of their projects.
Press Release: MILWAUKIE, Ore., (February 19, 2020)—Before there was Predator, there was Hunters. Now, Dark Horse Comics and Twentieth Century Fox invite you to experience that story in Predator: The Original Screenplay. Adapted from James E. Thomas and John C. Thomas' 1984 screenplay Hunters, writer Jeremy Barlow (Alien vs. Predator: Thicker Than Blood, Star Wars: Empire), artist Patrick Blaine (Star Wars: Empire, Witchblade), and inker Andy Owens (Tomb Raider, Ghost) bring the original story to brutal life.

In Predator: The Original Screenplay, a team of military specialists are on a rescue mission in the jungles of Central America. The details of the mission are classified, but the team soon uncovers a trail of lies and deceit. Something is observing them—tracking their every move. The hunt has begun!

Predator: The Original Screenplay #1 (of five) goes on sale June 10, 2020, and is available for pre-order at your local comic shop. "The Original Screenplay" stories (Alien 3 and Alien) are a line of books which present alternate storylines and events for the now classic sci-fi motion picture masterpieces.

About Dark Horse Comics:

Founded in 1986 by Mike Richardson, Dark Horse Comics is an excellent example of how integrity and innovation can help broaden a unique storytelling medium and transform a company with humble beginnings into an industry giant. Under a new partnership with Vanguard Visionary Associates, Dark Horse is positioned to further expand its reach globally with publishing, products, and filmed entertainment. Over the years, Dark Horse has published the work of creative legends such as Yoshitaka Amano, Margaret Atwood, Paul Chadwick, Geof Darrow, Will Eisner, Neil Gaiman, Dave Gibbons, Faith Erin Hicks, Kazuo Koike, Matt Kindt, Jeff Lemire, Mike Mignola, Frank Miller, Moebius, Chuck Palahniuk, Wendy Pini, and Gerard Way. In addition, Dark Horse has a long tradition of establishing exciting new creative talent throughout all of its divisions. The company has also set the industry standard for quality licensed comics, graphic novels, collectibles, and art books, including Aliens, Stranger Things, Avatar: The Last Airbender, The Legend of Korra, Predator, Minecraft, The Legend of Zelda, Super Mario, Dragon Age, James Cameron's Avatar, Game of Thrones, Mass Effect, StarCraft, The Witcher, and Halo. Today, Dark Horse Comics is one of the world's leading entertainment publishers.