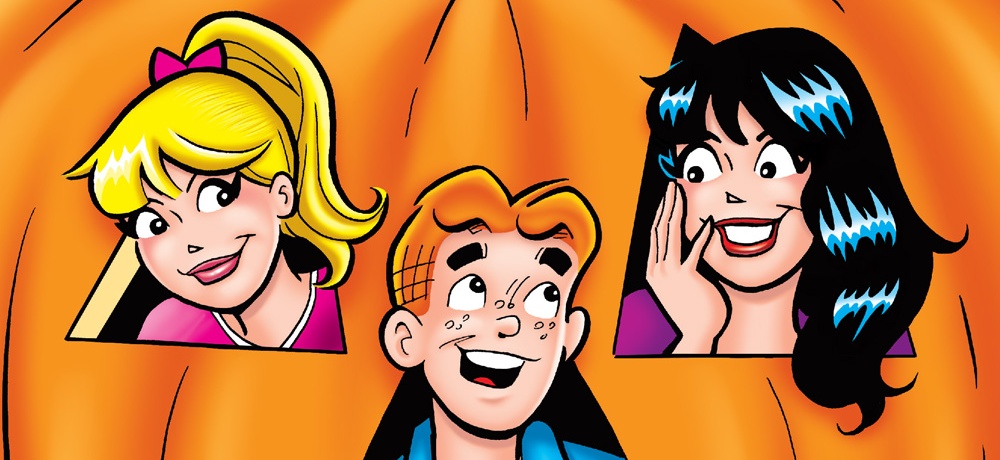 You're likely well aware of the the excellent line of adult Archie horror comics, including Chilling Adventures of Sabrina and Afterlife with Archie, but they also release classic-style Halloween stories for kids of all ages every fall. Earlier this autumn, we gave Daily Dead readers an exclusive preview of Betty & Veronica Friends Forever: Halloween Spooktacular #1, Betty & Veronica Jumbo Comics Digest #297, and World of Archie Jumbo Comics Digest #113.
With the spooky season now in full swing, we're back with an exclusive preview of Archie Halloween Spectacular #1, featuring the new story "Pumpkin Problemo" that guest stars Sabrina Spellman!
Along with a 2-page tease of the new story, we have also have the reprint story "Season of the Witch" (featuring Betty, Veronica, Archie, and Jughead) that you can in its entirety read below!
Additionally, Bill Galvan, one of the artists on "Season of the Witch," is celebrating 15 years working at Archie Comics. Here's what Bill had to say about his treasured time bringing Riverdale and its beloved characters to life:
"I can't believe it's been 15 years since I started drawing for Archie Comics! I am so incredibly grateful that I've been able to contribute to the Archie legacy and work on characters that I grew up with. Riverdale has always been my comic book home!"
"ARCHIE HALLOWEEN SPECTACULAR #1
We're kicking off this hauntingly hilarious collection of Archie tales with a BRAND NEW STORY! In "Pumpkin Problem-o," when Archie unknowingly rebuffs a witch friend of Sabrina's he wakes up Halloween morning with a Jack-o-lantern head complete with the cross hatching on the side! Even worse, he can't convince anyone it's real and not a costume! Will our pumpkin-headed friend turn back to a teen before midnight—or will he forever be stuck as an Arch-o-lantern? All that and more in this frightfully fun Halloween special!
Script: Bill Golliher
Art: Bill Galvan, Jim Amash, Glenn Whitmore, Jack Morelli
Cover: Dan Parent
On Sale Date: 10/6
32-page, full color comic
$2.99 U.S."
To learn more about the digital editions of Archie Halloween Spectacular, visit: https://www.comixology.com/Archie-Halloween-Spectacular/comics-series/105774
To pre-order this issue as part of the Halloween mystery bundle and to learn more about Archie Comics, visit: https://store.archiecomics.com/products/copy-of-new-classic-archie-halloween-bundle-pack?_pos=2&_sid=8191132ea&_ss=r