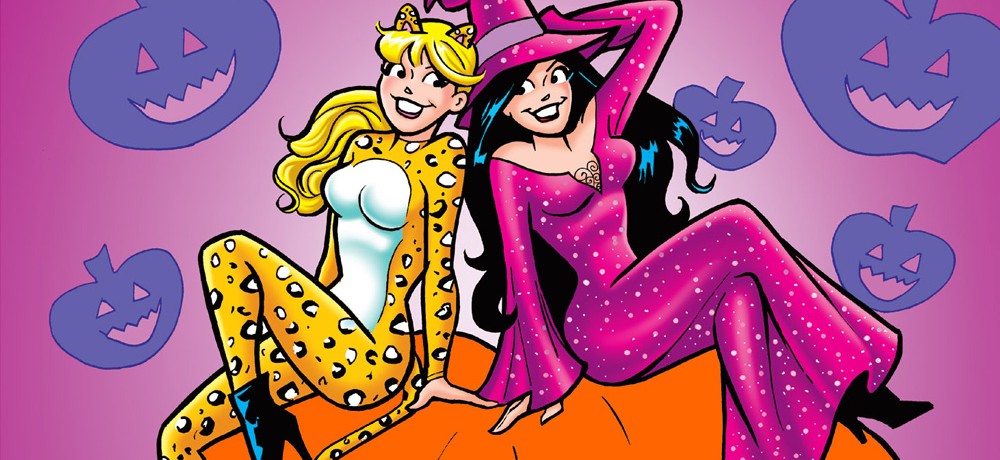 You're likely well aware of the the excellent line of adult Archie horror comics, including Chilling Adventures of Sabrina and Afterlife with Archie, but they also release classic-style Halloween stories for kids of all ages every fall. Earlier this month, we gave Daily Dead readers an exclusive preview of Betty & Veronica Friends Forever: Halloween Spooktacular #1! and we're happy to have a new look at Betty & Veronica Jumbo Comics Digest #297! Along with a 2-page tease of the new story, we have also have the reprint story "Vampire Ire," featuring Sabrina, that you can in its entirety read below!
"BETTY & VERONICA JUMBO COMICS DIGEST #297
NEW CLASSIC-STYLE STORY: "Cursetume Party" Betty and Veronica are out costume shopping for the big Lodge Mansion Halloween Party. Veronica admires a spooky necklace being worn by an old woman at the shop who gifts it to them. Unfortunately, her generous gesture leads to a series of unfortunate events for the BFFs!"
Script: Francis Bonnet
Art: Pat and Tim Kennedy, Jim Amash, Glenn Whitmore, Jack Morelli
Cover: Dan Parent
Digital On Sale Date: 9/22
Newsstand On Sale Date: 9/28
Direct Market On Sale Date: 9/29
192-page, full color comic
$7.99 U.S.
To pre-order this issue and learn more about Archie Comics, visit: https://www.comixology.com/Betty-Veronica-Jumbo-Comics-Digest-297/digital-comic/962196
To pre-order this issue and learn more about Archie Comics, visit: https://store.archiecomics.com/collections/archie-digest-subscriptions/products/betty-veronica-comics-digest-subscription