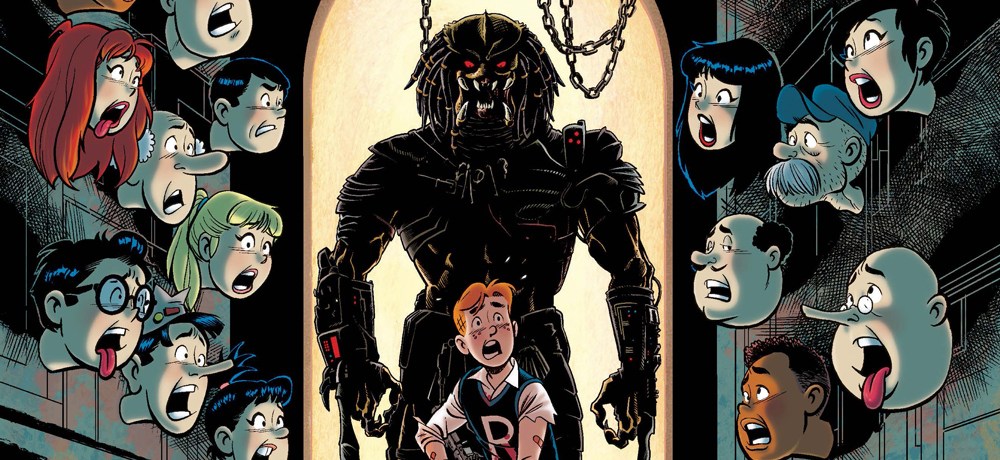 Back in 2015, the worlds of Archie and Predator collided in blood-soaked fashion in Archie vs. Predator, a comic book crossover between Archie Comics, Dark Horse Comics, and 20th Century Fox. This year, readers have been treated to Archie vs. Predator II, the anticipated follow-up to the 2015 miniseries that's even more mind-bending (and bone-breaking) than its predecessor. Once again written by Alex de Campi (who is also the writer of Josie and the Pussycats in Space), Archie vs. Predator II comes to its intense conclusion on January 22nd, and as a special treat for Daily Dead readers, we've been provided with an exclusive preview of the fifth issue ahead of its anticipated release!
In our exclusive preview pages below, Riverdale High's Halloween dance is crashed by Predators while Betty and Jughead contemplate their next move high above the Earth. Robert Hack's detailed artwork brings Alex de Campi's ambitious storytelling to life in the final issue of what has been a genuinely shocking crossover event.
In addition to our exclusive preview pages, we also have a look at the chilling and comedic variant covers for the fifth issue by the talented artists Thomas Mandrake, Les McClaine, Jerry Ordway, Jeff Shultz, and Wilfredo Torres, respectively.
In the gallery below, you can enjoy the exclusive preview pages from Archie vs. Predator II, and keep an eye out for the new issue when it's released on January 22nd!
With Cheryl and Jason Blossom competing for the Anti-Christ throne in Blossoms 666, Sabrina Spellman literally raising hell on Chilling Adventures of Sabrina, and Riverdale on the verge of returning for the second half of its fourth season on The CW, horror is alive and well in the world of Archie, and you can keep up to date on all of these projects and more by visiting:
"ARCHIE VS. PREDATOR II #5 (of 5)

Classic Betty and Veronica have enlisted the help of an unexpected friend to combat against the Predator war raging inside the halls of Riverdale High, while new-Riverdale Betty and Jughead are traveling far, far away to fight the good fight right at its source in the conclusion to this epic crossover event!

Script: Alex de Campi
Art: Robert Hack, Kelly Fitzpatrick, Jack Morelli
Cover: Robert Hack, Kelly Fitzpatrick
Variant Covers: Thomas Mandrake, Les McClaine, Jerry Ordway, Jeff Shultz, Wilfredo Torres
On Sale Date: 1/22
32-page, full color comic
$3.99 U.S."