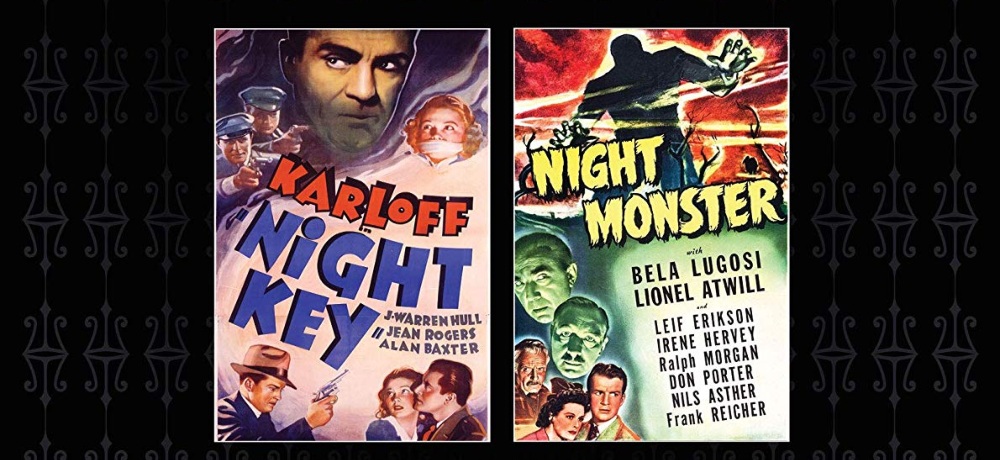 Last year Scream Factory gave classic horror fans the gift of three volumes (featuring 12 films overall) of their Universal Horror Collection, and they're extending that collection into the new year with the Universal Horror Collection Volume 4.
Coming out on March 17th from Scream Factory, the Universal Horror Collection Volume 4 features Night Key (1937), Night Monster (1942), The Climax (1944), and House of Horrors (1946).
We have a look at the cover art and the full release details below, including the complete list of special features for the new release:
Press Release: Universal Horror Collection Volume 4 screams to life on March 17 from Scream Factory! Special features include new 2K scans, new audio commentaries, a new featurette, and much more.

Volume 4 includes four tales of terror from the archives of Universal Pictures, the true home of classic horror. This collection includes such horror stars as Boris Karloff, Bela Lugosi, Lionel Atwill, and Rondo Hatton. Boris Karloff ignites the screen as an inventor who is kidnapped by a gang of burglars and forced to help them commit robberies in Night Key. Bela Lugosi stars in a creepy tale of strange characters, secret passages and a murderer who masters the art of "mind over matter" in Night Monster. In The Climax, Karloff is terrifying as a mad doctor whose insane jealousy over a beautiful opera singer may drive him to murder. A giant of a man is used as an instrument of evil by a mad sculptor in House of Horrors.

NIGHT KEY
Special Features:

NEW 2K scan of a fine grain film element
NEW Audio Commentary with film historians Tom Weaver and Dr. Robert J. Kiss
Theatrical Trailer
Production Design Stills/Production Artwork Gallery
Still Gallery

NIGHT MONSTER
Special Features:

NEW 2K scan of a fine grain film element
NEW Audio Commentary with film historian Gary D. Rhodes
Theatrical Trailer
Still Gallery

THE CLIMAX
Special Features:

NEW 2K scan of the interpositive
NEW Audio Commentary with film historians Kim Newman and Stephen Jones
Theatrical Trailer
Still Gallery

HOUSE OF HORRORS
Special Features:

NEW Audio Commentary by film historian Scott Gallinghouse
NEW The Creeper – Rondo Hatton at Universal
Still Gallery

About Shout! Factory
Shout! Factory, LLC is a diversified multi-platform media company devoted to producing, uncovering, preserving and revitalizing the very best of pop culture. Founders Richard Foos, Bob Emmer and Garson Foos have spent their entire careers sharing their music, television and film favorites with discerning consumers the world over. Shout! Factory's entertainment offerings serve up feature films, classic and contemporary TV series, animation, live music and comedy specials. In addition, Shout! Factory maintains a vast entertainment distribution network which delivers culturally relevant programming, movie and audio content to all the leading digital service providers in North America and across multiple platforms. Shout! Factory owns and operates Shout! Studios, Scream Factory, Shout! Factory Kids, Shout! Factory Films, Mystery Science Theater 3000, Timeless Media Group and Shout! Factory TV. These riches are the result of a creative acquisition mandate that has established the company as a hotbed of cultural preservation and commercial reinvention. Shout! Factory is based in Los Angeles, California. For more on Shout! Factory, visit shoutfactory.com.