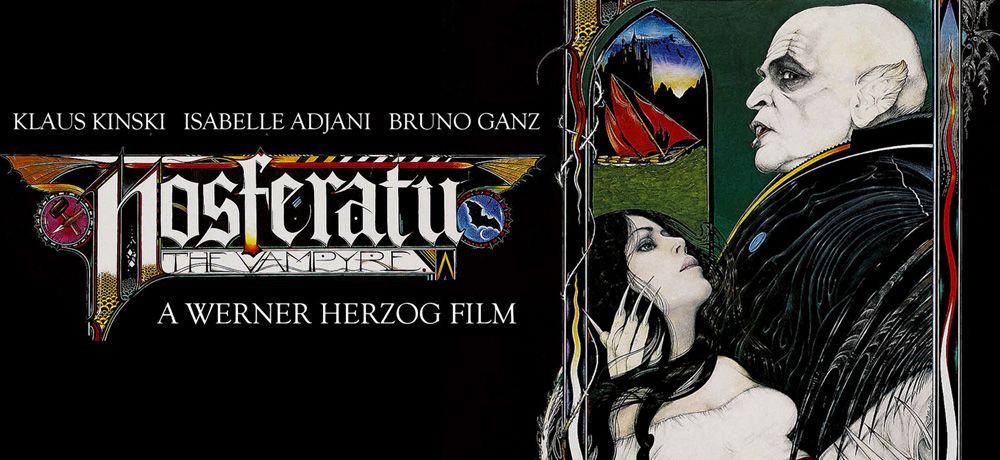 ARROW Offers Classic and Cutting Edge Cult Cinema June Lineup Highlights New Shorts, Genre Classics & Exciting Collections: "London, UK - Arrow Video is excited to announce the June 2021 lineup of their new subscription-based ARROW platform, available to subscribers in the US, Canada and the United Kingdom.
The June lineup leads with a selection of short films curated by the creative team behind The Stylist, one of ARROW's most popular titles. The collection highlights the work of women in horror, in front of and behind the camera. These eight films include Tristan Risk's Reptile House, her take on The Texas Chainsaw Massacre, Alchemia, Ticks and Connor Sandheinrich's deeply unsettling Unsafe Spaces.
The exciting new shorts are joined by the ARROW premiere of a number of classic titles for horror fans: Chopping Mall, Witchboard, Herzog's Nosferatu the Vampyre, Twins of Evil, The Quiet Earth and the Daimajin trilogy.
June 1 will see the arrival of Chopping Mall, starring horror icon Barbara Crampton (US/CA), Kevin Tenney's Witchboard (US/CA), Twins of Evil (US/CA), Werner Herzog's Nosferatu the Vampyre (US/CA), The Quiet Earth (US/CA/UK), Xtro 3 (US/UK/CA), and Zombie (US/CA).
June 1's Seasonal Arrivals are the Daimajin Trilogy (US/CA/UK): Daimajin, Return of Daimajin, and Wrath of Daimajin. The three thrilling tales follow the titular god through feudal Japan as the stone warrior dishes out divine retribution. June 7 sees the launch of eight shorts, curated by the team behind The Stylist, a selection which celebrates and supports female filmmakers working on both sides of the camera within the Horror film industry. These include: Alchemia, Reptile House, Attention, Unsafe Spaces, Bedbug, Ticks, Bloodhound, and The Curse.
June 7 will also launch three features on ARROW (all US/CA/UK). In Hellbent, a bandleader whose career is nose diving makes a deal with the owner of a bar to sell his soul for success. In the Duke Mitchell Double Bill, famed crooner Duke Mitchell headlines in Massacre, Mafia Style which follows an exiled mafia scion (Mitchell) who wants to get back into the family business, whatever it takes and Gone With the Pope, with Mitchell as a paroled gangster with an unholy scheme: to kidnap the Pope and charge a dollar from every Catholic in the world as the ransom.
June 7 is capped off with Deathdream (US/CA) which tracks a young Vietnam vet who shows up on his family's doorstep, long after they thought he was dead.
June 14 turns up the heat with the erotic grindhouse classic Daughters of Darkness, where an ageless Countess and her young female companion seduce a troubled newlywed couple. George A. Romero and Dario Argento combine their terrifying powers in Two Evil Eyes, an irresistible double bill based on the writings of Edgar Allan Poe. The Stendhal Syndrome tells the story of a young police officer, who suffers from a rare hallucinatory disorder which causes her to blackout when looking at works of art. She finds herself in the custody of the sadistic murderer she's been sent to apprehend after he uses her affliction to ensnare her. All June 14 titles are US/CA.
Enter Mausoleum June 18 (US/CA/UK). A 10 year-old girl, mourning the death of her mother, becomes possessed by a demon, who has been preying on her female ancestors for centuries. Years later, the demon starts to take over her in every way.
June wraps up with the Years of Lead collection on June 21, all titles US/CA/UK. The season gathers five brutal crime thrillers produced amidst the political upheaval of 1970s Italy. In Vittorio Salerno's Savage Three (1975) and Mario Imperoli's Like Rabid Dogs (1976), random acts of violence committed by vicious young sociopaths threaten the fragile fabric of respectable society. In Massimo Dallamano's Colt 38 Special Squad (1976) and Stelvio Massi's Highway Racer (1977), renegade cops battling against red tape and political corruption turn to new and morally dubious methods to dispense justice. Finally, class dynamics are explored in Salerno's No, the Case is Happily Resolved (1973) as an innocent man finds himself under suspicion for a savage crime committed by a highly respected member of society. Featuring an impressive line-up of Euro-cult stars, this collection of stylish, hard-hitting Euro-crime thrillers showcases the range and breadth of the genre and is a must-have for newcomers and grizzled veterans alike.
ARROW is available in the US, Canada and the UK on the following Apps/devices: Roku (all Roku sticks, boxes, devices, etc), Apple TV & iOS devices, Android TV and mobile devices , Fire TV (all Amazon Fire TV Sticks, boxes, etc), and on all web browsers at https://www.arrow-player.com."
----------
THE HOUSE: "During the Battle of the Bulge, a squadron of US soldiers is caught in a blizzard while patrolling through the woods. Seeking refuge from the impending white out, they stumble across an abandoned manor, seeking shelter and safety. Once inside, however, the doors disappear, rooms begin to morph, exits become entrances, and they quickly realize there is no safety to be found! As their eyes deceive them, their minds descend into madness, panic, and paranoia. Is this real? Or is there more to this labyrinth than what resides within the walls? Secrets are revealed, history is retold, and death is the only mercy."
It exceeded its funding goal by 50%, then it landed on Paste Magazine's 15 Best Horror comics of 2018, and then on the Top 100 Horror Comics of all time list—now, this fall, The House will be collected and published by Dark Horse Comics!
Writer Phillip Sevy (TRIAGE, Tomb Raider) and artist Drew Zucker (Canto) invite you to the critically-acclaimed passion project into 184 pages of pure trade paperback terror that will surely lure and delight horror fans to Halloween and beyond.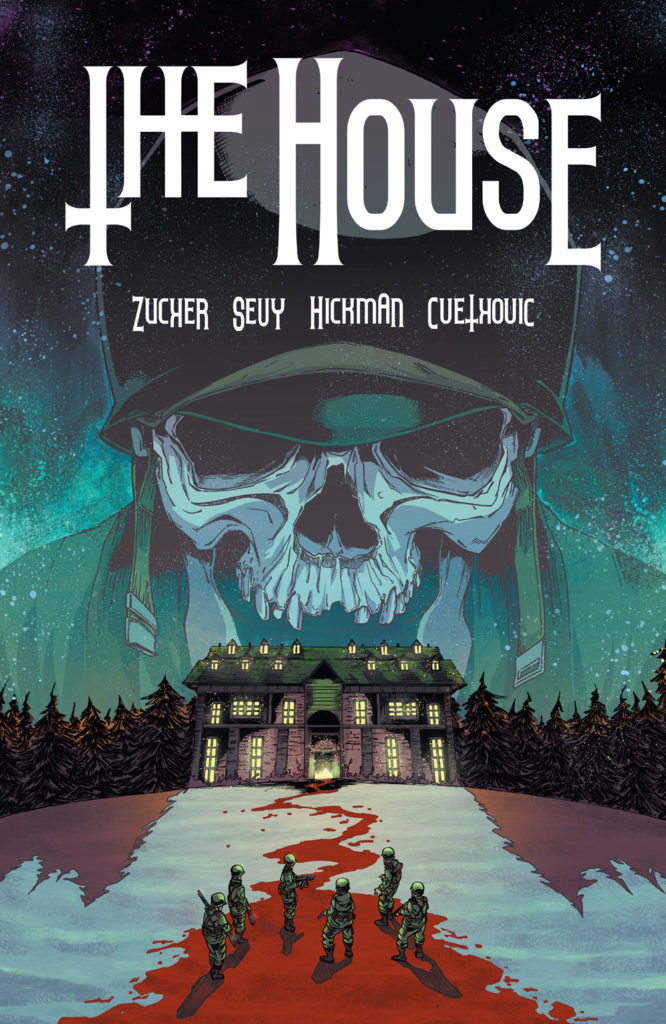 ---------
BAPHOMET: "BAPHOMET tells the tale of an American family (The Richardsons) celebrating their daughter's pregnancy, but things begin to go awry when Satanic cult leader, Henrik Brandr unexpectedly visits their ranch. Henrik offers to pay the family a large sum for ownership of their land, claiming it is sacred to his congregation. Jacob Richardson, the father, rejects the offer due to the sentimental value of his ranch. Henrik, displeased, begins to put curses on the Richardsons, trying to force them off their own land – even if it means murdering them. After suffering unexplainable tragedies created by the curses, the Richardsons seek help from Marybeth, a white witch high priestess. They soon discover a terrible secret about their house, revealing why their land is so scared to the cult. They realize that they must protect their house from the cult at all costs, and a violent battle between good and evil ensues."
Distributor: Cleopatra Entertainment
VOD Release Date: June 8, 2021
Writer/Director: Matthan Harris
Starring: Colin Ward, Giovanni Lombardo Radice, Nick Principe, Dani Filth
Run Time: 72 Minutes
---------
TERROR FILMS SUMMER HORROR MOVIE SCHEDULE: "Genre indie distributor, TERROR FILMS is preparing to give horror fans a fun-filled gore fest of new films this summer. Get ready to get your scream on with a killer cult in the dessert; not one but 2 movies about the hot fiery female demon, Lilith; a baby born by black magic; a horror anthology with something for everyone and a criminal who breaks into a house full of killers.
Here's a glance at the upcoming releases:
ROAD HEAD (Digital Release Date 6/4)
Referred to as, "90 minutes of slapstick, gore, and the occasional heartfelt talk" by Film Threat, ROAD HEAD hits digital platforms Friday, June 4th.
Directed by David Del Rio and written by Justin Xavier, the film centers around three friends who take a road trip to the Mojave Desert, where their complicated relationships are pushed to their breaking point as the group encounters a reclusive, murderous cult.
Starring Elizabeth Grullon, Paul T. Taylor, Damien Joseph Quinn, Clayton Farris, Misty Violet, Sierra Santana and Clay Acker.
LILLITH (Digital Release Date 7/9)
Directed by Lee Esposito and written by Esposito and Luke Stannard, the film centers around a girl catching her long-term boyfriend cheating. Hell bent on revenge, she summons the succubus named Lillith, who embarks on a bloodthirsty, sex-fueled rampage.
Starring Langston Fishburne, Savannah Whitten, Chrissie Capobianco, Julia Arden Rock, Nell Kessler, Robin Carolyn Parent, and Taylor Turner. 
BLOOD BORN (Digital Release Date 7/16)
Directed and written by Reed Shusterman, the film centers around a couple struggling with infertility who turn to a ritualistic organization that conceals the true cost of their "magical" procedure, leaving the soon-to-be parents fearful that their baby might not be entirely human.
Starring Rosie Moss, Antoine Perry, Melanie Haynes, Laurine Price, Leah Verrill, Cole Gerdes, Stacey Moseley, Jody Jaress, Tracy Winters, Matt Mendoza, Adria Baratta, Chelsey Donn, Jennifer Daley and Teri Gamble.
LILITH (Digital Release Date 7/30)
Directed by Alexander T. Hwang and written by Richard J. Aguirre, Paul McFall and Anthony Werley, this 4-part horror anthology follows the Demon Lilith who punishes men for their indiscretions against women.
Starring Vernon Wells, Felissa Rose, Thomas Haley, Brialynn Massie, Michael Wainwright, Charles Chudabala, Hunter Johnson, Michael Jon Murphy, Jennifer Nangle, and Colton Wheeler.
10/31 Part 2 (Digital Release Date 8/13)
A follow-up to the popular 10/31 Anthology released across digital platforms last summer by Terror Films comes 5 more horrifying tales of terror.
Segment directors, writers and producers include Brett DeJager, Max Groah, John Hale III, Zane Hershberger, Robert Lanphere, Jennifer Nangle, Tory van Buskirk, Stephen Wolfe, Mike McPherson, Bryan Fitzgerald, Rocky Gray, Zeke Hanson, and Lee Walker. 
HOSTAGE (Digital Release Date 8/20)
Directed by Eddie Augustin and written by Laura Ashley Polisena and Eddie Augustin, the film centers around a small-time crook who breaks into a home inhabited by a family of killers who will do whatever it takes to make sure he doesn't get out alive. But the family has secrets that threaten to tear it apart.
Official trailers and posters on their summer slate are expected to roll out over the next several weeks...
...The films will be available across multiple digital platforms including Amazon Prime, Apple TV, Kings of Horror, Roku, Watch Movies Now, Google Play and many more.
To learn more about Terror Films, visit:  www.TerrorFilms.net"
-------
-
-