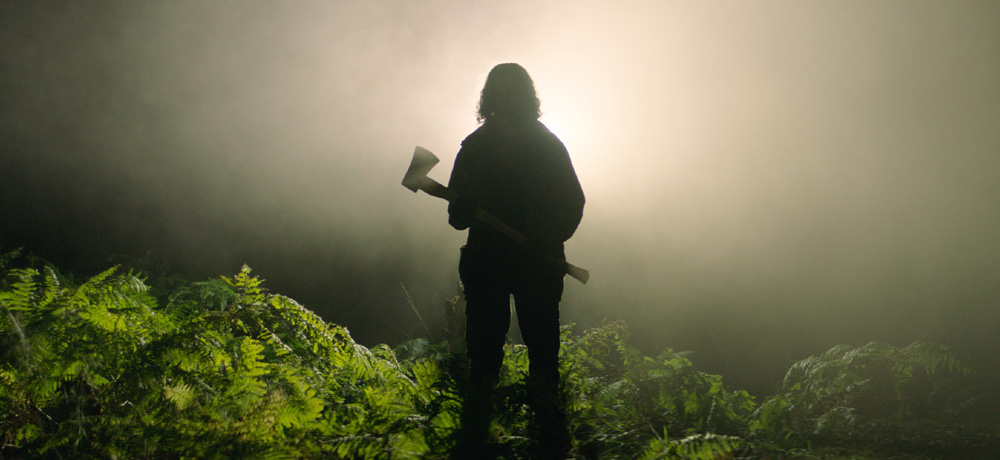 In today's Horror Highlights: The first photo and details on Ben Wheatley's latest horror movie, news of Cult of Dracula moving to Source Point Press, an announcement of the New York City Horror Film Festival going virtual, the programming lineup for Drafthouse's Night Creatures, and an interview with Don't Look Back composer Chris Thomas!
NEON Wraps Ben Wheatley's Horror Film IN THE EARTH: "NEON today announced that Ben Wheatley (Rebecca, Free Fire, High-Rise) has written and directed the horror film In The Earth, starring Joel Fry (Yesterday, "Game of Thrones"), Ellora Torchia ("The Split", Midsommar), Hayley Squires (I, Daniel Blake), and BAFTA Award Winner Reece Shearsmith ("Inside No. 9", "Psychoville"). Andy Starke produced for Wheatley and Starke's Rook Films alongside Tom Quinn and Jeff Deutchman who executive produced on behalf of NEON.  In Ben Wheatley's rising career of studio tent pole franchises like The Meg 2 and In The Earth marks a return to his genre roots akin to his groundbreaking Kill List.  The film is also part of a growing production and development slate at the Academy Award winning studio NEON. Protagonist will launch foreign sales for the horror film at next week's AFM, where they will be sharing exclusive footage with buyers.  NEON has scheduled a 2021 theatrical launch in the US.
As the world searches for a cure to a disastrous virus, a scientist and park scout venture deep in the forest for a routine equipment run. Through the night, their journey becomes a terrifying voyage through the heart of darkness, the forest coming to life around them.
Wheatley is an Award Winning British filmmaker and screenwriter who first gained acclaim for his commercials and short films. He is best known for his work in the thriller and horror genres, including the psychological horror films Kill List, Sightseers, Down Terrace, the J. G. Ballard adaptation High-Rise starring Tom Hiddleston, Jeremy Irons, Sienna Miller and Luke Evans, and the action comedy Free Fire starring Sharlto Copley, Armie Hammer, Brie Larson, and Cillian Murphy for A24. He most recently directed Rebecca for Netflix, starring Lily James and Armie Hammer, and will next be directing The Meg 2 for Warner.
Fry most recently starred in Netflix's Love Wedding Repeat alongside Sam Claflin, Olivia Munn and Freida Pinto. He will next be seen in Disney's Cruella starring Emma Stone. Torchia starred in Ari Aster's Midsommar and AMC's "The Split." Squires won Most Promising Newcomer at the British Independent Film Awards for her performance in I, Daniel Blake. Shearsmith has won multiple awards for the British psychological horror-thriller "Psychoville" and has previously collaborated with Wheatley in High-Rise and A Field in England.
Wheatley is represented by the Independent Talent Group and WME. Fry and Shearsmith are represented by the Independent Talent Group, Torchia by Conway van Gelder Grant and Film Talents, and Squires by B-Side Management and Management 360.
NEON continues its foray into development and production on the heels of their Best Picture win for Bong Joon-ho's Parasite, a film they boarded at script stage, as well as Alex Gibney's Totally Under Control which was recently released ahead of the Presidential election. NEON has several projects at various stages of development and production, including the previously announced Pablo Larrain's Spencer, Julia Ducournau's Titane, and The Painter and the Thief narrative remake.
Protagonist's slate includes Brady Corbet's Brutalist; Official Competition by Mariano Cohn and Gastón Duprat; Ben Sharrock's BFI London Film Festival, TIFF, San Sebastian and Zurich selection Limbo; Joanna Hogg's The Souvenir II; Edward Hall's Blithe Spirit; Alpha Gang by David and Nathan Zellner; and SXSW Grand Jury prize winner Freshman Year."
---------
Cult of Dracula Acquired by Source Point Press: "Source Point Press has struck a deal to acquire publishing & distribution rights for the smash-hit, indie-horror comic Cult of Dracula. With a strong, grassroots outreach campaign focusing on local comic book retailers, the unique re-imagining of Bram Stoker's horror classic from the nightmares of Rich Davis became an underground hit with a devoted cult following. First printings of Cult of Dracula #1, originally distributed by Second Sight Publishing, recorded impressive sales numbers near 10,000 units.
Second Sight's Publishing Manager, Marcus Roberts, said that Cult of Dracula moving to another publisher is a bittersweet moment for the fledgling, creator focused company. He added that Second Sight did all that it could to market Cult of Dracula, but the comic deserves a brighter spotlight on a larger stage. Roberts concluded by saying that Davis' future success will be a success for Second Sight Publishing as well. He hopes other creators will see it as an example of Second Sight's commitment to putting creators first.
Source Point Press sees tremendous upside in adding Cult of Dracula to its impressive slate of genre specific comics. CEO Travis McIntyre says that Davis' comic fits perfectly into the company's mission to provide the very best storytelling in horror, scifi, & pulp. Chief Operating Officer, Jacob Way, added that another benefit to the deal is the opportunity to work with Rich Davis. The first time comic creator has already developed a reputation for his tireless work ethic, business savvy & passionate promotional skills.
Source Point Press will solicit a remastered edition of Cult of Dracula #1 with unique cover art, remastered interior art & brand new content through Diamond Comics Distributors. Cult of Dracula will be available for retailers to order in the January issue of Previews.
Writer/creator Rich Davis & artist Henry Martinez say they're looking forward to the enhanced opportunities with Source Point Press. The creative duo will add a new section called "Bram's Case Files" to the remastered editions. Davis says this opens up incredible opportunities to explore the many characters in Cult of Dracula in a way that honors Bram Stoker's original novel. The case files will be very similar to the diary entries in Stoker's Dracula.
A film adaptation of Cult of Dracula is under development by Sure Pictures."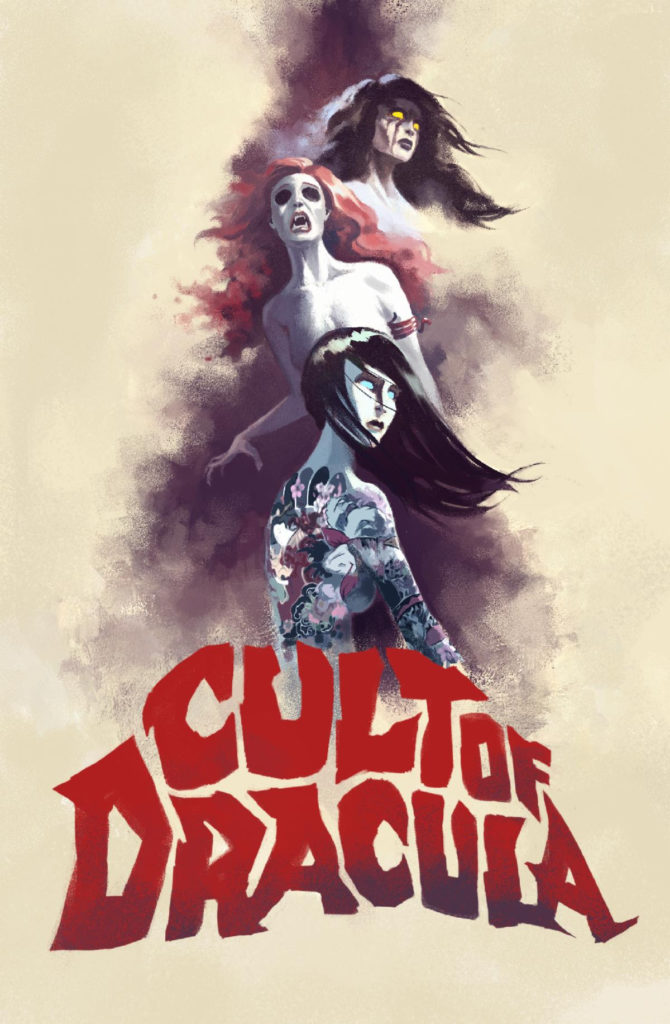 ----------
The 18th New York City Horror Film Festival is Going Virtual this Year: "The New York City Horror Film Festival (NYCHFF), like all other festivals, will be going virtual due to COVID- 19. In its 18th year, the Festival is one of New York City's longest enduring festivals, a horror fan favorite.  The Festival will run, virtually, for seven days this year, beginning December 3, 2020, to December 9, 2020.  Sixty-one international filmmakers will be screening their films- nine features and 52 shorts at the NYCHFF via Eventive. What's exciting is this year is that audiences will have  more opportunities to see these films since they will also be accessible via Roku or Apple TV with Eventive's app. (See more details on NYCHFF/Eventive)
The Festival was born in 2002 by filmmaker Michael J. Hein as a venue for newer, independent horror filmmaking. One element of the Festival Michael created is the Lifetime Achievement Award.  The first recipient of this award was George Romero, followed by other classic scare masters, including Roger Corman, Frank Henenlotter, Robert Englund, Tobe Hooper, Angus Scrimm, Herschell Gordon Lewis, and the beloved late Wes Craven.
After Michael's passing in 2011, the Festival's organizers created the Michael J. Hein Personal Achievement  Award to celebrate creators' hard work and perseverance in the field. The Festival presented the award first to Rob Zombie in 2012, Stuart Gordon in 2013, and Tom Atkins in 2015.
This year, NYCHFF,  in addition to screenings, will have virtual panel events focusing on International Latin Filmmakers, Women in Horror, Scriptwriters, and more. NYCHFF has also included, just for fans, a Fans Meet-Up and  Cosplay contest( you must be 17 and older to enter).  The winner of the Cosplay contest will receive a VIP pass to the Festival."
To purchase tickets, please go to https://nychorrorfest.com/.
---------
Alamo Drafthouse announces NIGHT CREATURES Programming Series - Weekly Genre Fun In Theaters and Alamo On Demand: Their cry… MOVIES! Their oath… WEIRD! This year, Alamo Drafthouse Cinema had to put a temporary hold on beloved, long-running series Terror Tuesday and Weird Wednesday. However, can't stop/won't stop Alamo Drafthouse from sharing their love for genre films in a safe, socially distanced environment. Say hello to Night Creatures.
Night Creatures is what happens when Alamo Drafthouse puts all of its genre series in a blender, hits "liquefy," and watches synapses melt into a neon slime-soaked delicacy. From horror slayers to hi-octane action blasts, Night Creatures exists to provide nothing less than 1001% fun for true midnight movie maniacs in two different modes: the A-sides and the B-sides.
A-sides are in-theater screenings – bigger, crowd-pleasing titles. B-sides are deeper cuts presented exclusively via Alamo On Demand, Alamo Drafthouse's virtual cinema platform. They'll sometimes extend the theme of the prior week's A-side event, and will feature live chats and viewer/host interaction.
"My biggest takeaway from our recent Celebration of Fantastic Fest is just how much I missed our community of film lovers," says Alamo Drafthouse founder Tim League. "Some of my fondest memories in the 23 years of Alamo Drafthouse are hanging out with friends in the lobby after particularly cranium-destroying Weird Wednesdays. WIth Night Creatures, we are doing our COVID-best to recreate that special experience, both online and virtually, for a special group of humans."
Both A-sides and B-sides are set to feature introductions by Weird Wednesday and Terror Tuesday hosts, and whenever possible, Q&As with special guests after the films. Naturally, each screening will be preceded by a curated pre-show and vintage trailers. For Night Creatures' in-theater shows, a Golden Ticket giveaway will be a part of the special festivities. One lucky guest each week will receive a Golden Ticket, and the winner will receive a mystery prize pack delivered to their seat!
The Night Creatures lineup through the end of the year:
November 6-8th 
A-side: ACTION USA | In Alamo Drafthouse theaters
and
November 8th, 5:30PM Central
B-side: ACTION USA Watch Party | Alamo On Demand 
Turns out a stuntman-turned-filmmaker unleashed the most explosive, death-defying, bullet-riddled, grenade-launching, flame-broiled, anti-human megattack in independent film history, and no one knew . . . until now. ACTION USA takes the grand tradition of self-made two-fisted epics like MIAMI CONNECTION, HARD TICKET TO HAWAII, and SAMURAI COP and turns the knob past 11, then snaps it off and jams it in your eye socket. If you've ever enjoyed watching any movie in your life besides DOWNTON ABBEY, then this rampaging rager from 1989 will be your favorite film of the 21st century, guaranteed.
November 13th (Friday the 13th)
B-side: THE F13TH FAN FILM MIXTAPE Watch Party | Alamo On Demand
In the 1980s and '90s, no psychopathic maniac was more popular than Jason Voorhees. So it makes perfect sense that any kid with access to a camcorder would film their own Voorhees-inspired epic . . . even if it meant lighting themselves on fire with a homemade blowtorch. AGFA and Bleeding Skull! are proud to present THE F13TH FAN FILM MIXTAPE, an awe-inspiring compilation of the best-of-the-best in DIY Voorhees tributes from Jason's biggest fans. Underage driving! Cameos from Michael Myers! Illegal usage of songs by The Beastie Boys! Featuring digest versions of our favorite full-length rippers, unseen trailers, and deranged clips, THE F13TH FAN FILM MIXTAPE is a valentine to the greatest horror franchise in history. And also teenage lunatics everywhere.
Note: This presentation contains sequences of flashing lights which may affect viewers who are susceptible to photosensitive epilepsy or other photo sensitivities.
November 20th
A-side: POLTERGEIST | Only in Alamo Drafthouse theaters
A creative collision between producer-writer Steven Spielberg (E.T.) and director Tobe Hooper (THE TEXAS CHAIN SAW MASSACRE), POLTERGEIST is the nerve-shredding ghost story that made televisions terrifying to an entire generation. JoBeth Williams and Craig T. Nelson are patriarchs of a haunted household, one with phantom beasties living in the TV, a lot of STAR WARS product placement, and the creepiest ghostbusters of the 1980s in the form of wee blondie Carol Anne (Heather O'Rourke) and the incredible Tangina Barrons (Zelda Rubinstein). Beautifully shot and executed, POLTERGEIST joins THE HAUNTING and THE SHINING as one of the most accomplished haunted house films of all time.
November 27th 9:00pm Central
B-bide: PENITENTIARY Watch Party | Alamo On Demand
The story of boxer "Too Sweet" (Leon Isaac Kennedy), whose only way out of lockdown is by winning the big fight. Highly plausible scenario? Of course not. Entertaining? You bet. The breakout action hit from filmmaker Jamaa Fanaka (WELCOME HOME, BROTHER CHARLES), PENITENTIARY remains one of the crowning achievements of 1970s black cinema. Gritty, violent and maddeningly entertaining, the movie has been newly restored in 4K from its original 35mm camera negative. You can also opt to have a Mr. Goodbar (it'll make sense after the movie) and a PENITENTIARY-themed cocktail delivered to your door to enjoy during the screening.
December 4th
A-side: DIAL CODE SANTA CLAUS | Only in Alamo Drafthouse theaters
Previously only available via VHS bootlegs — and a major audience annihilator since its debut at Fantastic Fest — DIAL CODE SANTA CLAUS (aka 3615 CODE PÈRE NOËL and DEADLY GAMES) is your new favorite holiday slayride. Thomas is a typical 1980s kid: he loves computers, role-playing games, and his dog. While mom is away at the office on Christmas Eve, Thomas and his grandfather are left home alone; perfect timing for a disgruntled, perverted, bloodthirsty Santa Claus to raid the home down the chimney. But Hell hath no fury like a mulleted 10-year-old with an arsenal of toys! Made a year before HOME ALONE, the French-made DIAL CODE SANTA CLAUS has almost the same plot... only filled with more style, bloodshed, and Rambo references.
December 12th 8:00PM Central
B-side: Christmas Found Footage Fest Watch Party | Alamo On Demand
Join Joe and Nick as they pore through the darkest recesses of the most bountiful of superfluous VHS categories: Christmas and holiday cash-ins. We're also partnering with Sourced to deliver an optional yuletide cocktail kit, a surprisingly tasty recreation of a holiday cocktail from the show, reimagined by the team at Midnight Cowboy.
December 18th
A-side: David Lynch's DUNE | Only in Alamo Drafthouse theaters
David Lynch legendarily passed up the opportunity to direct Return of the Jedi, choosing instead to tackle an adaptation of Frank Herbert's mind-expanding sci-fi epic Dune. Released in 1984, this big-budget, big-imagination saga follows intergalactic warrior Paul Atreides as he becomes a messiah for a planet of rebels looking to escape the rule of an evil baron. A trip beyond time and space, DUNE stars Kyle Maclachlan, Patrick Stewart, Sting, and a whole heaping of sandworms. Denis Villeneuve's hotly anticipated new adaptation of Dune might have been delayed until next year, but that doesn't mean the spice won't flow this December.
December 25th
A-side: BLACK CHRISTMAS | Only in Alamo Drafthouse theaters
Holiday movies are sentimental, uplifting, and surprisingly devoid of knife murders. What's a horror fan to do? Sickos rejoice — BLACK CHRISTMAS is here! When sorority sisters Olivia Hussey (Romeo and Juliet), Margot Kidder (Superman) and Andrea Martin (Cannibal Girls) find themselves under attack from a vicious, potty-mouthed killer, it's up to police chief John Saxon (A Nightmare on Elm St) to even the odds. But what about Keir Dullea (2001: A Space Odyssey), the brooding art-school pianist? Could he have something to do with the mutilation rampage? BLACK CHRISTMAS is the most important Canadian horror film of all time — and it gets everything right. One-part holiday atmosphere, one-part stalk 'n' slash magnificence, and all parts awesome, this is a timeless, terrifying, and demented holiday tradition from the director of A CHRISTMAS STORY.
December 24 9:00PM Central
B-side: SANTA CLAUS Watch Party | Alamo On Demand
We all know that there's nothing Santa Claus enjoys more than sitting atop his candy cane tower and watching all the children of the earth through his telescope. And naturally, we all know that when a horned, red-skinned devil named Pitch inevitably shows up to turn the wee tots towards acts of darkness, it's Santa's job to destroy the hellspawn before — wait a minute . . . WHAT?!! Directed by prolific filmmaker René Cardona and distributed by legendary huckster K. Gordon Murray, this severely unnatural take on jolly ol' St. Nick is a cinematic miracle made from Santa's secret mixture of sweetness and Satanism, as if torn from the melting mind of a summertime snowman.
December 31st 
B-side: TERROR TRAIN Watch Party | Alamo On Demand
When a nerd receives a high dosage of trauma courtesy some frat-boy buttholes, his only recourse is to crash a costume party train on New Year's Eve. And also ferociously kill in the name of revenge while adopting the costume of each person he mutilates! Featuring a queer-tinged script by writer Judith Roscoe and Jamie Lee Curtis in her third starring role of 1980 following THE FOG and PROM NIGHT, TERROR TRAIN is the last of the great undiscovered 1980s slashers. This is an ultra-violent, disco-infested Canadian explosion of fun that gives us everything we want from a movie with a tagline that reads: "Terror wears many disguises . . . all of them deadly!" This includes life-enriching appearances from magician David Copperfield and Prince protégé Vanity.
December 31st 
Express Train to 2021: The Alamo New Year's Party | Alamo On Demand
After TERROR TRAIN, join us for the most wonderful at-home moviegoing experience possible. Enter our virtual lobby and a host will help you explore a cornucopia of adventures throughout the night: up-close magic performances, private rooms with a huge assortment of amazing live music, live comedy, fortune tellers, movies and more. Meet your friends in private break-out rooms and explore together, or wander solo and make new friends. And at midnight in your time zone, virtually sing-along to Auld Lang Syne and raise a glass with an epic and hopeful toast by surprise guests.
After experiencing this wealth of extraordinary and unearthly delights, you may never opt for a "real life" party again. That's of course a lie, but nonetheless this party is going to be awesome. Tickets go on sale soon. Make sure to sign up for a free Alamo on Demand account and we will email you when tickets go on sale.
----------
Interview with Don't Look Back Composer Chris Thomas: "The 2020 Halloween season has officially come and gone. This year may have been a lot different than previous years, because of the pandemic, but one thing that stayed the same was the abundance of new horror films released. Some of these titles being: The Empty Man, The Wolf of Snow Hollow, Come Play, Black Box, The Call, Evil Eye and The Craft: Legacy.  Another one worth noting is Jeffrey Reddick's horror/thriller Don't Look Back. Reddick created the Final Destination franchise and has written many films in the genre including The Final Wish, Tamara, Dead Awake and Day of the Dead. It's safe to say, Reddick knows the genre well. We wanted to learn more about Don't Look Back, so we spoke to one of the film's creatives, composer Chris Thomas, whom also happens to specialize in scoring Halloween attractions at theme parks around the world. Read the exclusive interview below.
-What attracted you most to the Don't Look Back script?
Actually, when it comes to a script, I do something filmmakers find very annoying - I won't read the script! So much of film scoring comes from the rhythm of the edit, pacing through a scene, or how wide or close the camera gets (in addition to the characters psychological state). These you cannot see until the film is fully assembled. When I read a script, I begin to imagine a very different movie than what the filmmaker will eventually make. I even hear music to this imaginary film. Those preconceived musical ideas only distract me from what the movie really needs.
-In a previous interview you said that the key to a horror score is holding the tension. Can you point us to a cue in Don't Look Back where this is really evident?
With horror and thriller genres, you must sustain interest until the end of the film. It never feels right to have an extended period of relief in the middle of one of these movies. Even when a character is not in immediate danger, like when they are searching for clues, the music must still find ways to suggest there is more danger ahead. I would say a good example would be the scene where Caitlin isn't sure if she could trust her boyfriend. She's sitting in her car, and won't let him in. I really enjoyed this moment because the music had to provoke a sense of danger, mistrust, and finally betrayal. It was dark and tense on several psychological levels, amplifying more than just fear. Nothing physically dramatic happens in that scene, but you feel an enormous psychological weight in this moment. 
-The director of Don't Look Back has a long history with horror, he is the creator of the Final Destination franchise. Had you met him before you started working on this film?
I did! The film's producer called one day for an impromptu chat about the film. Funny thing is he didn't tell either of us who was on the other line. Jeffrey and I were spontaneously introduced and started talking about the upcoming film. That conversation ended with me coming to Louisiana for a week to visit the set, to chat in person. He wanted me to soak in the vibe of the movie - colors, textures, performances, anything colorful that might better prepare me to approach the film. It was very helpful! Unlike reading a script, it was an insight to seeing the movie as Jeffrey saw it. 
-How has Jeffrey been different then some of the other directors you have worked with in the past?
Every director requires a slightly different form of communication. Jeffrey is great to work with, and very clear on what he needed in the film. Some filmmakers have a hard time knowing what music is working for them, and struggle to guide me in a productive direction. Jeffrey, on the other hand, could hear music against picture and know immediately if it was (or wasn't) going to work in the movie. He would send me notes on how the music could improve, and I would fix it. It was really that simple! 
-With each film that you score, do you create a common toolbox of sounds that you then pull from?
Indeed, I usually have a sense for what strange tones and textures I'd like to see against picture. There's a two-week period when I go around collecting and creating new sounds. For example, for Don't Look Back, I knew I wanted sounds from the insides of a piano. Literally, the guts inside a piano. So I spent a week hammering, strumming, and plunking piano strings. I also wanted a haunting palette of whispering ghost voices. So I had a young vocalist (Grace Miedziak, also an emerging film composer herself) help me add several layers of disembodied vocal textures. Once this palette is complete, I'll start scoring scenes. 
-You visit junkyards to collect sounds for your scores. Did you use any of these junkyard sounds in the Don't Look Back score?
Yes! I love every sonic treasure you can pull from a junkyard. In this film, I pulled out my new "Metal Box" sounds. I have no idea what purpose they served in life, but in death these giant aluminum boxes sound like ungodly, cavernous pits of despair. I dropped their pitch further, added a lot of echo, and used them all over the film. There's another junkyard in Sylmar (north Los Angeles area) that has a beautiful, old Soviet missile shell they let me hammer every now and again. It's a bit unnerving striking a missile with a hammer, but that sound is well worth the risk!
-Did you learn anything from working on this film?
I think my take away from this film was how richly Jeffrey layers his writing. Don't Look Back is a masterclass in intelligent story development. It also impacted the way I wrote the score. This story is so much more than a character uncovering a series of clues. The more I watched through the movie, the more symmetry and interconnectivity I discovered. Almost half way into this score, I had to start over and adapt several themes (and create a new one) to better treat these story threads. Some melodies have a hidden meaning that you can't fully appreciate until the end of the film. This film required just the right trail of musical breadcrumbs for the effect to work. 
-You also score Halloween attractions at theme parks all over the world. How did you get into this?
Indeed, this is one of my happiest professional accidents! I attended the Los Angeles Haunted Hayride in 2010, and loved the show. As a fan, I called their company hotline in 2011 to leave a congratulatory voice mail. I also left one tip about how music could better enhance their production. This led to a call from the show's creator, and suddenly I'm hired to score the show 4 weeks before opening. The next year, I got calls from all over the country about scoring their Halloween attractions. A few years later, I'm writing music for every kind of theme park experience all over the world. I never intended to find myself here, but it's been some of the most fun I've ever had!
-Do you think your work on the Halloween attractions helped prepare you for this film?
Absolutely! Theme parks operate on much longer time-scales than a film, so I get ample time to develop new ideas and sounds. Theme park clients are much less controlling about little details in the music, freeing us to wildly experiment with new musical and sonic possibilities. Adam Schmidt, my scoring & audio engineer, and I ended up having 9 years of unrestrained and dangerously fun experimentation. This period left me more than ready to tackle the challenges in Don't Look Back. 
Chris Thomas' Don't Look Back score is available now on all digital outlets."