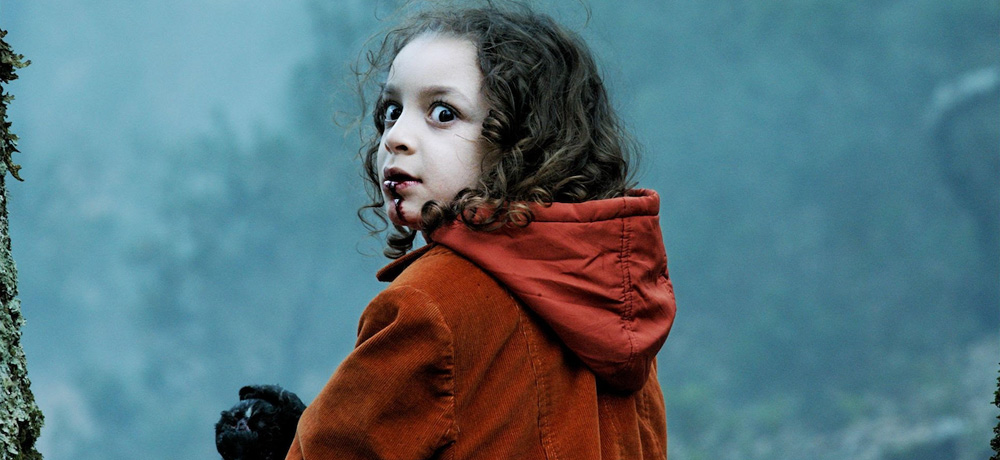 Dekanalog Acquires DACHRA: "Fresh off their national theatrical launch of Quentin Dupieux's acclaimed absurdist comedy KEEP AN EYE OUT (AU POSTE!), Gotham-based distributor Dekanalog has added three acclaimed festival favorites to their bustling 2021 slate, including the acclaimed horror thriller DACHRA from writer/director Abdelhamid Bouchnak, per an announcement this morning at Deadline.
The acquisitions, which also include Paul Negoescu's TWO LOTTERY TICKETS and Mariam Ghani's WHAT WE LEFT UNFINISHED, join a stacked 2021 lineup for Dekanalog that currently includes theatrical and digital releases of Grímur Hákonarson's TIFF darling THE COUNTY, Ena Sendijarević's Rotterdam Tiger Award-winning TAKE ME SOMEWHERE NICE, and Lemohang Jeremiah Mosese's Sundance-winning THIS IS NOT A BURIAL, IT'S A RESURRECTION - Lesotho's first-ever submission to The Academy Awards.
DACHRA, which is based on a terrifying true story and made waves at the world's largest genre film festivals, follows a group of students who become trapped in an isolated village while trying to solve a 25-year-old murder case. The title won accolades for its stunning craftsmanship, and was awarded the coveted title of "Scariest Film" at the Overlook Film Festival."
DACHRA / d. Abdelhamid Bouchnak / 2018 / Tunisia
Logline: Based on true events. A journalism student (Yassmine Dimassi) and her friends become trapped in an isolated village while trying to solve a gruesome criminal case that is over 25 years old.
Stars: Yassmine Dimassi, Aziz Jebali, and Bilel Slatnia
Laurels: Venice, Fantastic Fest, Fantasia, FrightFest, and Overlook Film Festival (Winner - Scariest Film)
Sales Agents: Charlotte Mickie and Hengameh Panahi, Celluloid Dreams
----------
RENEGADE ENTERTAINMENT AND AFTERSHOCK COMICS INTRODUCING NEW COMIC PROPERTY "LYCAN" FROM THOMAS JANE: "Renegade Entertainment, co-founded by Courtney Lauren Penn and Thomas Jane, is teaming with AfterShock Comics, the industry's fastest-growing independent publishing company, to introduce an all new comic property titled "LYCAN," with a script by comic book legend Mike Carey (Lucifer, The Girl with All the Gifts) and based on a story by David James Kelly (Logan, Robin Hood), and Thomas Jane (The Punisher, Bad Planet).
Year of Our Lord 1777: A hardened band of international big game hunters returning from Africa are shipwrecked off a small British island. In exchange for new supplies and the repairing of their good ship The Calydonian, Lord Ludgate engages the men for a task they are particularly well suited for: find the Berserking Beast that has been eating his subjects, including a group of young Benedictine Nuns, and destroy it.
The initial six installments of the "LYCAN" comic series will debut in the first half of 2022.
Thomas Jane brings a breadth of experience from the comic book world to this new venture in partnership with AfterShock. In addition to a number of roles in comic book franchises from The Punisher to Gun, Jane also co-owned RAW Studios with Steve Niles and Tim Bradstreet which developed a number of projects including the comic Bad Planet which Jane wrote and distributed through Image Comics and Alien Pig Farm 3000 with writer Todd Farmer.
This creative union expands AfterShock Comics' already impressive body of collaborative work with top creators including Garth Ennis, Steve Orlando, Cullen Bunn and Marguerite Bennett, to name only a few.
LYCAN will join AfterShock's critically-acclaimed library of groundbreaking titles such as ANIMOSITY, DARK RED, A WALK THROUGH HELL, THE KAIJU SCORE and WE LIVE among many others.
Jane said, "I am beyond excited to be partnering with AfterShock Comics to develop the universe of LYCAN. It's a story I've been wanting to tell for a long time and I'm very lucky to have a great team of creators with David and Mike to bring it to life through the upcoming comic book series."
AfterShock Media is extremely excited to announce LYCAN by Thomas Jane and Mike Carey as well as our producing partnership with Renegade," said Lee Kramer, President of AfterShock Media. "Courtney and Thomas are a pleasure and also happen to be huge comic fans, so not only is this a creative cue for AfterShock but also happens to be a fantastic partnership as well."
Penn, who heads content at Renegade, said, "Being a company that prides itself on a maverick creative spirit and transmedia approach to storytelling, we're beyond excited to segue into the comic world with LYCAN, and to work alongside our amazing and like-minded partners at Aftershock Comics. Their expertise and experience will be instrumental in bringing this universe to fans globally."
The introduction of the "LYCAN" comic property is the latest demonstration of expansionary moves into new entertainment verticals for Courtney Lauren Penn and Thomas Jane's Renegade Entertainment, which has been prolifically active since launching late in 2019. The production shingle recently completed production on the western thriller "The Last Son," starring Thomas Jane, Sam Worthington and Colson Baker, and the horror comedy "Slayers" starring Abigail Breslin, Thomas Jane and Malin Akerman. Renegade will soon start production on the anticipated crime drama series 'Troppo" alongside AGC Television, starring Jane.
Producer and former chess champion Courtney Lauren Penn oversees content at Renegade Entertainment, producing new media, film, and television series alongside Jane."
---------
PANIC FEST: "Panic Fest kicks off two weeks of genre packed programming as the ninth annual festival begins April 8, 2021, virtually and in person at Screenland Armour in Kansas City, MO.
"We are absolutely thrilled to be able to offer Panic Fest as both in-person and virtual experiences. It's important that we allow for all comfort levels and situations. The prospect of bringing Panic Fest to the entire country is unbelievably exciting for us," says Panic Fest Co-Founder Adam Roberts.
This year's lineup includes over 25 feature films and 40+ short films from around the world in addition to signature podcasts, special events, and virtual meet-ups via the Gather platform.
Panic Fest Co-Founder Tim KC Canton says, "We know that our festival is built upon networking and a sense of community. We wanted to ensure that when people attend virtually that it feels like our festival. That they walk away with new relationships as well as discovering new, emerging voices through our unparalleled programming."
For the first time in fest history, all films will be in contention for awards picked by audience members. "Each year we assemble a panel of judges to decipher the awards. This year we're putting that in the hands of our attendees," says Canton.
Panic Fest continues their partnerships with IFC Films, Shudder, Dark Sky Films, Epic Pictures, Dark Star Pictures, and Fangoria. New this year as presenting sponsors are 4 Hands Brewing Company and Logboat Brewing Company.
"Horror movies and great beer. It's one of the all-time great matches and we couldn't be happier with our new partners," says Roberts.
The festival will utilize the latest in networking applications to bring the fest experience into your home with meet-ups, happy hours, and more over the Gather platform and special events via Clubhouse.
Panic Fest kicks off April 8, 2021, as one of the leading genre festivals in the world. Don't miss what MovieMaker Magazine and Dread Central have named one of the best genre festivals in the world for three years running.
Get your tickets here.
----------
Horror-Thriller MORGUE on Blu-ray & Digital May 11: "After a harrowing accident, a down-on-his-luck security guard accepts a promising new gig at the local morgue in the terrifying supernatural thriller MORGUE.  But his luck quickly changes back when he gets locked in and eerie occurrences (and a not-quite-lifeless body) leave him to wonder: how much otherworldly rage does it take to wake the dead?  A huge breakout hit in its home country, the film is—according to first-time writer/director Hugo Cardozo —based on real events.  The cast of newcomers includes Pablo Martínez, María del Mar Fernández, Willi Villalba, Abel Martínez, Dr. Aldo Von Knobloch, Raúl Rotela, and Francisco Ayala.  MORGUE debuts on Digital, Blu-ray™ and DVD May 11 from Well Go USA Entertainment."
----------
Black Caravan and Scout Comics Announce New Horror Comic SWAMP DOGS: "Black Caravan, the horror imprint for Scout Comics, has signed a deal to publish Swamp Dogs. In order to promote Swamp Dogs, Black Caravan is embarking on a mystery campaign leading up to the release of an ashcan comic July 2021. "We have never attempted a mystery campaign before, but it just felt right with this book!" said Rich Woodall, Co-Publisher of Black Caravan. Black Caravan will be distributing bookmarks featuring teasers leading up to July. Bookmarks will be included in all subscription boxes for Scout Comics and Black Caravan, as well as being distributed to comic shops around the U.S. The cover of issue 1, as well as a plot synopsis, will be revealed in July.
Swamp Dogs will begin with a 5-issue miniseries. Woodall continued, "We are really pumped to bring this book to the people. We fell in love with the pitch… and it has so much opportunity to grow and shift in different configurations." Following the miniseries, Swamp Dogs will tentatively continue in phases that will include multiple ongoing series, future minis, and standalone issues. "The book is everything we wanted to represent when we started Black Caravan," said Joseph Schmalke, Co-Publisher of Black Caravan and CCO of toy division Tracker Collectibles, "And the book is just screaming out for some cool figures. We have some great plans for the merchandising on Swamp Dogs. Really, this book has the chance to be the marquee title for our 2021, and something of a game-changer for us as we continue to grow."
The creative team behind Swamp Dogs has been announced as well. Kewber Baal is illustrating the book. His past work includes Army of Darkness: Furious Road, KISS, and Garth Ennis' Jennifer Blood. He is currently doing the art for Vengeance of Vampirella from Dynamite Entertainment. Coloring the book is comic veteran Ruth Redmond, whose past work includes Deadpool, Spider-Man: Renew Your Vows, and Giant-Size X-Men from Marvel, Eve of Extinction from TKO Studios, and work for BOOM! and Valiant. Letterer Steve Wands is a comic industry veteran with over 1400 credits to his name from Attack on Titan, Action Comics, and Batman to Peanuts, Scalped, and Image hit Gideon Falls. Covers are being illustrated by Robert Sammelin, whose comic work includes Green Lantern: Beneath the Planet of the Apes, Escape From New York, and Neal Stephenson's Cimarronin. He has also worked as lead artist for the Battlefield, Star Wars: Battlefront, and Mirror's Edge video game franchises and done work for the New York Times, Entertainment Weekly, Nike, Waxworks, and Mondo. J.M. Brandt, a former contributor to popular entertainment sites Screen Rant and The Sportster, and newcomer to comics, is co-writer. Theo Prasidis, author of Image Comics' The Doomster's Monolithic Pocket Alphabet and an upcoming TKO Studios horror series, is also co-writing."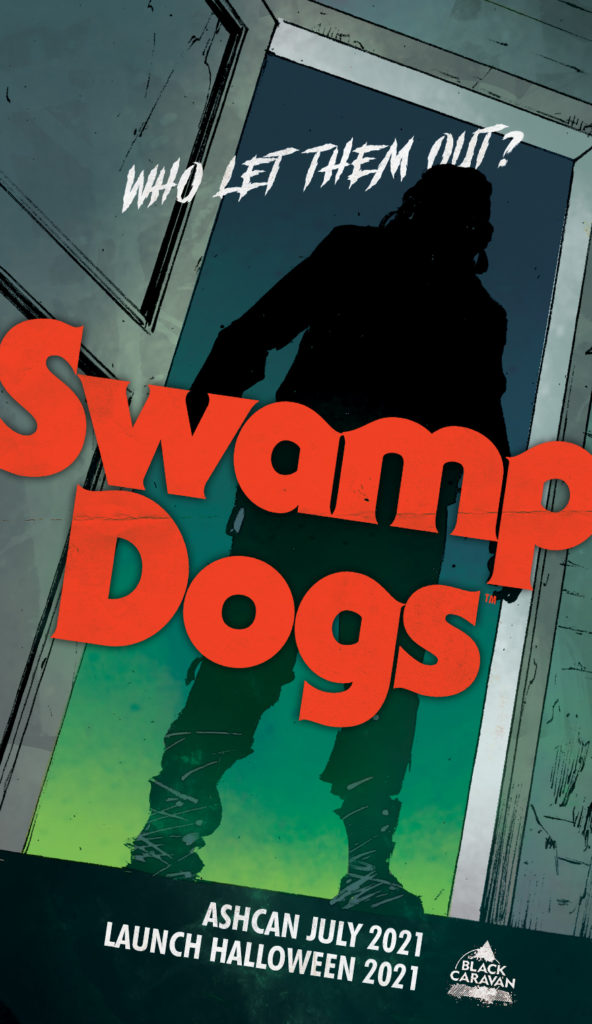 ----------
THE BELIEVER: "THE BELIEVER is the story of an out-of-work scientist facing mental deterioration finds he may be battling his wife's obsession with demonic activity. Lucas is an out-of-work nuclear scientist, struggles with tension in his marriage after his wife Violet mysteriously terminates her pregnancy without his consent. As Lucas' physical health begins to inexplicably deteriorate, Violet's behavior grows increasingly bizarre and he seeks clarity from his therapist Dr. Benedict. Exhausted by his job search, strange events begin to occur in the home and his medical condition progressively declines. Benedict recommends they try an alternative therapy, but it only makes matters worse. Lucas questions Benedict's effectiveness as his grip on reality begins to fade. Violet's deceitful behavior arouses his ever-deepening suspicions, and after a visit from two mysterious guests, her insidious behavior becomes disturbingly pervasive. Lucas' anger and frustration turns to fear as Violet's sinister intentions are revealed. Lucas tries in vain to escape the evil web she has spun, but by the time he discovers the truth, it might be too late."
STARRING: Sophie Kargman, Aidan Bristow, & Billy Zane WRITTEN & DIRECTED BY: Shan Serafin
Releasing on VOD April 2nd