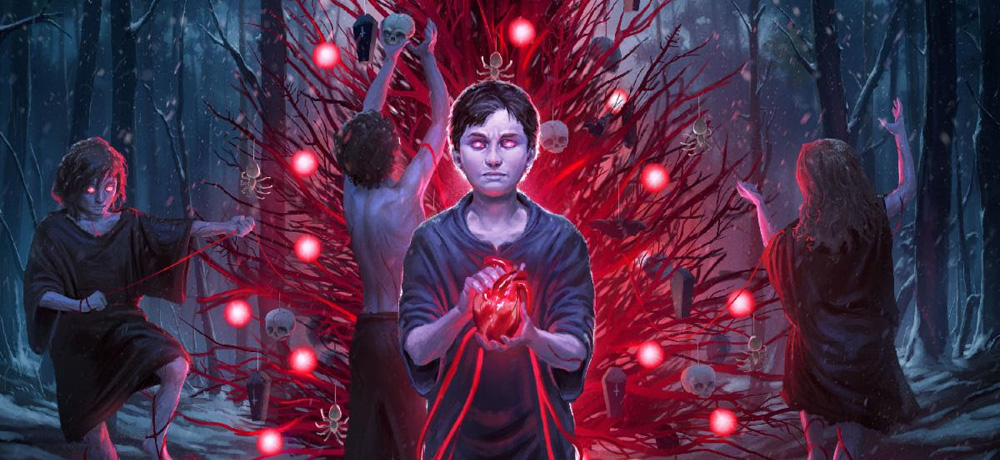 Today's Horror Highlights include the trailer and release details for Deathcember, info on Shudder's Drive-In Nights, and the trailer for Sleepless Beauty!
Watch the Trailer for DEATHCEMBER: "This frighteningly festive film has been scaring audiences worldwide, winning Most Shocking Film at Hexploitation Film Festival 2020 and Best Anthology Feature at South African Horrorfest 2019. Featuring films directed by Lucky McKee, Pollyanna McIntosh, Ruggero Deodato, Julian Richards, and Trent Haaga and performances by genre favorites including Sean Bridgers, Barbara Crampton, Richard Glover, AJ Bowen, Tiffany Shepis and many more, these spine-tingling tales will make you ready to deck the halls…with dread!
Deathcember is the world's first cinematic Advent calendar. Behind its doors lurk 24 terrifying short films by directors from around the globe, turning the season of love into a season of fear, with gifts of blood and terror to unwrap for audiences everywhere. Those who makes it through this creepy calendar will be rewarded with additional segments, so save room under the tree for more nightmarish Noel!"
"The Ho-Ho-Horror Begins November 24, 2020 on Digital Platforms and December 1, 2020on Cable VOD"
---------
Shudder "Drive-In Nights" Announced: "Today, Cinema Drive-In, a division of Kilburn Live, a market leader in the Live Entertainment industry, announced a new partnership with Shudder, the premium subscription video on demand service from AMC Networks dedicated to horror, thriller and the supernatural, to create The Shudder Drive-In, a one-of-a-kind Halloween special event.
Starting October 29 and running for three consecutive nights, the pair will produce an all-new immersive experience that combines three Halloween feature films with live action elements and performers to create a horror-film-meets-haunted-house-style attraction. Aided by Epic Entertainment, the creative team behind The Queen Mary's Dark Harbor, The Shudder Drive-In is designed as a way for guests to face their fears—while never leaving their cars.
"While this has definitely been a year like no other, one thing that will never go away is audience's love of scary movies," said Kilburn CEO Mark Manuel. "We wanted to give horror fans a unique, innovative and most importantly safe experience where they can mentally escape for a bit and get a different type of scare. These won't just be scary movies, this will be an all-encompassing experience where surprising things are happening around you while you are watching a scary movie, trapped in a confined space – essentially erasing the line between film and reality. "
The multi-sensory live action event kicks off with Blood Quantum on Thursday the 29th, with Host following on Friday the 30th and The Mortuary Collection running on the 31st. Each experience will run twice nightly at 7pm and 10pm with tickets costing $50 per car or $75 for a VIP experience.
Blood Quantum — The dead are coming back to life, but in the isolated Mi'gmaq reserve of Red Crow, the indigenous inhabitants are immune to the zombie plague. Traylor (Michael Greyeyes, True Detective), the tribal sheriff, must protect his son's pregnant girlfriend, apocalyptic refugees and people of the reservation from hordes of walking white corpses.
Host — Six friends get together during lockdown for their weekly zoom call and instead of a quiz, Hayley (Hayley Bishop, Dawn of the Deaf) has arranged for a Medium to conduct a virtual séance. But a demonic presence has crossed over, threatening to pick them off one by one.
The Mortuary Collection — A young drifter applies for a job at the local mortuary and meets an eccentric mortician (Clancy Brown, The Shawshank Redemption) who chronicles the strange history of the town through a series of twisted tales, each more terrifying than the last.
Guests can buy tickets now for any of the three locations that include Woodland Hills, California, The Star At Frisco in Texas or Bell Works in Holmdel, New Jersey. Tickets for each engagement are limited and it is recommended guests pre-book online prior to visiting. For more information and to make a reservation you can go to https://cinemadriveins.com/."
--------
Watch the Trailer for SLEEPLESS BEAUTY: "SLEEPLESS BEAUTY tells a twisted story about a young woman, Mila, who is kidnapped by a mysterious organization known as Recreation. Her unknown abductors talk to her through a loudspeaker and set strict rules: she cannot sleep and has to fulfill bizarre and violent tasks if she hopes to stay alive. At first, it looks like someone's sick idea of entertainment but as the demands become more intense, Mila begins to realize that she is losing control of her own mind and instead, may be a pawn in a twisted and deadly psychological experiment.
SLEEPLESS BEAUTY made its world premiere at the 2020 Imagine Film Festival and was an official selection for the 2020 Sitges Film Festival, 2020 Dead Of Night Film Festival, and 2020 Obscura Berlin Film Festival. SLEEPLESS BEAUTY will be available on VOD + Digital platforms beginning Tuesday, November 10, 2020 and will be available on Blu-ray beginning Tuesday, November 17, 2020. "