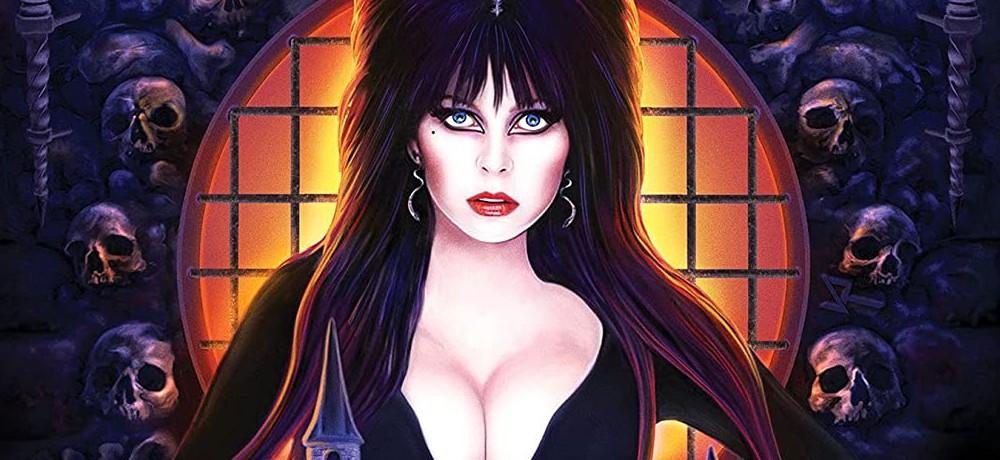 SCREAM FACTORY PRESENTS ELVIRA'S HAUNTED HILLS COLLECTOR'S EDITION ON BLU-RAY OCTOBER 5, 2021: "Los Angeles, CA – Elvira's back and she's fabulous! On October 5, 2021, Scream Factory proudly presents the camp classic Elvira's Haunted Hills from the iconic horror host in a Collector's Edition Blu-ray release. The Blu-ray features a brand-new 4K scan of the original camera negative and comes loaded with bonus features including a new introduction by Elvira, Mistress of the Dark, all housed within limited-edition collectible slipcase packaging, while supplies last. Fans who order their copies from shoutfactory.com will also receive an exclusive poster featuring brand-new artwork, while supplies last.   With her voluptuous figure, voluminous black hair and hilarious one-liners, the essence of camp oozes from her pores. Elvira's Haunted Hills culls its outrageousness from the classic Vincent Price/Edgar Allan Poe/Roger Corman films of the early 60s, along with a little Rocky Horror Picture Show and Fearless Vampire Killers. The tale begins in 1851, when Elvira and her maid Zou Zou are en route to perform in the Parisian Revue "Yes I Can Can," but inadvertently end up at the sinister Lord Vladimere Hellsubus' medieval castle. Bearing an uncanny resemblance to Vladimere's long-dead wife, Elvira learns of the Hellsubus curse and finds her life in danger. Will she escape the family curse and the evil Vladimere? And can she keep her hands off of the stable hand long enough to save the day? Special Features:
NEW Restoration from a 4K Scan of the Original Camera Negative
NEW Introduction by Elvira, Mistress Of The Dark
Audio Commentary with Actors Cassandra Peterson, Mary Scheer, Mary Jo Smith And Scott Atkinson, and Director Sam Irvin
Making-Of Featurette
"Transylvania Or Bust" Featurette
Elvira in Romania Featurette
Interview with Actor Richard O'Brien
Outtakes
Photo Gallery"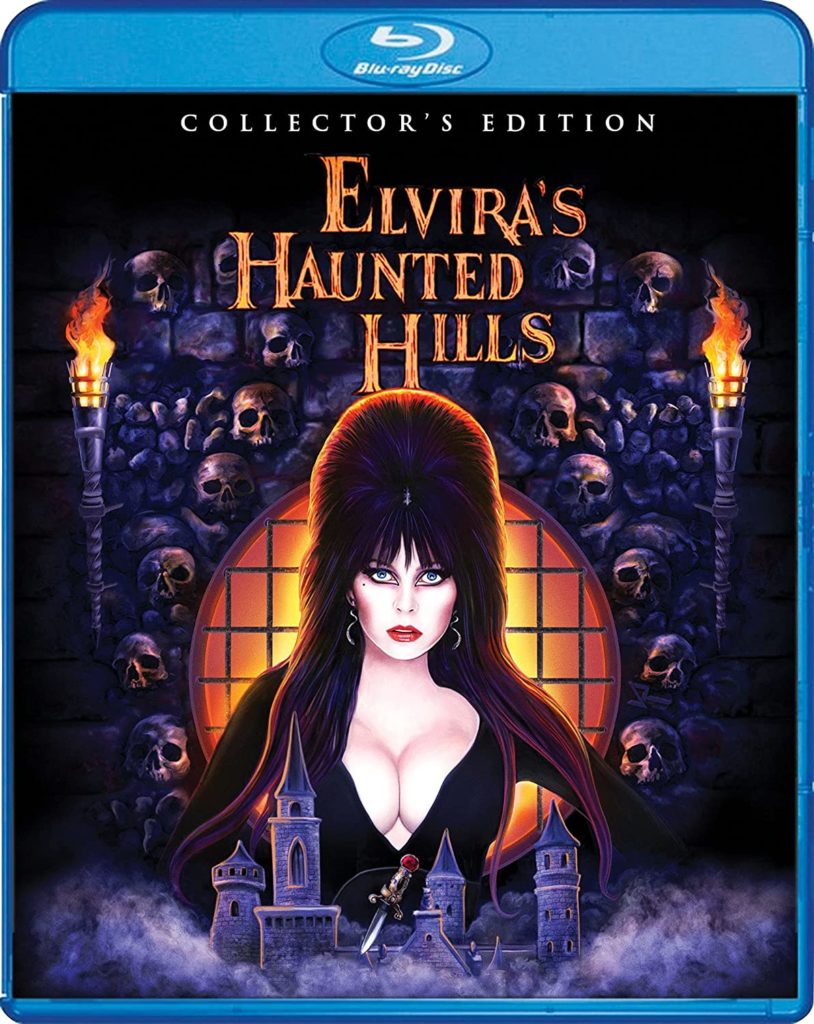 ----------
THE SLEEPOVER by Michael Regina: "Invite your friends and pop some corn for this creepy new graphic novel, THE SLEEPOVER by Michael Regina, on sale October 19th. Perfect for fans of Stranger Things, this middle grade graphic novel follows a group of kids trying to cheer up their friend after a recent loss with a fun-filled sleepover, but their plans soon take a dark turn when they discover his new nanny may literally be a monster!
Matt and his sister Judy are very close to their nanny, Ruby. But when Ruby unexpectedly passes away, their single mother is forced to find a new nanny: the suspiciously perfect Miss Swan…. Miss Swan loves having Matt's friends over for sleepovers and lets them stay up late and eat whatever they want, but Matt just doesn't trust her. He thinks she may be the witch from local legend—the one who torments children into the night and then eats them. Is he just having a hard time dealing with Ruby's replacement, as his friends suspect? Has he watched one too many scary movies, as his mom fears? Or are he and his horror-buff friends in for the fright of their lives as they come face-to-face with a real monster?
The Sleepover expertly balances elements of monster and terror with humor and childhood adventure. Set in the early 90's when the author was the same age as the main character, readers will love the nostalgic backdrop – from sleepovers with your friends to Discmans, video stores, and baggy clothes! But more than just entertainment, The Sleepover features a complex monster and a nuanced look at grief. Miss Swan may be terrifying, but she is also multidimensional, and by the end of the book readers may just sympathize with her. This is also a deeply personal story for Michael Regina, in which many of the details were inspired by his own childhood, and the loss of his beloved nanny. His portrayal of Matt's complicated emotions and grieving process are authentic, raw, and genuine.
The Sleepover is on sale October 26th, just in time for Halloween!"
Learn more at: https://www.penguinrandomhouse.com/books/623326/the-sleepover-by-michael-regina/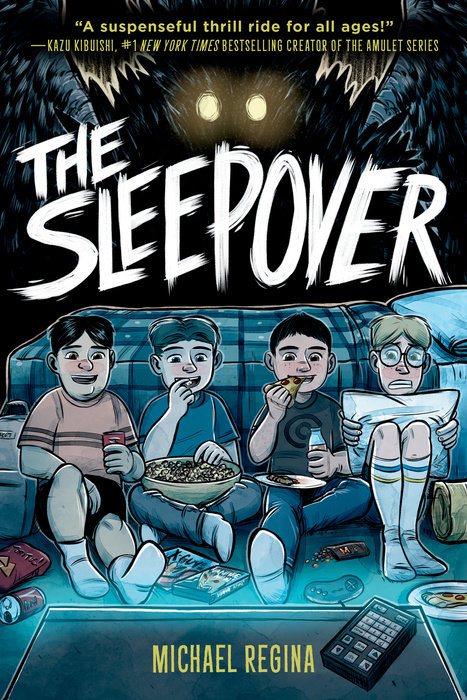 ----------
ARROW Announces September SVOD Lineup, Leading With Tilt-a-Whirl Love Story JUMBO, DEATH SCREAMS & THE PETER WALKER COLLECTION: "London, UK - Arrow Video is excited to announce the September 2021 lineup of their new subscription-based ARROW platform, available to subscribers in the US, Canada, the UK and Ireland.
The September lineup leads with the ARROW release of Zoé Wittock's acclaimed love story Jumbo, available to subscribers in the US, Canada, and the UK. The feature debut from writer/director Zoé Wittock, Jumbo stars Noémie Merlant (Portrait of a Lady on Fire) as a lonely introvert who forms an unexpected bond to the new attraction at the theme park where she works. Jumbo world premiered at the Sundance Film Festival and screened around the globe. The film will debut on ARROW September 1st.
September 1st will see the arrival of Jumbo (UK/US), Passion & Poetry - The Dundee Odyssey (UK/US/CA/IRE), Mike Siegel: About the Passion & Poetry Project (UK/US/CA/IRE), Passion & Poetry - Peckinpah Anecdotes (UK/US/CA/IRE), Life Is a Long Quiet River (UK/US/IRE), A Girl Walks Home Alone at Night (US), The Girl with the Dragon Tattoo (US), The Girl Who Played with Fire (US), The Girl Who Kicked the Hornet's Nest (US), and The Snake Girl and the Silver-Haired Witch (UK/US/CA/IRE).
September 1st kicks off Seasons with Paperback Passions, celebrating some of the best literary adaptations on ARROW. From tales that are reinterpreted and reimagined to faithful retellings of original novels and manga, this season features thrilling adaptations from the works of Koji Suzuki, Lionel Shriver, Edgar Allan Poe, and more!
Paperback Passions titles include: The Girl with the Dragon Tattoo, The Bloodhound, Dark Water, We Need to Talk About Kevin, and Sleeping Dogs.
September 1st will also open up the borders with Magnifique, a collection of the finest French filmic fancies for feasting on, led by the wonderful Toto the Hero.
Magnifique titles include: Toto the Hero, The Love of a Woman, The Mystery of Picasso, and Le Plaisir.
September 1st closes out with the Peter Walker Collection (all US), a selection of titles from the British auteur who was reviled in the 1960s and 70s for his work with horror and exploitation: House of Whipcord, The Comeback, Schizo, Die Screaming Marianne, The Flesh and Blood Show, Frightmare, House of Mortal Sin, House Before Midnight, Man of Violence, and The Big Switch.
September 3rd sees the arrival of another installment of "Hammer House of Horror": Guardians of the Abyss (US).
September 6th debuts The Brand New Testament (US). God exists but He's a bit of a jerk. His ten-year-old daughter Ea rebels against His tyranny and comes to Earth, gathers disciples and proposes a New Testament for how humanity should live.
September 10th will debut with another installment of "Hammer House of Horror": Visitor from the Grave (US), Tell No One (US), Vamp (US) and Dead End Drive In (US, already available in the UK and Ireland).
On September 10th, Arrow Seasons take audiences Home Sweet Home. From supernatural presences to brutal home invasions, it's time to peek behind the curtains and find out just how many skeletons some residents have in their closets.
Home Sweet Home titles include: Torso, The Deeper You Dig, Momma Don't Go, The House that Bled to Death, and A Ghost Waits.
September 13th gets dirty, sexy, and violent with Lady Vengeance (US/CA), Sympathy for Mr Vengeance (US/CA), Potiche (US), and Sex and Lucia (US).
On September 13th, ARROW unleashes one familiar monster in two distinct forms: Gamera: The Showa Era and Gamera: The Heisei Era.
The Showa Era titles include: Gamera the Giant Monster, Gamera vs. Barugon, Gamera vs. Gyaos, Gamera vs Viras, Gamera vs. Guiron, Gamera vs. Jiger, Gamera vs. Zigra, and Gamera Super Monster.
The Heisei Era titles include: Gamera The Guardian of the Universe, Gamera 2: Attack of Legion, and Gamera 3: Revenge of Iris, Gamera the Brave.
September 17th will open with another installment of "Hammer House of Horror": The Two Faces of Evil (US), and Hell on Earth: The Desecration and Resurrection of Ken Russell's The Devils (UK/US/CA/IRE).
As summer gives way to autumn, it's time for movie lovers to find lovers to snuggle up with. ARROW takes audiences on a rollercoaster ride of love and lust where hidden rendezvous provide unmatched satisfaction with Forbidden Love, beginning September 17th.
Forbidden Love titles to include: Jumbo, Story of Sin, Love and Other Cults, The Love Witch, and A Snake of June.
September 20th sees the release of Robowar (US/CA).
September 24th will close out the month's lineup with a final installment of "Hammer House of Horror": The Mark of Satan (US)."
-
To learn more, visit: https://www.arrow-player.com/