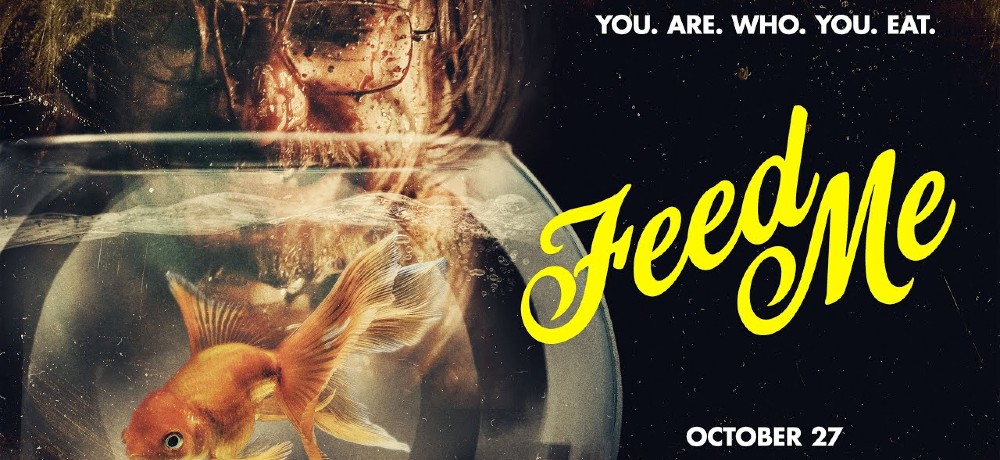 XYZ FILMS PICKS UP NORTH AMERICAN RIGHTS TO BEYOND FEST CANNIBAL HORROR FILM "FEED ME": "XYZ Films announces it has acquired North American rights to FEED ME, directed by Adam Leader and Richard Oakes. The film stars Neal Ward, Christopher Mulvin, Hannah Al Rashid and Samantha Loxley. It was produced by Ed Polgardy (THE WRETCHED) along with Adam Leader, Richard Oakes and Neal Ward and will receive its world premiere next month at Los Angeles's pre-eminent film festival, Beyond Fest, produced by Javier Diaz. XYZ Films has dated the release for October 27th on all digital and on demand platforms. XYZ Films's EVP of US distribution, James Emanuel Shapiro, negotiated the deal directly with the film's four producers.
FEED ME follows Mulvin's character Jed, whose life is shattered when his wife, played by Loxley, suddenly dies and Jed feels directly responsible. Spiraling into an abyss of depression, he finds himself in a bar with deranged cannibal, Lionel Flack (Ward, in a truly star-making performance) who convinces him he can redeem himself through the glorious act of allowing himself to be slowly eaten to death.
Shapiro remarks "I was truly blown away by FEED ME. I've watched this movie ten times since I first saw it because it's such a blast. This is a horror film for the real sickos out there, myself included. I haven't had this much fun watching a horror movie since DRAG ME TO HELL. This is not a brooding horror drama about grief and the human existence. FEED ME is a rollercoaster ride full of thrills, laughs and screams and it brings buckets and buckets of gore and grime to the table. I had to release this for Halloween. Dinner is served!"
"FEED ME is very much a film unto its own. As a product of our combined personalities as a filmmaker duo, it's an example of what we feel we do best - layering bizarre, batshit-crazy horror with a generous dusting of comedy on a dramatic story of grief, heartache and self-loathing.
From the moment of its inception, we wanted to tell the story without holding back due to the worry of what others might think. Its running themes and distinguished nature somewhat personally echo aspects of our own style as a filmmaking duo.
We're so excited to unleash FEED ME upon the world and showcase a style of cinema that we can't wait to carry on producing for many years to come!"
XYZ's current projects include THE BLACK KAISER with Mads Mikkelsen, HOUNDS OF WAR starring Frank Grillo, Robert Patrick and Rhona Mitra, and the Justin Benson & Aaron Moorhead film SOMETHING IN THE DIRT which premiered at Sundance 2022. Its current slate also includes Nic Cassavetes' GOD IS A BULLET starring Nikolaj Coster-Waldau, Maika Monroe and Jamie Foxx, NOCEBO directed by Lorcan Finnegan with Eva Green and Mark Strong, and ACCUSED from BAFTA-nominated BOILING POINT director Phillip Barantini. XYZ is in post-production on the Netflix Original HAVOC, directed by Gareth Evans and starring Tom Hardy and Forest Whitaker.
----
22ND ANNUAL SCREAMFEST HORROR FILM FESTIVAL ANNOUNCES2022 LINEUP: "Screamfest® Horror Film Festival, the largest and longest-running horror film festival in the United States, today announced their first-wave lineup of competitive features and shorts for its 22nd edition. Running October 11th through 20th at the TCL Chinese Theater, Screamfest® welcomes audiences back to the big screen for a collective experience they won't soon forget. Tickets will be on sale soon and can be purchased via the festival website: https://screamfestla.com/
Run Sweetheart Run from Prime Video and Blumhouse will close Screamfest® LA on October 20th. After what begins as dinner with a client, a single mom (Ella Balinska) finds herself hunted by a monstrous and seemingly unstoppable assailant (Pilou Asbæk). Co-written and directed by Shana Feste (Dirty Diana, Boundaries), the film is a must-see watch for the Halloween season and helmed by an extraordinary team of women both in front and behind the camera. A Q&A will follow the screening featuring the cast and crew.
Considered the "Sundance of Horror," Screamfest® is proud to showcase new work from independent filmmakers from across the globe. Highlights from this year's shorts program include Legs starring Laura Carmichael (Downton Abbey), plus student film Crimson Ties by Francesca Scorcese, daughter of Martin Scorcese. Additional shorts to look out for include Old Time Radio with voiceover by Paul Giamatti, plus The Rotting of Casey Culpepper directed by Daniel Slottje, which was accepted into this year's Sundance Institute Producers Lab.
It wouldn't be a proper Halloween without everyone's favorite killer doll: making its West Coast Premiere is the documentary Living with Chucky (written and directed by Kyra Gardner, who grew up alongside the Child's Play franchise). This doc seeks out other families surrounding the film series as they recount their experiences working on the ongoing franchise and what it means to be a part of the "Chucky" family. Interviews include Brad Dourif, Jennifer Tilly, Fiona Dourif, Don Mancini, John Waters and Marlon Wayans.
World Premieres at this year's festival include Slayers, the latest from director K. Asher Levin about a vampire slayer (Thomas Jane) teaming up with social media superstars also starring Abigail Breslin and Malin Akerman; Deer Camp, about a 1980s Michigan deer-hunting trip gone terribly wrong directed by L. Van Dyke Siboutszen; and KillHer directed by Robyn August.
Making their North American debuts are The Revelation from the Netherlands, written and directed by Chris W. Mitchel about a COVID-19 conspiracy theorist awaiting the apocalypse after moving back home, and The Domestic from South Africa, written and directed by Brad Katzen. Premiering for the first time in LA is Employee of the Month from Belgium, a workplace horror concerning gender pay parity directed by Véronique Jadin. Also receiving its LA Premiere is Swallowed starring Jena Malone, a queer horror nightmare written and directed by Carter Smith about two childhood friends surviving a horrific night in the woods.
West Coast Premieres at the festival include the UK film The Loneliest Boy In The World directed by Martin Owen described as a modern fairytale but with zombies, starring Hero Fiennes Tiffin, Ashley Benson and Evan Ross, as well as Everyone Will Burn from Spain directed by David Hebrero, about a grieving mother visiting a strange little girl who might be connected to a local legend about stopping an impending apocalypse. Additional films in this category include the joint US/Canada production, Do Not Disturb, about a peyote-fueled honeymoon turned cannibalistic, written and directed by John Ainslie, plus the abandoned camp monster comedy Shaky Shivers directed by Sung Kang, and Follow Her directed by Sylvia Caminer, a female-led psycho-sexual thriller secretly filming her creepy online interactions.
We are excited to return to the TCL Chinese Theaters since the theatrical experience is unlike anything else," says festival founder Rachel Belofsky. "We look forward to seeing the LA horror community in person this year and can't wait to see these premieres on the big screen where they belong.
Formed in August 2001 by film producer Rachel Belofsky, Screamfest Horror Film Festival is a female-run 501(c)(3) non-profit organization that gives filmmakers and screenwriters in the horror and science fiction genres a venue to have their work showcased in the film industry.
Please find the 2022 Screamfest feature line-up below:
Deer Camp (US, 2022) – World Premiere
Directed by L. Van Dyke Siboutszen
Written by Bo Hansen, Riley Taurus
Produced by Bo Hansen, Riley Taurus
Cast: Noah LaLonde, Brian Michael Raetz, Jay J. Bidwell, Arthur Cartwright, Josh Dominguez, David Lautman, Tina Joy, Paul Wilson
Six dumb shits travel from Detroit to northern Michigan in the fall of 1986 to partake in the annual (drunken) tradition of deer hunting. Upon arriving, the death of a Native American woman awakens a spirit, and the hunters become the hunted.
Do Not Disturb (Canada/US, 2022) - West Coast Premiere
Written and Directed by John Ainslie
Produced by Rechna Varma
Cast: Kimberly Laferriere, Rogan Christopher
Do Not Disturb follows Chloe and Jack's honeymoon in Miami where a peyote trip to strengthen their marriage becomes a narcotic nightmare. As they confront their troubled relationship, they discover that this strand of peyote awakens a desire to consume human flesh. Their suite becomes an insatiable den of love, lust and carnal desire as Chloe comes to the realization that the only way to escape this toxic marriage is to literally consume Jack.
The Domestic (South Africa, 2022) – North American Premiere
Written and Directed by Brad Katzen
Produced by Shaun Naidoo, Brad Katzen, Tumisho Masha, Ari Stiller
Cast: Thuli Thabethe, Amanda Du-Pont, Tumisho Masha
The Domestic tells the story of an upper-class, happily married couple who hire the daughter of their recently deceased housekeeper as their new helper, only for things to take a dark and macabre turn when she tries to destroy them from within... Exploring themes of tradition versus modernity, African witchcraft and muti, and the extreme class differences in our society, THE DOMESTIC is a tense, disturbing descent into suburban horror.
Employee of the Month (L'Employee du Mois) (Belgium, 2022) - LA Premiere
Directed by Véronique Jadin
Written by Véronique Jadin & Nina Vanspranghe
Produced by Velvet Films
Cast: Jasmina Douieb, Laetitia Mampaka, Peter Van Den Begin, Alex Vizorek, Laurence Bibot
Inès is the mainstay of EcocleanPro, a small wholesale company selling household products. She gives herself body and soul to her boss PATRICK, in the love of a job well done. Although PATRICK is proud of his 1992 Manager of the Year award, the laziness of his employees JEAN-PAUL and JEAN-PIERRE play shoulder to shoulder with the boastfulness of NICO, the tiresome salesman. Under the blasé gaze of the new trainee MELODY, the marketing phrases of the Benelux manager ANNA NILSSON open up a new mental space for Inès: she is the only one who never gets a raise, even though she works harder than the others. Is it because she is the only woman in this boys' club? Ines takes her courage in both hands and for the first time insists on being augmented, but Patrick throws her out in two sentences. Ines gets screwed again; her frustration turns to anger. Ingesting Xanax and Viagra won't help. Ines wants her raise and all of EcoClean is going to pay cash for these years of exploitation. Mélody's internship will finally prove to be very instructive...
Everyone Will Burn (Y Todos Arderan) (Spain, 2022) – West Coast Premiere
Directed by David Hebrero
Written by David Hebrero and Javier Kiran
Produced by Enrique Garcia-Gasco, Deja Gordon, David Hebrero, Javier Kiran
Cast: Macarena Gómez, Rodolfo Sancho, Rubén Ochandiano, Fernando Cayo, Ana Milán, Sofía García, Saturnino García, Germán Torres, Guillermo Estrella, Ella Kweku
In a small village in Leon, Spain, María José (30 COINS and SEXY KILLER's Macarena Gomez) prepares to end her life after failing to get over the death of her son years before. Everything changes when she receives a visit from Lucía, a strange little girl who might be connected to a local legend about stopping an impending apocalypse. With the enigmatic girl by her side, María José faces the corrupt community, triggering strange events and a series of horrific deaths among the local population.
Follow Her (US, 2022) - West Coast Premiere
Directed by Sylvia Caminer
Written by Dani Barker
Produced by Michael Indjeian, Sylvia Caminer, Dani Barker
Cast: Luke Cook, Mark Moses, Dani Barker, Eliana Jones
The disturbing but timely female-led psycho-sexual thriller centers on a struggling actress and live streamer who has finally found her hook: secretly filming creepy interactions she encounters via online job listings, and using the kinks of others to fuel her streaming success.
KillHer (US, 2022) – 2022 World Premiere
Directed by Robyn August
Written by Tom Kiesche
Produced by Ned Kisner, Lan Kisner, Tom Kiesche, Ron Rogge
Cast: MC Huff, Emily Hall, Jenna Alvarez, Nicole Lovince, Tom Kiesche, Harrison White
Mattie and her three besties--Eddie, Jess, and Rae--head into the woods for a weekend to plan Mattie's upcoming wedding and bachelorette party. Eddie, Mattie's roommate and an unrelenting practical joker, leads them to believe they will be setting up camp near Mattie's hunky fiancé, Jagger, and his friends. They soon realize the tent they've snuggled up next to belongs to a mysterious recluse named Mr. Rogers, rather than Jagger, and this is definitely his neighborhood! With zero cell reception and only a literal pot to piss in, their weekend camping trip is beginning to look like a bad idea. But it only gets worse when people start to die and a terrible secret is revealed. All these girls wanted was a killer pre-bachelorette party… and that's exactly what they got.
Living With Chucky (US, 2022) – West Coast Premiere
Press contact Kyra Gardner kyramyra3@gmail.com Hugues Barbier hugues@yellowveilpictures.com
Written, Directed and Produced by Kyra Gardner
Cast: Abigail Breslin, Alex Vincent, Billy Boyd, Brad Dourif, David Kirschner, Don Mancini, Fiona Dourif, Jennifer Tilly, Kyra Gardner, Tony Gardner, Tony Timpone, John Waters and Marlon Wayans
A filmmaker who grew up alongside Chucky the killer doll seeks out the other families surrounding the Child's Play films as they recount their experiences working on the ongoing franchise and what it means to be a part of the "Chucky" family.
The Loneliest Boy In The World (UK, 2022) – West Coast Premiere
Press contact: Jonathan Alvarez jonathan@wellgousa.com
Directed by Martin Owen
Written by Piers Ashworth
Produced by Piers Ashworth, Karl Hall, Ryan Hamilton, Matt Williams, Pat Wintersgill
Cast: HHero Fiennes Tiffin,ero Fiennes Tiffin, Ashley Benson, Evan Ross, Ben Miller, Max Harwood,
A modern fairytale, but with zombies. When Oliver is tasked with making new friends, he decides that digging a few up (literally) might be his best bet—as long as he and his newly deceased bffs can avoid getting caught.
The Revelation (Netherlands, 2022) – North American Premiere
Written and Directed by Chris W. Mitchel
Produced by Jan Doense, Monique van Kessel
Cast: Victor Löw, Leny Breederveld, Monic Hendrickx, Peter Bolhuis
At the start of the corona pandemic unemployed Jacob moves in with his elderly mother and falls under the spell of an internet conspiracy theorist. As his sister Magda looks on helplessly, Jacob becomes convinced that COVID-19 the beginning of the Apocalypse. A great sacrifice has to be made.
Run Sweetheart Run (US, 2022) - Closing Night Film
Press contact: Emily Teichner emilyte@amazon.com Christine Lemchi christine@fonspr.com
Directed by Shana Feste
Written by Shana Feste, Keith Josef Adkins, Kellee Terrell
Produced by Shana Feste, Effie T. Brown, Jason Blum, Brian Kavanaugh-Jones
Cast: Ella Balinska, Shohreh Aghdashloo, Pilou Asbæk, Clark Gregg, Aml Ameen, Dayo Okeniyi and Betsy Brandt
Initially apprehensive when her boss insists she meet with one of his most important clients, single mom Cherie (Ella Balinska) is relieved and excited when she meets charismatic Ethan (Pilou Asbæk). The influential businessman defies expectations and sweeps Cherie off her feet. But at the end of the night, when the two are alone together, he reveals his true, violent nature. Battered and terrified, she flees for her life, beginning a relentless game of cat-and-mouse with a blood-thirsty assailant hell-bent on her utter destruction. In this edge-of-your-seat dark thriller, Cherie finds herself in the crosshairs of a conspiracy stranger and more evil than she could have ever imagined.
Shaky Shivers (US, 2022) – West Coast Premiere
Directed by Sung Kang
Written by Andrew McAllister & Aaron Strongoni
Produced by Luci Kim, Jean Shim
Cast: Brooke Markham, VyVy Nguyen
Two young women find themselves at an abandoned camp in the woods with a book of magical spells surrounded by classic monsters in this comedic send up of '80s horror films.
Slayers (US, 2022) – World Premiere
Press contact: Katrina Wan
Directed by K. Asher Levin
Written by K. Asher Levin, Zack Imbrogno
Produced by Daniel Cummings, K. Asher Levin, Robert Dean, Abigail Breslin
Cast: Thomas Jane, Abigail Breslin, Malin Akerman, Kara Hayward
Kick-ass vampire slayer, Elliot Jones (Thomas Jane), made it his life's mission to take revenge on the bloodsuckers who murdered his teenage daughter. After years of tracking them, he has finally reached their secret and hidden base. But to get to them he will need to use a motley crew of social media superstars. Enter 'The Stream Team': party-girl Jules (Abigail Breslin), gen-z pro-gamer Flynn (Kara Hayward) and their team of trend-makers and breakers! With a hundred million-plus combined followers, they have attracted the attention of reclusive billionaire Beverly Rektor (Malin Akerman), who invites them to party at her multimillion-dollar vacation compound. They soon discover these rich people are none other than the ancient vampires that Elliot Jones is chasing. When the team is being held captive in a house of horrors to serve the vampires plan to take over the world, Elliott is their only hope of survival. As he links up with Flynn, a slayer in her own right, will he take down the vampire hoard and save The Stream Team?
Swallowed (US, 2022) – LA Premiere
Press contact Carter Smith Studio.pollywognyc@gmail.com
Written and Directed by Carter Smith
Produced by Carter Smith, Noah Lang, Ross O'Connor & Helio Campos
Cast: Cooper Koch, Jena Malone, Mark Patton, Jose Colon
After a drug run goes bad - two childhood friends must survive a horrific night in a backwoods hell of drugs, bugs, and obscene intimacy in this queer horror nightmare.
For more information or the latest news, visit screamfestla.com.
Hashtag: #ScreamfestLA
Twitter: @screamfest
Instagram: @screamfestla
Facebook: /Screamfest
YouTube: /Screamfestla
----
VIOLENT NIGHT: "To hell with "all is calm."
From 87North, the bare-knuckle producers of Nobody, John Wick, Atomic Blonde, Deadpool 2 and Fast & Furious Presents: Hobbs & Shaw comes a coal-dark holiday thriller that says you should always bet on red.
When a team of mercenaries breaks into a wealthy family compound on Christmas Eve, taking everyone inside hostage, the team isn't prepared for a surprise combatant: Santa Claus (David Harbour, Black Widow, Stranger Things series) is on the grounds, and he's about to show why this Nick is no saint.
The film also stars Emmy winner John Leguizamo (John Wick), Edi Patterson (The Righteous Gemstones), Cam Gigandet (Without Remorse), Alex Hassell (Cowboy Bebop), Alexis Louder (The Tomorrow War) and Beverly D'Angelo (National Lampoon's Vacation franchise)
Directed by razor-edged Norwegian director Tommy Wirkola (Hansel & Gretel: Witch Hunters, Dead Snow franchise), Violent Night is produced by 87North's Kelly McCormick, David Leitch and Guy Danella. The original screenplay is by Pat Casey and Josh Miller, the writers of Sonic the Hedgehog.
Universal Pictures will distribute the film in all territories."
Genre: Action Thriller
Cast: David Harbour, John Leguizamo, Edi Patterson, Cam Gigandet, Alex Hassell, Alexis Louder and Beverly D'Angelo
Directed by: Tommy Wirkola
Screenplay by: Pat Casey and Josh Miller
Producers: Kelly McCormick, David Leitch, Guy Danella