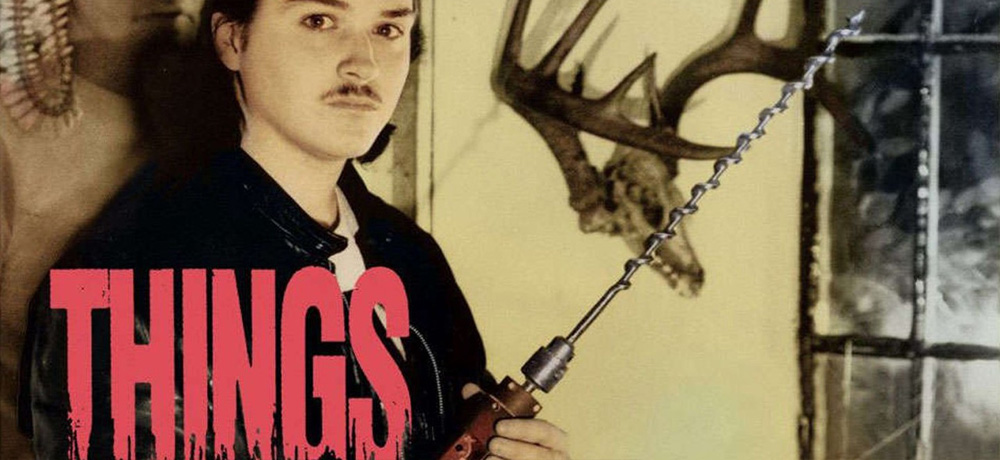 If you read Scott Drebit's Drive-In Dust Offs retrospective on Things (1989), then you know it's a horror film that has to be seen to be believed, and as it turns out, the behind-the-scenes story of how it was made has to be heard to be believed, too. As a special treat, Corpse Club co-hosts Scott Drebit and Bryan Christopher were recently joined by Things star/co-writer/editor/producer Barry J. Gillis on a new audio commentary for his wild film!
Corpse Club members were provided early access to this audio commentary, but we're now releasing it to all Daily Dead readers!
The next time you watch Things, you can press "play" and listen as Scott and Bryan talk with special guest Barry J. Gillis about the making of his unforgettable film, from the unpredictable screenplay he wrote with director/co-writer Andrew Jordan to the film's bizarre ant-like creatures to the movie's truly DIY approach to filmmaking, and much, much more.
So, whether you've already been forever changed by Things or you've never seen it before, sit back, relax, and enjoy a behind-the-scenes discussion about one of the strangest horror movies to ever see the light of the screen… It's like watching a movie with the Corpse Club... just be sure to save us some popcorn… and keep an eye out for mutant ant monsters!
Things Audio Commentary:
Like what you hear? Consider joining the Corpse Club for more bonus content!
Corpse Club members get access to special bonus content like this audio commentary every month! Our previous bonus content includes a Junji Ito/Resident Evil episode, a recent screenings and holiday horrors episode, a Halloween season and movie marathon discussion, an episode on Jordan Peele's Us, a celebration of Scrooged, an in-depth discussion on Deadpool 2, a reflection on Mandy, a career-spanning interview with Felissa Rose, and audio commentaries for:
Join the Corpse Club!
If you haven't already joined the Corpse Club, please consider becoming a member. Anyone who signs up will get access to all previously released and upcoming Daily Dead and Corpse Club bonus content.
Thank you for supporting Daily Dead!
Your support allows us to expand our staff, support the members of our team, and provide more features from the writers and co-hosts you love, including Heather Wixson, Scott Drebit, Patrick Bromley, and more. Thanks, as always, for reading, listening, and supporting the Daily Dead team! For those of you who are thinking about joining the Corpse Club, please don't hesitate to seek us out among the tombstones. There's plenty of room in the crypt and we have such sights to show you...
To learn more about our Corpse Club membership system and to sign up, visit:
https://dailydead.com/corpseclub/join/
Thank you from the bottom of our horror-loving hearts for making Daily Dead your destination to stay scary!