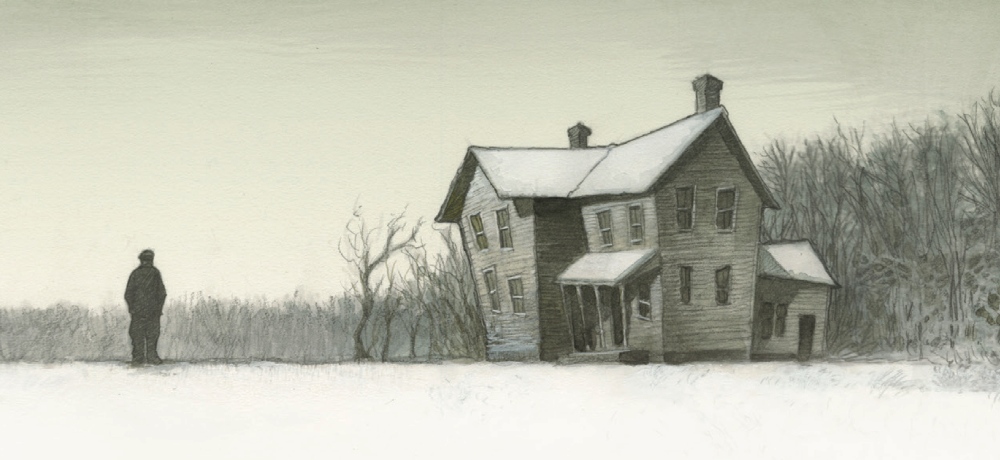 A prolific and legendary writer who has shed insights into the motives and mindsets behind some of the most unsettling true crime cases throughout history, author Harold Schechter (Deviant, The Serial Killer Files, and many more true crime books) has teamed up with writer and illustrator Eric Powell to revisit and chronicle the life of Ed Gein in the new graphic novel Did You Hear What Eddie Gein Done? 
With Albatross Funnybooks releasing Did You Hear What Eddie Gein Done? in comic shops on August 11th and bookstores on August 24th, we caught up with Schechter in a new Q&A feature to discuss collaborating with Powell, what he hopes readers will take away from the graphic novel, and how his viewpoint on Gein has changed over the years.
You can check out our full Q&A with Schechter below, and in case you missed it, check out preview pages and our previous Q&A with Powell.
Thanks for taking the time to answer questions for us, Harold, and congratulations on your new graphic novel, Did You Hear What Eddie Gein Done? How did you get involved with this exciting collaboration with artist and co-writer Eric Powell?
Harold Schechter: There's a simple answer to that: Eric contacted my agent to see if I'd be interested in collaborating with him. As a lifelong fan (and one-time collector) of comic art who regards Eric as arguably the finest illustrator of his generation, I leapt at the chance. 
You previously explored the mind of Ed Gein in your novel Deviant: The Shocking True Story of the Original "Psycho". Did you need to do any further research on Gein while preparing for this graphic novel, or were you already familiar enough with Gein to dive right in?
Harold Schechter: I didn't do any new research, but over the years my thoughts about the nature of Gein's psychopathology have changed somewhat. I no longer see him in the strictly Freudian terms that were applied to him when the story broke. While he clearly was in thrall to his mother, I have come believe that he was in the grip, not of the stereotypical "Oedipal complex," but of a kind of atavistic religion—that, in his psychosis, he was performing archaic rituals having to do with human sacrifice, the wearing of flayed human skin, and the worship of the Magna Mater, the Great Mother Goddess.
You've had a prolific and renowned career writing true crime books, and you got to bring your insightful talents to the graphic novel medium for Did You Hear What Eddie Gein Done? What was it like collaborating with Powell throughout this creative process to bring Gein's story to life in this visual-centric medium?
Harold Schechter: It was a dream of a collaboration. Over the course of many Zoom calls, Eric and I worked out what we wanted the book to be, I turned over my text to him, then he did significant revisions that made it much better and produced his astounding visualizations.
Perhaps more than any other serial killer, Ed Gein and his grisly actions have had a major impact on entertainment in America, inspiring the monumental movies Psycho, The Texas Chain Saw Massacre, and The Silence of the Lambs. Why do you think Gein had such a large influence on pop culture that continues to this day?
Harold Schechter: Let me begin by saying that I don't consider Gein a serial killer in the way that Ted Bundy, John Wayne Gacy, and others of their ilk were. The latter were extreme sadists who derived their perverted sexual pleasure from preying on and torturing helpless victims. It's true that Gein murdered two women, but (not to minimize his crimes) they were swiftly executed, not tortured. He was interested in using their corpses as the raw material for his ghastly handiwork. As for the question of his influence on what I regard as the three greatest works of American horror cinema, I think a large part of the answer has to do with the way that Gein, from the very beginning, seemed like a fairytale monster come to life. His story taps into a whole bunch of archetypal myths.
Has your perspective on Gein changed at all in the years since Deviant was originally published? Did you learn anything new about him while working on Did You Hear What Eddie Gein Done?
Harold Schechter: As mentioned above, my thoughts about what was going on in Gein's mind have evolved over the years and the graphic novel gave me a chance to convey those, for which I'm grateful. But—except for some fascinating tidbits that Eric discovered in his own researches—I can't say that I learned anything new.  
Ultimately, what do you hope readers take away from Did You Hear What Eddie Gein Done? Are there any major misconceptions that you think the general public has about Eddie Gein that might be changed after reading this graphic novel?
Harold Schechter: Not to repeat myself too often, but I hope that readers will come away with new insights into the bizarre workings of Gein's mind.
After working on Did You Hear What Eddie Gein Done?, do you have plans to collaborate on any other graphic novels or adapt any of your true crime books into the graphic novel format in the future?
Harold Schechter: No plans, but if Eric is ever interested in working with me again, I'm ready to sign on.
With Did You Hear What Eddie Gein Done? coming out in comic shops on August 11th and bookstores on August 24th, what other projects do you have coming up that you're excited about, and where can our readers go online to keep up with your work?
Harold Schechter: I'm working on a book right now that I'm excited about, though I don't like to talk too much about my projects while I'm in the middle of them. I'm not much for social media, but I do have a website where readers can get the latest on my work: haroldschechter.com
Thank you very much, Harold!
Harold Schechter: My pleasure. Thanks for reaching out.
-----------
Below, we have the official press release and preview pages from the new graphic novel:
Press Release: (August 3, 2021) Eric Powell—the legendary creator of comics like The Goon and Hillbilly—and Harold Schechter—the author of true crime classics including Deviant and The Serial Killer Files—are collaborating on an ambitious new graphic novel about one of the most notoriously deranged murderers in American history, Ed Gein.

Powell and Schechter are co-writing DID YOU HEAR WHAT EDDIE GEIN DONE?, an all new, 200-page, original graphic novel illustrated by Powell that delves into the twisted history of the Gein family and the notorious violence that inspired Psycho, The Texas Chainsaw Massacre, and The Silence of the Lambs. Painstakingly researched and illustrated, Schechter and Powell's true-crime graphic novel presents Gein's infamous story like never before.

"This book takes Gein's gruesome crimes out of the realms of exploitation and delivers a powerful, fact-based dramatization of the tragic, psychotic, and heartbreaking events," said Powell. "Because, in this case, the truth needs no embellishment to be horrifying."

"Obviously Ed Gein's story has been fictionalized many times in the movies," said Schechter. "In no visual medium, however, have the bizarre inner workings of his mind been explored and portrayed. The graphic novel is the perfect medium to conduct such an exploration. DID YOU HEAR WHAT EDDIE GEIN DONE? will not only bring the factual details of Gein's crimes to vivid, compelling life but draw the reader into the phantasmagoric realm of his uniquely deranged psyche."

"The case of Ed Gein is terrible, tragic and fascinating," said Powell. "This story is not just about Gein and his crimes, but also how a society tried to deal with the shocking facts of these crimes and the idea that the quiet neighbor next door could be a real life bogeyman. The after effect it had on our culture, especially pop-culture, cannot be overstated."

Here is what people are saying about DID YOU HEAR WHAT EDDIE GEIN DONE?:

"Eric Powell doing a graphic novel about Ed Gein… Some things are so perfect that you just can't believe it hasn't already happened. To say I'm excited about this one would be one of the great understatements of the 21st century."―Mike Mignola (Creator of Hellboy)

"Eric Powell and Harold Schechter aim to cut through the myths and reveal the true history of a true American villain."―IGN

"A brand new, and one of a kind perspective on one of the most notoriously deranged murderers in American history."―SCREENRANT

"Painstakingly researched."―HORROR DNA

"I CANNOT WAIT to read/see the story that has haunted the American psyche told through Schechter and Powell's lens. It's not just true crime, it's true horror."―Scott Ian (Guitarist of Anthrax)

"Incredibly horrific."―COMICS BEAT

"Ambitious."―COMICON.COM

"ERIC AND HAROLD HAVE A TAKE ON ED GEIN? - CHRISTMAS IS EARLY…"― David Fincher (Director and misanthrope)

"If there was any creator I felt could do this subject matter the grisly justice it deserves, it's Eric Powell, creator of The Goon."―COMICON.COM

"Eric Powell and Harold Schechter team up to tell the true story of Ed Gein in a unique format for true crime. I can't wait!"―John Carpenter (Director of Halloween, The Thing)

DID YOU HEAR WHAT EDDIE GEIN DONE? will be published by Albatross Funnybooks in comic shops on August 11, 2021 and in bookstores on August 24th, 2021. For more updates on Albatross Funnybooks and DID YOU HEAR WHAT EDDIE GEIN DONE?, follow the company on Twitter, Facebook, Instagram.

Harold Schechter is an American true-crime writer who specializes in serial killers. Twice nominated for the Edgar Award, he is the author of the nonfiction books Fatal, Fiend, Bestial, Deviant, Deranged, Depraved, The Serial Killer Files, The Mad Sculptor, and Man-Eater; the Amazon Charts and Washington Post bestseller Hell's Princess: The Mystery of Belle Gunness, Butcher of Men; the Amazon Original Stories collection Bloodlands; and Ripped from the Headlines. Schechter received his PhD in American literature from the State University of New York in Buffalo. A professor emeritus at Queens College, he is married to the poet Kimiko Hahn. For more information, visit www.haroldschechter.com.

Eric Powell is a comics publisher, writer and artist who has contributed work on such comics titles as Buffy the Vampire Slayer, Angel, Hellboy: Weird Tales, Star Wars: Tales, The Incredible Hulk, Black Panther, The Avengers, The Hood, MAD magazine, Devil Dinosaur, Swamp Thing, She-Hulk, The Simpsons, Arkham Asylum: Living Hell, Action Comics, and Creepy. But he is mostly recognized for his critically acclaimed dark comedy series The Goon.

Awards: International Horror Guild: 2004 Best Illustrated Narrative, Will Eisner Comic Industry Award: 2004 Best Single Issue (The Goon #1), Will Eisner Comic Industry Award: 2005 Best Humor Publication, Will Eisner Comic Industry Award: 2005 Best Continuing Series, Will Eisner Comic Industry Award: 2008 Best Writer/Artist—Humor, Will Eisner Comic Industry Award: 2008 Best Painter or Multimedia Artist.

About Albatross Exploding Funnybooks: Launched in 2002, Albatross Exploding Funnybooks has always been a labor of love for award-winning, Nashville-based cartoonist Eric Powell. The label began as a means to publish Powell's creator-owned series THE GOON, which mainstream publishers had deemed "too different." Although THE GOON later found a home and wider audience with Dark Horse Comics, Powell continued to publish, celebrate, and cultivate creator-owned titles through Albatross Exploding Funnybooks, including his all-ages comic CHIMICHANGA and Rebecca Sugar's PUG DAVIS. In 2016 Powell shifted sole focus to his publishing company and has since published such titles as HILLBILLY, GRUMBLE, BRENDON SMALL'S GALAKTIKON, MEGAGHOST and TANK GIRL.