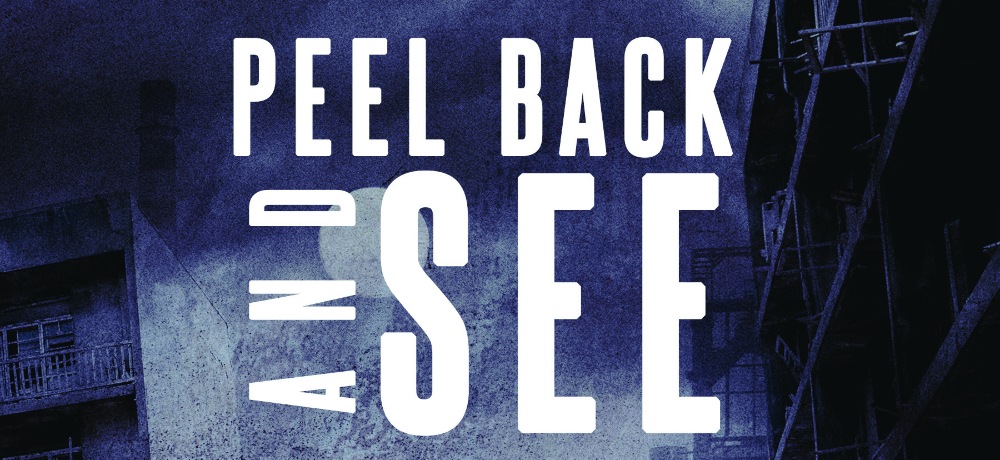 Suffice it to say that 2021 has been a big year for author Mike Thorn. February saw the publication of his debut novel, Shelter for the Damned, June witnessed the release of his revamped short story collection, Darkest Hours: Expanded Edition, and October set the stage for his third book of the year, Peel Back and See, featuring 16 new short stories lurking between the covers of what Thorn says could be his "bleakest book to date."
With the horror holiday shopping season upon us (it should be noted that Peel Back and See would fit very nicely in a stocking), we caught up with Thorn in a new Q&A feature to discuss the timely themes rippling through his latest short story collection, the collaborative joys of working with JournalStone on all three of his book releases this year, and some of his holiday horror movie recommendations to help get you into the spooky spirit of the season.
Thanks for once again taking the time to answer questions for us, Mike, and congratulations on the publication of your new short story collection, Peel Back and See! What types of stories can readers expect to find in your latest collection?
Mike Thorn: Peel Back and See has a more pointedly contemporary focus than either my previous collection, Darkest Hours, or my novel Shelter for the Damned. The book engages a lot with the thinning membrane between online and offline reality. There's a story called "Virus" (which originally appeared on The NoSleep Podcast) that depicts two teenagers uncovering an occult torrent file. "GorgoYama2013" follows a strange, unsettling friendship between two Twitter users. The collection's bookends, "Havoc" and "Fade to White," are Internet-focused narratives of isolation set against the backdrop of the COVID-19 pandemic. As a whole, I think it's probably my bleakest book to date.
Looking at Peel Back and See as a whole, is there an underlying theme running through the stories in this collection?
Mike Thorn: There are a few common themes running through the stories in Peel Back and See. Several of the pieces deal with Faustian bargains, and the book also has a recurring focus on mental illness, writer's block, the reemergence of painful memories, identity erosion, addiction, alienation, and digital technology's omnipresence.
Overall, how long did it take you to write the 16 stories in Peel Back and See? Did you have some of these stories in mind for a long time, or did you conjure them all relatively recently?
Mike Thorn: With a couple exceptions, I wrote the majority of Peel Back and See over the past three years. I completed the first and last stories, "Havoc" and "Fade to White," quite close to publication, because I knew the book needed a certain kind of thematic bookending—both stories deal with very contemporary forms of despair, with emphases on our current state of ecological catastrophe, institutional and corporate corruption, the COVID-19 pandemic, psychological traumas, depression, and the dissolution of self.
You have experience writing both novel-length stories and short stories. What do you enjoy about the process of writing short stories versus novellas or novels? Are there any challenges or rewarding moments specific to the realm of creating short stories?
Mike Thorn: I like the economy and concision that short stories necessitate. I'm always conscious of prose style, whether I'm writing a novel or a short story, but the short form allows me to really zone in on sentence construction, line by line, in a way that becomes more daunting when dealing with the 200+ pages that constitute a novel.
While writing the stories in Peel Back and See, were you influenced or inspired by any other authors, books, movies, TV shows, or video games?
Mike Thorn: Definitely. Every book is a stew of influences. In terms of authors, Peel Back and See owes something to Edgar Allan Poe, H. P. Lovecraft, Kathe Koja, Georges Bataille, Bret Easton Ellis, Mary Shelley, Henry James, Clive Barker, Don DeLillo, Ann Radcliffe, Daphne du Maurier, Hubert Selby Jr., Shirley Jackson, Herman Melville, Stephen King, Thomas Ligotti, and Jim Thompson (among others).
I originally wrote one of the collection's stories, "Offer to the Adversary," for Beyond the Book of Eibon, a tribute anthology to the Italian horror director Lucio Fulci. On top of Fulci, some of the filmmakers who influenced Peel Back and See are Kiyoshi Kurosawa, David Cronenberg, Abel Ferrara, Paul Schrader, Stuart Gordon, Lars von Trier, Darren Aronofsky, Tod Browning, James Whale, and Tobe Hooper.
Ultimately, what do you hope readers take away from Peel Back and See?
Mike Thorn: My hope is that the book elicits an emotional response, that it keeps readers engaged. That's always my number one goal.
Peel Back and See marks your third publication with JournalStone (following the releases of Shelter for the Damned and Darkest Hours: Expanded Edition). What has it been like to work with JournalStone throughout multiple book releases this year?
Mike Thorn: JournalStone has been great. They've wholly accepted all three of my books for what they are, without imposing restrictions on content. I really appreciated that they allowed me to slide a couple extra stories into Peel Back and See as it neared its release. This publishing team is collaborative with its authors at almost every stage—they've let me play a big role in conceptualizing cover designs, layouts, typefaces…it's been a genuine pleasure working with them.
With the holiday season upon us, do you have any holiday horror movie or book recommendations for our readers? 
Mike Thorn: Well, of course I like a lot of the classic Christmas horror movies (Black Christmas [1974], Silent Night, Deadly Night, and Gremlins come to mind). Stanley Kubrick's Eyes Wide Shut is arguably horror-adjacent; that might be my favorite Christmas movie of all time.
And I've always loved A Christmas Carol by Charles Dickens, one of the best ghost stories ever written.
In addition to writing, what have you been reading lately that you would recommend to our readers?
Mike Thorn: I just finished John Cheever's The Brigadier and the Golf Widow, a collection of stories focused primarily on upper-middle class suburban ennui. I was really haunted and struck by Cheever's style. I also recently read Amber McMillan's The Running Trees, one of the most unique and exciting new collections of short fiction I've encountered in a long time. This year, I devoured (and loved) Bret Easton Ellis's entire fictional oeuvre—his latest, the audio serial "memoir" The Shards, is easily one of the most formally inventive works of American fiction to come out in the past decade. I've been reading tons of Henry James over the past year, too, which has been a revelation, and I recently finished two excellent books by my favorite living writer, Kathe Koja: The Blue Mirror and Straydog.
Has your writing routine or approach to writing changed this past year? 
Mike Thorn: My writing routine seems to shift constantly, largely due to external circumstances. This September I started taking classes toward my PhD, so lately my creative work has been relegated to all-too-rare pockets of free time.
In addition to Peel Back and See, are there any other projects you're currently working on that you can tease for our readers?
Mike Thorn: I'm chipping away at a few things—a second novel, a couple screenplay concepts, some new stories and essays—but nothing quite ready to discuss just yet. Stay tuned, and wish me luck…
Thank you for your time, Mike!
Mike Thorn: Thank you—stay spooky!
----------
To learn more about Peel Back and See and Mike Thorn, visit: