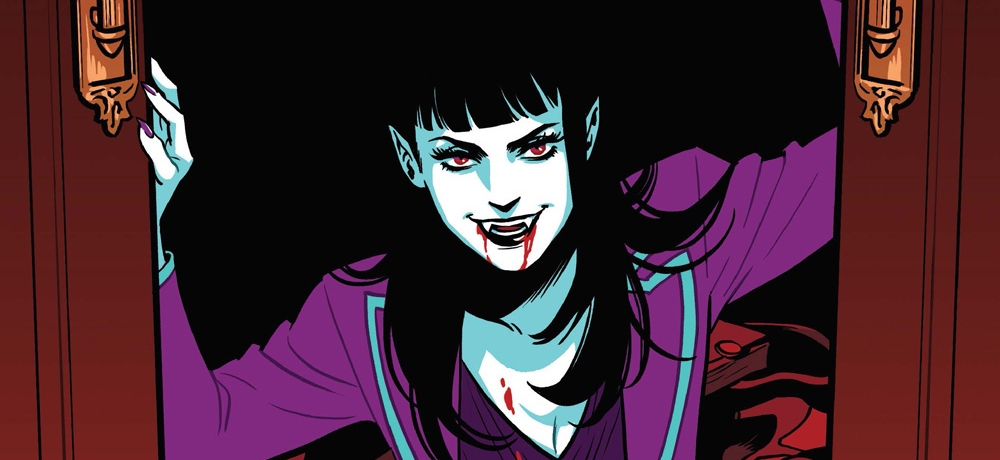 After introducing a bloodthirsty side to Riverdale in Vampironica and Jughead The Hunger vs. Vampironica, the talented team at Archie Comics is taking readers deep into the past for a crimson-coated look at vampiric activity in the Lodge family line in Vampironica: New Blood. Ahead of the third issue's release next week, we've been provided with exclusive preview pages as a special treat for Daily Dead readers!
In our exclusive preview pages below, you can watch Veronica's ancestor Sir Francis Lodge spill (and drink) blood on the high seas aboard his ship (aptly named The Night Flyer) in the 16th century.
In addition to our exclusive preview pages, we also have a look at the stylish cover art for Vampironica: New Blood #3, including the main cover by Audrey Mok and variant covers by Adam Gorham and Greg Smallwood.
In the gallery below, you can enjoy the exclusive preview pages from the third issue of Vampironica: New Blood, and keep an eye out for the new issue when it's released on March 4th!
With Betty and Veronica having a rematch with the deadliest hunter in the galaxy in Archie vs. Predator II, Sabrina Spellman literally raising hell on Chilling Adventures of Sabrina, Josie and her bandmates squaring off against a deadly alien in Josie and the Pussycats in Space, and Riverdale in the midst of its fourth season on The CW, horror is alive and well in the world of Archie, and you can keep up to date on all of these projects and more by visiting:
"VAMPIRONICA: NEW BLOOD #3 (of 4)

Who is Sir Francis Lodge? And how did Vampironica's ancestor play such a pivotal role in the emergence of vampirism in America? Join us for a journey through time as the one-time pirate leaves a trail of blood from the old world to the new— all the way up to the very creation of Riverdale itself!

Script: Frank Tieri, Michael Moreci
Art: Audrey Mok, Matt Herms, Jack Morelli
Cover: Audrey Mok
Variant Covers: Adam Gorham, Greg Smallwood
On Sale Date: 3/4
32-page, full color comic
$3.99 U.S."