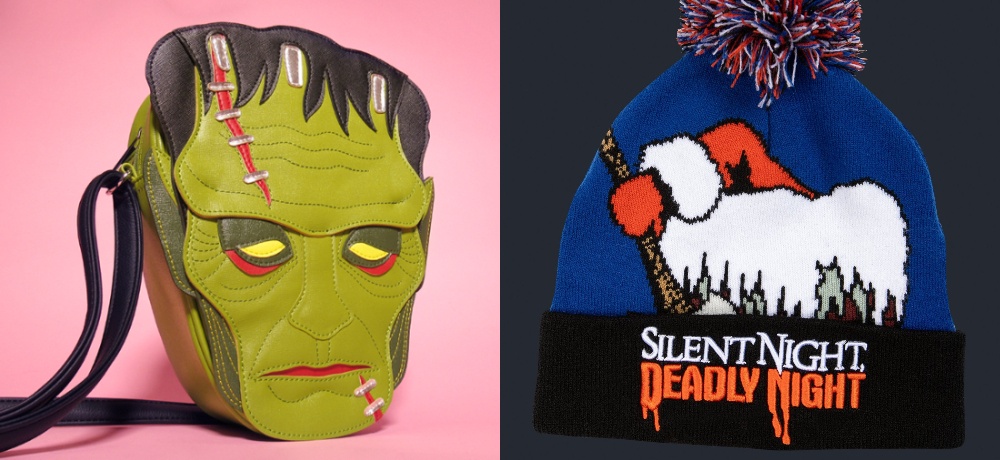 Happy Thursday, everyone! We've nearly made it through the first week of December, which means Friday is just around the corner. But before we bid adieu to another week, we've got a brand new installment of Daily Dead's 2020 Holiday Gift Guide on tap for you today that is focused on horror and sci-fi apparel, accessories, and face masks (since we'll definitely be needing them for the foreseeable future).
If you're a horror fan, you probably don't need me to sell you on just how awesome Fright-Rags is, so I'll let this just be yet another reminder that their apparel has become synonymous with horror fandom for a reason. There are a lot of amazing horror apparel companies out there, but there's only one Fright-Rags. Here's a look at just some of their offerings:
Silent Night Deadly Night Christmas Sweater
Silent Night Deadly Night Pom Beanie
Halloween Resurrection Hacker Shirt
To see the way that Cavitycolors has blown up over the last few years is pretty awesome, as they've grown into one of the biggest horror apparel sites out there. A ton of their merch is in limited stock right now after their Black Friday sales, but here's an assortment of goods that are still available:
Killer Klowns From Outer Space: The Invasion T-Shirt
Elvira: Halloween Forever Jogger Sweatpants
Silent Night Deadly Night – Crewneck Sweater
Every Day is Halloween – Socks
Trick 'r Treat: Take Only One Ladies Slouchy Tanktop
Evil Dead 2: Swallow This Baseball Shirt
As I mentioned in a different installment of our annual HGG, my love affair with Creepy Co. came about because of their enamel pins, but they have a bunch of great other merchandise available, including tons of horror-themed apparel (including some cozy looking Halloween pajamas). Here are just a few of the great apparel items over on Creepy Co.'s site:
Halloween Pajama Pair "Scare" Package
Halloween Smith's Grove Coach Jacket
Mondo is another company that always makes a few appearances on our Holiday Gift Guides every year, and today, we're taking a look at a few of their kickass t-shirt designs. I may have included it last year, but Mondo's Bill & Ted falling shirt still remains one of my favorite designs in years, so I couldn't help but include it here again.
Bill & Ted – The Long Fall to Hell T-Shirt
I absolutely love Studiohouse Designs' stacked VHS shirts, but you have to make sure you catch them quick, because they often sell out rather quickly. I've included a few of those designs here, as well as a trippy and unique shirt that's celebrating The Craft.
Super Yaki hit my radar earlier this year when I discovered their amazing Bong Joon-Ho tribute shirt, and I love how many of their designs are deep cuts designed for real movies in mind. Here are just a few designs from Super Yaki that I think horror fans will dig:
Based on the Book by Gale Weathers
Del Toro Credit: Pan's Labyrinth
Justice for Jennifer's Body Dad Hat
I've also mentioned in previous installments how much I adore the work that Pixel Elixir does, as I regularly frequent their site for gift ideas all year long. Here's a look at some of Pixel Elixir's shirts and face masks that are currently available:
Frankenstein Face Mask/Neck Gaiter
New Blood Original Face Mask/Neck Gaiter
Radballs "Happy Halloween" Face Mask/Neck Gaiter
In November, we profiled Ama Lea and her site Poltergeists and Paramours, so it only seemed right to include her in today's edition of our HGG. P&P specializes in everything from lingerie to shirts to even face masks. Here are just a few items from the P&P online shop:
What's Your Fav Scary Movie Baseball Tee
Craven Crop Jersey Limited Edition
Listen up, horror fans! Andrew LaSane has become well-known for his custom shoe designs, and while there is a hefty wait list to get full-on designs, right now he's opened up a new style of shoe design that I would implore you to check out sooner than later. Andrew also does some excellent shirt designs, too, and I made sure to include them here.
Black Horror Director Roster Tee
Final Girl Designs is another site that we feature every year as part of our Holiday Gift Guide. And if you're in the market for some terrifying trinkets and boo-tiful jewelry this holiday season, you're definitely going to want to check out FGD's site. Also, you can save 25% off your order at FGD when you use the code BACKTOBLACK at checkout through the end of this week. Here's a look at just some of what FGD has to offer:
Christmas Jack O Lantern Bracelet
Green Bat Necklace and Earring Set
I cannot say enough good things about Middle of Beyond. Not only do they have amazing apparel options (I've purchased a few of their cardigans in the past and they're just awesome), but their customer service is always top notch, which is important, too. Here's a look at some of their newer designs that any genre fan would love to receive this holiday season:
Return of the Living Dead Cardigan
Big Trouble in Little China Sweater
Ghostbusters Summer Slimer Short Sleeve Button-Up Shirt
Halloween Michael Myers Short Sleeve Button-Up Shirt
Amy Greene of Amy's Baggage is another artist we celebrated back in November, and here's a look at just some of the killer bags and key chains that are currently available on her site. Amy's products often sell out quickly, so definitely don't sleep on anything on her site.
Horror Movie Icons Cosmetic/Project Bag
Ghostbusters Cosmetic/Project Bag
Stephen King Book Covers Cosmetic/Project Bag
While they may not have as many designs as they used to, there's still some really fun apparel to be found on Terror Threads' site. Here's a look at just a few of their designs:
Silent Night Deadly Night Survive Christmas T-Shirt
Evil Dead 2 You're Going Down T-Shirt
Haunt Some Monsters Are Real T-Shirt
I discovered Micheline Pitt's Vixen line of designs earlier this year and was immediately smitten. She has so many apparel and accessories that would make any horror fan's heart skip a beat, plus I love how glamorous so many of her clothing designs are, too. Oh, and her monster purses and backpacks are absolutely to die for. Check out this assortment of Micheline's Vixen line (and be sure to visit her entire site for more, too):
Pumpkin King Glow in the Dark 3/4 Sleeve Top
Swamp Monster Vixen Swing Skirt
Ben Cooper Glow in the Dark Dracula T-Shirt
Vanity Fair Dress in Pinky Spider Print
I always love visiting Tee Fury's site because the artists they collaborate with never disappoint with coming up with inventive designs and super fun apparel designs to boot. There are thousands upon thousands of items on Tee Fury's site, so I just found a bunch of newer designs, including face masks, that recently popped up on the site to feature here. Oh, and they're running all kinds of deals lately, which makes it a perfect time to stock up on some fan-tastic gifts this holiday season.
A Pint of Holiday Cheer Face Mask
All I Want for Christmas is Who Mask
There are hundreds of indie artists with stores on Redbubble, so narrowing down just who to feature is an impossible task. I highly recommend spending some time going through all their merch, but in the meantime, here's a look at just some killer shirt and face mask designs. One note: Redbubble recommends placing your order by December 6th for delivery in time for Christmas, so you definitely want to get your shopping done sooner than later!
Periodic Table of Horror Movies Classic T-Shirt
Johnny Mnemonic Classic T-Shirt
I Survived Midsommar Festival Essential T-Shirt
New Line Cinema Premium T-Shirt
An Avco Embassy Film Classic T-Shirt
---------
Be sure to check back here for more horror gift guide installments in the days ahead, and happy holidays to our readers from all of us at Daily Dead!