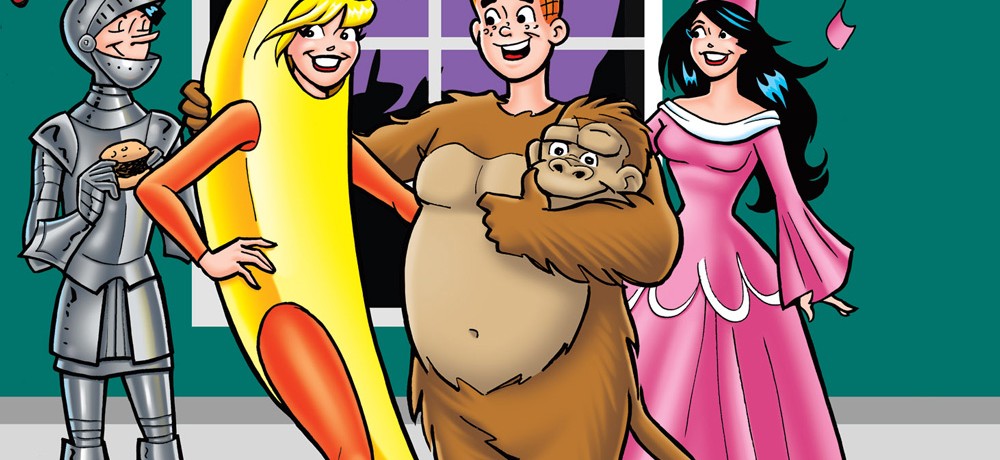 You're likely well aware of the the excellent line of adult Archie horror comics, including Chilling Adventures of Sabrina and Afterlife with Archie, but they also release classic-style Halloween stories for kids of all ages every fall. Earlier this autumn, we gave Daily Dead readers an exclusive preview of Betty & Veronica Friends Forever: Halloween Spooktacular #1, Betty & Veronica Jumbo Comics Digest #297, World of Archie Jumbo Comics Digest #113, and Archie Halloween Spectacular #1.
With the spooky season now in full swing, we're back with an exclusive preview of World of Betty & Veronica Jumbo Comics Digest #9, featuring the new story "Tricky Treats!" that guest stars Sabrina Spellman!
Along with a 2-page tease of the new story, we have also have the reprint story "Chiller Diller" that you can in its entirety read below!
"WORLD OF BETTY & VERONICA JUMBO COMICS DIGEST #9

NEW CLASSIC-STYLE STORY: "Tricky Treats!" The girls decide to take it easy by having a quiet night of hosting trick or treaters at Betty's house, even including Jellybean in on the fun. But their quiet night at home turns into a night of magical mischief—including flying pumpkins, witches in flight, and spooky, scary monsters! What's causing all this Halloween hijinx, and how can they make it stop?

Script: Dan Parent
Art: Dan Parent, Bob Smith, Glenn Whitmore, Jack Morelli
Cover: Dan Parent, Rosario "Tito" Peña
On Sale Date: 10/13
192-page, full color comic
$7.99 U.S."
To learn more about the digital editions and purchase, visit: https://www.comixology.com/World-of-Betty-Veronica-Digest/comics-series/151803
To pre-order this issue and to learn more about Archie Comics, visit: https://store.archiecomics.com/collections/archie-digest-subscriptions/products/world-of-betty-veronica-digest-subscription