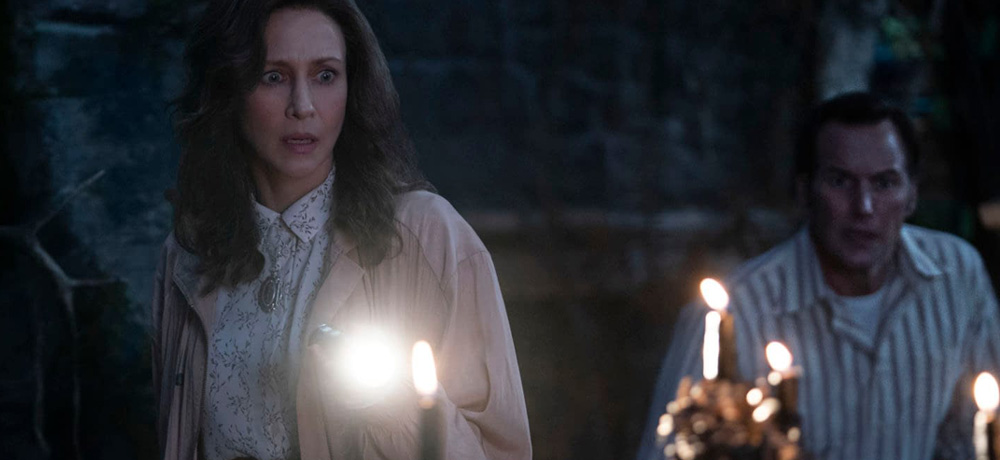 Today is the day! The Conjuring: The Devil Made Me Do It is officially in theaters and is also available on HBO Max as well, and to get you ready for the latest adventures featuring Lorraine and Ed Warren, we have some press conference highlights on tap to get you primed for the sequel. During the recent press conference, we heard from director Michael Chaves, Conjuring creator/producer James Wan, producer Peter Safran, and Conjuring co-stars Vera Farmiga and Patrick Wilson, who discussed everything from picking this story in particular to focus on in The Devil Made Me Do It, how the relationship of the Warrens is the cornerstone of The Conjuring franchise, and more. 
Why was this, of all the case files, the story that had to be told in this Conjuring film?
Michael Chaves: I guess I'll jump in with that. I think it was something from the very beginning, where when I spoke with James, I spoke with Peter and with the studio, and I think that for any franchise to seem fresh or be fresh, there needs to be invention and reinvention, and we wanted to tell a Conjuring story, but in a way that we haven't seen before. This is, in a lot of ways, more of a supernatural thriller. We're taking the Warrens on the road and it's one of their darkest cases. When you really look at the case, it's one of the most controversial cases and I think the whole thing is just so fascinating.
The next question is for Patrick and Vera. Despite all the strange goings-on, Ed and Lorraine Warren always remained the heart of the Conjuring movies. What do you think it is about the couple that people find so fascinating?
Vera Farmiga: Well, I know what I find fascinating, and it's that they are personifications of love. For me, it's more of a love story than it is a horror story to me, and that's what makes it so unique and successful. And that's why I enjoy coming back. I think that that message of love, not only the Warrens for each other, but for the work that they do, and for the people that they help, that selflessness, that compassion, that embodiment of love is really, really something holy and special. That makes it digestible and beautiful.
Patrick Wilson: Yeah, I always have to go back to the first film and those conversations, James, that you and I had early on about the way that the structure of these films is going to be built with following these different cases and these different families, but really centered around the Warrens and what we're going to go through. They became the through line between all these films. And that's something that, one, that sets us apart from other horror franchises is that you're following the good guys throughout instead of the villain. 
So, we already were leaning into character and relationship and love and partnership in these movies. And when you have that, when you know that you can center around love, and it's our version of Ed and Lorraine, we don't know how they were behind closed doors. It's our version of what Ed and Lorraine are. When you know you can center around that, then I think in some way it frees you up to go as dark as you want in the other aspects, because you really get to balance it out. Because I would say that this film probably has some of the darkest moments of any in the Conjuring universe. You have those moments in this of just this deep profound romance, and then you have the scares, and we don't go halfway with, either. You know what I mean? If you're going to have these terrifying scares, then we want to have the most full of love moments that you can, because it becomes very operatic.
James, You have created several iconic horror film franchises. Is there a secret ingredient or something that you specifically look for when building a potential horror franchise?
James Wan: I don't think there's a secret ingredient. I think for me, I just want to tell the stories I want to tell. I want to tell the stories I want to watch as an audience member. And if I have to put my finger on something, it's telling stories with characters that people can relate to. So, I believe that's why, whether it's Insidious or The Conjuring with Ed and Lorraine, it's creating these characters that are really beloved and that they're real people. I mean, definitely in the case of Ed and Lorraine, which are based on real people, and so, the more grounded you can make it, I think that the most important ingredients you can include are to let the audience be able to be in the shoes of these characters, and then you can take them on the craziest, scariest ride.
Is there a north star for staying true to Ed and Lorraine and their work, while also delivering the scares and intensity that contemporary audiences expect? And are there any examples throughout the series where you decided to pull back and not do a gag because it went too far from the truth?
Peter Safran: Well, listen. I mean, obviously we're making movies, so we base them in the real case files, and then we dramatize them as we see fit to make the best possible experience for the audience, to tell the best story. But it's very important to us to stay true to, in particular, the relationship between Ed and Lorraine, so we make sure that it's grounded in that love. And then in terms of the scare sequences, we can go to places that were not necessarily based in truth, but are just great original sequences that audiences are going to get excited by. So, I think we've never pulled back on a scare sequence because we said it didn't fit within the fact pattern of what actually happened in the case, but we are always conscious of that relationship between Ed and Lorraine. So, we would never write anything that Ed and Lorraine wouldn't do.
Michael Chaves: I think with all of it, some people say we live in a post-truth society with these stories, so I just tried to anchor it in what the emotional truth is. Our movie opens with this exorcism, we have a recording of it that actually plays over the end credits. Maybe you're a total skeptic, maybe you don't believe in demons or God or any of that, but you can't listen to that tape and say that something powerful was not going on there. You can't listen to it and not connect to the emotion and connect to the real terror that that family was going through. James always talks about finding the emotion and really delivering the emotion. I think that if I was going to say a secret to his success and the success of his franchises, it's in really anchoring it in just pure, powerful emotion.