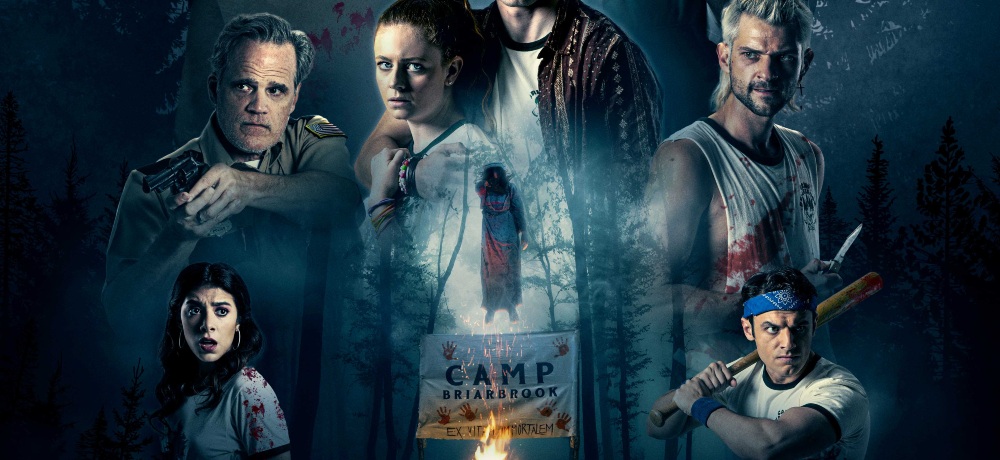 In his Frightfest review, James Doherty wrote that She Came from the Woods is a "fun and entertaining campfire tale," and as someone who saw the movie as part of last year's Popcorn Frights Film Festival lineup, I can concur that the latest film from director Erik Bloomquist (Ten Minutes to Midnight) definitely scratches that summer camp slasher itch. Ahead of the film's February 10th theatrical release from Mainframe Pictures, the official trailer has now been released, giving viewers a look at the horrors unleashed at Camp Briarbrook, set fittingly to the tune of Kim Wilde's '80s anthem "Kids in America."
Theatrical Release Date: February 10, 2023

Directed by: Erik Bloomquist

Written by: Erik Bloomquist, Carson Bloomquist

Produced by: Erik Bloomquist, Carson Bloomquist, Cara Buono, William Sadler, Adam Weppler

Starring: Cara Buono, William Sadler, Clare Foley, Spencer LIst, Michael Park, Tyler Elliot Burke, Adam Weppler, Ehad Berisha, Giselle Torres, Dań Leahy, Sienna Hubert-Ross, Erik Blomquist, Emily Keefe

Synopsis: In 1987, a group of counsellors accidentally unleash a decades' old evil on the last night of summer camp. As the situation turns bloody, the group is forced to confront what stories are worth telling and what secrets are worth keeping.
She Came from the Woods – In Theaters February 10th